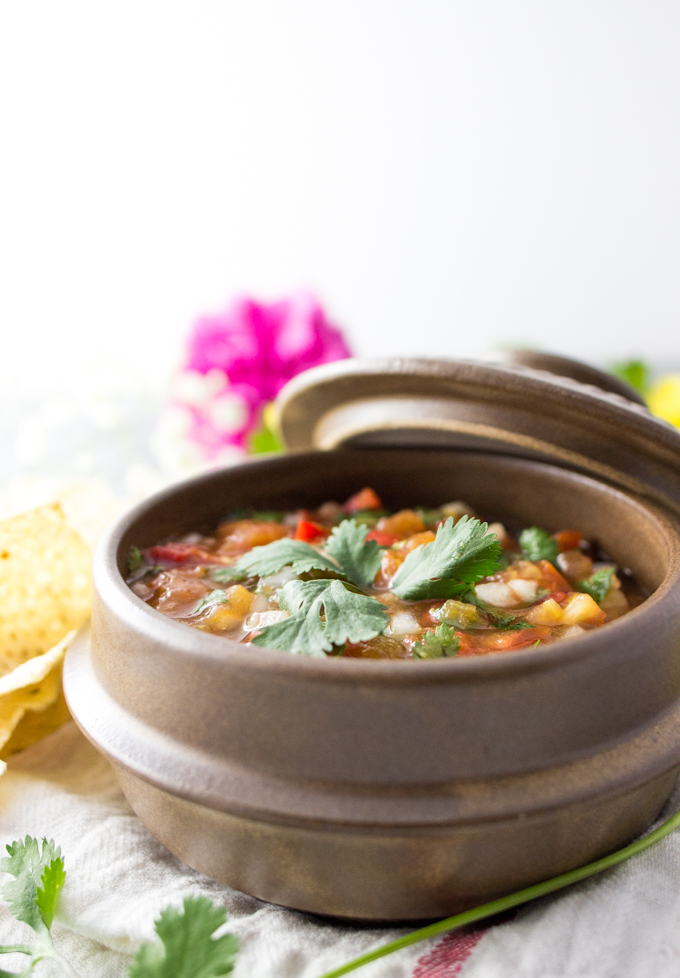 This is an authentic Mexican salsa that's healthy and made from scratch. Even better, it only has 5 ingredients and is super easy to prep and make. This is a recipe that I got from my mom, who learned how to make salsa from her former neighbor who was from Mexico. It is my favorite salsa to date, and tastes fresher and better than the ones I get in restaurants!
This salsa only has FIVE ingredients: tomatoes, onion, cilantro, jalapeno, and salt. Yep, that's it, just those five. And I even included the salt. The vegetables used here are all fresh and not processed, and you can taste the difference in the quality of the salsa. It tastes refreshing and so delicious.  I think salsa is best when made from just a few simple, key ingredients. No need to overcomplicate it.


Notice the red jalapeno? For this recipe, I used jalapenos from my own garden, and jalapenos turn from green to red when they ripen on the plant. Isn't that so awesome? You'll rarely find red jalapenos in the supermarket, if ever.
One of the unique parts of this recipe is how you cook the tomatoes and let it cool before combining with other ingredients. Most other salsa recipes I come across just take all of the raw ingredients and have them run through a food processor. Not here. I cook the tomatoes first, let them cool, and simply mix with everything else prior to serving. I prefer salsa this way, and I like my salsa on the chunky side.
This salsa works great when paired with tortilla chips, or used as filling for a taco or burrito. You can serve immediately after making this, or refrigerate until ready to serve. Also feel free to modify the amount of jalapenos in the recipe. I recommend one jalapeno for mild salsa, and two or more if you're looking to sweat a bit! Get a glass of milk ready.
5-ingredient authentic Mexican salsa
Ingredients
5 tomatoes
half of a white onion, diced
1 jalapeño, finely diced with seeds and inner membranes removed
1/2 cup fresh cilantro leaves, chopped (about 1 bunch of cilantro)
1/2 teaspoon salt
Instructions
Dice the tomatoes and add the diced bits (including any seeds and liquid) directly to a medium sized pot. Add salt and stir. Place the pot over medium heat. Give it a few minutes to heat up and then it will start to simmer. Let it simmer until the tomatoes are cooked, about 5 minutes, stirring occasionally. Remove from heat and let cool for 30 minutes.
Add onions, cilantro, and jalapeños to the cooled tomato mixture. Mix well. Serve immediately or refrigerate until ready to serve.
http://www.savorytooth.com/5-ingredient-authentic-mexican-salsa/
COPYRIGHT © 2016 · SAVORY TOOTH