Here's a delicious and easy recipe for breakfast rolls that are generously stuffed with extra crispy bacon crumbles, lots of cheddar cheese, and tomato sauce.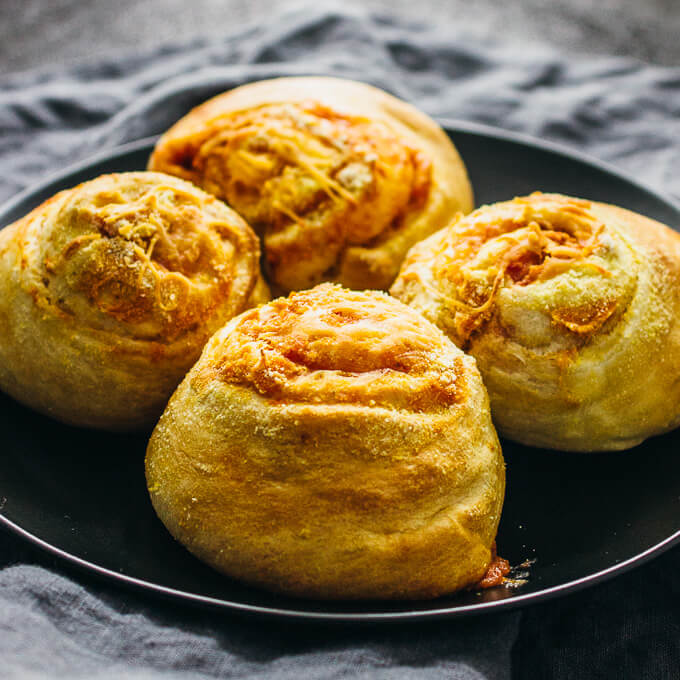 Ever since I made these savory pesto breakfast rolls, I've been thinking about more simple and easy ideas for breakfast rolls. The possibilities are endless and it was hard to settle on just one idea. Eventually, I decided on these extra cheesy rolls stuffed with shredded cheddar and bacon crumbles — definitely my kind of breakfast. I've already made this twice in the past two days, and I think I might even be able to get up early on the weekends for these rolls. Their texture is deliciously soft with occasional happy bites of extra crispy bacon. YUM.

As I did with my pesto breakfast rolls, for this recipe I used a Pillsbury crescent dough sheet, which is an 8 ounce seamless rectangular dough sheet ready for stuffing and baking. Assembly is easy: slather on tomato sauce, sprinkle cheddar cheese, distribute bacon crumbles, and roll up the dough sheet starting at one end (as photographed above). Then the rolled-up dough log is sliced into 4 equal parts, resembling cinnamon rolls, and baked until puffed and golden.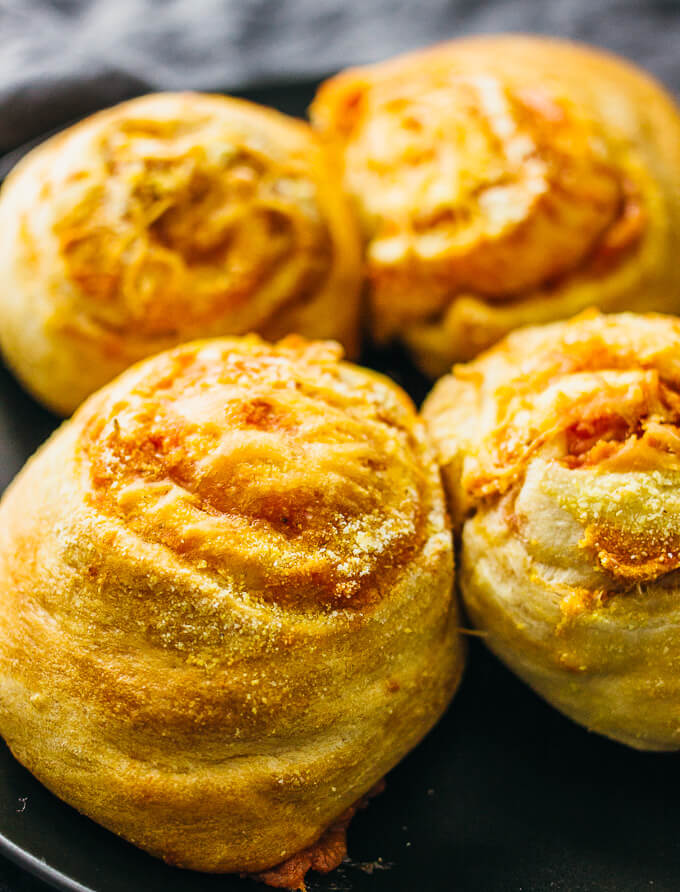 I know I'm really late to the game, but I recently discovered the magic of baking mats. Now I keep asking myself why I haven't bought them sooner. If you've been living in a cave like I have, let me explain: baking mats are super nonstick and your food will never stick to the mat, so you don't need to use any vegetable oil. It's so incredibly nonstick that my food practically slides off on its own after baking. Do yourself a favor and hurry on over to buy these Amazon Basics silicone baking mats. They're very affordable at <$15 for 2 mats.
Bacon cheddar breakfast rolls
Ingredients
Instructions
Cook bacon strips on a pan over medium heat until crispy. Drain on a paper towel. Let cool and crumble into small pieces.
Lay out the dough sheet on a working surface.
Evenly spread the tomato puree on the dough. Evenly sprinkle shredded cheddar cheese. Lastly, distribute bacon crumbles.
Starting at one of the shorter sides of the rectangular dough, tightly roll up the dough into a log. Use a serrated knife to saw through the log into 4 rolls.
Prepare a greased baking tray or baking mat. Place cornmeal in a shallow dish. Dip both cut ends of each roll into cornmeal. Place the rolls, cut side up, on the baking tray or mat.
Bake at 375 until golden brown and puffed, about 15 minutes.
http://www.savorytooth.com/bacon-cheddar-breakfast-rolls/
COPYRIGHT © 2017 · SAVORY TOOTH