Try this tender baked gnocchi pasta with crispy fried bacon, sun-dried tomatoes, and melted mozzarella cheese.

This baked gnocchi is one of those really comforting dishes that you want to cozy up to after a cold rainy day. In addition to gnocchi, this dish includes minced garlic, chopped sun-dried tomatoes that imparts a nicely tart flavor, and a crushed tomato sauce thickened with a bit of cream. Lastly, it's topped with thinly sliced mozzarella cheese and scallions. Since the gnocchi is very soft and tender, the crispy crumbled bacon adds a welcome crunch to every bite.

I love cooking with gnocchi. It's very simple — just toss gnocchi in boiling water and it'll float up when it's done in about a few minutes. I've used it in a number of my recipes and I've also made homemade sweet potato gnocchi with just two ingredients. Earlier this year I made a gnocchi arrabbiata with bacon and sun-dried tomatoes, all cooked stovetop, and it inspired me to develop this baked gnocchi recipe. They have many similar ingredients: bacon, sun-dried tomatoes, scallions, and heavy cream. Key differences are that this baked gnocchi is much more tender and soft, and not at all spicy.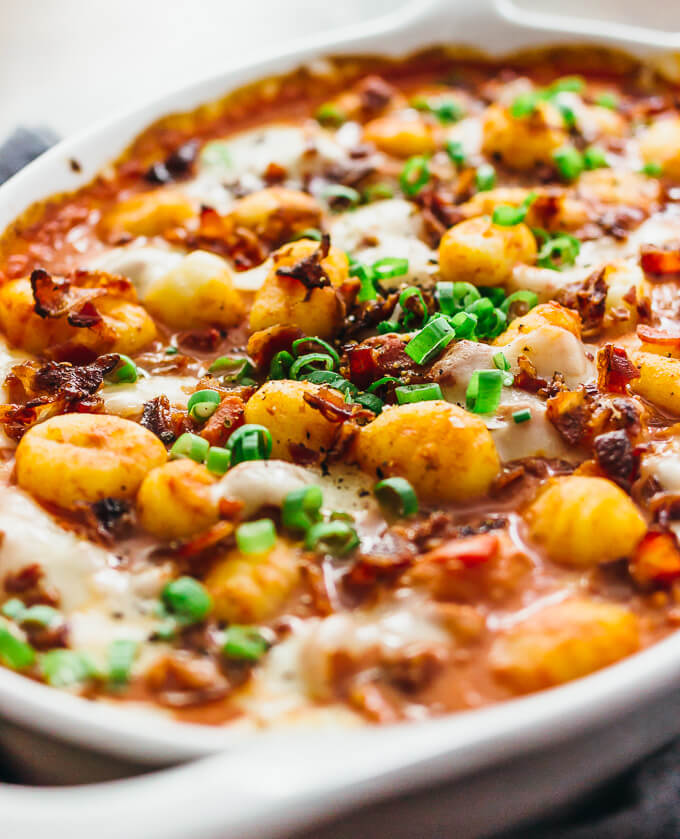 Overall, the flavor of this baked gnocchi is mild enough that you can add your favorite spices and herbs to make it your own. This can include oregano, paprika, red pepper powder, or more bacon and garlic (can't ever go wrong with that). You can also substitute with your favorite type of cheese. I chose mozzarella for its stretchiness, but parmesan or cheddar would work excellently as well.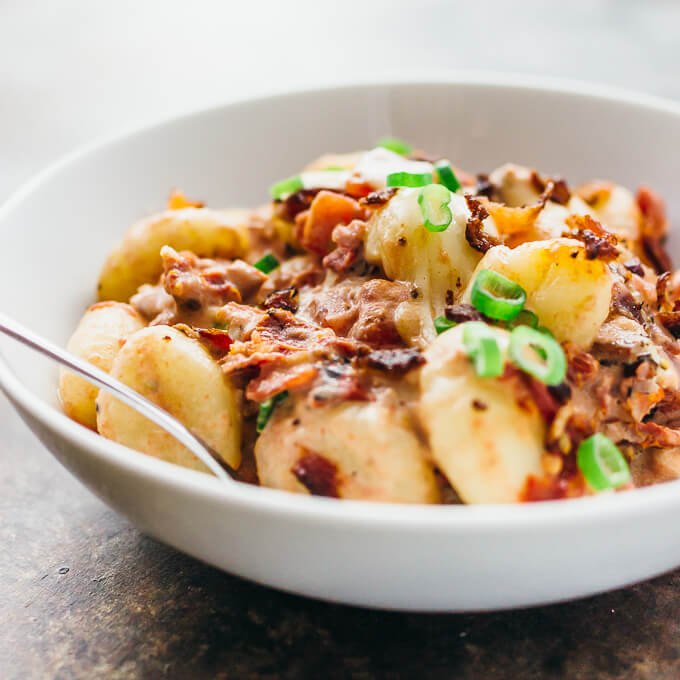 Watch this video on how to make this recipe:
Baked gnocchi with bacon and sun-dried tomatoes
Ingredients
1 pound gnocchi
3 slices bacon
1/4 cup chopped sun-dried tomatoes
1/4 cup heavy whipping cream
3 ounces mozzarella cheese, thinly sliced
5 cloves garlic, minced
1/2 teaspoon salt

For serving:

1 scallion, thinly sliced
1/8 teaspoon freshly ground black pepper
Instructions
Heat bacon slices in a large pan until crispy. Transfer the bacon to a paper towel to drain. When cool, crumble into small pieces.
Cook gnocchi according to package instructions. Drain.
Prepare a 1.5 quart or larger baking dish. Add crushed tomatoes, heavy cream, minced garlic, and salt. Stir to combine. Add sun-dried tomatoes and cooked gnocchi, and stir until coated with the sauce. Top with sliced mozzarella and crumbled bacon.
Bake at 400 F until the mozzarella is melted and the sauce is starting to bubble up the sides, about 10 minutes. Optionally, top with sliced scallions and sprinkle with pepper.
http://www.savorytooth.com/baked-gnocchi-bacon-tomatoes/
COPYRIGHT © 2016 · SAVORY TOOTH

Sign up for the savory tooth e-mail list and I'll send you new recipes right when they come out. Better than having to check the site! You can also follow me on Instagram, Pinterest, Twitter, and Facebook.