Enjoy this creamy cold broccoli salad with crispy bacon, dried cranberries, sunflower seeds, diced onions, and mini heirloom tomatoes.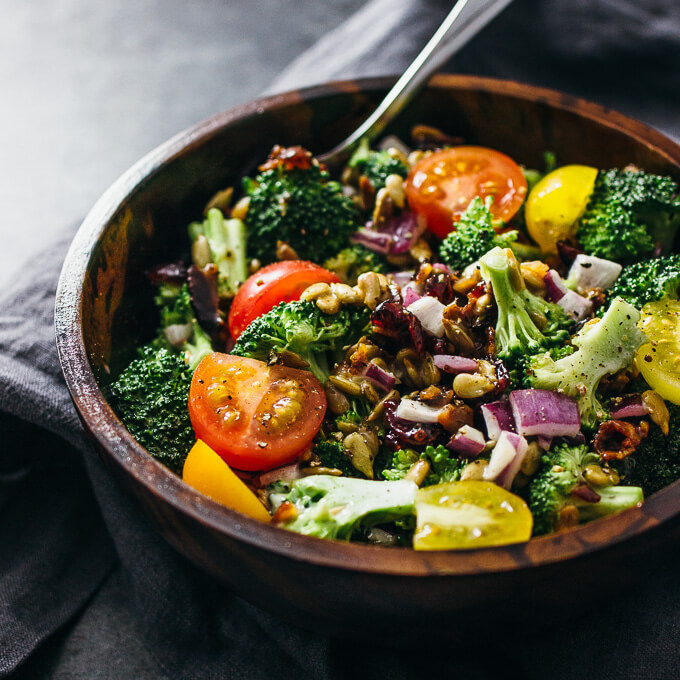 It's finally here. Today marks the first day of spring, and what better way to usher in the new season than this creamy broccoli salad with bacon? Springtime weather means barbecue season is upon us, so it's time to dust off that old grill. I'm starting to think about all of the tasty BBQ side dishes that I can eat — cold broccoli salads, black bean salads, and cous cous salads top my list of crowd-pleasing dishes that are easy to make ahead of time and healthy to boot.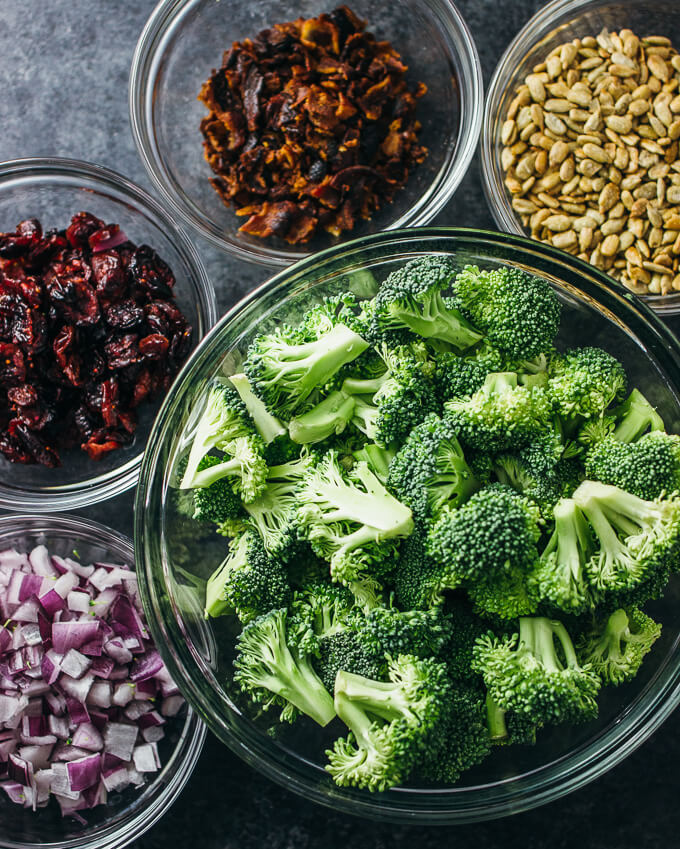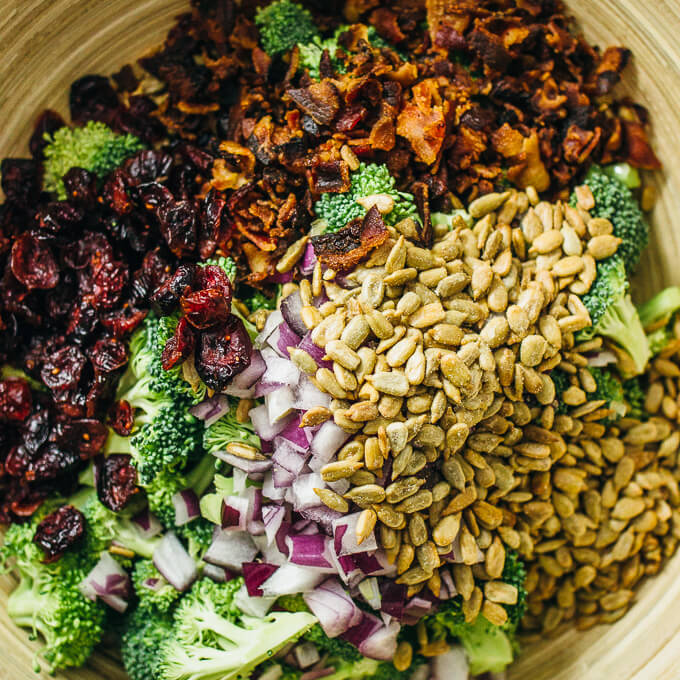 This cold broccoli salad is seriously easy to make. Just five main ingredients: broccoli, bacon (yum), dried cranberries, sunflower seeds, and red onions. Throw everything together, toss in a mayo dressing, and you are good to go. It's so simple that I recorded a short 20-second video (scroll below) to show you how I made it. After assembling the salad, you can refrigerate it until you're ready to eat. Just prior to serving, I like to add some freshly sliced mini heirloom tomatoes and freshly ground black pepper, but it's completely optional and up to your personal preference.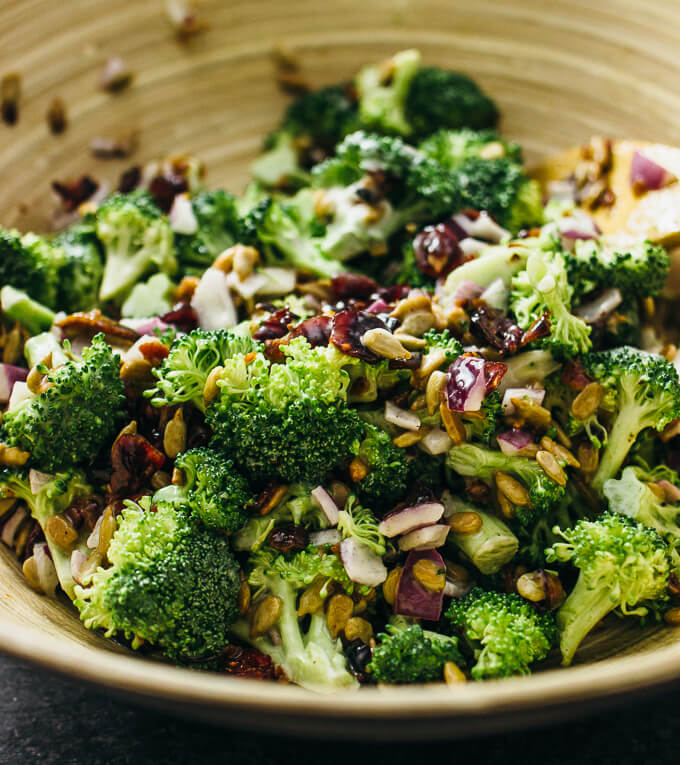 This broccoli salad may not look like much, but don't be fooled: it is quite filling. You only need a small serving of this to fill you up. This recipe makes enough to feed 4-6 people as a side dish and 2-3 people for dinner portions.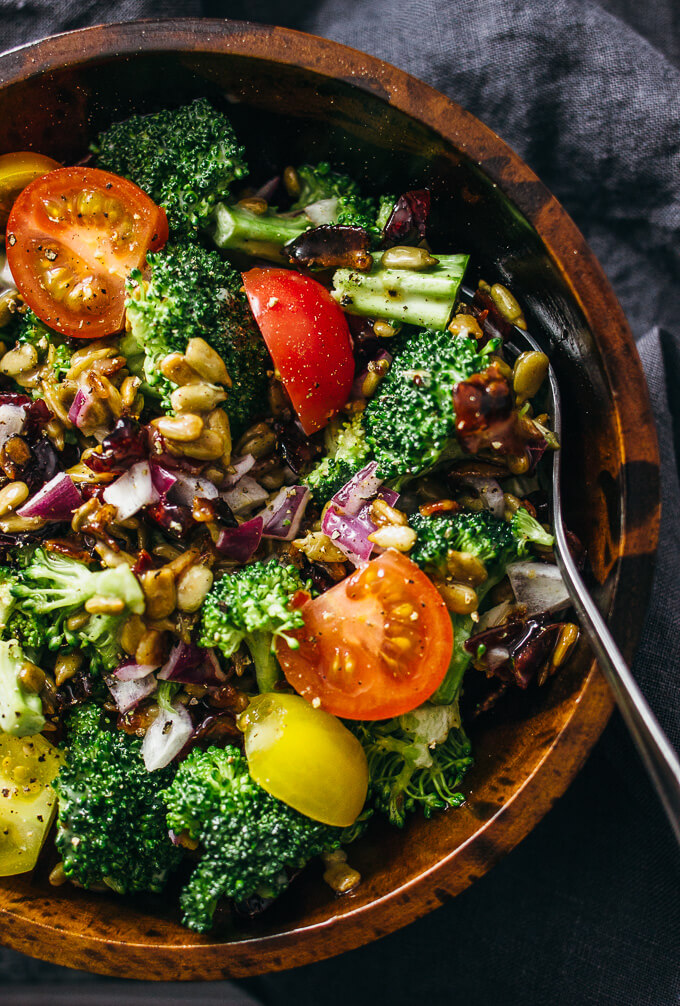 Watch this short 20-second video on how to whip up this broccoli salad in no time at all:

Best cold broccoli salad with bacon and cranberries from Savory Tooth on Vimeo.
Best cold broccoli salad with bacon and cranberries
Ingredients
Instructions
Cook bacon in a pan over medium heat until very crispy. Transfer to a paper towel to drain. Let cool and crumble into small pieces.
Combine dressing ingredients in a small bowl, stirring until smooth.
Combine broccoli, bacon, onions, cranberries, and sunflower seeds in a large bowl, tossing with the dressing. Refrigerate until ready to serve. Stir in tomatoes and season with black pepper prior to serving.
http://www.savorytooth.com/best-cold-broccoli-salad/
COPYRIGHT © 2016 · SAVORY TOOTH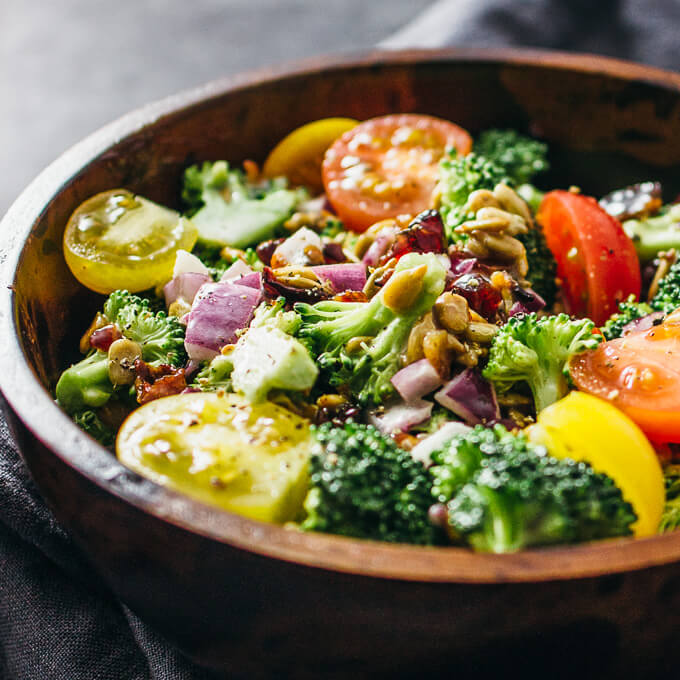 Sign up for the savory tooth e-mail list and I'll send you new recipes right when they come out. Better than having to check the site! You can also follow me on Instagram, Pinterest, Twitter, and Facebook.