This butternut squash chili is one of my favorite chili recipes! It's easy and fast (cooks in 30 minutes on the stove), and it's a great way to incorporate fall favorites like butternut squash into your diet. This vegetarian/vegan dish is also healthy and includes quinoa, black and pinto beans, and peppers.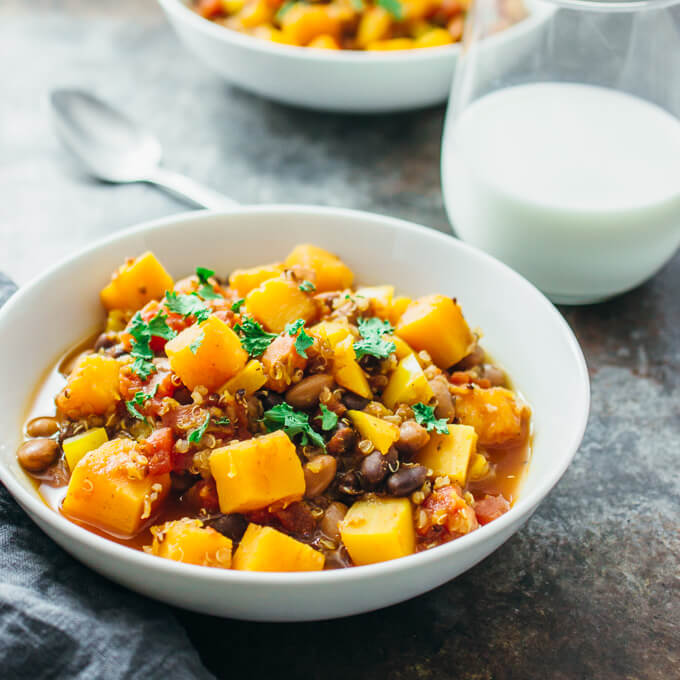 I first developed this recipe last year on one of those cold winter days. Since then, I've made a few tweaks but it's essentially the same: thick and hearty vegetarian chili that's chock full of delicious vegetables, fun spices, and hot peppers. Sometimes I'll add tasty toppings like avocado chunks, Mexican blend cheese, or scallions.
Also, this dish makes for amazing leftovers. When I first made this, I found myself coming back to the fridge again and again to get more bowls of this chili. It's kind of addicting.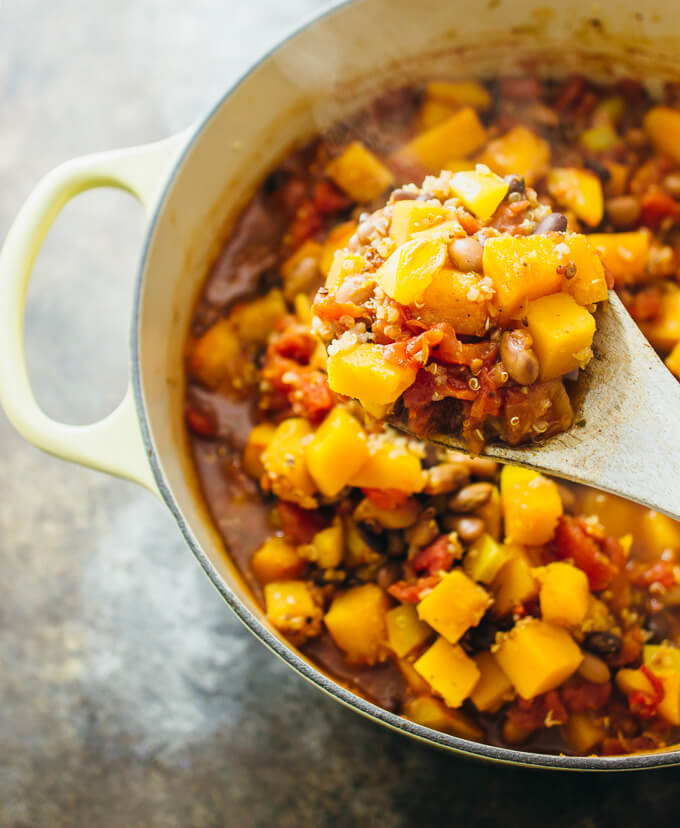 I love cooking up a big batch of this for get-togethers with friends. Since this dish is vegetarian/vegan, I don't have to worry about my veggie-happy friends not being able to partake. I usually use big pot or dutch oven (like pictured above, which is 5.5 quarts) and 2 pounds of butternut squash. Since squash sizes vary a lot, it can be either 1 small butternut squash or 1/2 of a large butternut squash. Last time I made this was for a small group of friends, and when I arrived at the dinner party, I found out that the hostess also made chili! Thankfully, hers was not a butternut squash chili so people got to taste-test two different kinds of chili. 🙂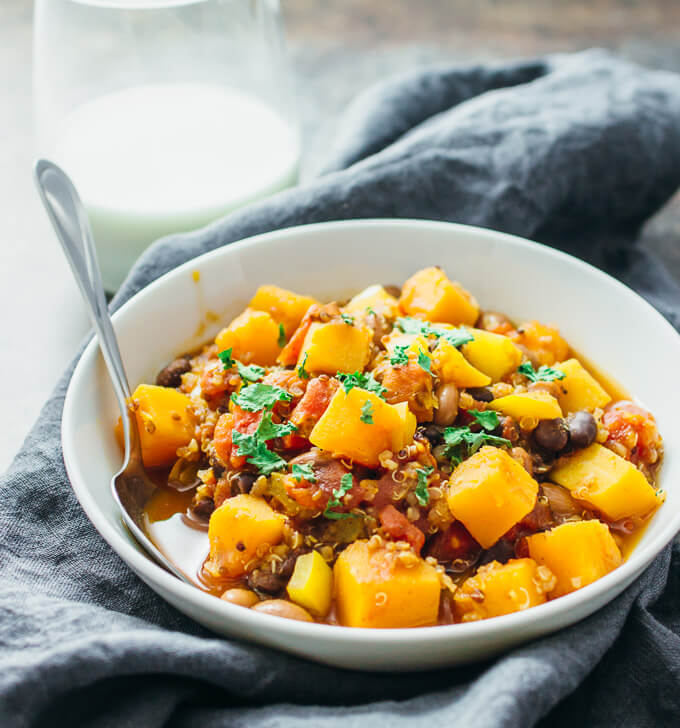 This meal is also perfect for cooking up on Sunday to prepare for weekday lunches and dinners. You can make this ahead of time, refrigerate, and it'll keep for 5 days in the fridge. This recipe yields 5 hearty servings, and if you end up pairing this with tortilla chips or whatnot, then it'll last you through even more meals.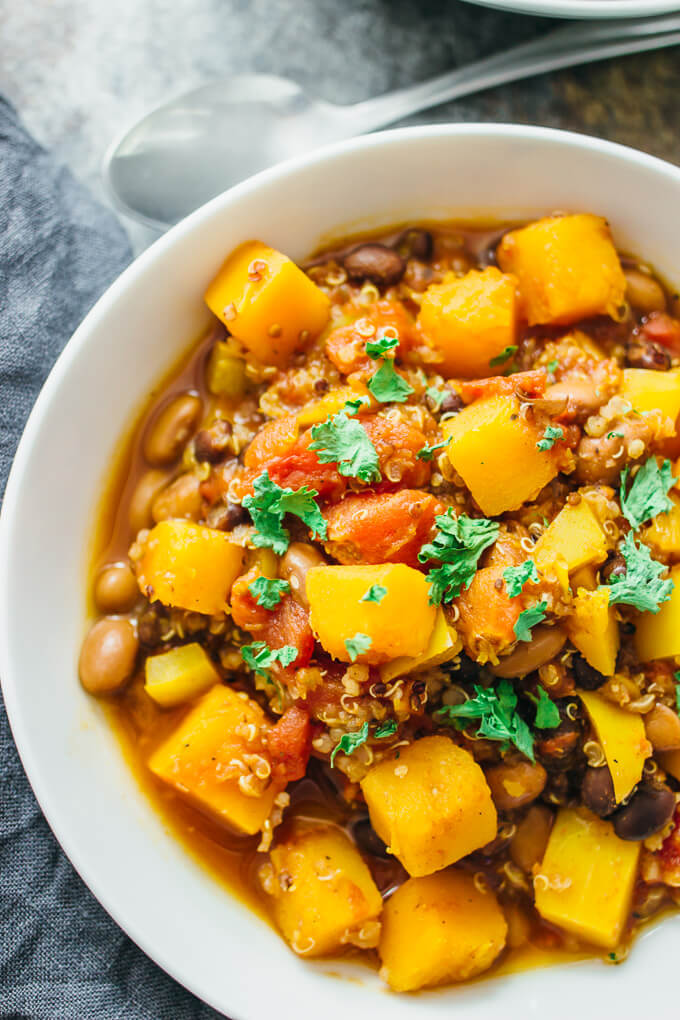 Ingredients
Instructions
Heat 2 tablespoons of vegetable broth in a 5-quart dutch oven over medium heat.
Add garlic, chipotles, and butternut squash to the pot, cooking for about 10 minutes, stirring occasionally. Add more vegetable broth if the pot gets dry.
Add the bell pepper, cooking for about 5 minutes.
Add black beans, pinto beans, diced tomatoes (including the liquid in the can), 1.5 cups vegetable broth, quinoa, and all of the spices (paprika, cinnamon, salt, pepper). Mix well. Bring to a simmer and let simmer for 10 minutes. Check that the butternut squash is cooked; if not, simmer for longer.
Serve in a bowl and garnish with cilantro. Add toppings as desired — avocado chunks, tortilla chips, and cheese are all good ideas.
http://www.savorytooth.com/butternut-squash-chili/
COPYRIGHT © 2016 · SAVORY TOOTH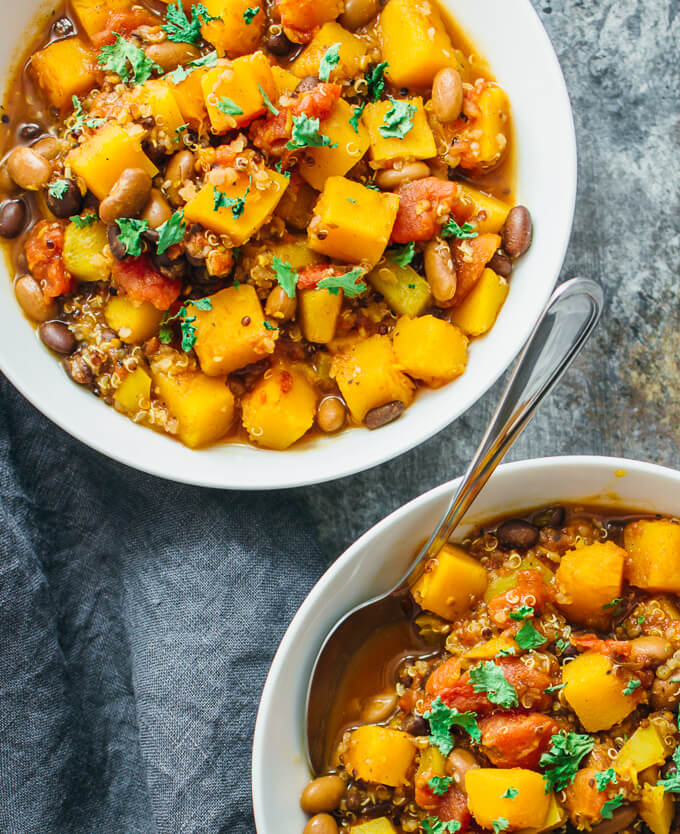 Sign up for the savory tooth e-mail list and I'll send you new recipes right when they come out. Better than having to check the site! You can also follow me on Instagram, Pinterest, and Twitter.