Feel like a kid again and make these easy 3-ingredient butterscotch haystacks using chow mein noodles.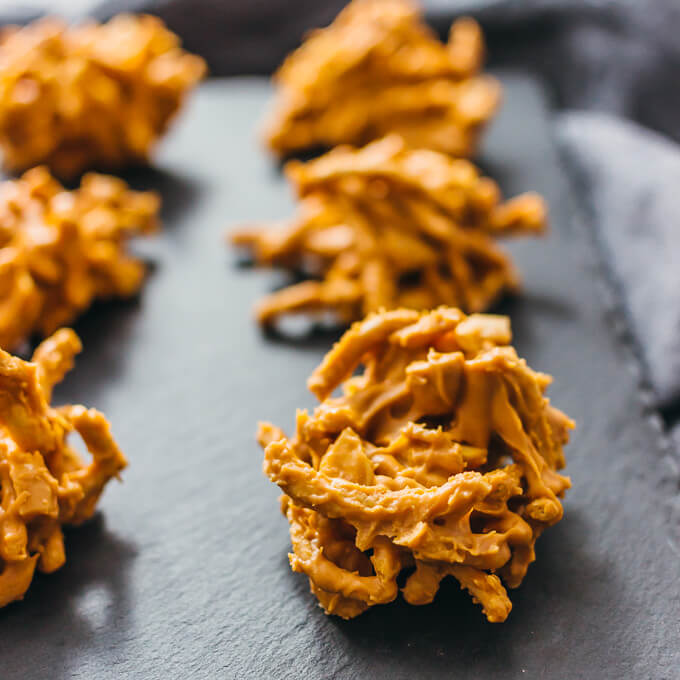 Who's ready for a super easy recipe? This one has only three ingredients and could not be easier or faster. There isn't even any actual cooking involved. These butterscotch haystacks can be made by anyone (please invite all of the kids you know), and are a great way to have fun in the kitchen. No precision necessary here. All that's involved is taking some crispy chow mein noodles and mixing them with melted butterscotch chips; as for how to melt butterscotch chips, my infallible method is microwaving them in thirty second bursts and stirring between until melted.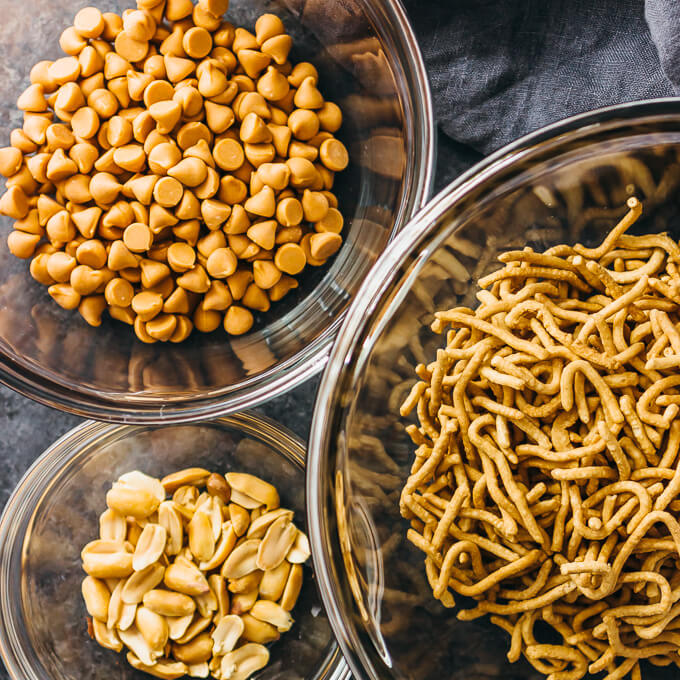 Butterscotch haystacks were one of Mr. Savory Tooth's favorites when he was a kid — he has lots of fond childhood memories of making them in the kitchen with his mom. We think that he originally got the recipe from a kid's cookbook, and I've tried to recreate it as best as I can. I thought about including some mini marshmallows, but Mr. Savory Tooth doesn't like them in his haystacks so I omitted them here. If you include marshmallows, be sure to add more melted butterscotch to accompany them.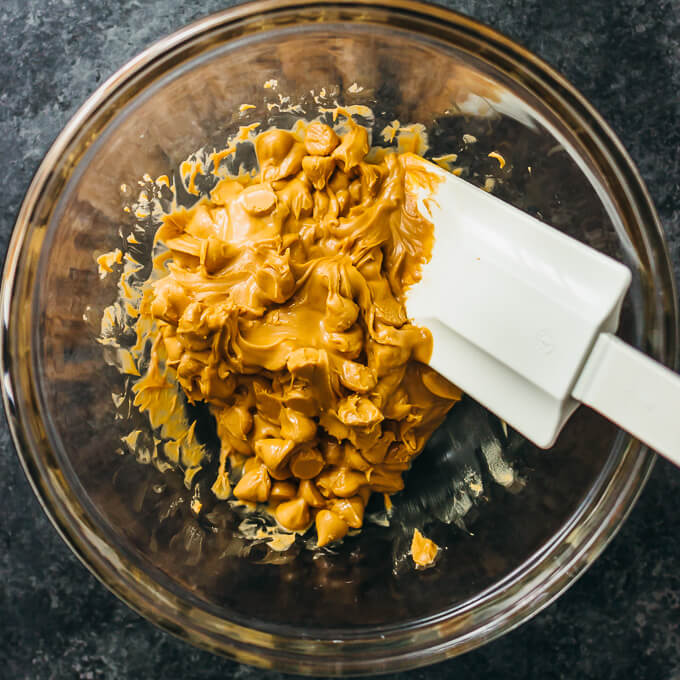 Make sure that you get the right kind of chow mein noodles; I found them in the Asian aisle of my supermarket and bought a 12 ounce bag by La Choy. As photographed here, you can see that these chow mein noodles are cooked, short "noodles" that are light and crunchy. They're more akin to a snack item or salad topping than the noodles used in the actual chow mein noodles dish.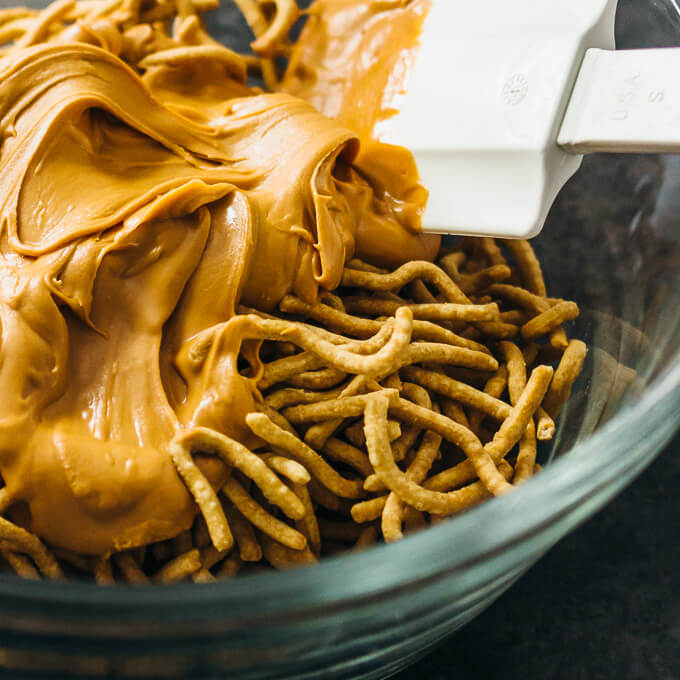 These butterscotch haystacks are so easy that I filmed a short video on how to make them:

Butterscotch Haystacks from Savory Tooth on Vimeo.
Butterscotch haystacks with chow mein noodles
Ingredients
Instructions
Combine chow mein noodles and peanuts in a large bowl, mixing them together.
Melt butterscotch chips in the microwave in 30-second bursts, stirring between bursts, until melted.
Use a rubber spatula to scoop the melted butterscotch over the noodles and peanuts. Mix until noodles are coated.
Use a tablespoon measure to scoop out noodles onto wax paper, forming a haystack. Repeat until the noodles are used up.
Refrigerate until the haystacks are hardened, about 30 minutes.
http://www.savorytooth.com/butterscotch-haystacks/
COPYRIGHT © 2016 · SAVORY TOOTH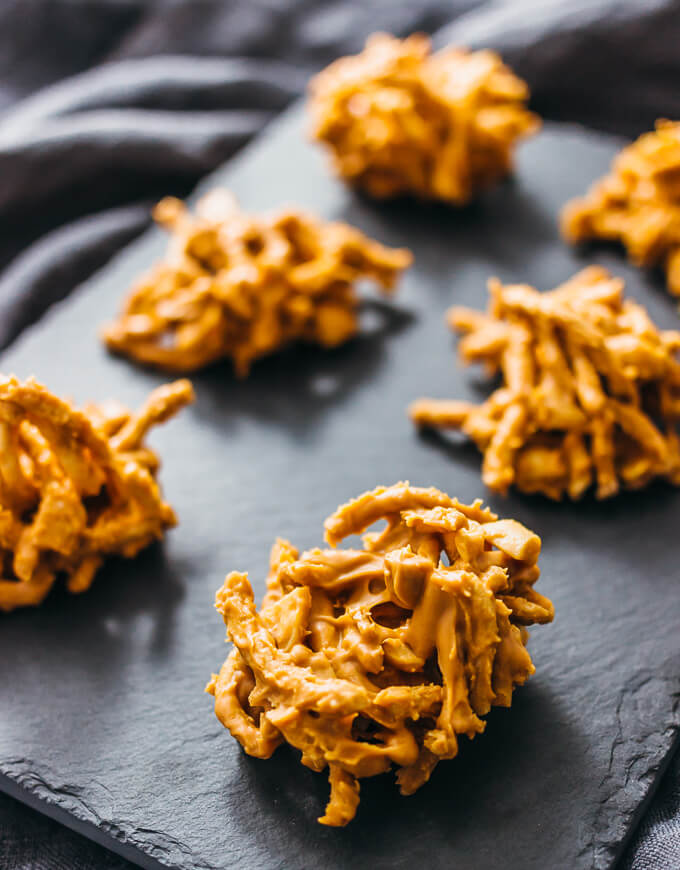 Sign up for the savory tooth e-mail list and I'll send you new recipes right when they come out. Better than having to check the site! You can also follow me on Instagram, Pinterest, Twitter, and Facebook.