Enjoy these tender slow cooker potatoes with Cajun seasoning, bacon, and cheddar cheese.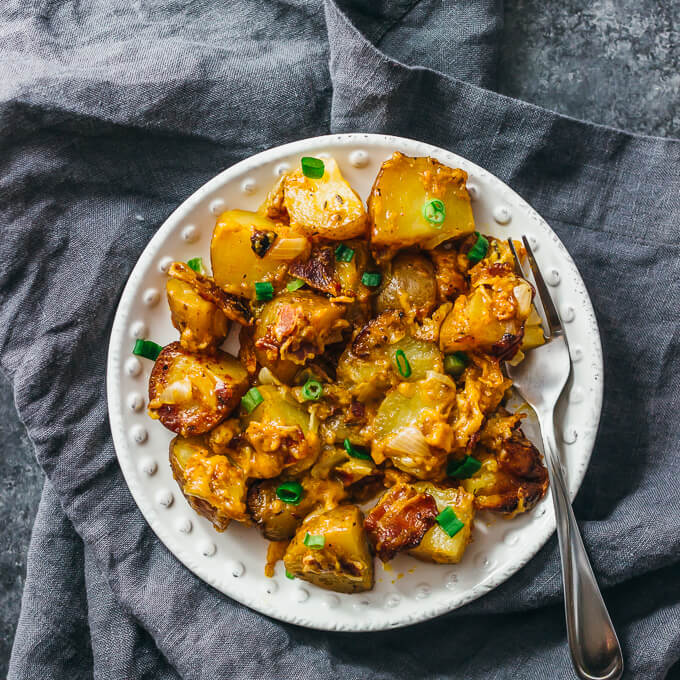 This is one of those slow cooker meals that has you staring longingly at it while waiting for it to cook. I must have got up about a dozen times to check on it. The potatoes looked so good and I could not wait to eat them. They were definitely worth the wait — imagine very soft and tender potato chunks coated with melted cheddar and Cajun spices and topped with bacon. More tender than my roasted parmesan crusted potatoes and roasted hasselback potatoes. They're also really easy to make, as you just throw everything together in the slow cooker and let it do its magic.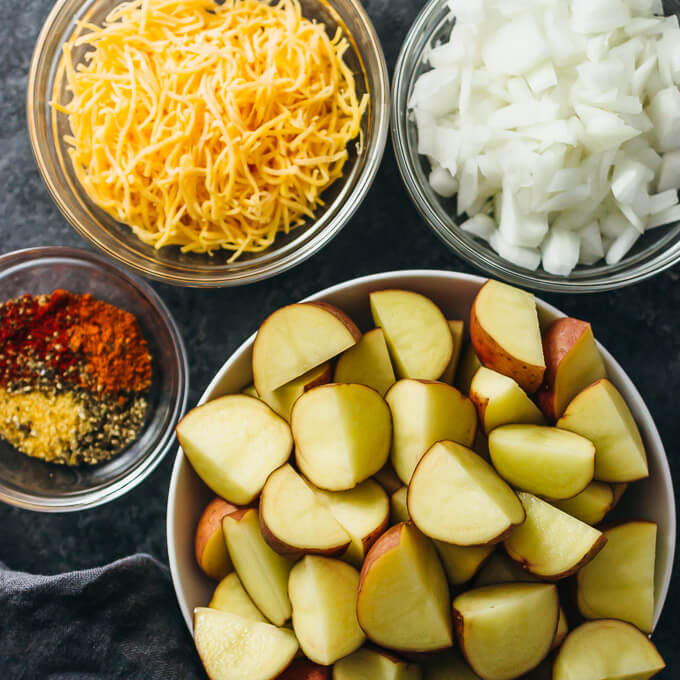 I used baby red potatoes and quartered each of them. Baby gold potatoes would also work well. My potatoes were about 2 inches across; if you use smaller or larger potatoes, you'll have to adjust your cooking time accordingly. My potatoes became very tender after about three to four hours of cooking on high.
I made my own Cajun spice mix — pinches here and there of thyme, garlic powder, paprika, and cayenne, similar to what I used for Cajun shrimp pasta — you can do that as well, or buy pre-made store bought Cajun seasoning. Either way will work nicely here.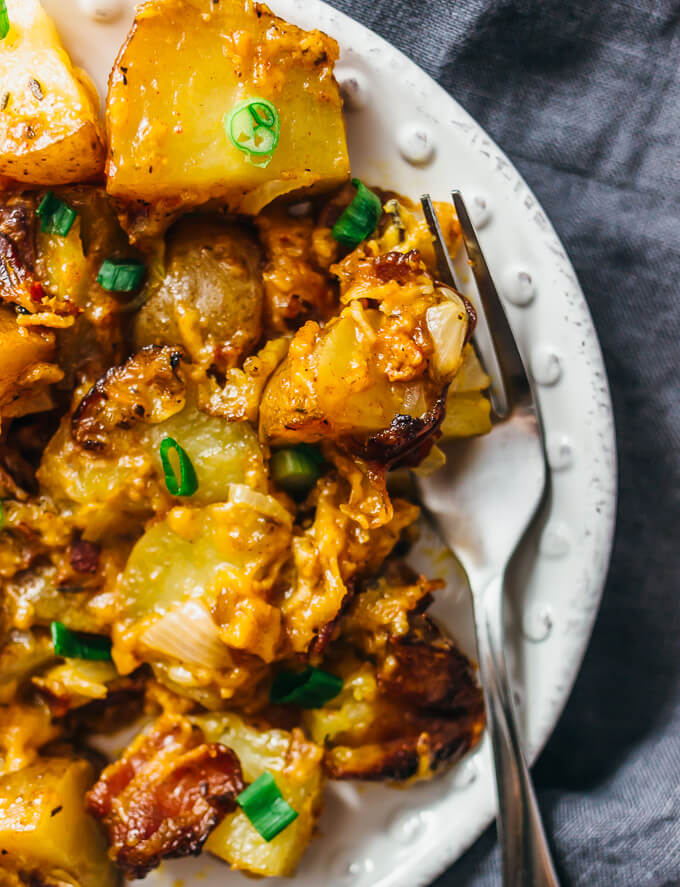 Here's a super-short video showing how easy this recipe is:
Cajun slow cooker potatoes with bacon and cheddar cheese from Savory Tooth on Vimeo.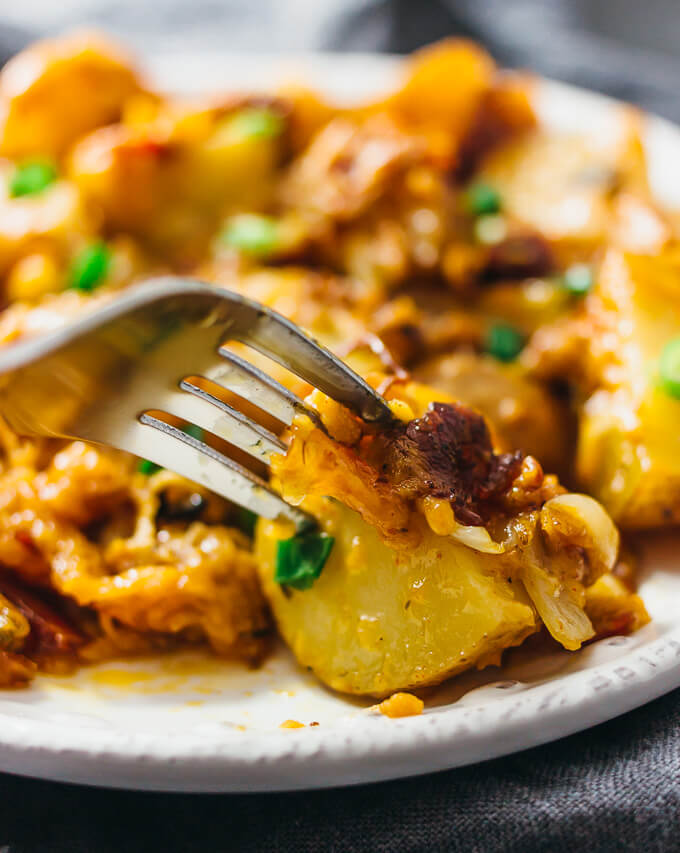 Cajun slow cooker potatoes with bacon and cheddar cheese
Ingredients
1 1/2 pounds baby red potatoes (about 2 inches in diameter), quartered
7 slices bacon, cooked and crumbled
2 1/2 cups shredded cheddar cheese
1/2 sweet onion, chopped
2 scallions, sliced
1 tablespoon olive oil

Seasonings:

1 teaspoon dried thyme
1 teaspoon garlic powder
1 teaspoon paprika
1/2 teaspoon cayenne
1/2 teaspoon salt
1/4 teaspoon pepper
Instructions
Optionally, place a slow cooker liner over the slow cooker for easy cleanup.
Add potatoes and olive oil to the slow cooker, tossing to coat. Add all seasonings and toss again.
Add all other ingredients (bacon, cheddar, onion, and scallions) on top, stirring them in a bit, reserving some of the scallions.
Cook on high until the potatoes are cooked through and tender, about 3-4 hours. Transfer to a serving plate and garnish with remaining scallions.
http://www.savorytooth.com/cajun-slow-cooker-potatoes/
COPYRIGHT © 2016 · SAVORY TOOTH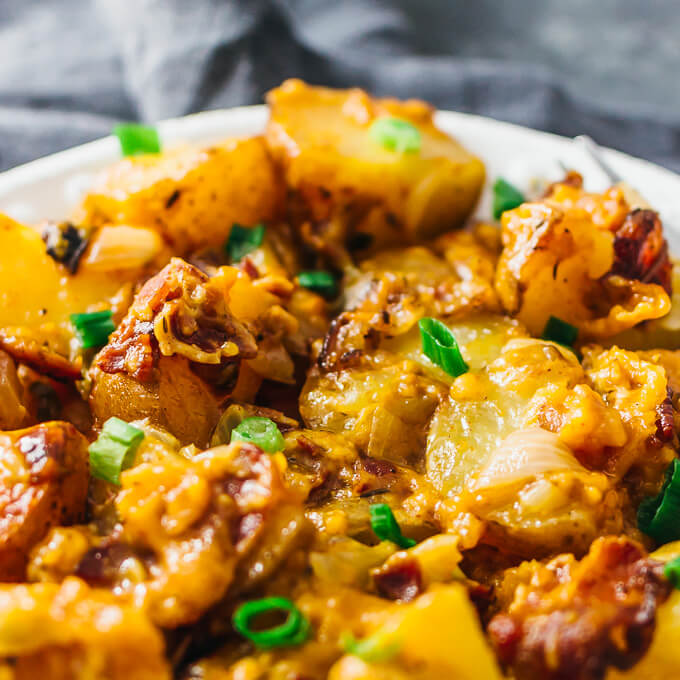 Sign up for the savory tooth e-mail list and I'll send you new recipes right when they come out. Better than having to check the site! You can also follow me on Instagram, Pinterest, Twitter, and Facebook.