These NO-BAKE oreo peanut butter bars are so good! I'm always being asked to make them again. This is the perfect dessert recipe for you if you want to make something using just 6 ingredients and is no-bake and easy!

These squares have three thick layers: an Oreo bottom crust, a thick and creamy peanut butter middle layer, and a rich chocolate frosting top layer. The peanut butter is the star of this show, for sure; there's an entire pound of peanut butter used! Both the chocolate and peanut butter layers are thick and rich, and the Oreo crust is crumbly but holds together.

What I love about this Oreo peanut butter bars recipe:
No cream cheese: That's right, you don't need any cream cheese to make this dish. One less thing to put on your grocery shopping list when making this dish.
No baking: No oven needed. Just assemble and mix together ingredients for the three layers of this dessert, and you're done!
6 ingredients: Just 6 ingredients. Most of the ingredients are things you probably already have at home.

This recipe is also great for sharing at parties. It's made in a square baking dish, so I can cut little bars out and bring them to a party. People can easily grab a square or two. And this can be made ahead of time and refrigerated, and packed into tupperware to bring to a party.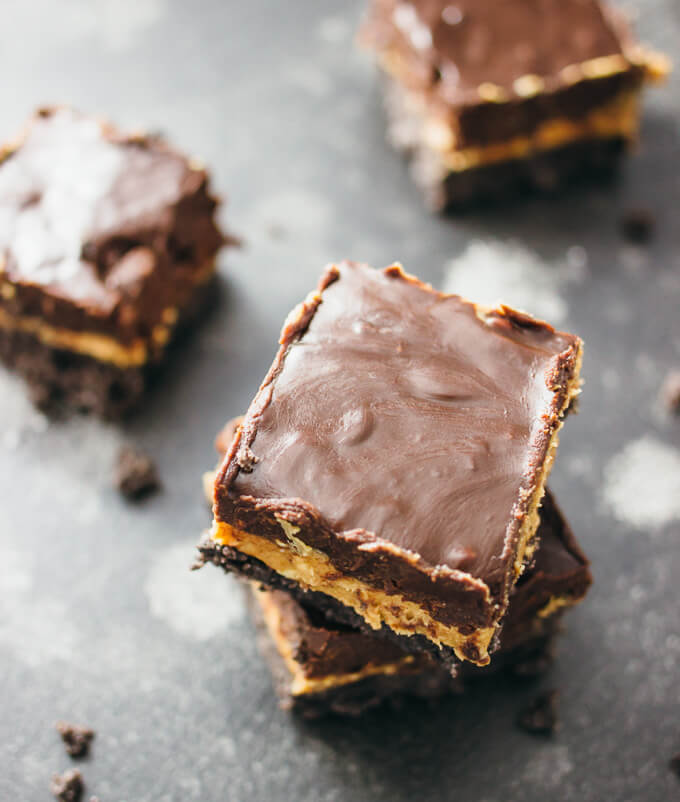 I made these Oreo peanut butter squares for a game night where we had around 10 people playing card games and board games. The host made dinner, and the rest of us brought along desserts, side dishes, and snacks. It's a great excuse for me to develop a new recipe and feed it to a bunch of people to get their feedback!

If you liked these Oreo peanut butter bars, you should also check out my cranberry sauce oatmeal bars! They are a fun way to use up leftover cranberry sauce.
No-bake oreo peanut butter squares
Ingredients
For the bottom Oreo crust:

13 ounce package of whole Oreos (about 21 Oreo cookies)
6 tablespoons butter

For the middle peanut butter filling:

4 tablespoons butter
1.5 cups crunchy peanut butter (about 12 ounces)
1/2 cup powdered sugar

For the top chocolate topping:

2 tablespoons crunchy peanut butter
1/2 cup heavy whipping cream
Instructions
Make the Oreo crust

: Line an 8x8 inch baking dish with foil and butter its sides and bottom. Add Oreos to a food processor, and pulse until finely crushed. Using a large mixing bowl, melt butter in a microwave. Add crushed Oreos and mix well. Distribute over the baking dish, pressing it flat over the bottom of the baking dish with a spatula. Place in the freezer while you work on the next step.

Make the peanut butter filling

: Using a large mixing bowl, melt butter in a microwave. Add peanut butter and sugar. Mix well. Distribute the mixture over the crust. Place in the freezer again while you work on the next step.

Make the chocolate topping

: Add chocolate chips and peanut butter to a large mixing bowl that is heatproof (like glass). Place heavy whipping cream in a small saucepan over medium-low heat, and bring to a simmer. Then pour the cream over the chocolate chips and peanut butter. Mix until completely smooth. Pour this chocolate mix over the filling in the baking dish, spreading evenly. Cover and refrigerate for at least an hour prior to serving.

Serving

: When ready to serve, lift up the sides of the foil to remove from the baking dish. Then slice into squares for serving.
http://www.savorytooth.com/no-bake-oreo-peanut-butter-squares/
COPYRIGHT © 2016 · SAVORY TOOTH

Sign up for the savory tooth e-mail list and I'll send you new recipes right when they come out. Better than having to check the site! You can also follow me on Instagram, Pinterest, Twitter, and Facebook.