These pulled pork tacos have tender fall-apart pork, slowly cooked in the crockpot along with a sauce consisting of tomatoes, pineapples, chipotles in adobo, and garlic.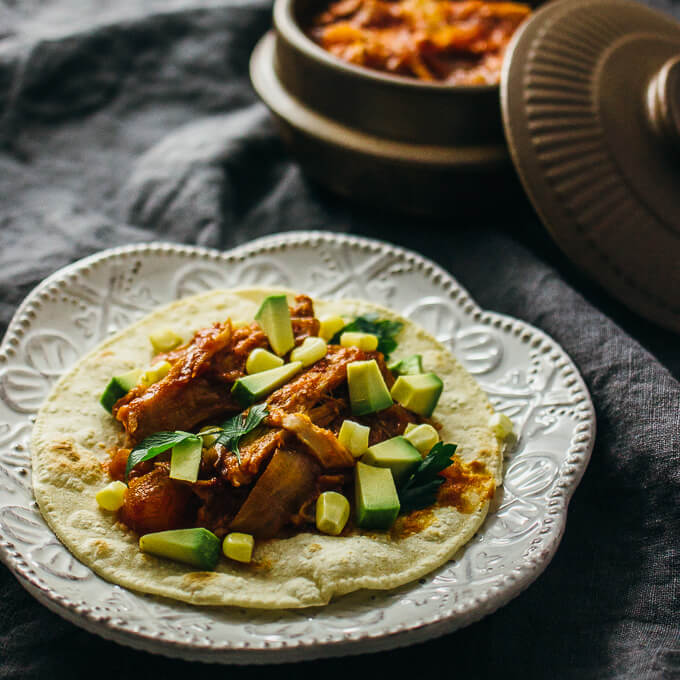 This is a popular party recipe that's almost impossible to mess up. These pulled pork tacos are really easy to make, with precise measurements not needed at all. Step 1 is throw-everything-in-the-slow-cooker, step 2 is turn-the-crockpot-on, step 3 is shred-the-pork, and step 4 is fill-the-tortillas. And that's it. This is great for feeding a crowd because you can essentially set up a taco station, with the pulled pork sitting in the crockpot on the warm setting and various bowls for toppings. Guests can serve themselves, since pre-assembled tacos are prone to getting soggy and therefore not recommended.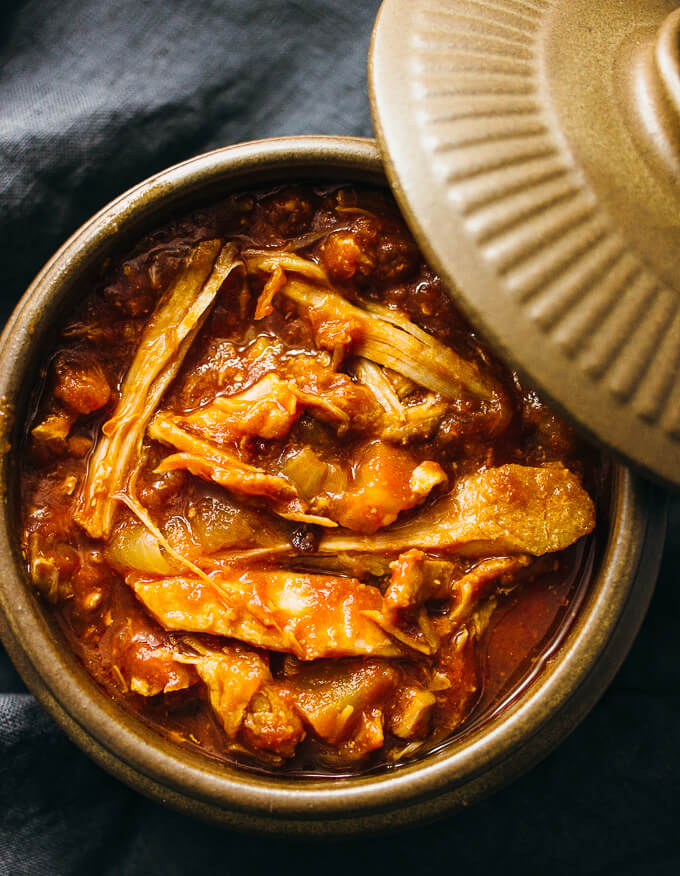 Feeling weirded out by the addition of pineapple? Have no fear; the pineapple is slow cooked with all of the other flavors, resulting in pineapple that is barely perceptible. You can't really taste its texture, but you can taste a hint of sweetness and juiciness that it lends to the chipotle sauce and pork. I like this fruity addition of pineapple chunks that nicely balance the spicy chipotles. As usual, I'm a big fan of the smoky and spicy flavor of chipotles in adobo sauce — I typically buy them on Amazon, use what I need, and freeze the rest in an ice cube tray.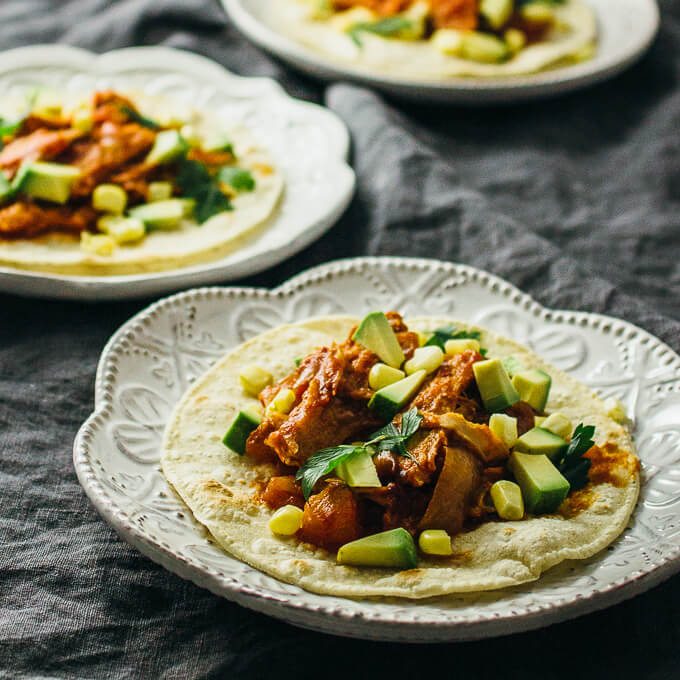 Although designed as a party recipe, this also works well as dinner for two (well, for two very hungry people with healthy appetites). Just be warned that the food might not ever make it out of the kitchen — I usually find myself eating as fast as I can assemble them.
Pineapple chipotle pulled pork tacos (crockpot)
Ingredients
1 pound boneless pork
1 small sweet onion, sliced
1 cup chopped pineapple (1/2-inch chunks)
5 garlic cloves
15 ounce can tomato sauce or puree (salsa works well too)
12 corn tortillas (5-6 inches in diameter)

Toppings:

1 avocado, diced
1 cup corn
chopped fresh cilantro or parsley
Instructions
Add pork along the bottom of the slow cooker. Toss sliced onions and chopped pineapples on top of the pork. Add chipotles and garlic. Evenly pour the tomato puree over everything.
Cook on high for 4 hours.
Shred the pork and mix well with the rest of the contents in the slow cooker.
Distribute everything, including toppings, among the tortillas. Serve immediately.
http://www.savorytooth.com/pineapple-chipotle-pulled-pork-tacos-crockpot/
COPYRIGHT © 2017 · SAVORY TOOTH