Use sausage for your next rigatoni bolognese! It's easy to swap out your typical ground beef for Italian sausage. This pasta recipe shows you how to make sausage bolognese with broccoli, crushed tomatoes, garlic, and a good heaping of spicy red pepper.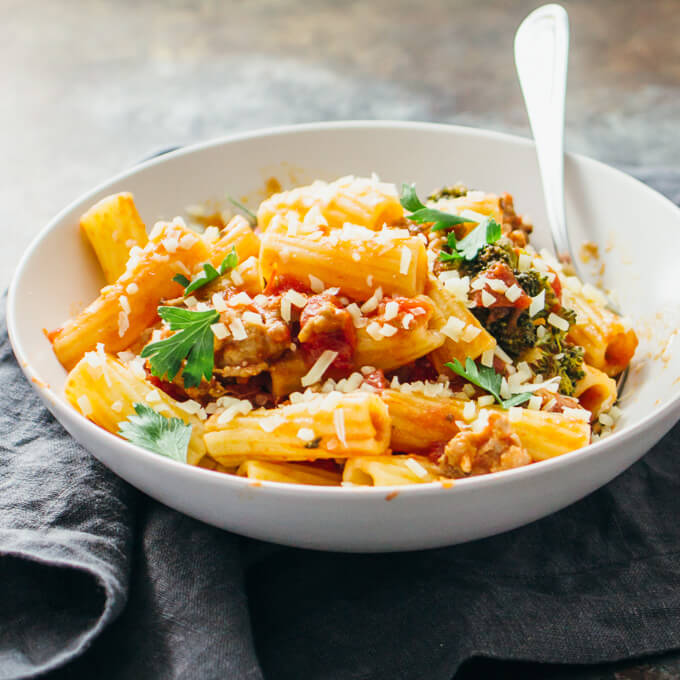 Do you have anyone in your household who dislikes a particular food item that you enjoy? Maybe it's cilantro, shrimp, or something else. In my household, it's Mr. Savory Tooth's dislike of sausage. I happen to love sausage, but I've been avoiding it in my cooking since he refuses to eat it.
Well, times have changed. Let me introduce you to this delicious rigatoni pasta with sausage bolognese and broccoli — where sausage lovers can rejoice because they love sausage and sausage haters will find this dish to be so delicious that they cannot confidently say whether it has sausage or not. Success!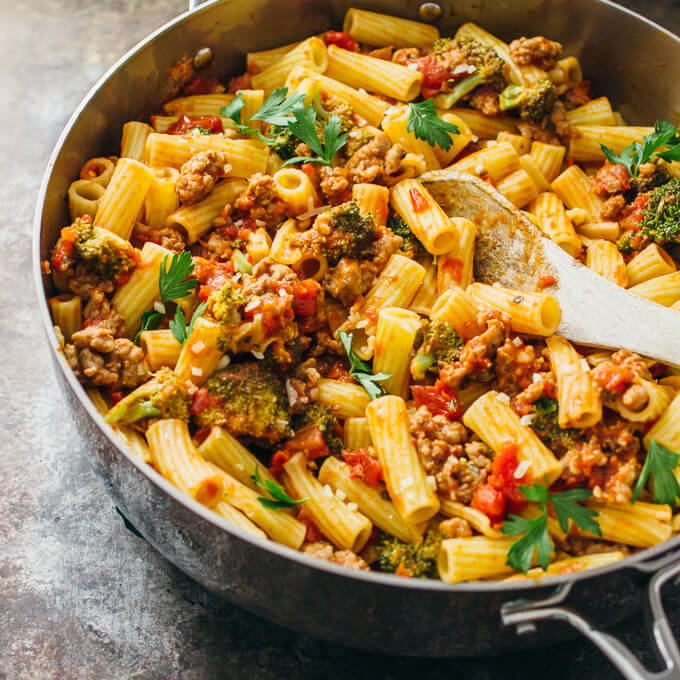 Pasta is one of my favorite things to make at home and rigatoni bolognese is probably my favorite of all pastas. Last time I made rigatoni was a rigatoni bolognese with eggplant. It was so seriously good that I wanted to make more rigatoni bolognese, this time using Italian sausage and broccoli. I love eating tender bites of broccoli between mouthfuls of rigatoni and sausage. ?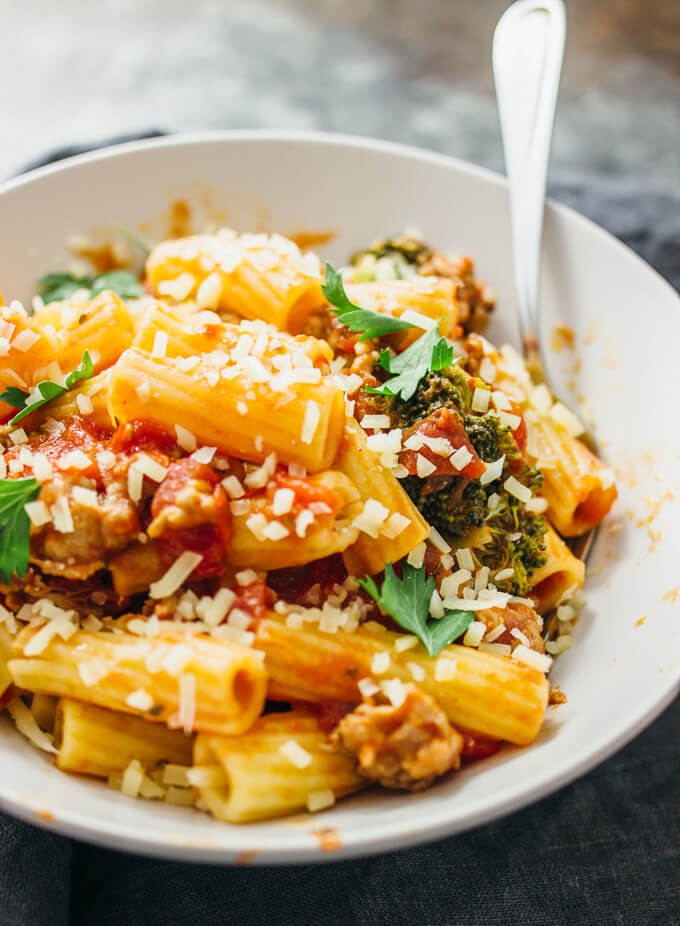 If you haven't made rigatoni bolognese before, this is a great recipe to start with because it's super easy. Grab a pan (you'll want a really large one with high sides like this one) and throw the sausage and broccoli in it. Break apart the sausage and let them sauté until cooked. Then add crushed tomatoes, your favorite Italian flavorings like oregano and other herbs, garlic, lots of spicy red pepper, and rigatoni pasta. Mix it all together and you've got yourself a meal!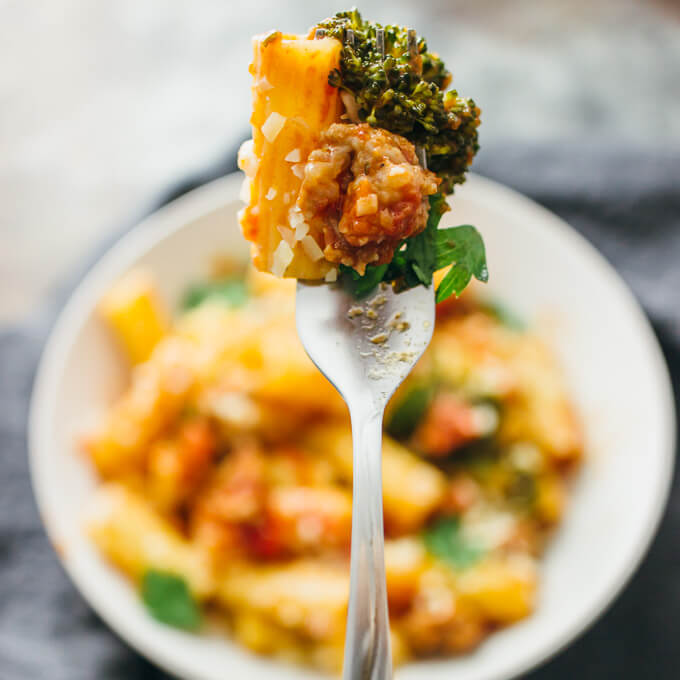 Rigatoni with sausage bolognese and broccoli
Ingredients
Instructions
Cook rigatoni according to package instructions. Drain in a colander and rinse with cold water.
Heat olive oil in a large 5-quart pan over medium heat. Add sausage (casings removed) to the pan, breaking it apart. Add broccoli florets to the pan. Cook until the broccoli is tender and the sausage is cooked, about 10 minutes, stirring occasionally.
Add tomatoes (including the liquid in the can), garlic, salt, oregano, and red pepper to the pan. Mix well. Simmer on medium-low heat for about 5 minutes.
Add cooked rigatoni to the pan. Mix well. Serve immediately. Optionally, add garnishes like parsley leaves and parmesan cheese crumbles.
http://www.savorytooth.com/rigatoni-sausage-bolognese-broccoli/
COPYRIGHT © 2017 · SAVORY TOOTH