This is the best couscous salad I've ever had. It's easy to make, vegan, and has a summery southwestern vibe.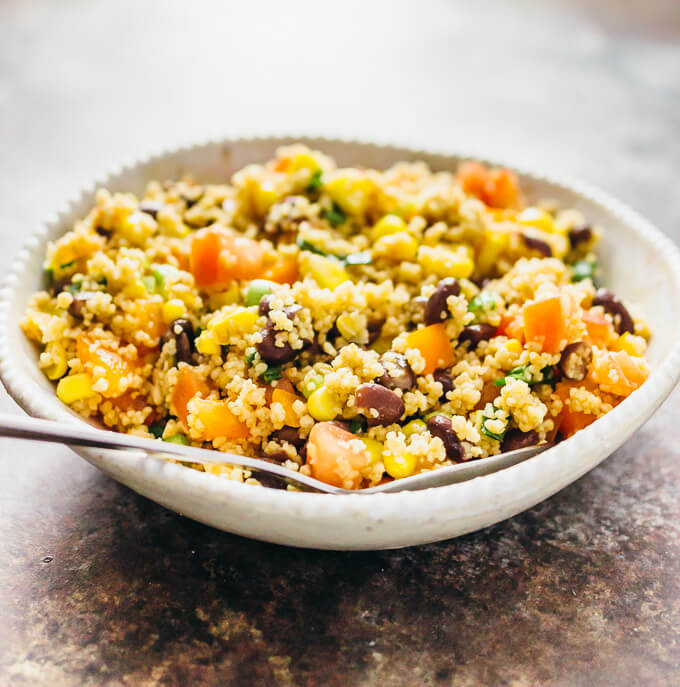 I've been making this summer couscous salad for years. Last time I made this was for a dinner party at my place, and everyone loved the gorgeous colors and the refreshing taste of the salad. This cold couscous salad is perfect for get-togethers because you can prep all of the ingredients ahead of time and let the salad sit in the refrigerator until ready to serve. It's also a simple recipe with just two steps — cooking the couscous in the microwave and tossing the ingredients together — and you can easily scale up to make more servings for a larger crowd.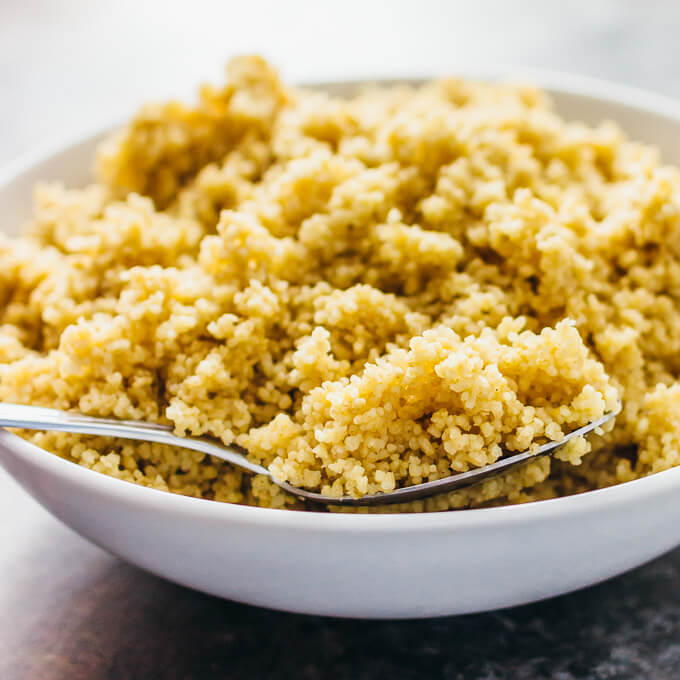 There are a number of ways you can cook couscous. You can cook it on stovetop in a saucepot by letting couscous sit in boiling water for about 5 minutes, or you can microwave for a few minutes. I typically opt for the latter method by microwaving with a pinch of salt and vegetable broth. You should follow the recommended times on the package for your particular type of couscous. After cooking, I immediately fluff the couscous using a fork to prevent it from sticking together. For this recipe, I used whole durum wheat couscous, which is very similar to regular couscous except with the added benefits of whole grain.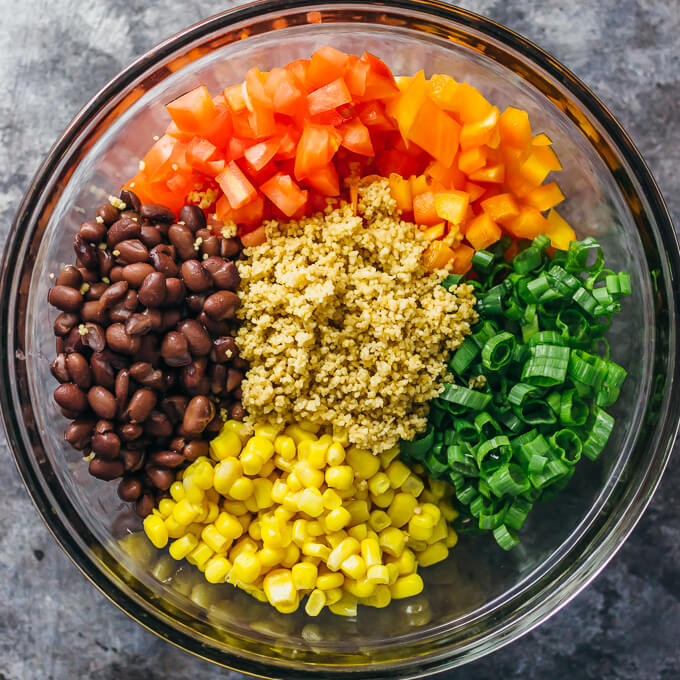 The couscous salad dressing is simply a mixture of olive oil and fresh lemon juice, with a pinch of salt, garlic powder, and cayenne. Don't worry about the addition of cayenne if you're averse to spicy foods — it's noticeable but barely there, and you won't break a sweat.
If you have leftover couscous from making this dish, there are many ways you can use it up. Couscous is great as a side dish to accompany mains such as Instant Pot salmon, chili-ginger brussels sprouts and beef, and chipotle meatballs. Generally, you can use couscous to replace the role of rice or pasta in any dish, and it goes great with meaty mains.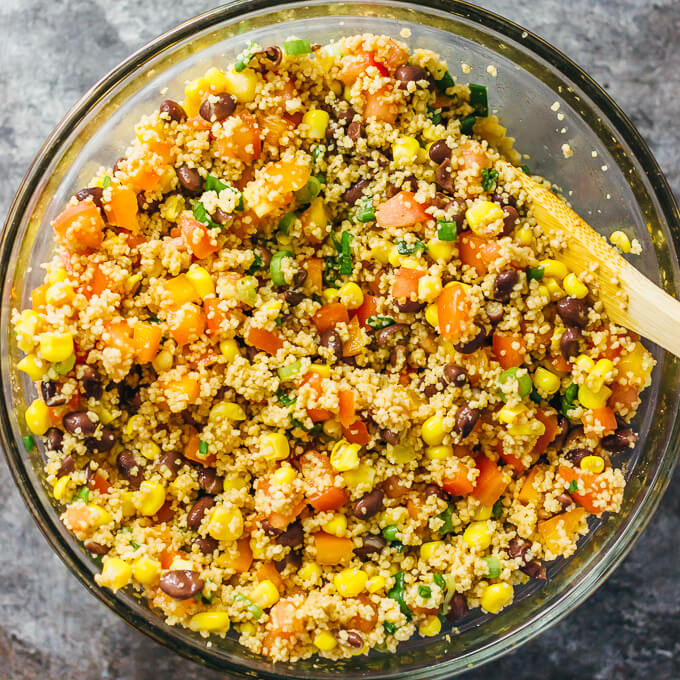 Watch this video to learn how to make this salad:
Best southwest couscous salad
Ingredients
15 ounce can black beans, drained
15 ounce can corn, drained
1 orange bell pepper, diced
3 roma tomatoes, diced
5 scallions, finely sliced
1/2 teaspoon cayenne
1/2 teaspoon garlic powder
1/2 teaspoon salt
2 tablespoons lemon juice (about 1 lemon, juiced)
1/4 cup olive oil

For cooking couscous:

1 cup couscous
1/2 teaspoon salt
1 cup vegetable broth or water
Instructions
Cooking couscous

: Combine all couscous ingredients in a microwave-safe bowl and stir. Microwave for 3 1/2 minutes. Alternately, you can cook couscous according to package directions. Fluff with a fork and set aside to cool.

Mix everything together

: Combine all of the ingredients, including the cooked couscous, in a large mixing bowl. Mix well and refrigerate until ready to serve.
http://www.savorytooth.com/savory-southwest-cous-cous-salad/
COPYRIGHT © 2016 · SAVORY TOOTH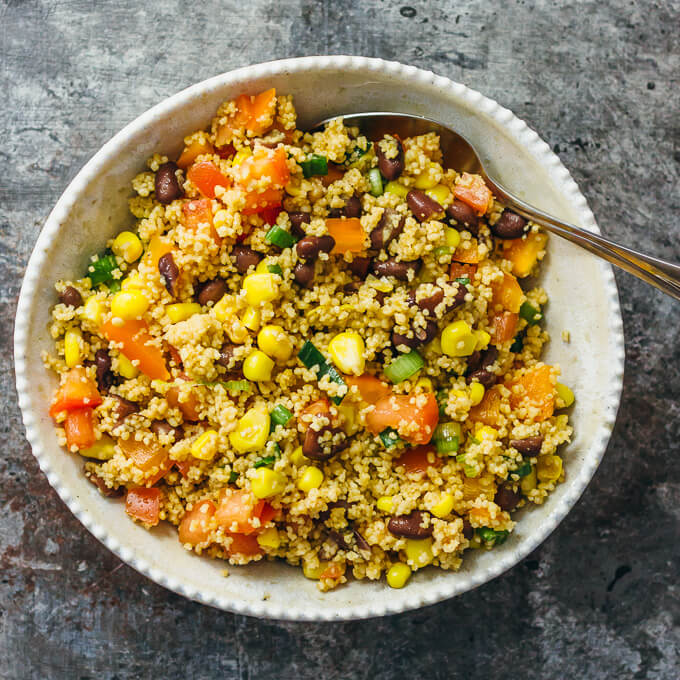 Sign up for the savory tooth e-mail list and I'll send you new recipes right when they come out. Better than having to check the site! You can also follow me on Instagram, Pinterest, Twitter, and Facebook.