Serve this smoked salmon crostini with capers and a lemon ricotta spread at your next gathering with friends.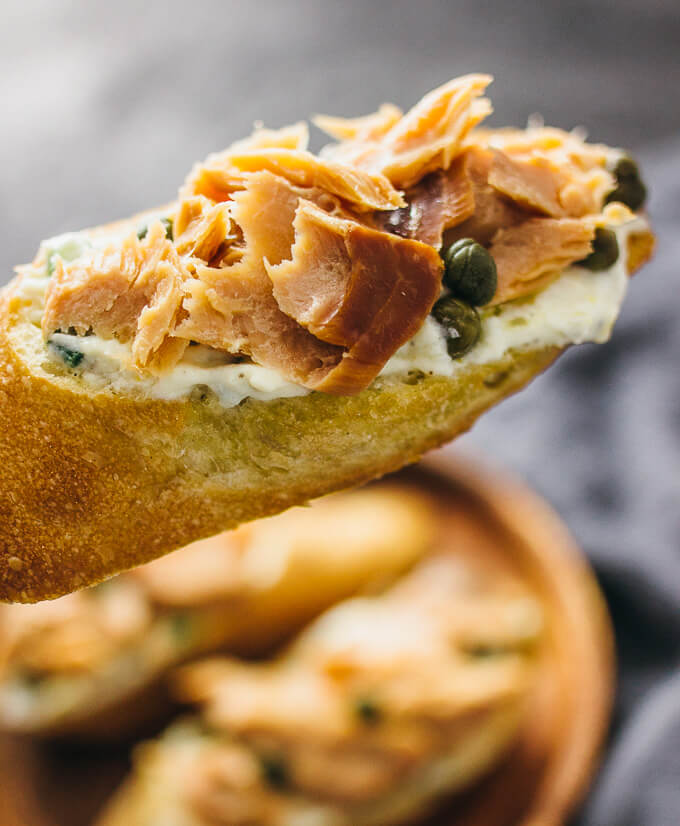 Smoked salmon is something we always keep well-stocked in the Savory Tooth household, and recently I was thinking how it was a year ago that I held a Smoked Salmon Week. We celebrated by eating all things smoked salmon, and our favorites included smoked salmon quesadillas with jalapeños and sriracha aioli and smoked salmon potato cakes.  Most recently, I cooked with smoked salmon to make these ricotta stuffed shells, and today I use both smoked salmon and ricotta once more in something totally different: smoked salmon crostini with capers and a lemon ricotta spread.

The ricotta spread goes amazingly well with smoked salmon. The lemon juice and zest provide a tangy taste and the sliced scallions add a refreshing aroma — all of which complements the rich and flavorful chunks of smoked salmon. Yum. The recipe below makes a generous amount of this lemon ricotta spread, so you may not use all of it depending how thick your spread is and how many baguette slices you have.

This spread easily slathers onto toasted slices of French baguette and is viscous enough to keep the delicious capers in place. I thought the capers would be a nice touch here, and they also make the crostini much more interesting to look at, right?

You can easily make this for your next party — it's not messy like bruschetta (your guests won't find tomatoes falling off the edges) and the lemon ricotta spread can be made ahead of time and refrigerated.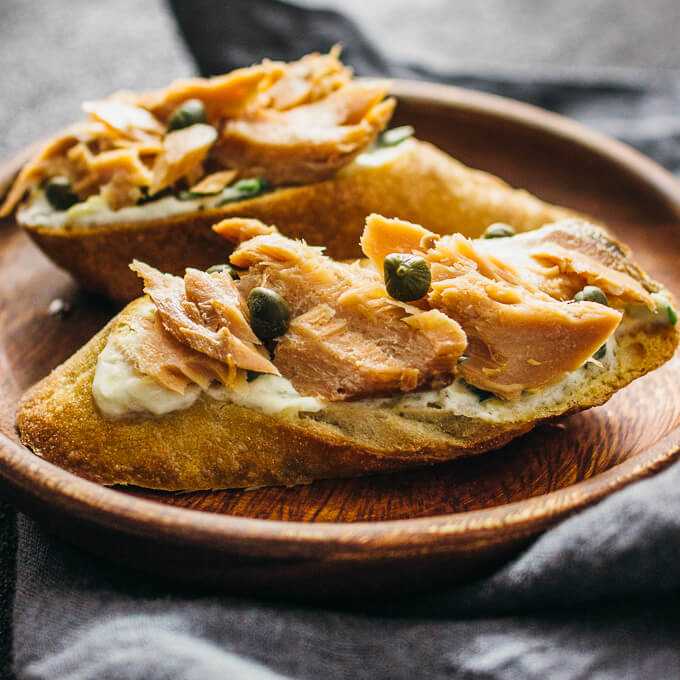 Smoked salmon crostini with lemon ricotta spread
Ingredients
1 French baguette (about 12 ounces), diagonally sliced 1/2 inch thick
8 ounces smoked salmon, broken up
2 tablespoons capers, drained
1/4 cup olive oil

Lemon ricotta spread:

3/4 cup whole milk ricotta cheese
1 lemon, zested and juiced (need 1 tablespoon juice, 1 tablespoon zest)
2 scallions, thinly sliced
1 tablespoon olive oil
1/2 teaspoon salt
1/4 teaspoon coarsely ground pepper
Instructions
Preheat the oven to 375 F.
Mix all lemon ricotta spread ingredients in a bowl until combined. Set aside.
Brush both sides of sliced baguette slices with olive oil and place them in a single layer on a baking sheet.
Bake at 375 F until golden, about 13 minutes.
Slather lemon ricotta spread onto each baguette slice. Distribute smoked salmon and capers on top. Serve.
http://www.savorytooth.com/smoked-salmon-crostini/
COPYRIGHT © 2017 · SAVORY TOOTH