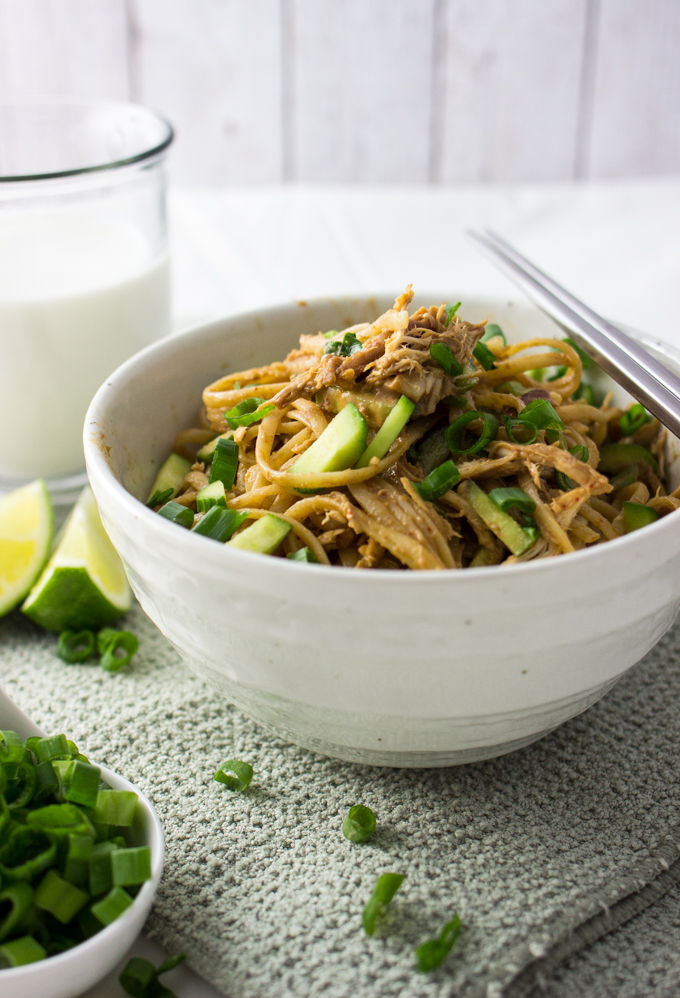 These spicy peanut noodles are perfect: thin noodles covered in a thick peanut sauce with shredded chicken. It's nicely complemented by finely chopped scallions and thin cucumber strips. There's also a hint of spiciness in the sauce, too!
I love ordering Indonesian or Thai peanut noodles whenever I see them on a restaurant menu, and this is my best recreation of them using everyday ingredients. This dish also comes together quite quickly; there are only four ingredients besides the peanut sauce! And as I am never one to skimp on sauce, there's plenty of peanut sauce in this dish to coat all of the ingredients with this deliciously peanut flavor. If there's a big peanut butter fan in your household, they will love this.

The story behind why I made this dish can be attributed to Mr. Savory Tooth. He is a HUGE fan of peanut butter, in all forms, shapes, and sizes. We went on a hiking vacation a few weeks ago to the mountains, and stopped by this quirky neighborhood restaurant. I ordered Indonesian peanut noodles and shared some with Mr. Savory Tooth. He was instantly hooked, and kept stealing more and more of my noodles. In the end, he probably ate half of my dish. So when we returned from vacation, I knew that I had to make my own version of peanut noodles. I've perfected it until I felt it resembled what I would consider to be perfect peanut noodles. I expect that this will be a regular rotation in our household!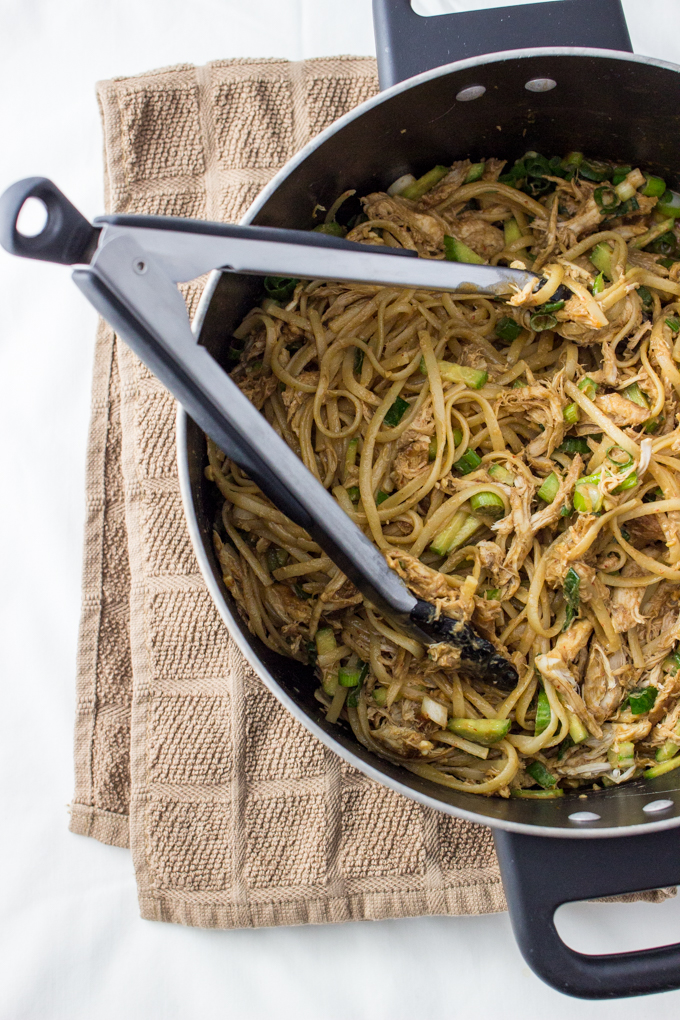 I used slow cooker chicken for this recipe, because I love pulled chicken. You can also use other kinds of cooked chicken, like rotisserie chicken. Feel free to experiment! Peanut noodles go well with most meats and vegetables.
Spicy peanut noodles with shredded chicken
Ingredients
1/2 pound linguine pasta
1 cup (about 3) Persian cucumbers, julienned
1 pound chicken breasts, plus a drizzle of soy sauce and salt to coat the chicken in the slow cooker
10 scallions (green onions), chopped

For the peanut sauce

1/2 cup peanut butter (either chunky or creamy, it's all good)
3 tablespoons sriracha sauce
3 tablespoons soy sauce
1 tablespoon lime juice
5 cloves of garlic, minced using a garlic press
2 tablespoons olive oil
1/3 cup water
Instructions
Place the chicken breasts in a slow cooker (I use a 6-quart slow cooker with slow cooker liner). Drizzle some soy sauce over the chicken breasts until they are coated with the sauce. Sprinkle a little salt. Cook on low for 8 hours. After they are finished cooking, transfer to a plate and use 2 forks to pull the meat apart from each other. They should pull and shred easily. Set aside.
Cook the linguini noodles according to package directions. I recommend snapping them in half before cooking, because the noodles get sticky and very tangled later. When done, drain in a colander with a drizzle of olive oil.
While waiting for the noodles to cook, make the peanut sauce. Assemble all of the peanut sauce ingredients in a small saucepan, and cook over low heat. Stir until the sauce becomes Using a large stovetop pot, mix the cooked noodles, chicken, cucumbers, scallions, and peanut sauce together. Turn the pot's heat to low as you slowly stir all of the ingredients together.
http://www.savorytooth.com/spicy-peanut-noodles-with-shredded-chicken/
COPYRIGHT © 2016 · SAVORY TOOTH