These extra crispy fried wontons are a fun and delicious way to use up your leftovers by stuffing them into wonton wrappers and frying until crispy.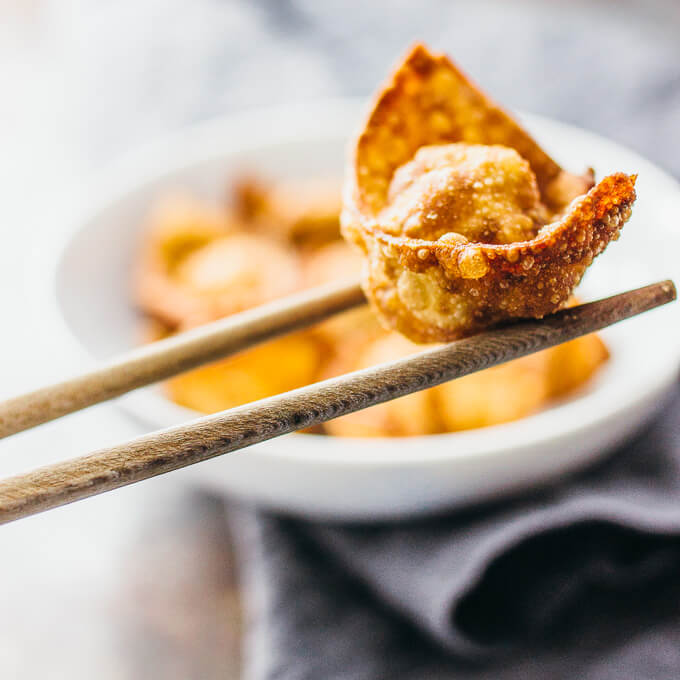 I call these my leftovers fried wontons. They can be stuffed by any kind of cooked meat like beef or chicken, and they are a terrific way of transforming your leftovers into something totally different and totally crunchy. I like enjoying them when I'm craving some fried finger food appropriate for consuming while plopped down in front of the TV. They are also super easy: scoop your leftover meat onto pre-made wonton wrappers, fold them up any way you like, fry for half a minute, and eat. They cook very quickly because wonton wrappers are very thin and don't need much time in hot oil before crisping up.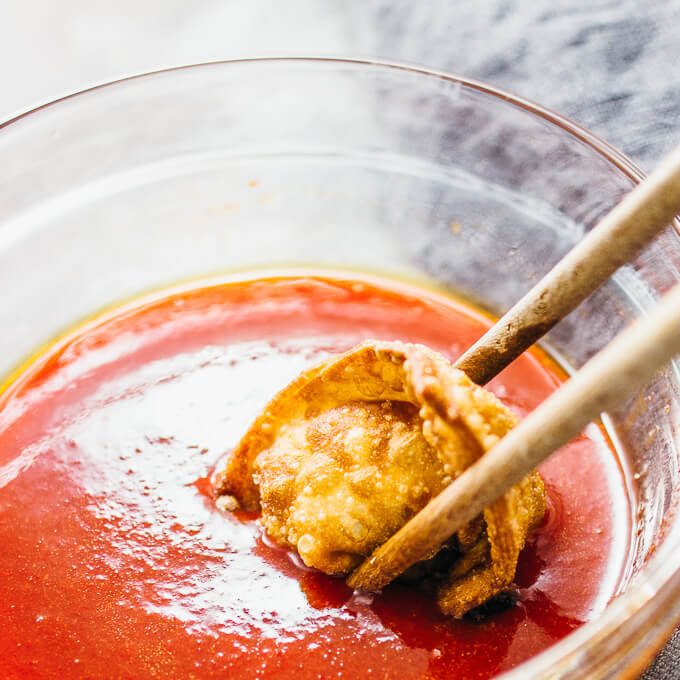 I serve these fried wontons with my sweet chili sauce made using sriracha and sugar. It's one of my favorite sauces that I've used countless times for my avocado egg rolls and vegetable egg rolls. Every time I make it, it never seems enough and I'm always scraping along the bottom of my sauce vessel trying to get every last yummy bit of it.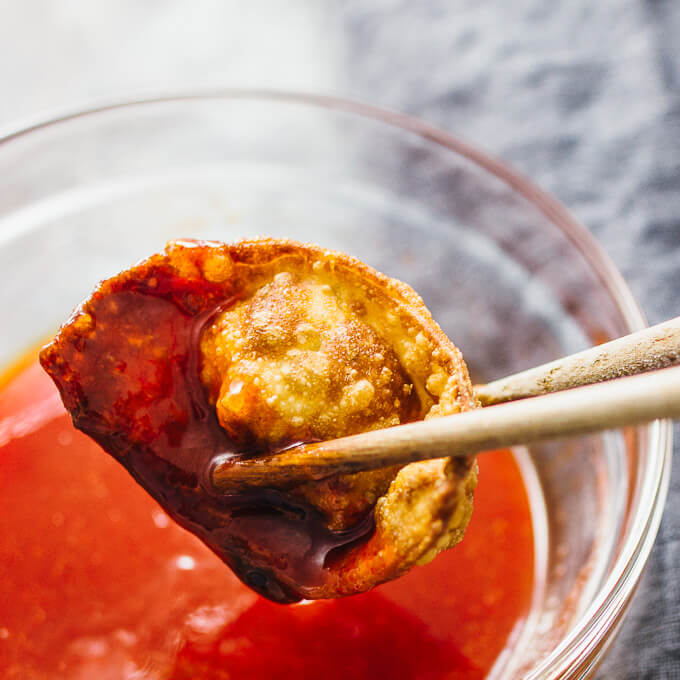 Some people are intimidated by making homemade fried wontons because folding wonton wrappers sounds like a daunting task. Folding wonton wrappers is actually quite easy, because you can fold them up in any shape you like, and as long as you seal the edges with water, they will hold their form. For this recipe, I folded each wonton wrapper in half to form a rectangle, and them pulled the folded corners towards each other and sealed them with water.

These wonton wrappers can be found in your local supermarket's refrigerated section near the tofu. They are very thin and can dry out quickly, so make sure that you store them tightly covered until right before wrapping.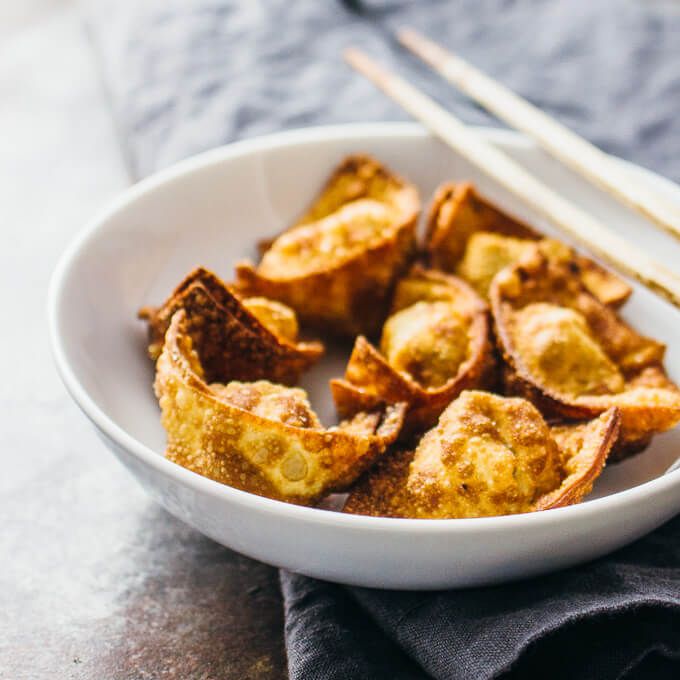 Ingredients
Instructions
Prepare a small bowl of water. Lay out a wonton wrapper. Add about 1 teaspoon of beef onto the wrapper. Dab a finger in the water and run your finger along the four sides of the wrapper until moist. Fold the wrapper in half so that it forms a rectangle, pressing down to seal the sides. Add water to the two folded corners and pull them together, sealing by pressing the corners together. Repeat for all other wrappers.
Heat a small pot 1 inch deep with oil. When the temperature reaches 350 F, add the wontons in batches and cook until golden, about 30 seconds, flipping them once. Drain on a paper towel.
Combine all dip ingredients in a bowl and mix together. Serve the dip with the fried wontons.
http://www.savorytooth.com/super-easy-fried-wontons/
COPYRIGHT © 2017 · SAVORY TOOTH