Summary:
Full of delicious flavors and textures, this colorful Southwest Couscous Salad is perfect for summertime. It's a simple vegan recipe with only two steps — microwaving couscous and tossing all ingredients together — and is suitable for meal prep or parties.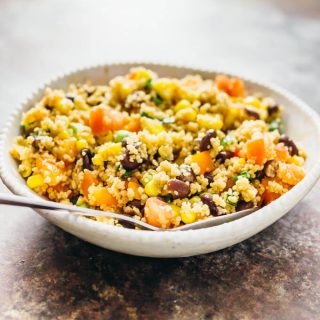 INGREDIENTS
15-ounce can

black beans, drained

15-ounce can

corn, drained

1

orange bell pepper, diced

3

roma tomatoes, diced

5

scallions, finely sliced

1/2

teaspoon

garlic powder

1/2

teaspoon

table salt

2

tablespoons

fresh lemon juice (Note 2)

1/4

cup

olive oil
For Cooking Couscous:
1

cup

couscous (Note 3)

1

cup

vegetable broth or water

1/2

teaspoon

table salt
INSTRUCTIONS
Cook Couscous (Note 4): Stir together couscous, vegetable broth, and salt in microwave-safe bowl. Microwave for 3 minutes and 30 seconds. Alternatively, cook couscous according to package instructions. Fluff cooked couscous with fork; set aside to cool a bit.

Combine Salad: Add all ingredients, including cooked couscous, to large mixing bowl. Stir all ingredients together until well-mixed. Serve (Note 5).
NUTRITION
Makes 6 Servings
Amount Per Serving:
| | |
| --- | --- |
| Calories 350 (28% from fat) |   |
| Total Fat 11g | 17% |
|    Saturated Fat 2g | 8% |
| Cholesterol 0mg | 0% |
| Sodium 810mg | 34% |
| Net Carb 41g |   |
| Total Carb 54.5g | 18% |
|    Dietary Fiber 13.5g | 55% |
|    Sugars 7.5g |   |
| Protein 12g |   |
PHOTOS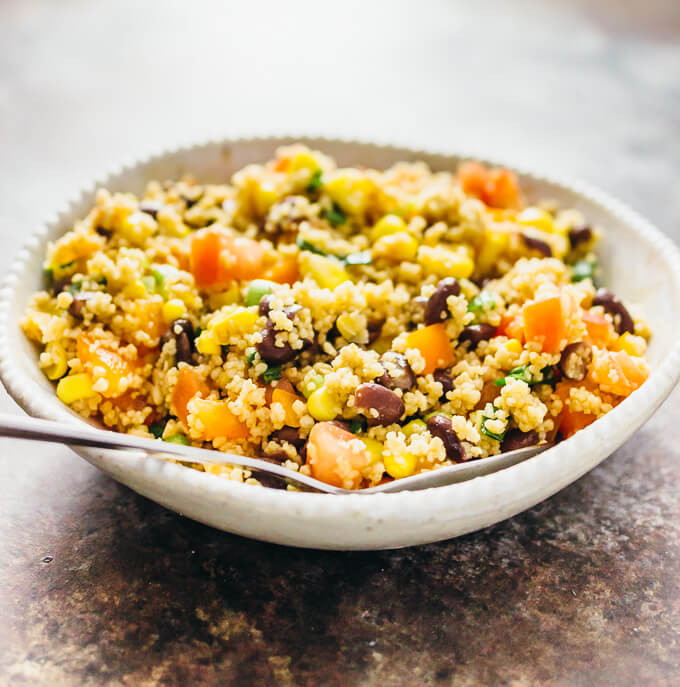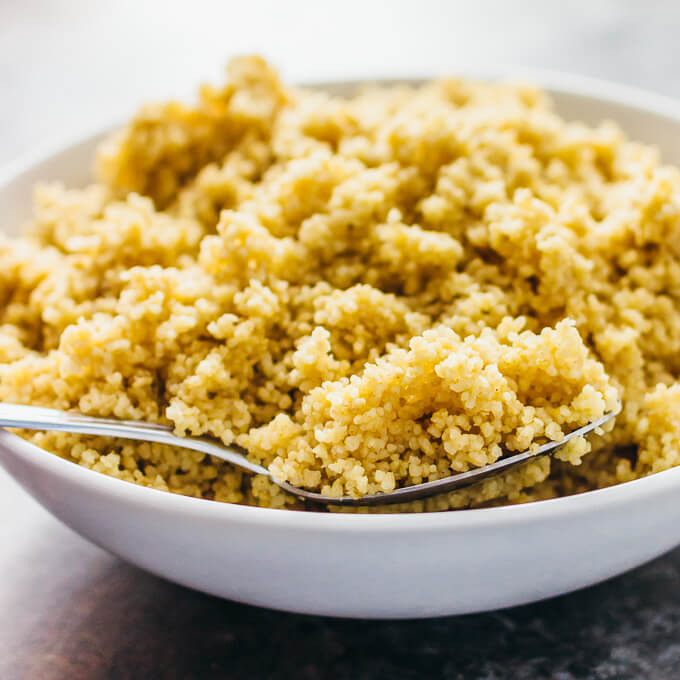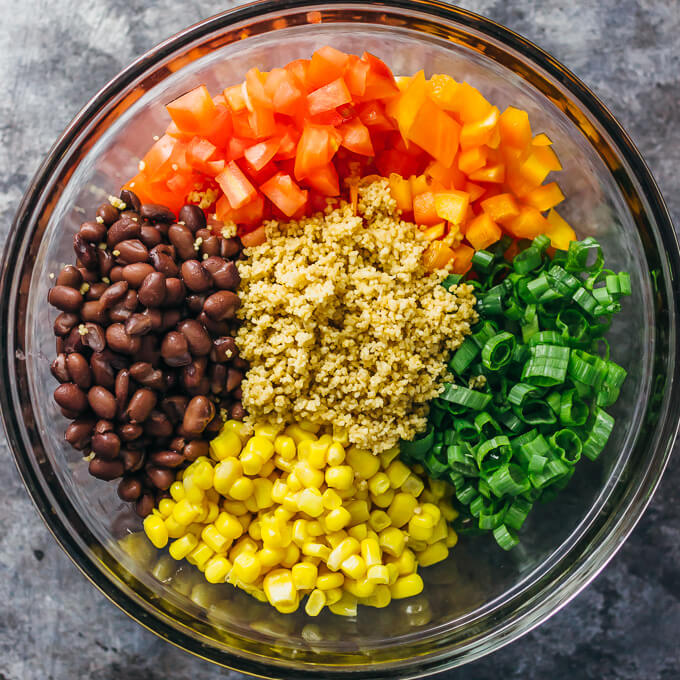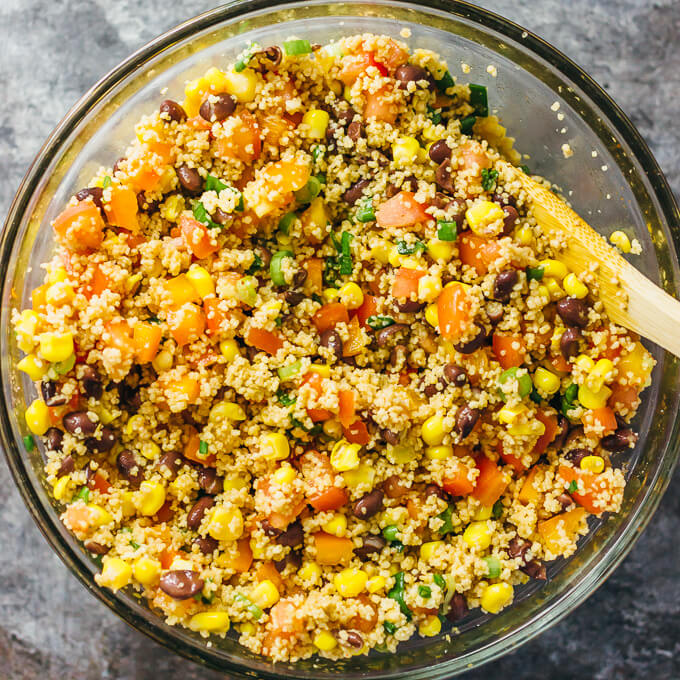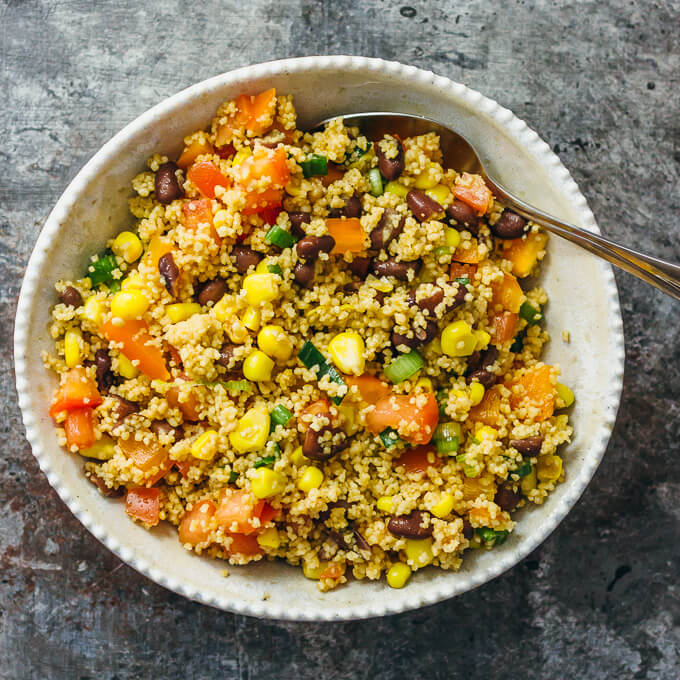 NOTES & TIPS
(1) Cayenne. Don't worry about the inclusion of cayenne if you're averse to spicy foods; it's noticeable but barely there, and you won't break a sweat.
(2) Lemon Juice. About 1 lemon, juiced.
(3) Couscous. I use whole durum wheat couscous by Trader Joe's.
(4) Cooking Couscous. There are a number of ways you can cook couscous. You can cook it on stovetop in a saucepan by letting couscous sit in boiling water for about 5 minutes, or you can microwave for a few minutes. I typically opt for the latter method by microwaving with a pinch of salt and vegetable broth. Follow the recommended times on the package for your particular type of couscous. After cooking, fluff the couscous using a fork to prevent it from sticking together.
(5) Serving. If making ahead of time or if you have leftovers, cover and refrigerate for up to 3 days. Just prior to serving, stir it up a bit, possibly tossing with extra olive oil if the couscous looks like it's sticking together. Enjoy this salad as a light lunch or dinner, or as a side dish to accompany mains like pan-seared swordfish or salmon. Generally, couscous can be used to replace the role of rice or pasta in most dishes.