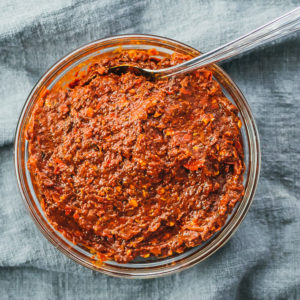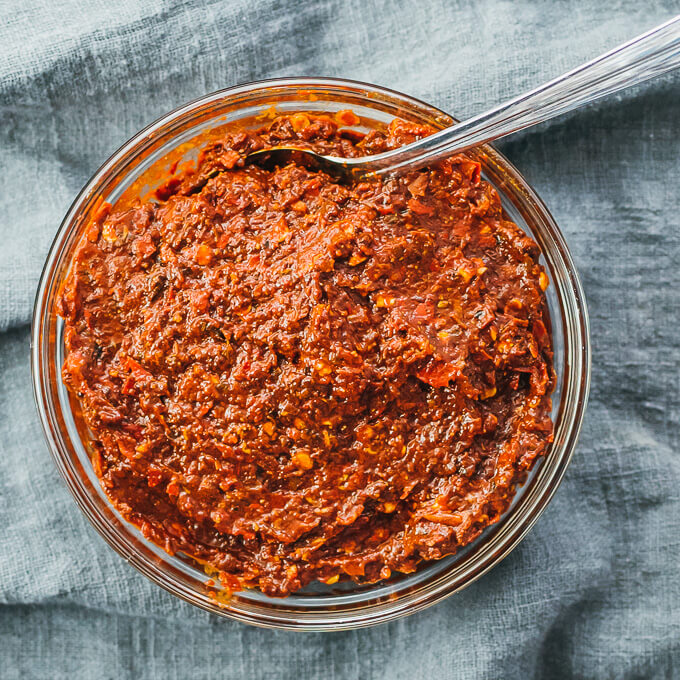 INGREDIENTS
Beef adobo dinner:
12

ounces

flank steak

1/3

cup

adobo sauce (above)

2

tablespoons

mayonnaise

1

tablespoon

corn starch

1

tablespoon

cooking oil
INSTRUCTIONS
Making adobo sauce:
Snap the stems from chiles and discard them. In a large bowl, soak chiles in hot water until soft and pliable, about 30 minutes. If the chiles float to the surface, use a plate to keep them fully submerged.

Drain the chiles and discard the water. For a less spicy sauce, remove the seeds.

In a blender, add softened chiles and all remaining adobo sauce ingredients. Blend until pureed into a thick paste-like consistency, pausing occasionally to scrape down the sides of the blender. If too thick to blend, add water to thin it out.
Making beef adobo:
Slice the flank steak against the grain into thin strips, about 1/4 inch thick. In a large bowl, toss the beef with corn starch until well-coated. Set aside.

In a bowl, combine adobo sauce and mayonnaise, stirring together until smooth. Set aside.

Heat oil in a wide pan over medium to medium-high heat for a few minutes until hot. Add beef and cook for a few minutes until browned, stirring and flipping the slices frequently.

Reduce to medium-low heat. Add adobo-mayonnaise sauce to the pan and stir with the beef until well-mixed, about a minute.

Turn off the heat and serve while hot. Optionally top with freshly ground black pepper.
NUTRITION
Makes 3 Servings
Amount Per Serving (1/3 cup sauce):
| | |
| --- | --- |
| Calories 90 (24% from fat) | |
| Total Fat 2g | 4% |
|    Saturated Fat 0g | 1% |
| Cholesterol 0mg | 0% |
| Sodium 790mg | 33% |
| Net Carb 9.5g | |
| Total Carb 16.5g | 6% |
|    Dietary Fiber 7g | 28% |
|    Sugars 0g | |
| Protein 4g | |
PHOTOS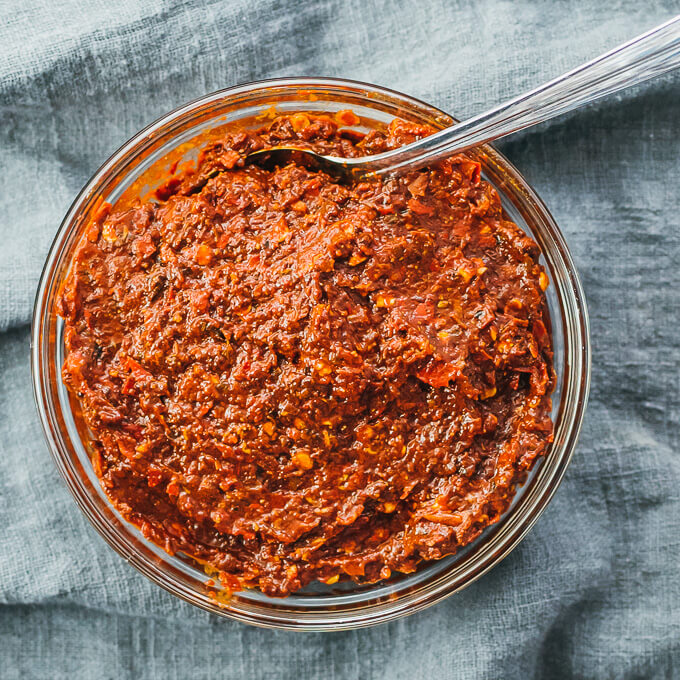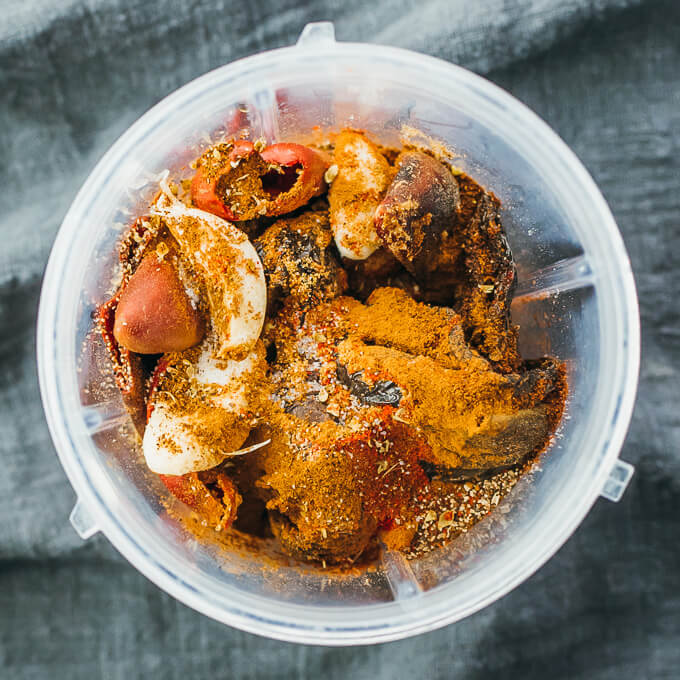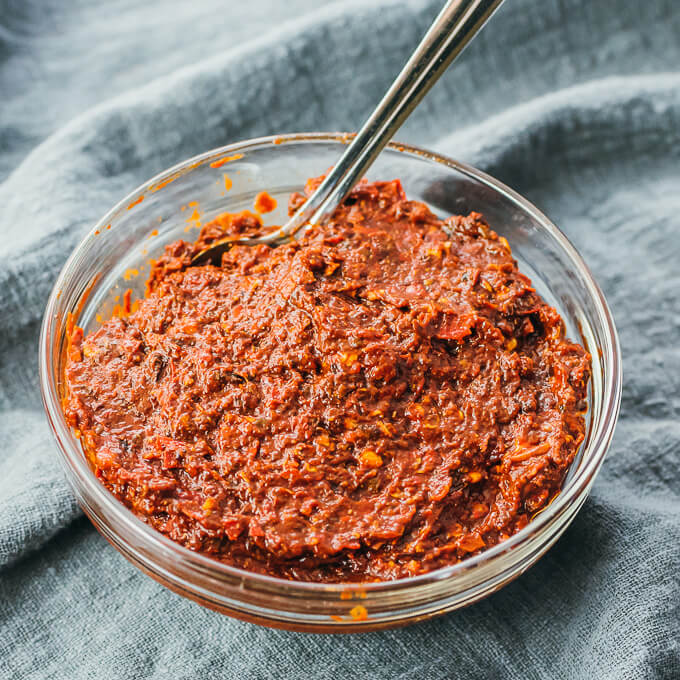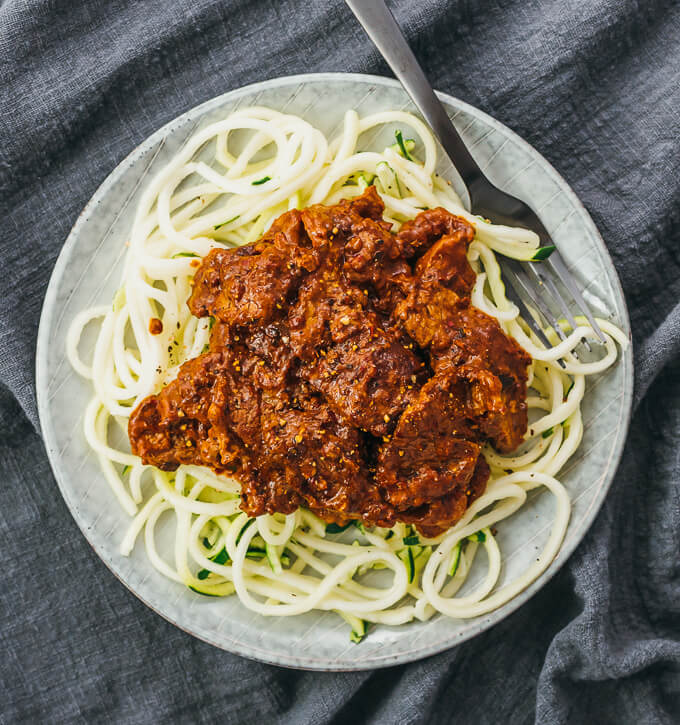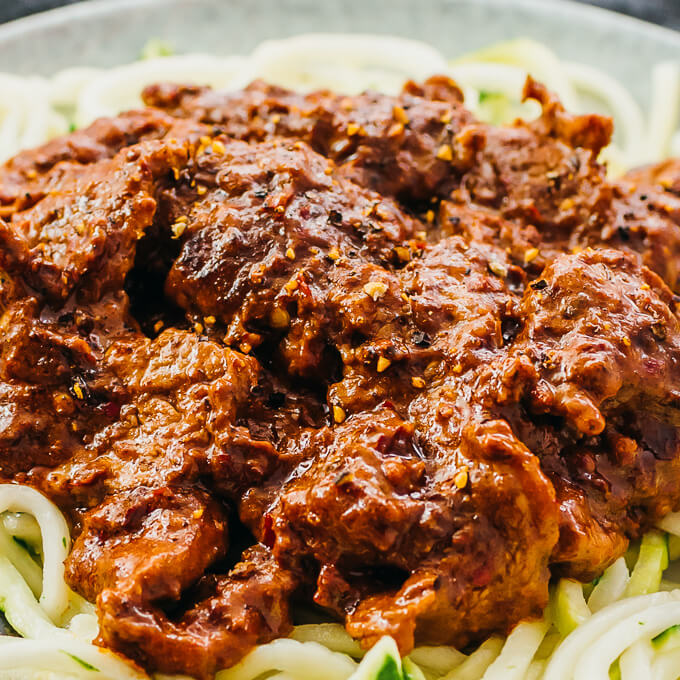 NOTES & TIPS

Origin. Adobo sauce is composed of dried chiles, vinegar, garlic, and seasonings. It was originally used by the Spanish as a marinade to preserve meats, but was later used for flavoring foods prior to cooking. In this post, I'm referring to the adobo sauce that originated in Spanish cuisine, and was then widely adopted in Latin America. The Filipinos independently developed a somewhat similar sauce (see Instant Pot Chicken Adobo), which Spanish colonists called "adobo" because of some similarities. But each has a very distinct and different taste.
Dried Chiles. Make sure that the dried chiles are completely softened before pureeing in a blender with the rest of the ingredients. They're soft enough when you can easily bend them. If some are still stiff, keep soaking them in hot water until pliable. Don't attempt to blend them if they're not totally soft.
Sauce Consistency. Adobo sauce should have a thick paste-like consistency. If you prefer the sauce to be thinner, you can add small amounts of water to your blender until you you get your desired texture. Another reason to make it thinner is if your blender has trouble pureeing it. I used a Nutribullet for the job.
Leftover Sauce. If you have any leftover sauce, freeze it in ice cube trays. Once frozen, you can pop the cubes out of the tray and store in a resealable bag. You can use them anytime by adding them to stews and such.