Note: This is one of my older recipes and is not low carb. Visit my Recipes page for low carb and keto recipes.
Try this recipe for apple loaf — it's made with fresh apples and has a texture similar to pound cake. The loaf is drizzled with an easy homemade caramel glaze.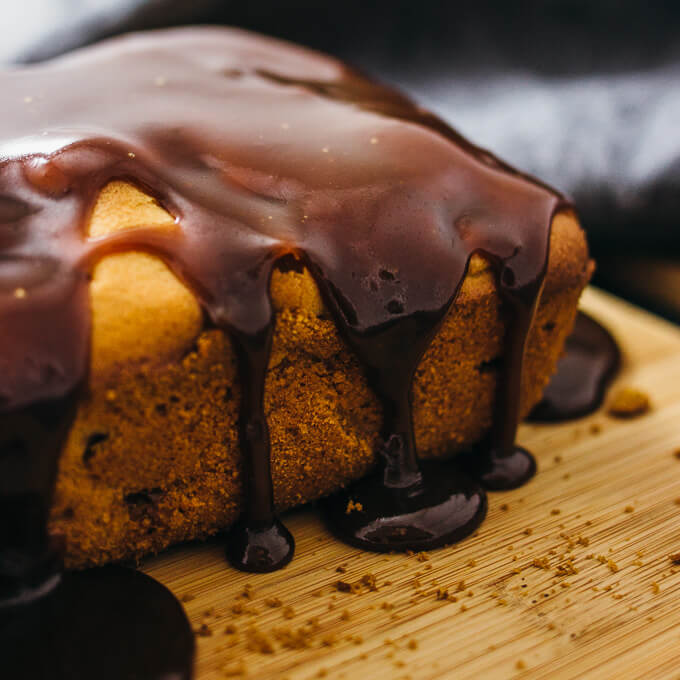 I've been experimenting in the kitchen with apples lately — starting with this slow cooker cranberry apple cider — and this past week I have been trying to make the perfect apple loaf. Like a cross between pound cake and apple bread. I followed the ratio rules of traditional pound cake, which is appropriately named for its 1 pound each of flour, eggs, butter, and sugar. For this recipe, I've scaled everything back so that I have the correct proportions of those ingredients but only use about 5 ounces of each. It results in batter that fits nicely in an 8×4 inch loaf pan. The batter is mixed with diced fresh apples prior to baking, and the smell and taste of apples is unmistakable when you bite into a slice.
The key to getting the right consistency for this loaf is to ensure that you sufficiently beat the batter with an electric mixer, especially while creaming the butter and sugar. I used an electric hand mixer on low to medium speeds.
When creaming the butter and sugar, I recommend using room temperature butter, which you can get by letting butter sit out on a countertop for an hour. That will make it easier to combine and mix the butter and sugar, which should be beaten until the mixture is smooth and airy. This creaming step is the hardest, and after it's done, the remaining steps are easy. When the batter is complete, you can scoop it into a 8×4 or 9×5 inch loaf pan and bake until a toothpick in the center comes out clean.
After the apple loaf is baked, you can proceed to making a caramel glaze to drizzle over the loaf. The glaze can be prepared in a small sauce pot with brown sugar, butter, milk, flour, and vanilla extract. After simmering until the glaze is thick and smooth, then comes the fun part: pouring it over the apple loaf. Once the loaf is glazed, you can transfer it to the fridge to harden.
Mr. Savory Tooth commented to me that the taste of the caramel glaze reminded him of a maple bar. If you haven't heard of a maple bar before, that's because they are popular on the west coast and relatively unknown elsewhere. It's essentially a rectangular donut filled with cream and drizzled with a maple glaze.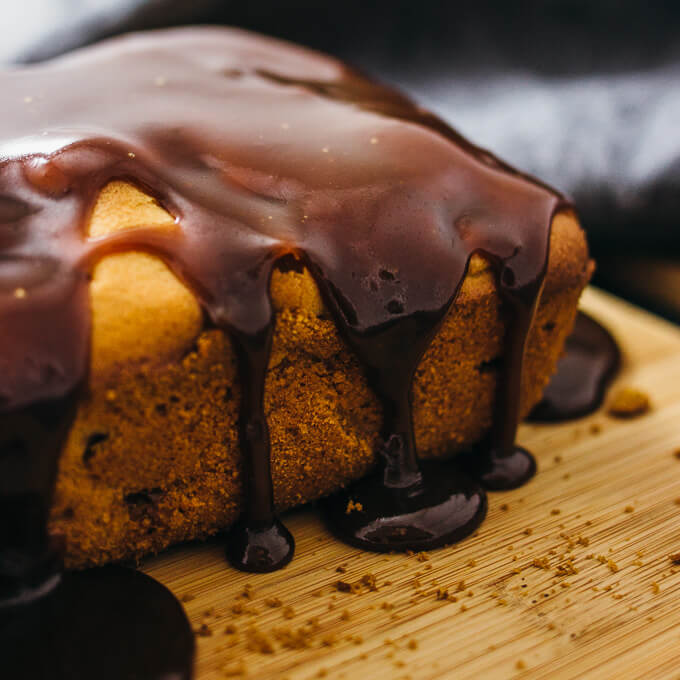 Apple loaf with caramel glaze
This apple loaf is made with fresh apples and has a texture similar to pound cake. It's drizzled with an easy homemade caramel glaze.
Cook Time
1
hour
10
minutes
Total Time
1
hour
30
minutes
Instructions
Make the batter

: Combine softened butter, white sugar, and vanilla extract. Beat using an electric

hand mixer

on low speed to break apart big clumps. Increase to medium speed and beat until smooth and airy, about a few minutes. Add the eggs one at a time, and beat for 1 minute on medium speed after each. Add flour and milk to the mixture, and beat on low speed until combined, about a few minutes. Increase to medium speed and beat for another 5 minutes. Lastly, add diced apples and use a spatula to stir them into the mixture until mixed.

Bake

: Scoop the batter into a buttered

9×5 inch loaf pan

. Smooth out the surface using a spatula. Bake at 350 F for 60 minutes. A toothpick inserted into the center of the pound cake should come out clean when it's done. Run a knife along the edges of the pound cake to loosen it from the pan. Let cool for 10 minutes and carefully remove from the loaf pan.

Make the caramel glaze: Combine and mix brown sugar and flour in a small saucepan, breaking apart any large clumps of brown sugar. Add butter and milk, and turn the burner on to medium heat. Stir the mixture as the butter melts. Then bring to a boil over medium-high heat, and let it boil for 1-2 minutes. Remove from heat and stir in vanilla extract. Continue stirring until the glaze is smooth and thick, about a few minutes. Pour the glaze over the pound cake. Transfer to the refrigerator to cool and harden.