Summary:
Asian surf and turf for two! This easy stir fry version includes tender beef slices and shrimp that are pan-seared and coated with a delicious sauce, served with low carb cauliflower rice.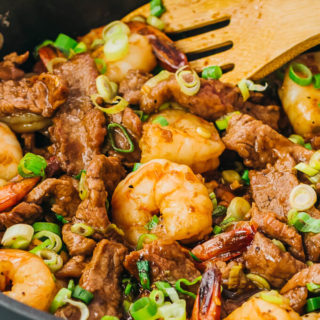 Asian Surf And Turf Recipe
INGREDIENTS
3/4

pound

flank steak

3/4

pound

fresh shrimp

1

tablespoon

corn starch

1

tablespoon

cooking oil

2

thinly sliced scallions (about 3/4 cup)
Sauce:
1/3

cup

low-sodium soy sauce

3

tablespoons

sugar equivalent sweetener (I use granular swerve)

1

tablespoon

minced fresh ginger

1

tablespoon

minced fresh garlic

1/2

teaspoon

black pepper
INSTRUCTIONS
If moist, pat steak dry using paper towels. Thinly slice into 1/4 inch thick strips, and toss them in a large bowl with corn starch until well coated. Set aside.

Peel and remove veins from the shrimp. If moist, pat them dry with paper towels. Set aside.

In a small saucepan, add all sauce ingredients. Occasionally stir as you bring to a simmer over medium-low heat, about 5 minutes. Once it starts to simmer, reduce to low heat to keep the sauce warm while you cook the steak and shrimp.

In a large wide pan, heat oil over medium heat for a few minutes or until hot.

Add sliced beef to the hot pan and cook until mostly browned, a few minutes, stirring frequently. Transfer to a plate and set aside.

Add shrimp to the pan in a single layer. Cook until they start to become pink around the edges, and then flip them. Cook for another minute or until cooked through.

Return the beef to the pan and pour the sauce on top. Stir for a minute to let the beef and shrimp soak up the sauce. Turn off the heat.

Stir in scallions and serve immediately, optionally pairing with cooked cauliflower rice.
NUTRITION
Makes 2 Servings
Amount Per Serving:
| | |
| --- | --- |
| Calories 500 (33% from fat) | |
| Total Fat 18g | 28% |
| Saturated Fat 5g | 26% |
| Cholesterol 259mg | 86% |
| Sodium 2130mg | 89% |
| Net Carb 10g | |
| Total Carb 10g | 3% |
| Dietary Fiber 0g | 0% |
| Sugars 2.5g | |
| Protein 63g | |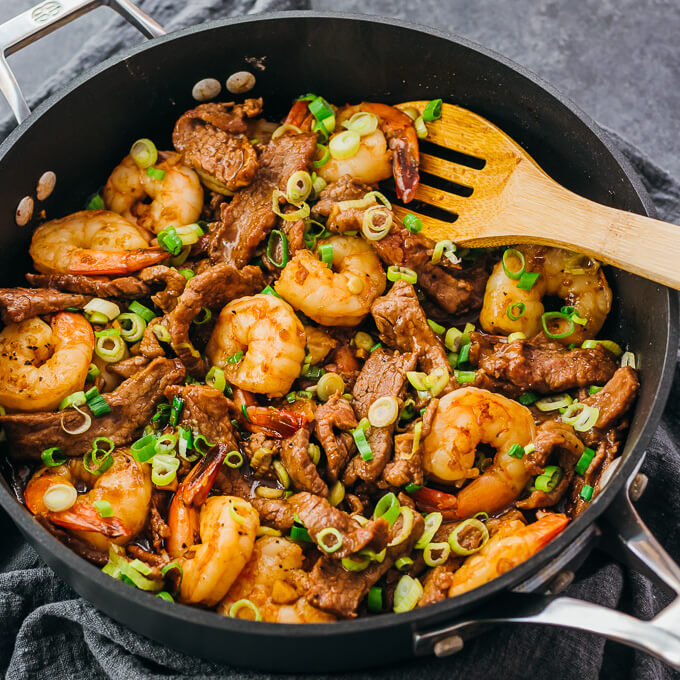 What is surf and turf?
Surf and turf is essentially red meat and seafood. There are many variations, and it's most commonly served in the form of steak and shrimp. Sometimes shrimp is substituted with lobster tails, scallops, or crab.
What's my spin on this dish? I use sliced steak instead of whole, making the cooking process easier, faster, and more foolproof. I've also combined it with one of my easy stir fry sauces — similar to what I use in beef and broccoli — which yields a saucy dish that meat and seafood lovers will love.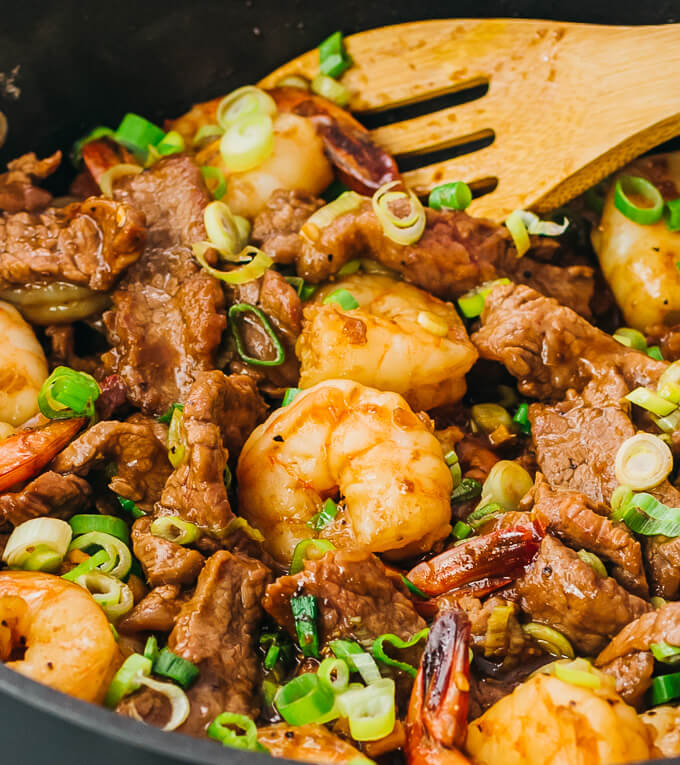 Making The Best Beef Stir Fry
The most important thing in a beef stir fry is the tenderness of the cooked beef. I've written tips for getting perfect tender beef slices, and it comes down to these main tips:
Cut of beef. Choose a cut that's flank steak or better. If you buy pre-cut beef strips at the grocery store, watch out because they're usually too thick (see below on why you need thin slices).
Slice against the grain. Look for long muscle fibers and slice perpendicular to those lines.
Thin slices. I recommend 1/4 inch slices. The thinner the slices, the more tender and less chewy it will be. It'll also take less time to cook.
Corn starch. Tossing the raw beef slices with corn starch will help the beef retain its moisture when cooking, making it more tender. This is what I do in many of my Chinese recipes like pork stir fry and kung pao chicken.
Cooking time. Just a quick sear is all you need to cook the beef. Watch your cooking times to avoid overcooking, which will result in tough beef. You can tell the beef is done when it's brown in color. When searing, spread the slices out in the pan, and frequently stir and flip them for even cooking.
As is the case with many stir fry recipes, cooking times are brief. That means all ingredients should be measured and prepared, ready to go, before you start cooking. If you find you need to chop something last minute after you've started cooking, you run the risk of overcooking the beef.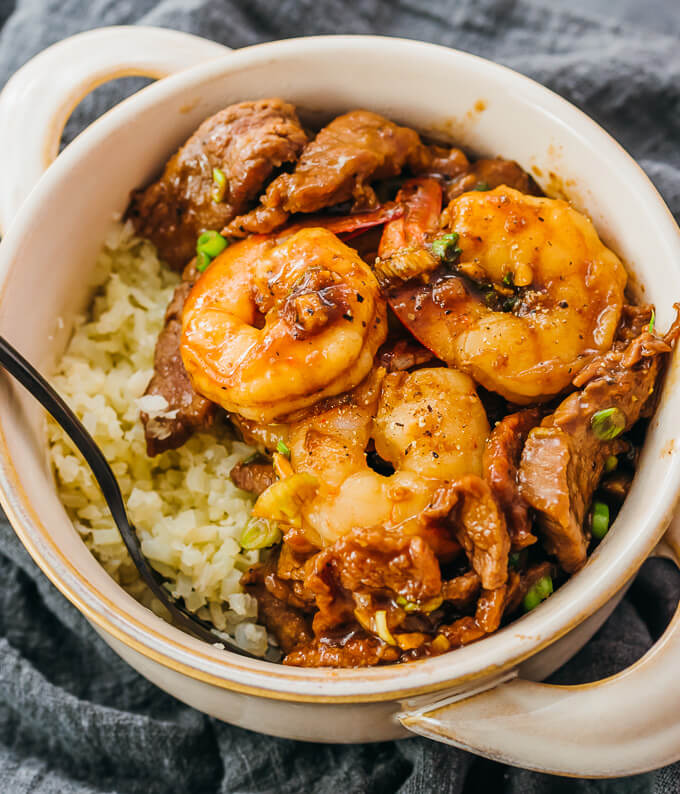 Stir Fry Sauce: Taste & Texture
The sauce is fairly thick and sticky, which allows it to easily coat the beef and shrimp. It is definitely on the salty side, which is why it's important you use low sodium soy sauce as directed in the recipe. Regular soy sauce will be way too salty.
I use swerve to sweeten the sauce; it's a non-impact sweetener that measures the same as sugar. You can use your favorite dry sweetener if it's also a 1:1 sugar substitution, otherwise you'll need to make a conversion or add to taste. Note that erythritol is only about 70% as sweet as sugar.
Given the strong flavors in the sauce, I recommend pairing it with a plain side dish to balance it out. Cauliflower rice, spiralized zucchini noodles, or roasted vegetables would be great. They'll also help soak up extra sauce.
If you opt for cauliflower rice (as pictured here), you can save time by buying pre-packaged versions at Trader Joe's, Whole Foods, and most major supermarkets. You can cook it in the microwave or on a pan on the stovetop.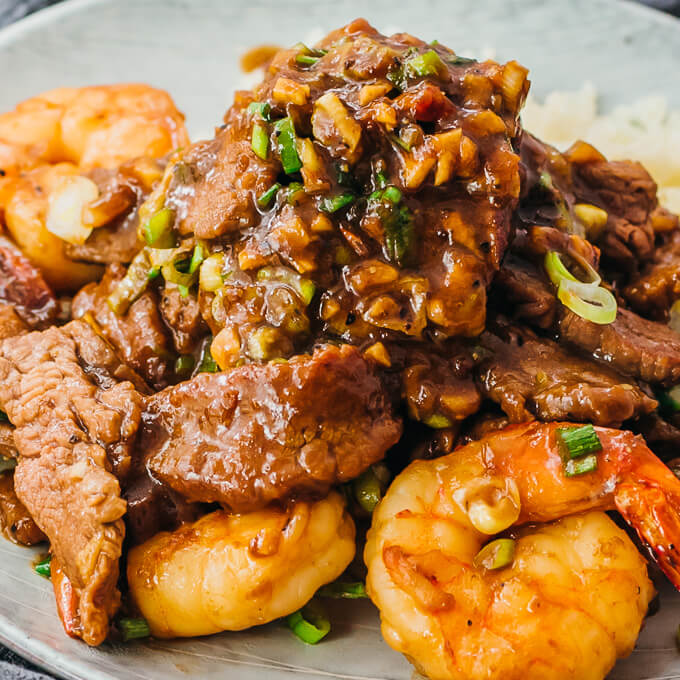 Tips For Easy Cleanup
I use a nonstick pan, which makes cleanup a breeze. A high-quality nonstick coating means that there will hardly be any residue on the pan after cooking. When choosing a pan, select one that's 10 inches or larger in diameter, which is sufficiently large to hold all of the ingredients.
The recipe mentions patting dry the raw steak and shrimp with paper towels. Why do I do this? To prevent oil splatters during cooking. These splatters happen when water comes into contact with hot oil (read more here), so the drier the food, the less splatter you will get. Also, drier ingredients mean that you get a nicer sear on them.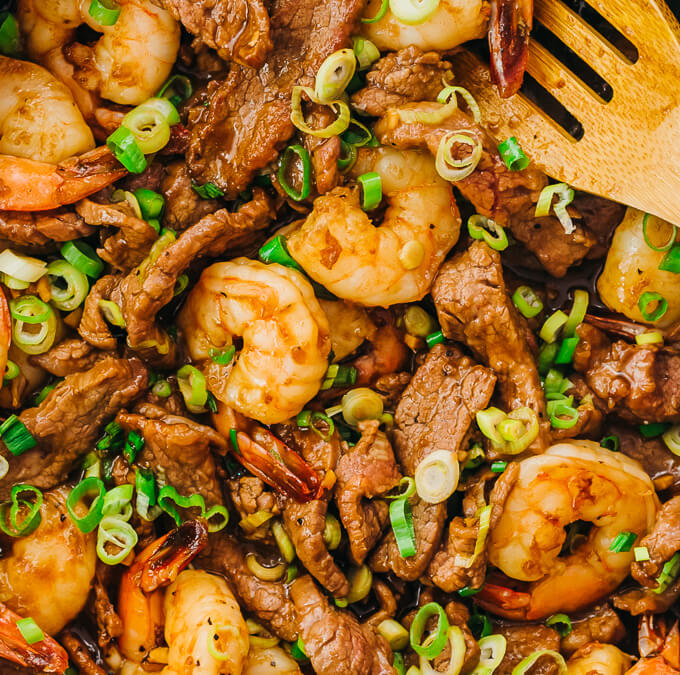 Easy & Delicious Chinese Recipes