Summary:
These avocado egg rolls are fried to crispy perfection and served with a bold sweet chili sauce. Enjoy them as a delicious appetizer or party dish.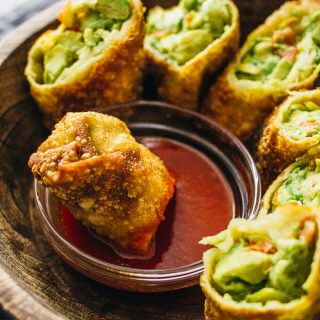 INGREDIENTS
10

egg roll wrappers (Note 1)

3

ripe avocados, peeled and pitted

1

roma tomato, diced

1/2

teaspoon

table salt

1/4

teaspoon

ground black pepper
oil for frying
INSTRUCTIONS
Make Filling: Mash avocados to chunky consistency and stir with tomato, salt, and black pepper in mixing bowl until combined.

Wrap Egg Rolls: Lay out egg roll wrappers with corners facing you, and set out small bowl of water. Distribute avocado filling onto bottom half of each wrapper. Working with one wrapper at a time, use finger to brush water along all edges to moisten, fold up closest corner over filling, then fold over sides, then roll up. Dab last fold with more water to seal. Repeat for all other wrappers.

Fry Egg Rolls: Add oil to large pot until oil is about 2 inches deep, and place over medium heat. When oil temperature reaches 350 F, add egg rolls in batches of 3 to 5 depending on size of pot (Note 2). Cook until golden brown, about 3 minutes. Transfer to paper towel lined plate to drain.
NUTRITION
Makes 5 Servings
Amount Per Serving (4 egg rolls with dip):
| | |
| --- | --- |
| Calories 380 (38% from fat) |   |
| Total Fat 16g | 25% |
|    Saturated Fat 2g | 12% |
| Cholesterol 5mg | 2% |
| Sodium 610mg | 25% |
| Net Carb 45.5g |   |
| Total Carb 53g | 18% |
|    Dietary Fiber 7.5g | 31% |
|    Sugars 8.5g |   |
| Protein 7g |   |
PHOTOS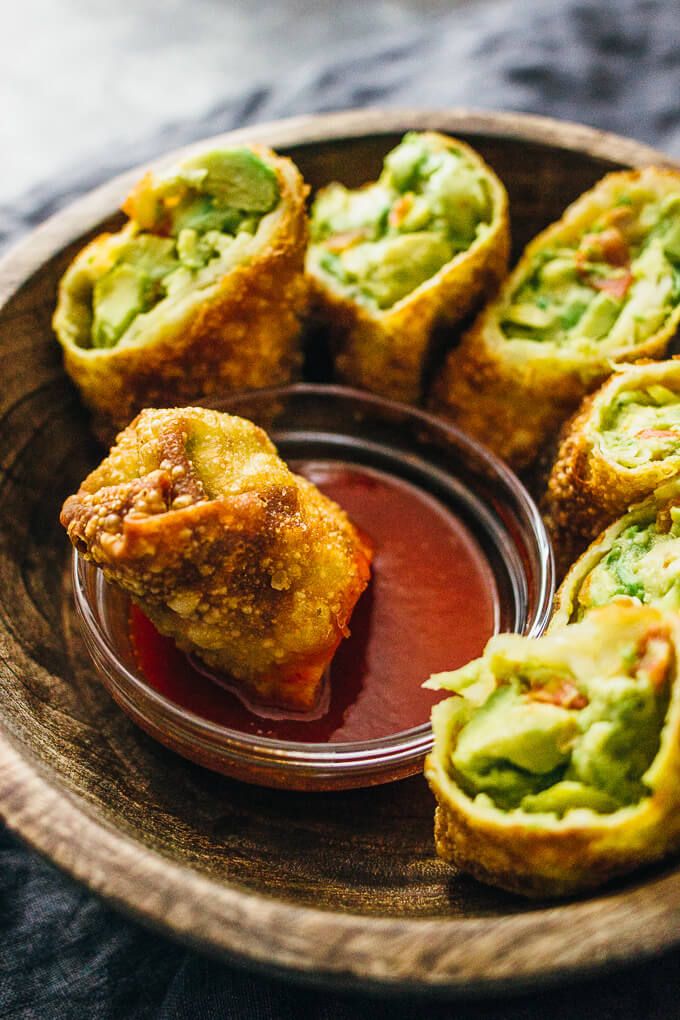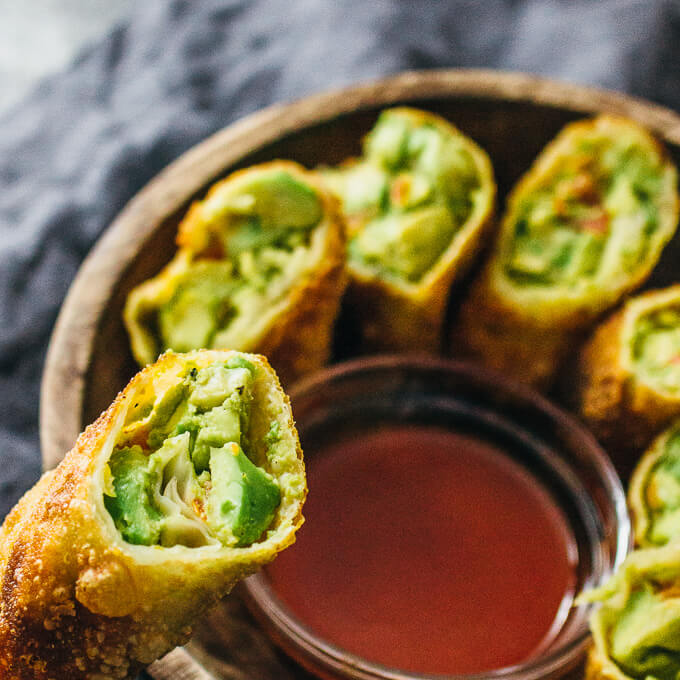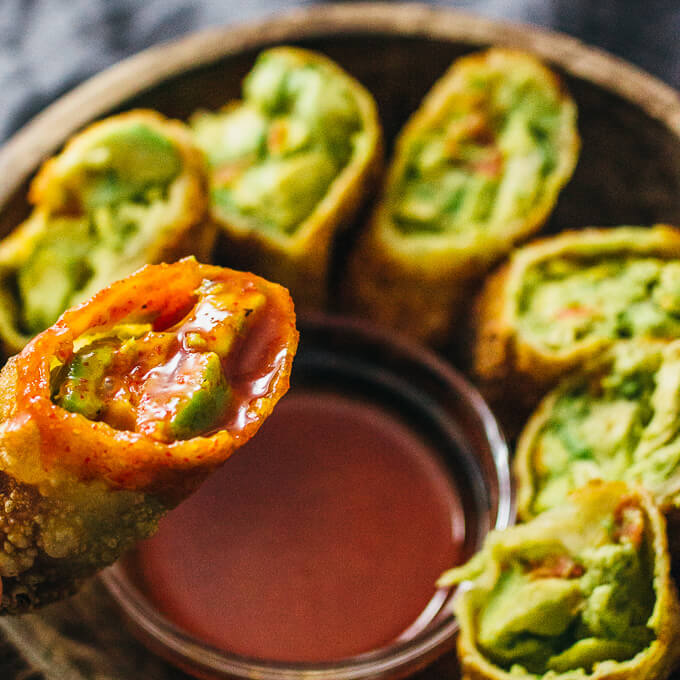 NOTES & TIPS
(1) Egg Roll Wrappers. Find these at major supermarkets in the U.S., stocked in a refrigerated section, typically near items like tofu. Double check the label so that you don't accidentally buy wonton wrappers, which are different from egg roll wrappers. If you don't consume eggs, some brands like Nasoya offer vegan egg roll wrappers.
(2) Frying. I use a 3 quart stainless steel pot and an instant-read thermometer to determine when the oil has reached 350 F. The thermometer is also used to periodically check the oil during frying in order to maintain 350 F, adjusting the burner as needed. You can also use a dutch oven for frying, or a deep fryer appliance with automatic temperature control.
(3) Slicing On Bias. This means cutting diagonally, commonly done with carrots and scallions to achieve an oval-shaped cut. To slice on a bias, hold the food at a slight angle to the knife and slice.
(4) Serving. Serve avocado egg rolls promptly while they're crisp and crunchy, with dipping sauce on the side. Pair with main dishes like Thai chicken salad, Asian lettuce wraps, or tofu stir fry.
(5) Nutrition. Oil used for frying is not included in the nutrition estimate.