Note: This is one of my older recipes and is not low carb. Visit my Recipes page for low carb and keto recipes.
These mozzarella sticks are paired with sun-dried tomatoes, wrapped with bacon, and then fried — delicious craveable food you can easily make at home.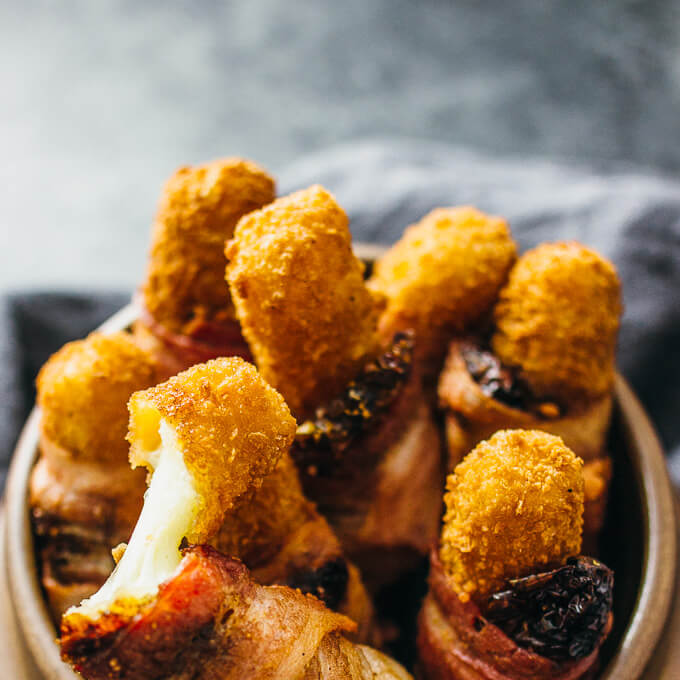 This post is sponsored by Farm Rich.
We're two weeks away from the Big Game on February 5 and it'll be here before you know it. Have you figured out what appetizers you're making yet? The ideal appetizer should be semi-homemade and therefore really simple, so that you and your friends can spend more time cheering on your team and less time cooking. Not only should the recipe be simple to execute, but it should also be fun to make so that you and your family members can look forward to making this together.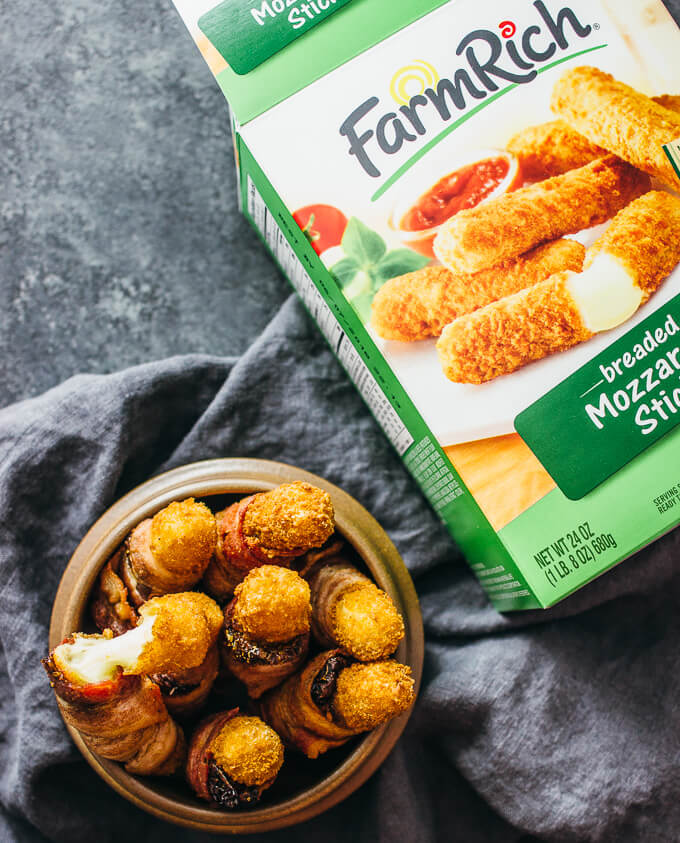 For this recipe, I'm partnering with Farm Rich to use their frozen breaded mozzarella sticks, which are made with real mozzarella cheese and can be cooked in minutes. Since the mozzarella sticks cook quickly, most of your time will be spent assembling them with sun-dried tomatoes and bacon — this is a fun step where you can enlist the help of family and friends.

Mr. Savory Tooth jumped in to help me with the bacon wrapping step while I was readying the frying oil, and he was so quick that I couldn't fry these fast enough. Regarding wrapping technique, make sure the bacon is wrapped tightly in a spiral fashion over the sun-dried tomato and mozzarella stick. The bacon should be snugly and securely wrapped around. While frying, these bacon-wrapped mozzarella sticks only need to be immersed in hot oil for a few minutes before the bacon gets super crispy and delicious.
Don't skip the addition of sun-dried tomatoes. I've made this recipe both with and without, and now I can't imagine not including the tomatoes. These sun-dried tomatoes impart a tart tomato flavor with every bite, which nicely complements the salty crispy bacon. I like to give the sun-dried tomatoes a quick soak in hot water first, so that they soften. They're easier to wrap with bacon when they're more malleable.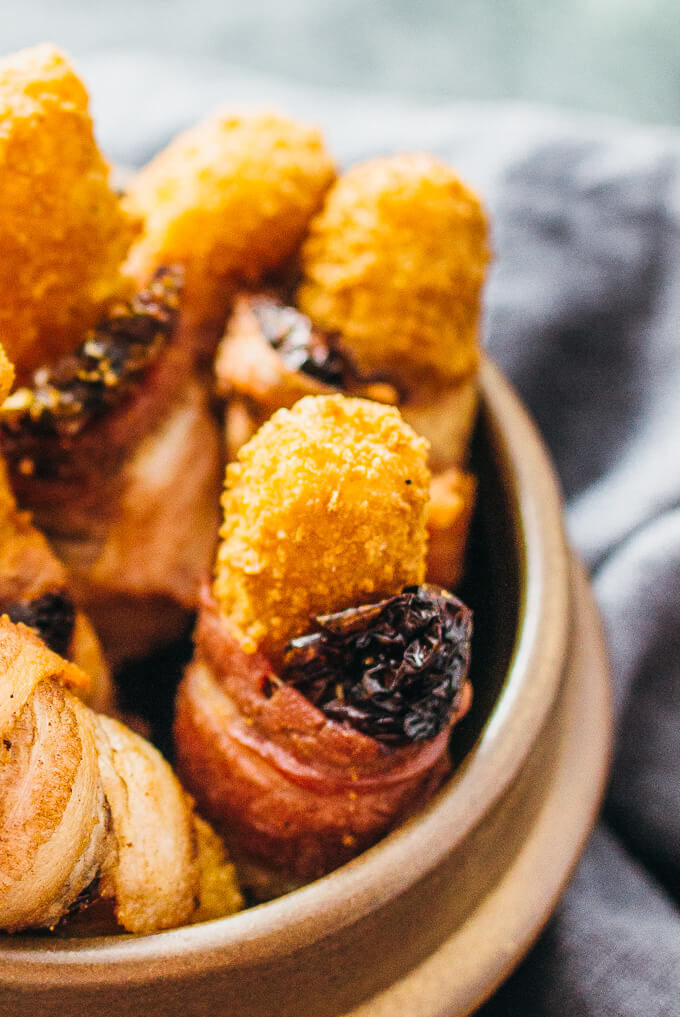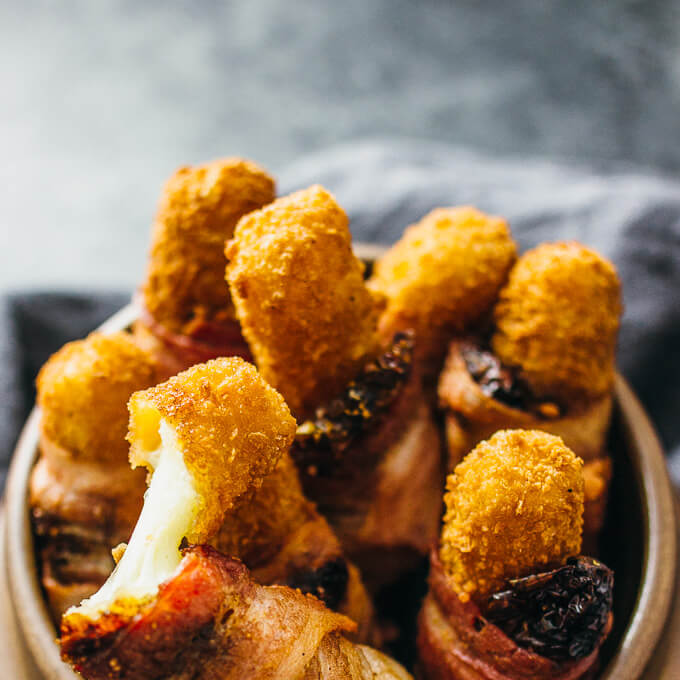 Bacon wrapped fried mozzarella sticks
DESCRIPTION
These mozzarella sticks are paired with sun-dried tomatoes, wrapped with bacon, and then fried — delicious craveable food you can easily make at home.
INGREDIENTS
12

frozen mozzarella sticks

12

sun-dried tomato pieces

6

slices

bacon

halved crosswise

canola oil

for frying
INSTRUCTIONS
Rehydrate the sun-dried tomatoes by soaking in boiling water until they soften, about 10 minutes. While waiting for the tomatoes to soften, heat 1 inch of canola oil in a small pot to 350 F.

Working in batches, tightly wind a piece of bacon around a mozzarella stick and a softened sun-dried tomato. Add the bacon wrapped mozzarella stick to the hot oil, frying until the bacon is crispy, about 2 minutes. Drain on a paper towel. Repeat for all other mozzarella sticks.
Liked this recipe?
Sign up for email updates!
GIVEAWAY: Share your #HalftimeHero snack or appetizer idea via Twitter, Facebook, Instagram, or Pinterest. Use the hashtag #HalftimeHero and you'll be entered for the chance to win a year's supply of Farm Rich snacks for all of your game day needs.
Another great appetizer idea for Game Day is Farm Rich's loaded potato skins with bacon and cheddar. You can find these potato skins, along with the mozzarella sticks used in this recipe, in the frozen food section of your supermarket.