Summary:
These crispy oven-baked chicken tenders are sweet and spicy, with only 5 ingredients in this recipe: chicken, panko bread crumbs, honey, butter, and cayenne powder.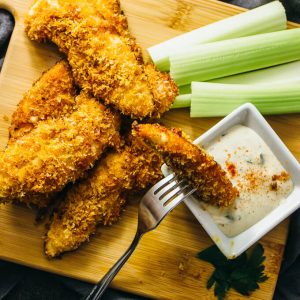 Baked chicken tenders with honey and cayenne
INSTRUCTIONS
Set up: Pour honey into a shallow dish. Combine panko bread crumbs with cayenne in a shallow dish. Melt butter in a bowl. Prepare a buttered baking tray.

Bread the chicken: Coat each chicken tender in honey, then the panko-cayenne mix, and then place on the baking tray. Repeat this process for each chicken tender. Drizzle melted butter over each chicken tender on the baking tray.

Bake: Bake at 400 F until the chicken tenders are golden and cooked through, about 20 minutes.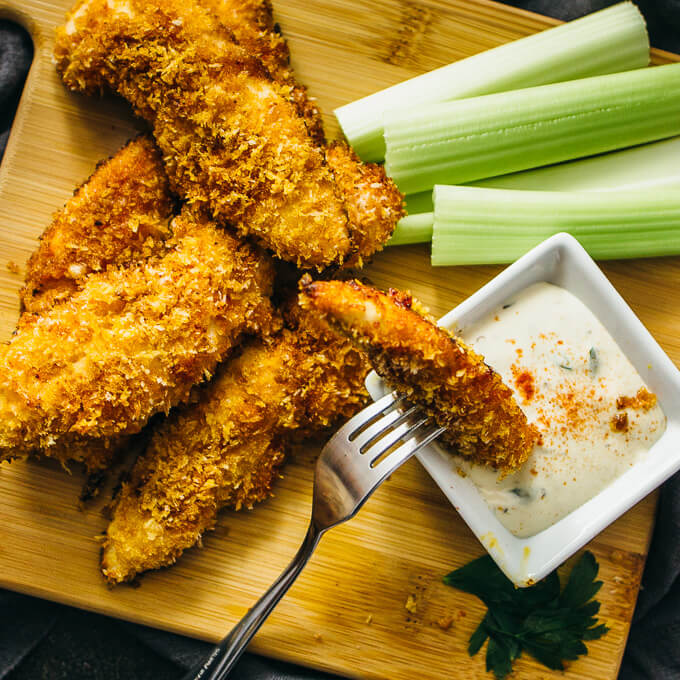 It's an understatement to say that I love eating chicken tenders. I'm always ordering them at restaurants whenever I see it listed on a menu. I feel like I'm constantly saying things like "I'd like to order the chicken strips…no, not as my appetizer…I'd like to have it as my main dish" because I want to eat all of the chicken tenders. I hadn't really considered making it at home prior to now because breading chicken always sounded like such a chore to me. In this recipe, I've made the process as simple as possible with only 5 ingredients but still jam-packed with flavor and delicious texture. And these are baked chicken tenders, so they can be cooked in the oven instead of a fryer.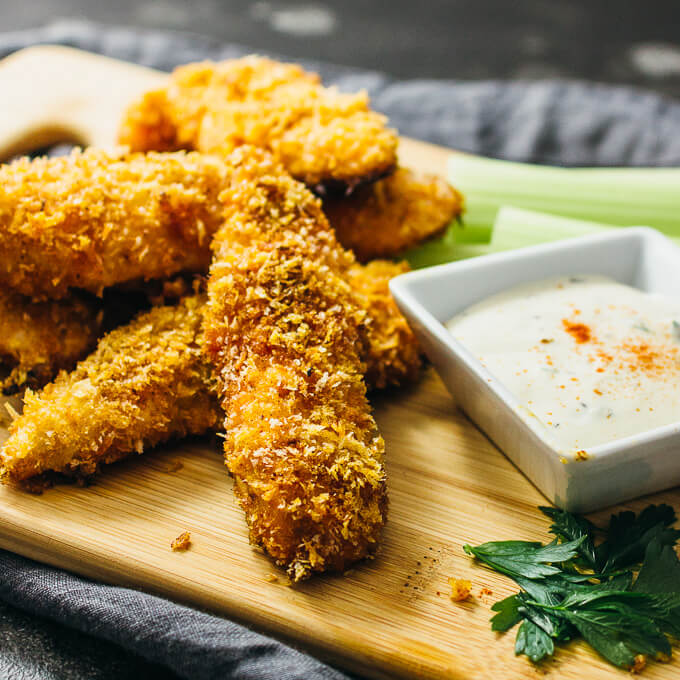 First of all, I do something unique when breading the chicken: I use honey as the adhesive to bind panko bread crumbs to the raw chicken breast tenders. The traditional or typical way of breading chicken is (1) coating the chicken with flour, (2) dipping in an egg/milk mixture, and (3) coating in bread crumbs (similar to what I did to make these crispy eggplant parmesan planks). I didn't want to bother with flour or eggs so I used one of my flavor ingredients, honey, to replace them. After coating each chicken tender with honey, it is easy to roll in panko bread crumbs and have them easily stick to the chicken. As for the panko bread crumbs, I combined them with cayenne powder prior to breading to add some spiciness to the chicken tenders.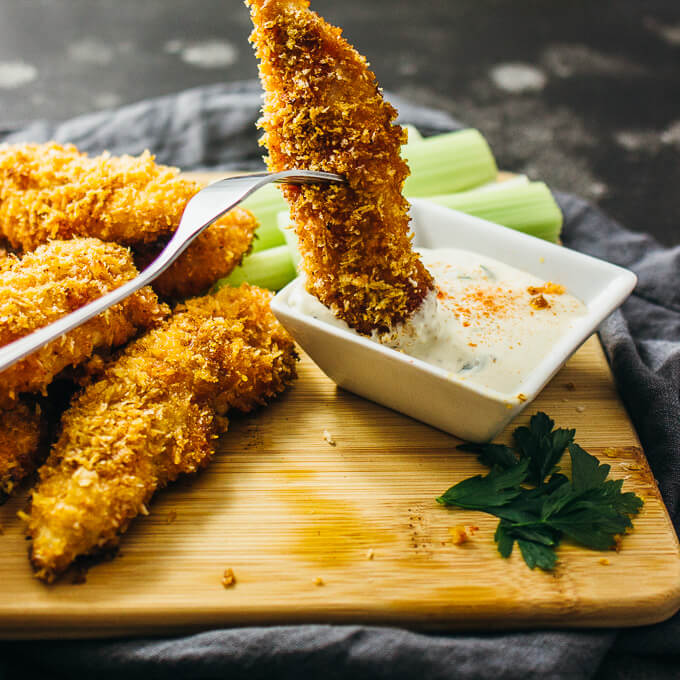 These spicy-sweet chicken tenders are flavorful enough to enjoy by themselves, or you can eat them with a dip like ranch or barbecue sauce. While eating these chicken tenders, one thing that surprised me was how moist and tender the chicken was. The panko bread crumb exterior was nice and crispy but the interior was very soft — almost like eating juicy shredded chicken.