A simple, healthy weeknight recipe for baked cod coated in parmesan cheese and drizzled with lemon juice. Low carb, keto friendly, and gluten free.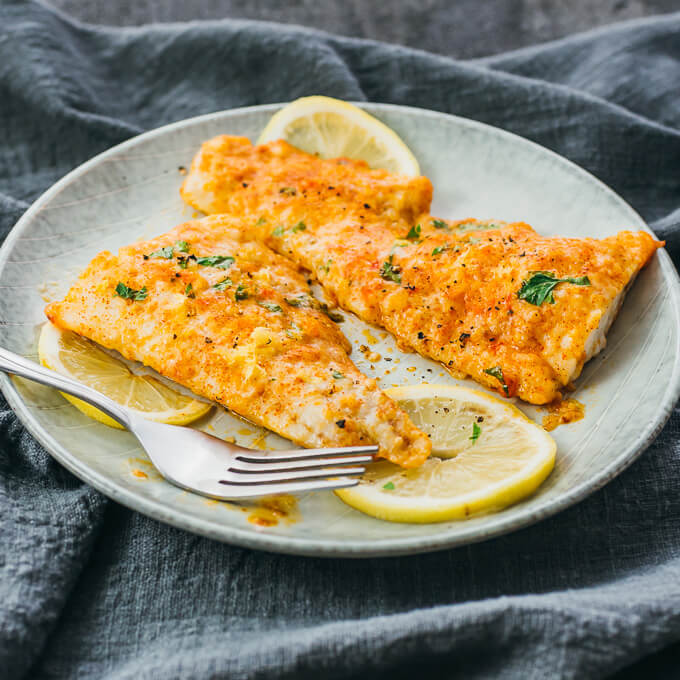 This recipe is for anyone who finds themselves always making the same chicken dinners every night. You want to break out of the rut, and to expand your repertoire into other meaty entrees. If you like seafood, this lemon baked cod is an excellent choice for a first foray into making fish dinners — all of the cooking is left to the oven, making it a breeze — and it tastes deliciously lemony with parmesan cheese flavors.
It's fast to make as well, taking only 30 minutes total for prep time and baking, so you can add this to your weeknight dinner rotation. I call this a "pantry dinner" since you don't need much in the way of fresh ingredients: the cod can be bought frozen and then thawed, paprika is a dried spice, finely grated parmesan cheese is usually in abundance in my cheese drawer, and I always have butter and garlic cloves readily available.
STEP-BY-STEP: MAKING LEMON BAKED COD

The only work you'll have to do for this recipe is coating the raw cod fillets. After drying them with paper towels — this step is especially important if you thaw frozen cod — and dipping them in a melted garlic butter mixture, the fillets are coated in a parmesan-paprika mixture. This gives each cod fillet a nice parmesan flavor as it bakes, as well as a splash of color.
You can use either fresh or frozen cod fillets. If you have access to fresh cod — great! If not, frozen cod will work wonderfully. I buy Alaskan wild-caught cod fillets from Trader Joe's, and I always find them to be of high quality. I thaw frozen cod in their shrink-wrapped packaging by placing in a water bath until fully thawed.
For extra lemon flavor, I use the zest of an entire lemon. From experience, I prefer grating the peel using a microplane instead of an all-purpose grater. The really finely microplaned zest has a more intense flavor. Whatever tool you use, you can make zest by shaving off only the yellow part of the lemon peel.

This lemon baked cod can be served with low carb side dishes such as mashed cauliflower and garlic green beans.
If you have any leftovers, you can refrigerate them in covered containers for up to 3 days.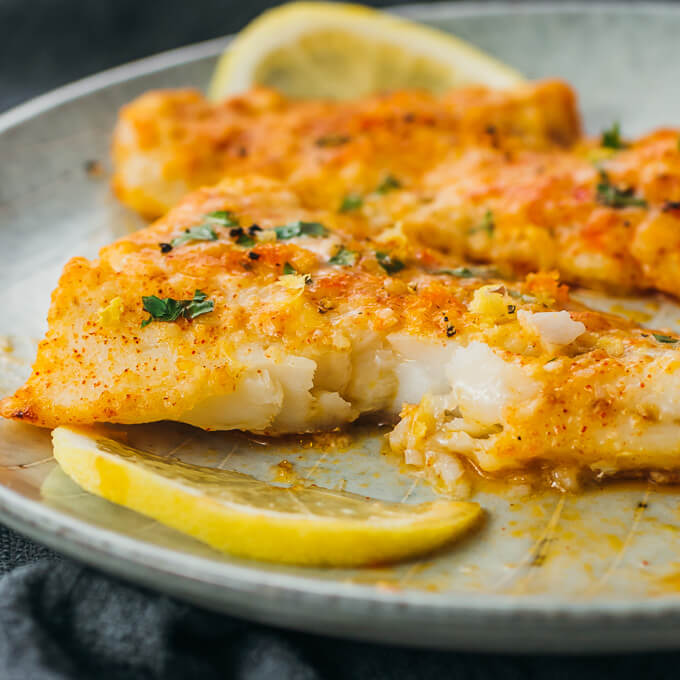 Lemon Baked Cod with Parmesan Cheese
An easy recipe for lemon baked cod with parmesan cheese and butter.
Ingredients
1 1/2

pounds

cod fillets

thawed if frozen

3/4

cup

finely grated parmesan cheese (sandy consistency)

1

lemon

zested and juiced

4

cloves

garlic

minced

4

tablespoons

salted butter

melted

1

tablespoon

chopped fresh parsley

1

teaspoon

paprika

salt and pepper
Instructions
Preheat the oven to 400 F.

Pat the cod fillets dry using paper towels. Remove bones, if any.

Prepare a shallow bowl with melted butter and minced garlic. Stir together until well-mixed.

In another shallow bowl, add parmesan and paprika. Stir together until well-mixed.

Prepare a baking dish large enough for all cod fillets to sit in a single layer. Line the dish with

parchment paper

.

Working with one fillet at a time, dip it into the melted butter and flip to coat all sides, then into the parmesan mixture to coat all sides, and then place it onto the lined baking dish.

Repeat for all other cod fillets and keep them evenly distributed on the baking dish. Distribute any remaining parmesan on top of the fillets, pressing down to adhere.

Sprinkle parsley and half of the lemon zest on top of the cod fillets.

Bake at 400 F until the cod is cooked through, about 15 minutes. The cod is cooked when it can be easily flaked using a fork.

Spoon lemon juice on top of the cod, about 2 tablespoons. Sprinkle remaining lemon zest on top. Season with salt and pepper to taste.
Nutrition Info
This recipe yields 1.5 g net carbs per serving.
Nutrition Facts Per Serving
| | |
| --- | --- |
| Calories 410 |   |
| Total Fat 20g | 31% |
|    Saturated Fat 14g | 68% |
|    Trans Fat 0g |   |
| Cholesterol 159mg | 53% |
| Sodium 450mg | 19% |
| Potassium 40mg | 1% |
| Total Carb 2g | 1% |
|    Dietary Fiber 0.5g | 1% |
|    Sugars 0.5g |   |
| Protein 49g |   |
MORE DELICIOUS & EASY BAKED DINNERS: