Summary:
For an easy weeknight seafood dinner, make baked cod by roasting fresh fillets with parmesan cheese and a lemon garlic sauce -- the cod ends up tender and flaky, infused with citrus and cheesy flavors. For convenience, only a single pan is needed to both bake the fish and make the sauce. Keto, low carb, and gluten free.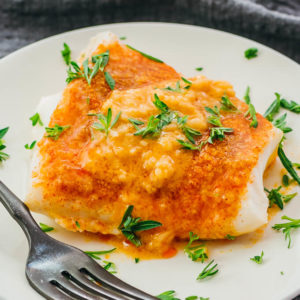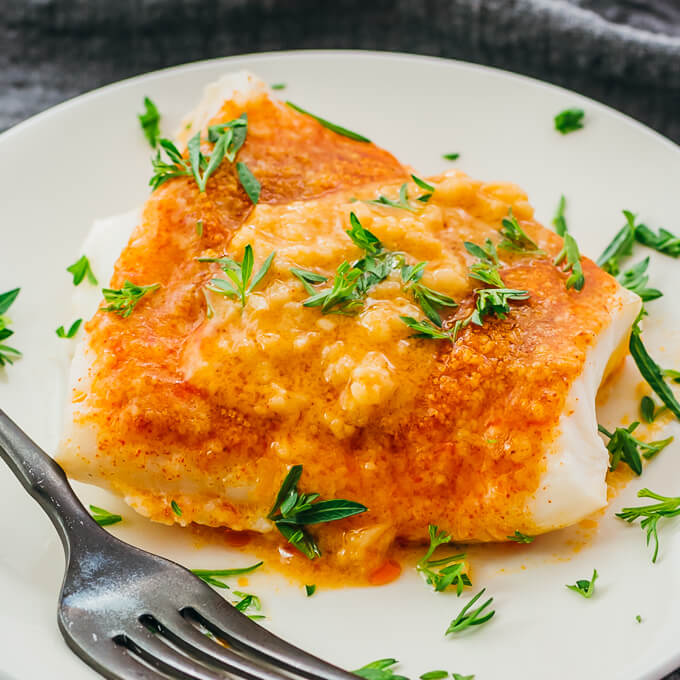 INGREDIENTS
12

ounces

cod, cut into 4 equal fillets (Note 1)

1/3

cup

finely grated parmesan cheese (Note 2)

1

tablespoon

chopped fresh parsley

1/2

teaspoon

smoked paprika

1/4

teaspoon

table salt
For The Sauce:
4

cloves

garlic, minced

1/4

cup

dry white wine (Note 3)

2

tablespoons

fresh lemon juice

1

tablespoon

salted butter
INSTRUCTIONS
Prepare: Position an oven rack in the middle of the oven, and preheat to 400 F. Pat cod fillets dry using paper towels. Sprinkle salt over both sides of each fillet. Set aside.

Make Sauce: In an oven-safe pan (Note 4), melt butter over medium heat, stirring constantly, less than a minute. Stir in minced garlic until aromatic and starting to brown, 1 to 2 minutes. Add white wine and lemon juice to the pan. They should immediately start to simmer. Briefly stir, then turn off the heat.

Add Cod: In a mixing bowl, stir parmesan cheese with paprika until well-mixed. Place cod fillets side-by-side in the pan, over sauce. Generously spoon parmesan mix over the top of fillets in the pan, using a spoon to spread it out until evenly distributed over fillets. It's fine if some parmesan falls off fillets because it'll become part of sauce.

Bake: Once the oven has heated to 400 F, transfer the pan to the oven. Bake until cod fillets are cooked through (easily flaked with a fork), 15 to 20 minutes.

Serve: Carefully transfer only cod fillets to serving plates, using a spatula to avoid disrupting parmesan topping. Stir together remaining liquid in the pan, optionally boiling over medium-high heat for a minute to thicken sauce, and drizzle sauce over cod. Sprinkle parsley on top, and serve while hot (Note 5).
NUTRITION
Makes 2 Servings
Amount Per Serving:
| | |
| --- | --- |
| Calories 280 |   |
| Total Fat 9g | 14% |
|    Saturated Fat 6g | 32% |
| Cholesterol 103mg | 34% |
| Sodium 570mg | 24% |
| Net Carb 2.5g |   |
| Total Carb 3g | 1% |
|    Dietary Fiber 0.5g | 1% |
|    Sugars 1g |   |
| Protein 36g |   |
PHOTOS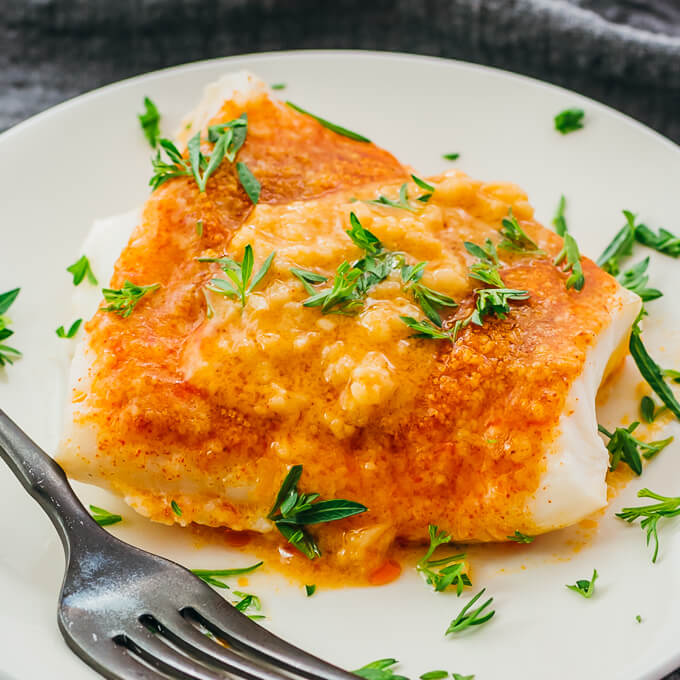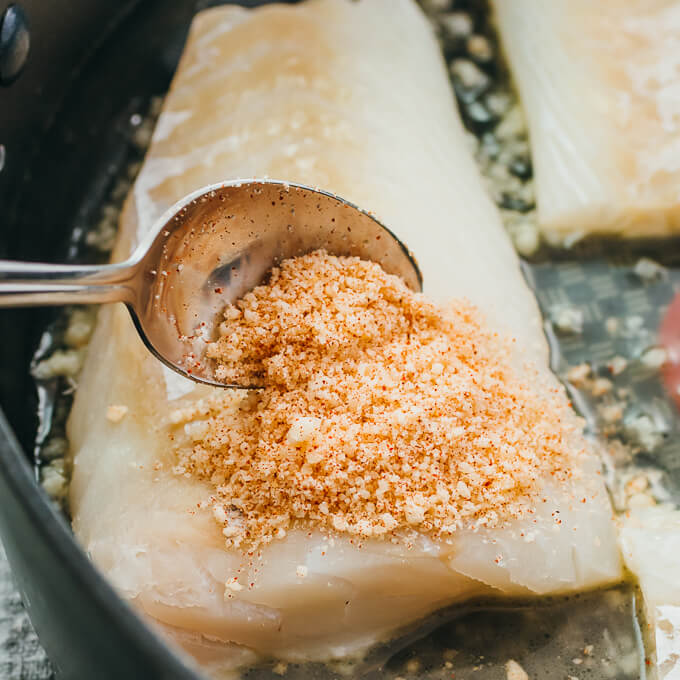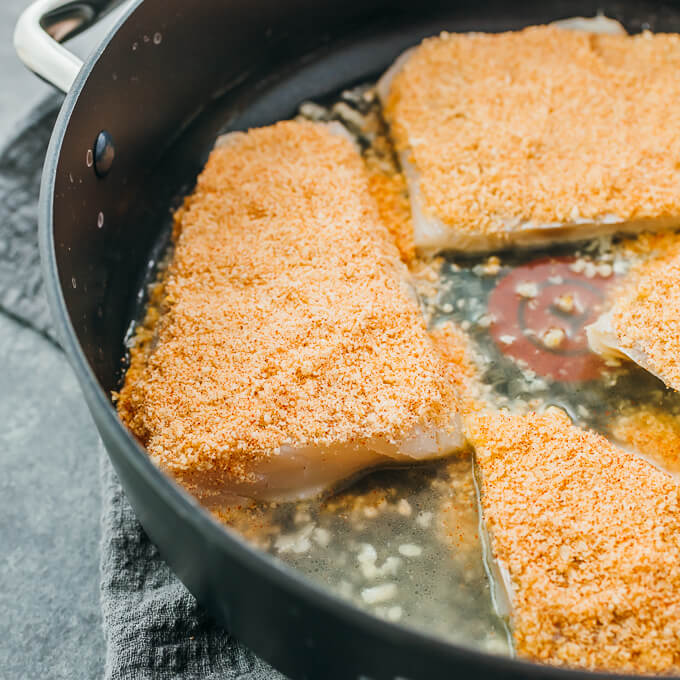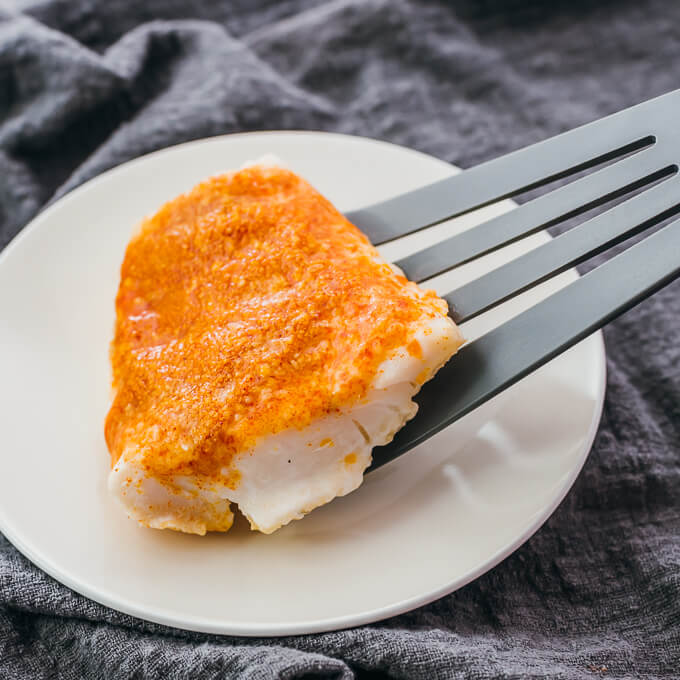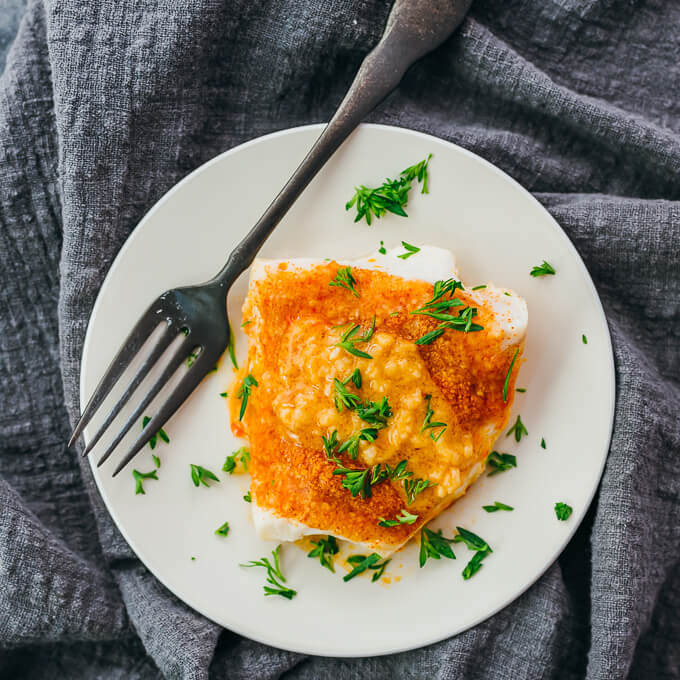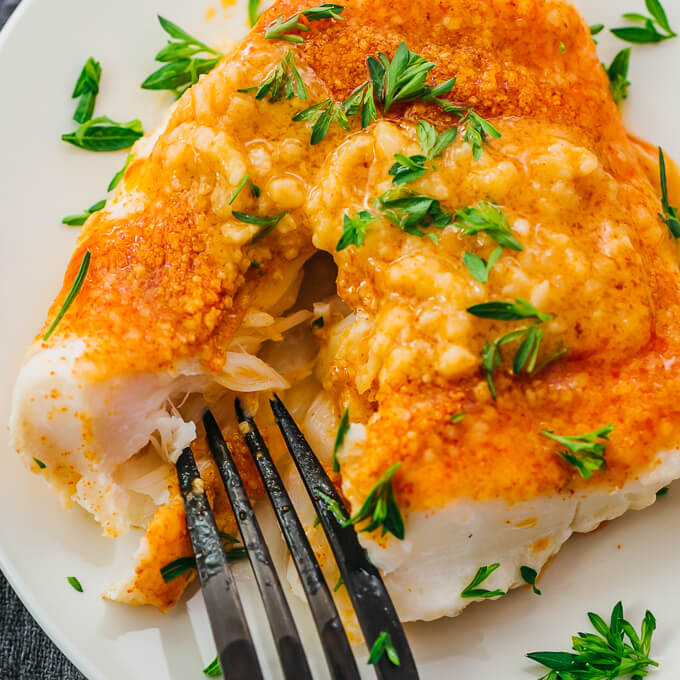 NOTES & TIPS
(1) Cod. I use fresh Alaskan cod; readers have also used halibut and haddock. If yours is frozen, thaw overnight in the refrigerator. Ideally, all fillets will have even thickness and size so that they'll cook at the same rate. Note that the cooking estimates are based on cod that is less than 1 inch thick. If your fillets are thicker, you may need to bake for an extra 5-10 minutes. One benefit of using thinner fillets is the larger ratio of parmesan to fish in every bite. Like most whitefish, cod has a mild taste, so it pairs well with a strong flavor like parmesan.
(2) Parmesan. This is the kind of parmesan cheese that has a sandy or almost powdery texture. Not shredded.
(3) White Wine. Any kind of dry white wine works well. I use Sauvignon Blanc.
(4) Pan. The pan needs to be large enough to hold all fillets side-by-side. I use a 10-inch-wide nonstick pan. If you don't have a suitable pan that is oven safe, you can transfer the contents of the pan to a small baking dish for the baking step.
(5) Serving. Serve baked cod alongside roasted mushrooms or creamed spinach. Something simple like steamed broccoli or greens would also go well with the tasty sauce.