Summary:
These homemade baked potato wedges are seasoned with olive oil, basil, paprika, and cayenne before roasting in the oven. Then, each potato wedge is sprinkled with shredded cheddar cheese, which melts into a delicious layer over the crispy potato skin.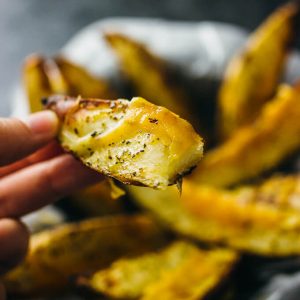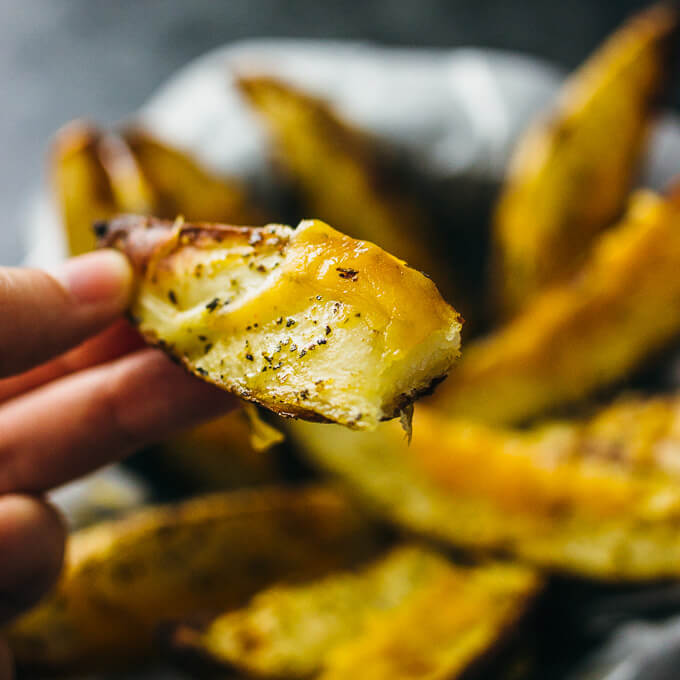 Baked potato wedges with melted cheddar cheese
INGREDIENTS
INSTRUCTIONS
Toss the potato wedges with olive oil, dried basil, paprika, cayenne, pepper, and salt in a large ziplock bag.

Use tongs to place the potato wedges in a single layer with skin side facing down on a foil-lined baking tray.

Bake the potato wedges at 400 F for 45 minutes.

Take the baking tray out of the oven. Rotate the potato wedges so that they are laying on their sides, with little or no gap between adjacent wedges. Sprinkle cheddar cheese over them. Return them to the oven and bake until the cheddar cheese melts, about a few minutes.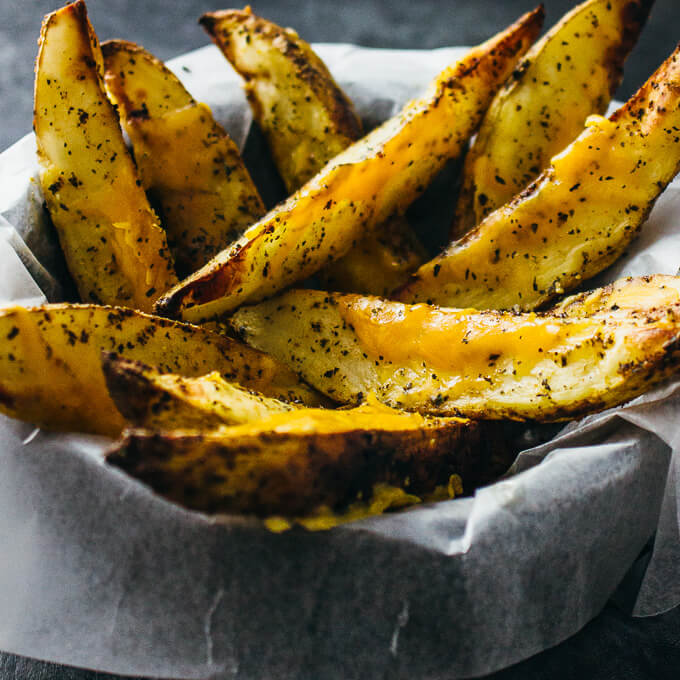 After making these honey-cayenne chicken tenders two weeks ago, I thought it was only appropriate to make fries to go with them. I love a tasty thick-cut potato wedge with crispy skin, and these are remarkably easy to make at home with your favorite spices and herbs. I also had some leftover sharp cheddar that paired nicely with them.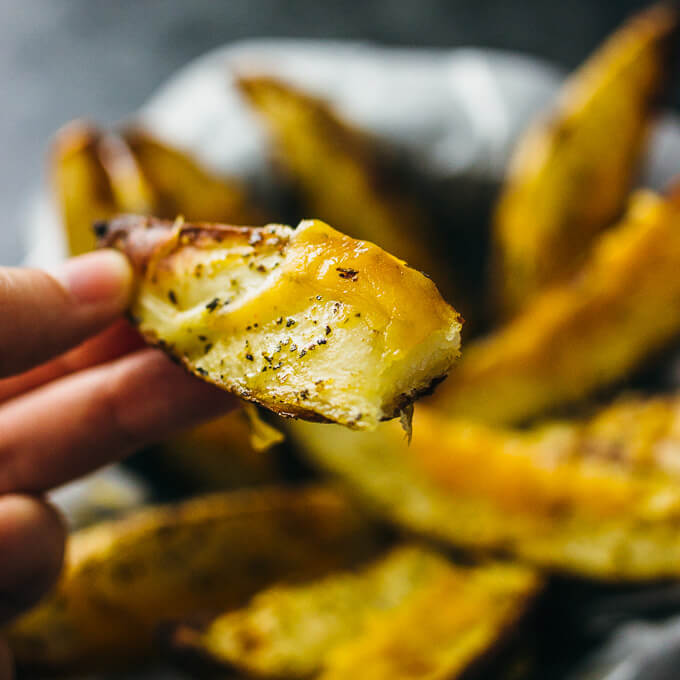 Let me answer some common questions about baked potato wedges.
How to cut potato wedges: You'll want to cut each potato into eighths. Start with a Russet potato, any size, and scrub the skin clean. Slice it in half. Take each half and slice it in half again. Now you're left with quarters. Take each quarter and slice it in half again, taking care to slice through the center so that they are left with a wedge shape. You should end up with 8 wedges per potato.
How to season potato wedges: My favorite method is using a large ziplock bag. Throw the potato wedges into the ziplock bag, and toss in your seasonings like spices and herbs along with olive oil. Then reseal the ziplock bag, and give it a good toss until the ingredients are well-mixed.
How to bake potato wedges with cheddar cheese: First, you'll want to bake the potato wedges until they're crispy, which takes about 45 minutes at 400 F. I like to stand them up with skin sides facing down on a baking tray, and with a small gap between adjacent wedges. After they're done baking, I rotate them so they are laying on their sides and touching each other, so that it's easier for the cheese to adhere to them. Then I return them to the oven for another few minutes until the cheese is completely melted. I've tried other methods and this one is definitely the easiest.