Summary:
An amazing Indian chicken tikka masala recipe — restaurant quality, made from scratch, and easy to make (it's a one pan meal). The chicken is tender and flavorful, simmered in a generous tikka masala sauce that's creamy, thick, and decadent. It's also low carb, keto, and gluten free.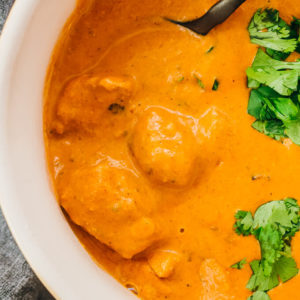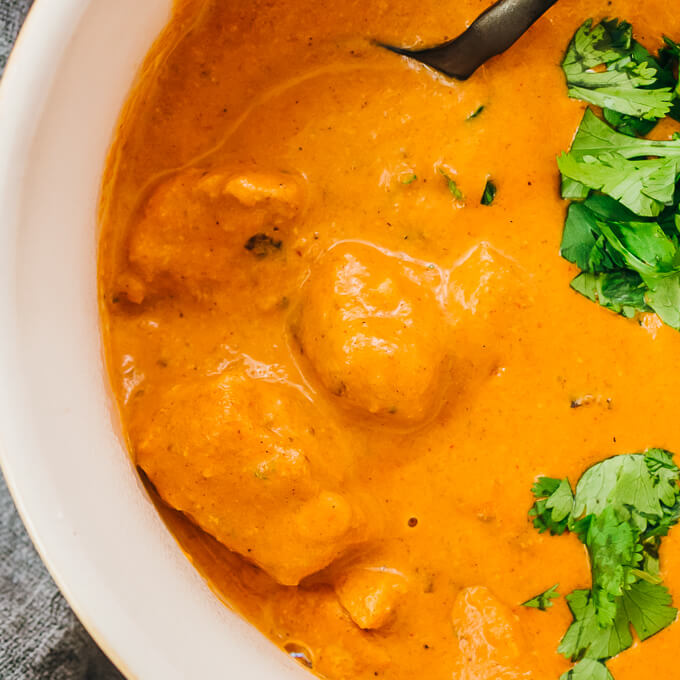 Best Chicken Tikka Masala Recipe (Rich & Creamy Sauce)
INGREDIENTS
Marinating Chicken:
1

pound

boneless skinless fresh chicken breasts

7

ounces

plain 2% fat greek yogurt

(I use the Fage brand; do not use regular yogurt)

1

tablespoon

garam masala

1

tablespoon

fresh lemon juice

1

teaspoon

ground black pepper

1/4

teaspoon

ground ginger
Sauce:
15

ounces

canned unsalted plain tomato sauce

(not pasta sauce)

1 1/2

cups

heavy whipping cream

5

cloves

garlic, minced

4

teaspoons

garam masala

1/2

teaspoon

paprika

1/2

teaspoon

table salt

1/4

teaspoon

ground cayenne

(this yields medium spiciness, and can be substituted with 1 diced jalapeño with seeds removed)
Serving:
2

tablespoons

chopped fresh cilantro
INSTRUCTIONS
Pat the chicken breasts dry with paper towels. Trim off excess fat, if any. Cut them into bite-sized chunks, about 1/2 to 1 inch in size.

In a large bowl, stir together all marinade ingredients except the chicken, until well-mixed. Add chicken chunks and mix until well-coated with the marinade; the marinade should be thick, not thin or watery. Cover and refrigerate for at least 1 hour.

Heat a large nonstick pan over high heat (I use a 10-inch wide and 3-inch tall nonstick pan) until very hot, no oil needed. Add only half of the yogurt-covered chicken chunks, spreading them out in the pan. Cook for a few minutes until they are golden brown and a bit charred, frequently stirring and flipping the chicken to sear different sides (tongs are useful for this).

Once the chicken chunks are seared, transfer them to a large plate. Repeat the searing process with the remaining half of the chicken chunks. Doing this in 2 batches prevents the pan from cooling too much, resulting in a better sear.

Reduce to medium heat. Add all sauce ingredients to the now-empty pan, stirring for a minute until mixed. Add seared chicken chunks without pan drippings and submerge them into the sauce; no need to stir. Bring to a simmer.

Simmer for 20 minutes, stirring occasionally and decreasing the heat as needed to maintain a light simmer. After simmering, the chicken should be cooked through and the sauce slightly thickened and orange.

Turn off the heat. Serve into bowls, and garnish with chopped cilantro.
NUTRITION
Makes 4 Servings
Amount Per Serving:
| | |
| --- | --- |
| Calories 510 | |
| Total Fat 35g | 54% |
| Saturated Fat 21g | 107% |
| Cholesterol 172mg | 57% |
| Sodium 410mg | 17% |
| Net Carb 10g | |
| Total Carb 14.5g | 5% |
| Dietary Fiber 4.5g | 17% |
| Sugars 7.5g | |
| Protein 34g | |
This Indian recipe can also be made in a Crockpot (see Slow Cooker Chicken Tikka Masala) or Instant Pot (see Pressure Cooker Chicken Tikka Masala), or converted to vegetarian (see Cauliflower Curry). It's also very similar in flavor to Butter Chicken, which has a less spiced and more buttery curry sauce.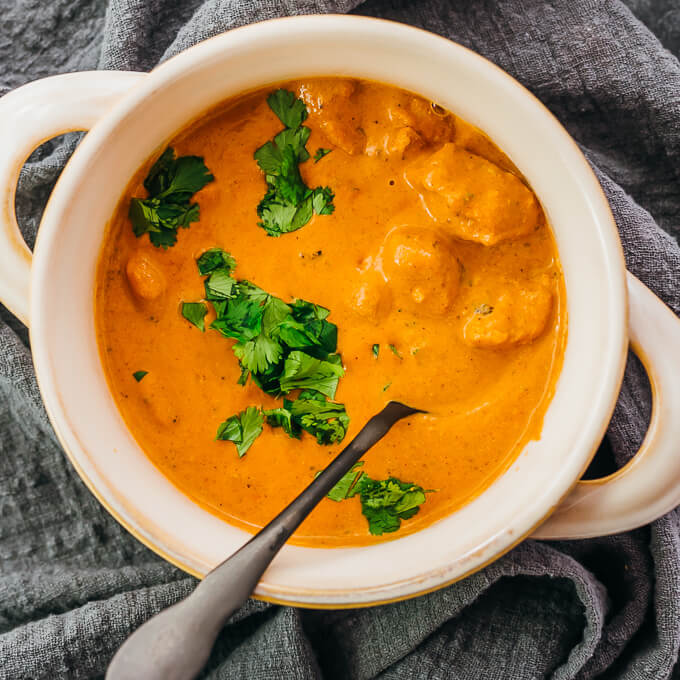 Why This Recipe Works
I've been experimenting with chicken tikka masala recipes for years, and this recipe is my favorite. It's the ideal combination of not-too-complicated (the recipe is pared down to the essentials), super tasty (you can't tell the difference between this recipe and restaurant ones), and low in carbs (great for anyone on a keto diet).
Making your own Indian food at home without store-bought sauces may seem daunting, but in practice it's a lot easier than it sounds. After marinating the chicken chunks in a thick yogurt mixture (which accelerates the searing process and keeps them tender), they're browned in a hot pan followed by 20 minutes of simmering in a rich sauce on the stovetop. This homemade version is perfect for days when you're craving Indian food but you don't feel like going out to eat.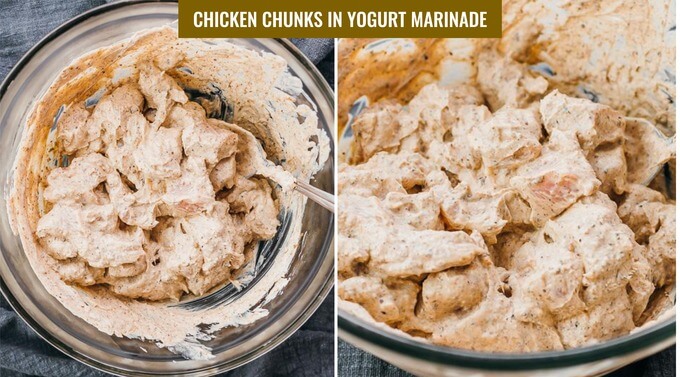 tikka masala sauce
What is tikka masala sauce? Tikka masala sauce is a tomato-based sauce mixed with heavy whipping cream and spices (most importantly, garam masala). The sauce is rich and thick, with a characteristic orange hue.
What is garam masala? Garam masala is a mix of dried spices including cumin, cardamom, cinnamon, cloves, nutmeg, and others. It adds a very unique flavor that cannot be substituted with another spice. You can pick up garam masala at major U.S. supermarkets or purchase online at Amazon.
Is the sauce spicy? While this sauce is certainly heavy on spices, it's not that spicy or hot. I always add cayenne or diced jalapeños, but you can skip them if you can't handle the heat.
Substitutes for cream? I'm often asked whether heavy whipping cream can be substituted for something else. Personally, I prefer the texture and taste of the sauce with heavy cream, but I know that many readers have had success using less heavy cream, or substituting all or some of the heavy cream with half and half or coconut milk. It'll result in a thinner sauce but will likely still taste quite good.
Does this make a lot of sauce? This recipe makes a generous amount of tikka masala sauce. Extra sauce is always appreciated for pairing with side dishes (see suggestions in the next section). If you don't anticipate needing extra sauce, you can increase the amount of chicken so that the sauce-to-chicken ratio isn't so high.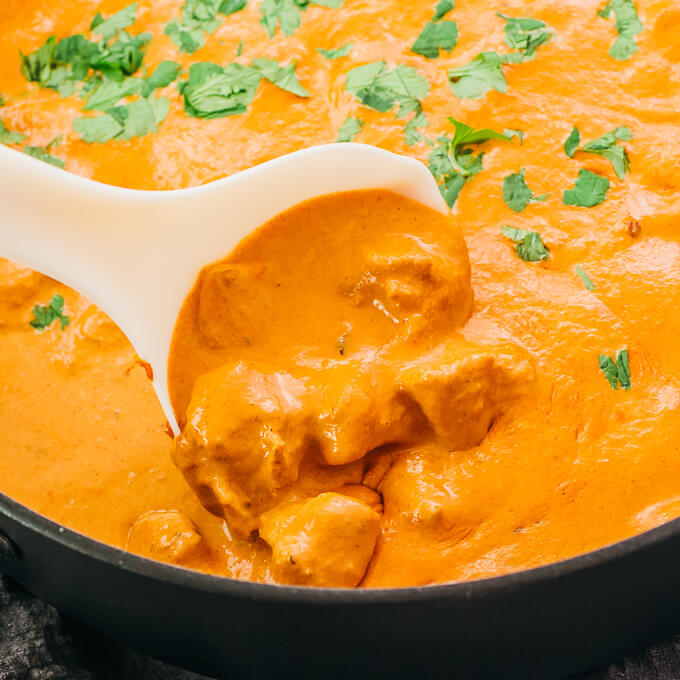 Low Carb Serving Ideas
Like many Indian dishes, chicken tikka masala is often served with basmati rice and naan. You can replace them with lower carb options like fried cauliflower rice and low carb tortillas. Bags of pre-riced cauliflower can be found in the produce section of many U.S. grocery stores, or you can buy florets and use a food processor to grate them into rice-sized pieces. Low carb tortillas are also prevalent in many U.S. supermarkets — look for wraps by brands including Mission, La Banderita, and Kroger.
You can also serve chicken tikka masala with a variety of vegetables including onions, carrots, peas, cauliflower, spinach, and broccoli. For more ideas, check out these low carb sides and appetizers.
MORE DELICIOUS ASIAN DINNERS: