Note: This is one of my older recipes and is not low carb. Visit my Recipes page for low carb and keto recipes.
Make this delicious overnight breakfast strata with lamb — it works splendidly as an elegant brunch dish for Mother's Day.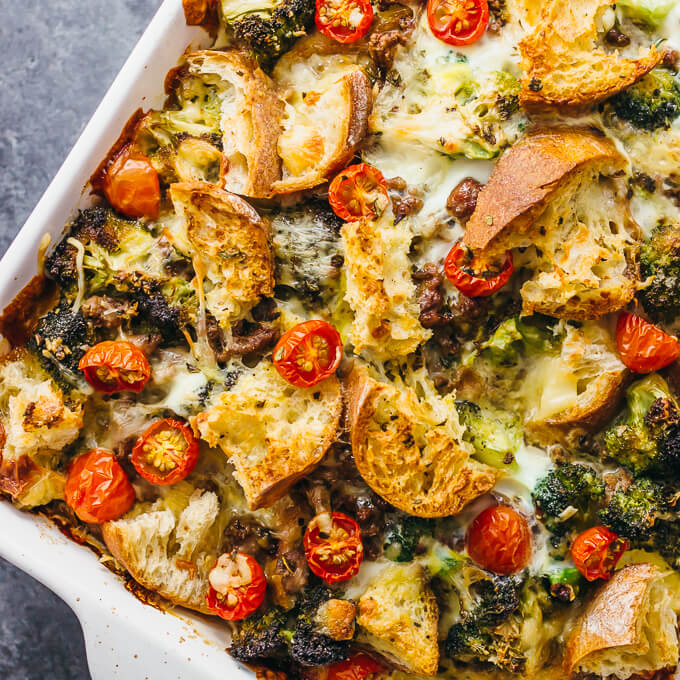 Can you believe that next week is already Mother's Day? If your mom is anything like my mom — she already has everything she wants and claims that she doesn't want anything this year — you'll be like me, desperately scouring every gift list on the internet, trying to find something that she might like. Neither Mr. Savory Tooth nor I live anywhere near our moms (wrong coast), but if we did, sometimes I wonder what we might do instead of an impossibly-hard-to-find gift. Maybe take her out to a fun event, or cook a delicious Mother's Day brunch dish. My mom would prefer the latter option, as she still thinks of me as the kitchen illiterate teenager who can't cook, and she would love to be served with this overnight breakfast strata with lamb.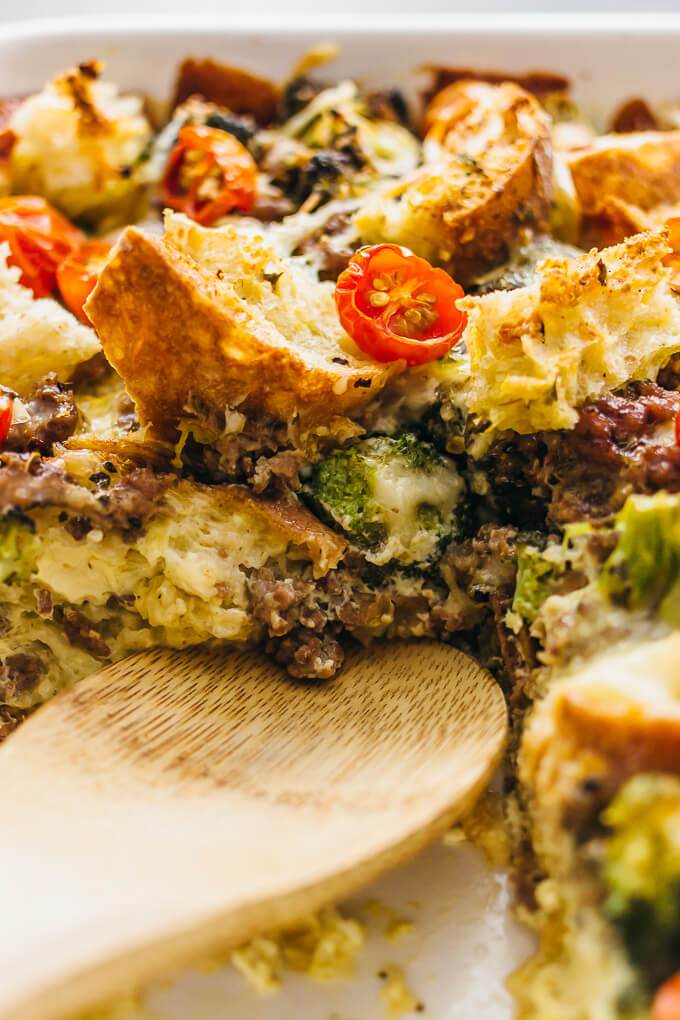 This recipe is very loosely based upon an old Sicilian style strata recipe from Mr. Savory Tooth's mom. Like most recipes I touch, I've made a lot of modifications, and one of my favorite changes is adding ground lamb. The lamb is from Superior Farms, which is a producer based out of Dixon, California, and they work with local ranchers and small family farms to produce sustainable lamb. They're very committed to their flock's welfare, and their lambs are allowed to graze across vast grasslands. You can learn more about their story and ranchers on their website.
I also really enjoyed the halved grape tomatoes that decorate the top of the strata; they provided the occasional pleasant burst of tart tomato flavor. The broccoli and bread are also very tasty — the broccoli florets are tender and juicy, and the bread is nicely soaked in egg except for the bread on top, which is beautifully golden and crunchy.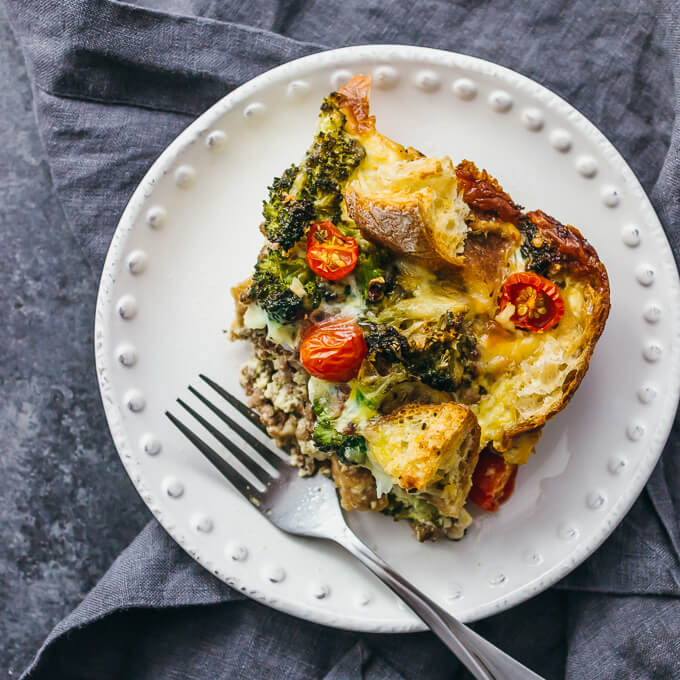 This strata is best when made the night before and allowed to sit overnight. At the very least, you'll want to let it sit for an hour in the refrigerator. As the strata sits, the egg-milk mixture gets gradually soaked up by the chopped bread. I love the fact that this is an overnight breakfast strata — the next morning, all you have to do is pop it into the oven. Easy and hassle-free.
If you're looking for multiple dishes to round out a holiday brunch menu, I recommend this savory galette with pesto and tomatoes, crispy parmesan crusted potatoes, and a German potato salad, and for something on the sweeter side, these cranberry orange scones.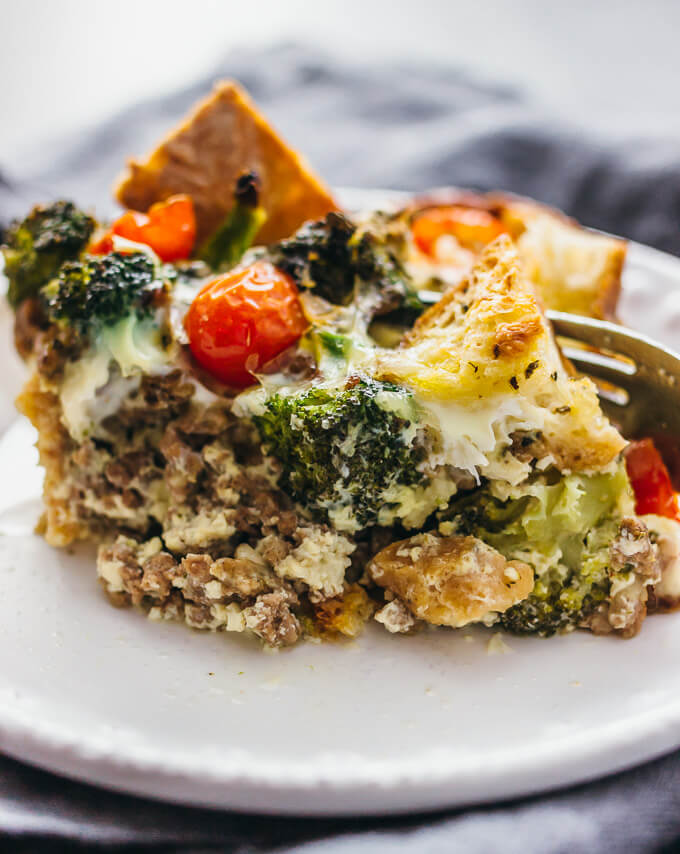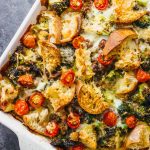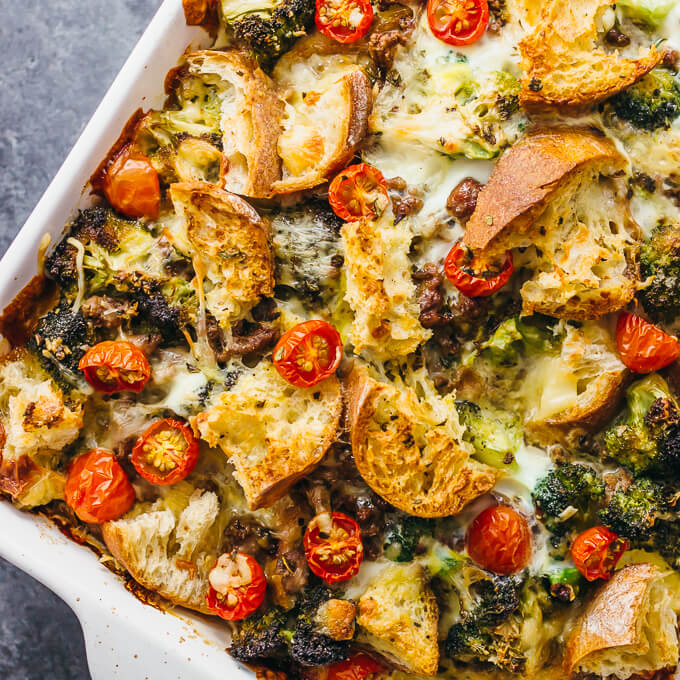 Overnight breakfast strata with lamb
Make this delicious overnight breakfast strata with lamb — it works splendidly as an elegant brunch dish for Mother's Day.
Cook Time
1
hour
20
minutes
Total Time
1
hour
40
minutes
Ingredients
1

pound

ground lamb

6

cups

broccoli florets

10

ounces

Italian bread

cut into 1 inch cubes

1/2

cup

grape tomatoes

halved

1/2

cup

shredded parmesan cheese

1/2

cup

shredded mozzarella cheese

1

tablespoon

olive oil
For egg mixture:
6

eggs

3

cups

whole milk

1

teaspoon

dried oregano

1

teaspoon

garlic powder

1/2

teaspoon

salt

1/4

teaspoon

pepper
Instructions
Sautéing lamb: Heat olive oil on a large pan over medium heat. Add ground lamb, breaking it apart as it cooks. Sauté until browned and cooked through, about 10 minutes, stirring occasionally. Transfer the lamb, without the drippings, to a plate to cool.

Sautéing broccoli: Using the same pan, add broccoli florets and cook until tender and browned, about 10 minutes, stirring occasionally. Transfer the broccoli to a plate to cool.

Combining egg mixture: Combine and mix eggs, milk, oregano, garlic powder, salt, and pepper in a mixing bowl.

Assembling: Prepare a greased 9x13 inch casserole dish. Spread about 2/3 of the bread cubes along the bottom of the dish. Top evenly with lamb, broccoli, and parmesan cheese. Spread remaining bread cubes on top, followed by tomatoes and mozzarella cheese. Pour the egg mixture on top.

Wait: Cover and refrigerate for at least 1 hour and up to overnight. The last step can be done the next day.

Baking: Bake at 325 F until the eggs are set and the top of the strata is browned, about 60 minutes. Let rest for 10 minutes before slicing.