Summary:
Make this delicious overnight breakfast strata with lamb — it works splendidly as an elegant brunch dish for Mother's Day.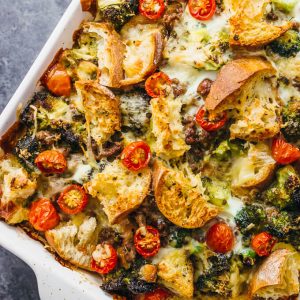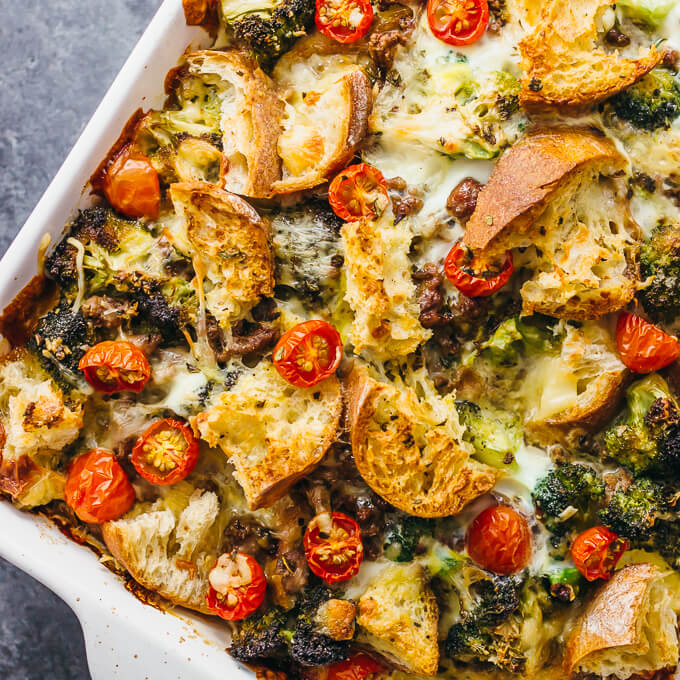 INGREDIENTS
1

pound

ground lamb

6

cups

broccoli florets

10

ounces

Italian bread

cut into 1 inch cubes

1/2

cup

grape tomatoes

halved

1/2

cup

shredded parmesan cheese

1/2

cup

shredded mozzarella cheese

1

tablespoon

olive oil
For egg mixture:
6

eggs

3

cups

whole milk

1

teaspoon

dried oregano

1

teaspoon

garlic powder

1/2

teaspoon

salt

1/4

teaspoon

pepper
INSTRUCTIONS
Sautéing lamb: Heat olive oil on a large pan over medium heat. Add ground lamb, breaking it apart as it cooks. Sauté until browned and cooked through, about 10 minutes, stirring occasionally. Transfer the lamb, without the drippings, to a plate to cool.

Sautéing broccoli: Using the same pan, add broccoli florets and cook until tender and browned, about 10 minutes, stirring occasionally. Transfer the broccoli to a plate to cool.

Combining egg mixture: Combine and mix eggs, milk, oregano, garlic powder, salt, and pepper in a mixing bowl.

Assembling: Prepare a greased 9×13 inch casserole dish. Spread about 2/3 of the bread cubes along the bottom of the dish. Top evenly with lamb, broccoli, and parmesan cheese. Spread remaining bread cubes on top, followed by tomatoes and mozzarella cheese. Pour the egg mixture on top.

Wait: Cover and refrigerate for at least 1 hour and up to overnight. The last step can be done the next day.

Baking: Bake at 325 F until the eggs are set and the top of the strata is browned, about 60 minutes. Let rest for 10 minutes before slicing.
NUTRITION
357 kcal/serving

PHOTOS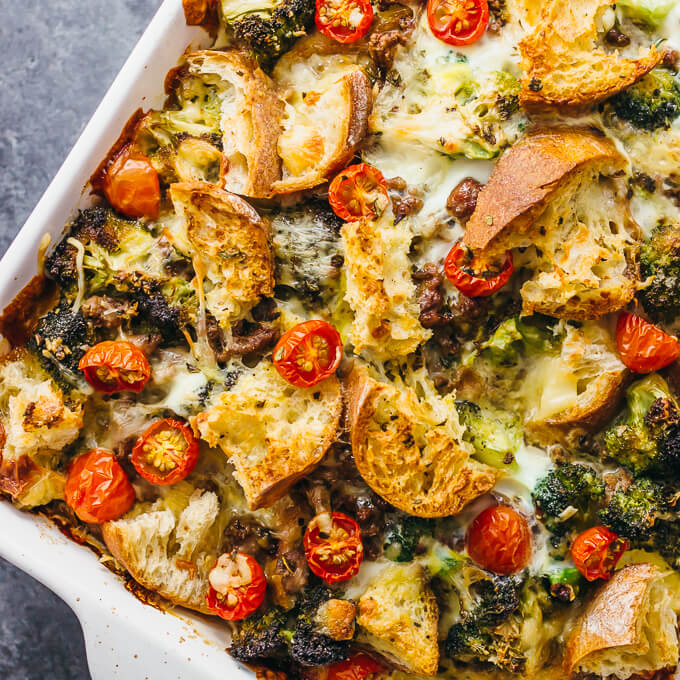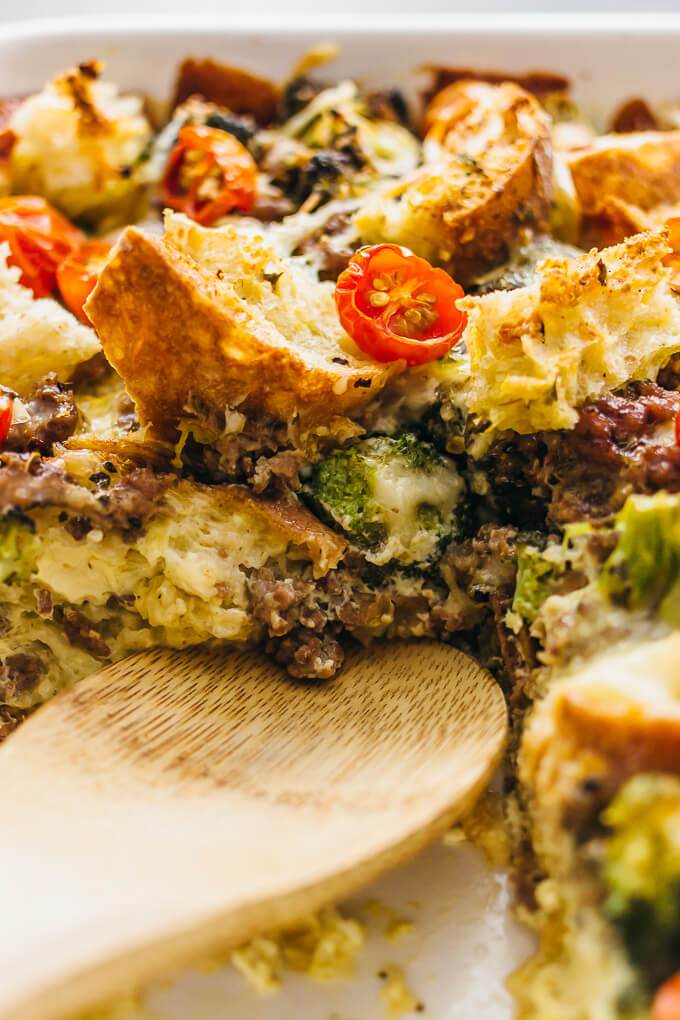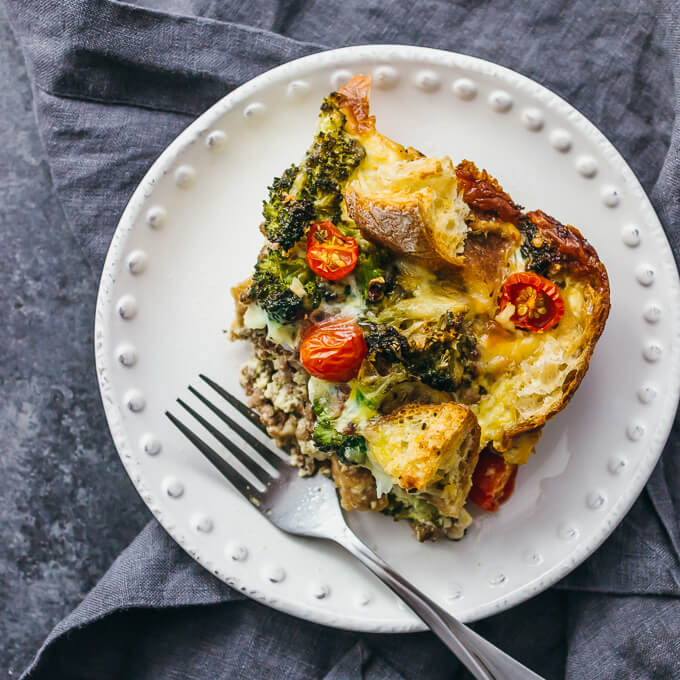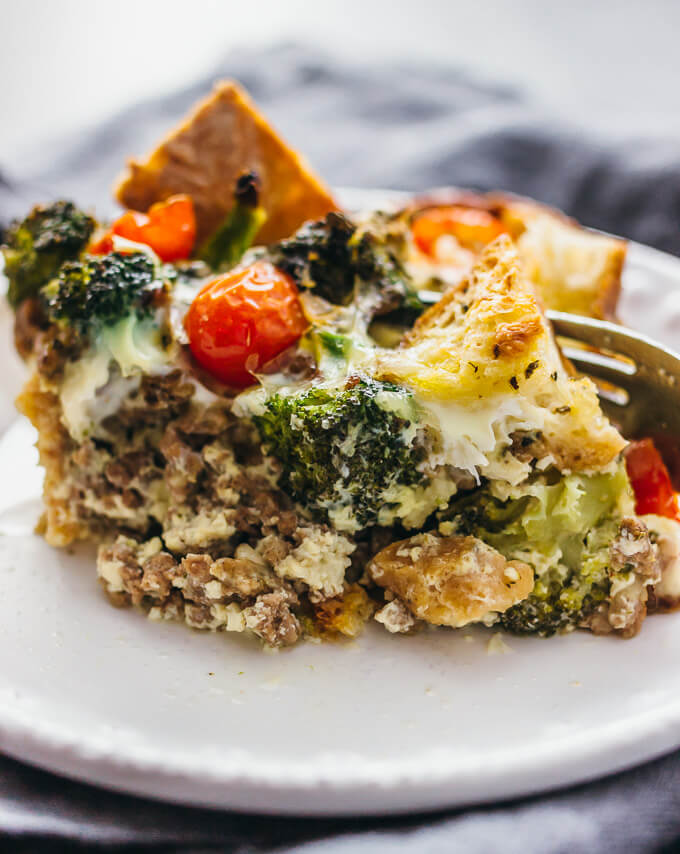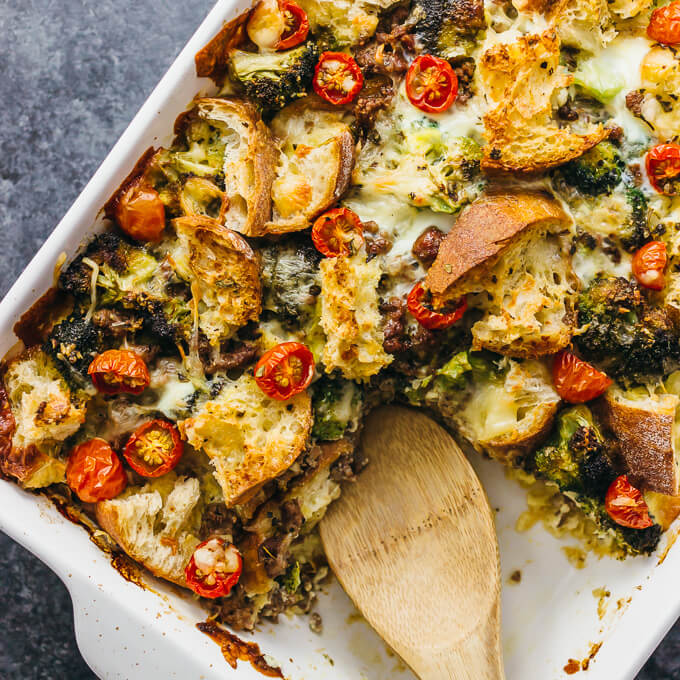 NOTES & TIPS

This strata is best when prepared the night before and allowed to sit overnight. At the very least, you'll want to let it sit for an hour in the refrigerator. As the strata sits, the egg-milk mixture gets gradually soaked up by the chopped bread. I love the fact that this is an overnight breakfast strata — the next morning, all you have to do is pop it into the oven. Easy and hassle-free.