I love this healthy and easy vegetable frittata — it's a one-pan meal that starts on the stove and then finishes in the oven. This recipe works great for all kinds of vegetables, if you're looking to clean out some veggies in your fridge. I used broccoli and sweet potato; other great ideas include spinach, asparagus, potato, and mushrooms. Yum 🙂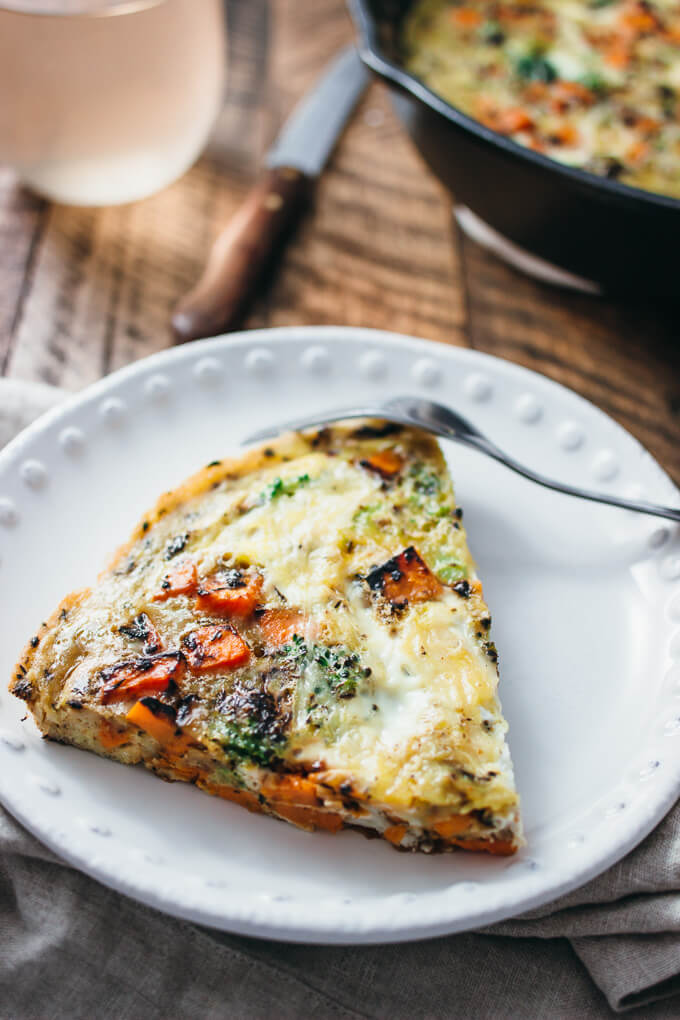 A frittata that's easy to make
This recipe is easy and simple: sauté your vegetables, whisk eggs and vegetables in a mixing bowl, throw everything on a pan, and then bake in the oven with the broiler on. Only one pan is needed, so it's one of those easy one-pan/one-pot meals that makes cleanup simple. Anyone can make this, including you!
Also, I get the impression that a lot of people out there are afraid of using their broilers. Come on guys, broiling is not scary and you should try it if you have an oven with a broiler setting. The thing about broiling is that cooking happen very fast, so you need to constantly monitor your food when it's broiling. It can take seconds to go from done-just-right to overcooked-burnt-mess. Trust me, I've made the mistake of not being vigilant and burning my garlic bread!
And after the frittata is all done and cooked, you can let it cool and then slice right into it! Delicious and colorful. Great way to get those veggies in!
Versatile with vegetables
The best part about this recipe is that you can use up leftover veggies in your fridge. For me, this was sweet potato and broccoli. I've also been loving thyme these days, so I added a good spoonful of that. You should definitely experiment with veggies and herbs that you love. Great vegetable ideas include spinach, asparagus, potato, and mushrooms. This is definitely one of those healthy, vegetarian meals that is very forgiving in terms of what veggies you want to use. Just make sure that you use roughly the same volume that I used for my sweet potato chunks and broccoli florets (that is, 2 cups of each), and you'll be all set. You can even get creative with the cooking vessel — how about baked frittata muffins??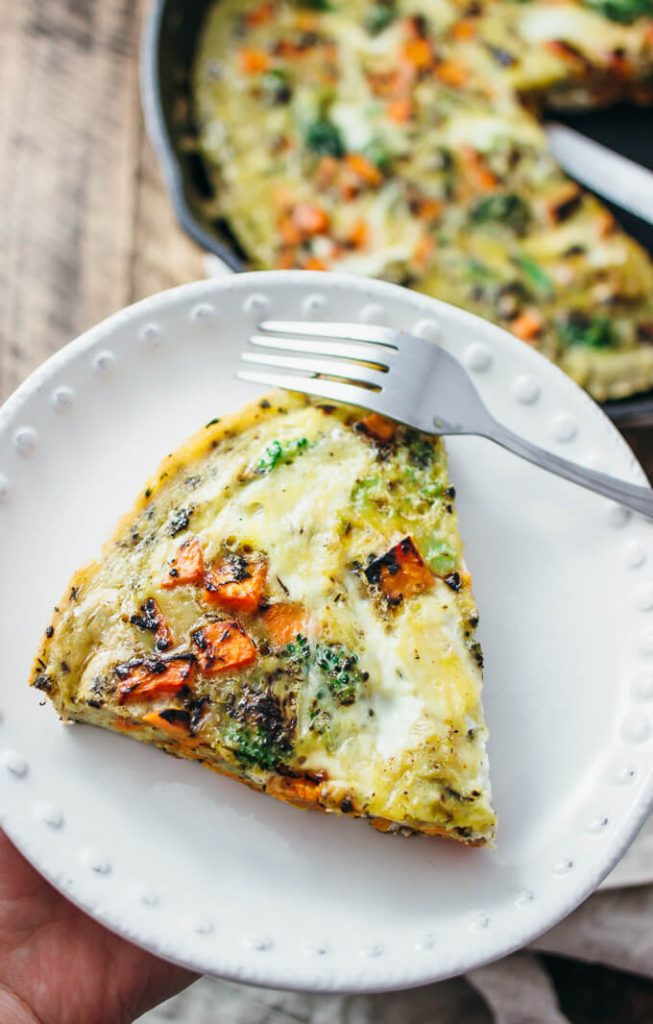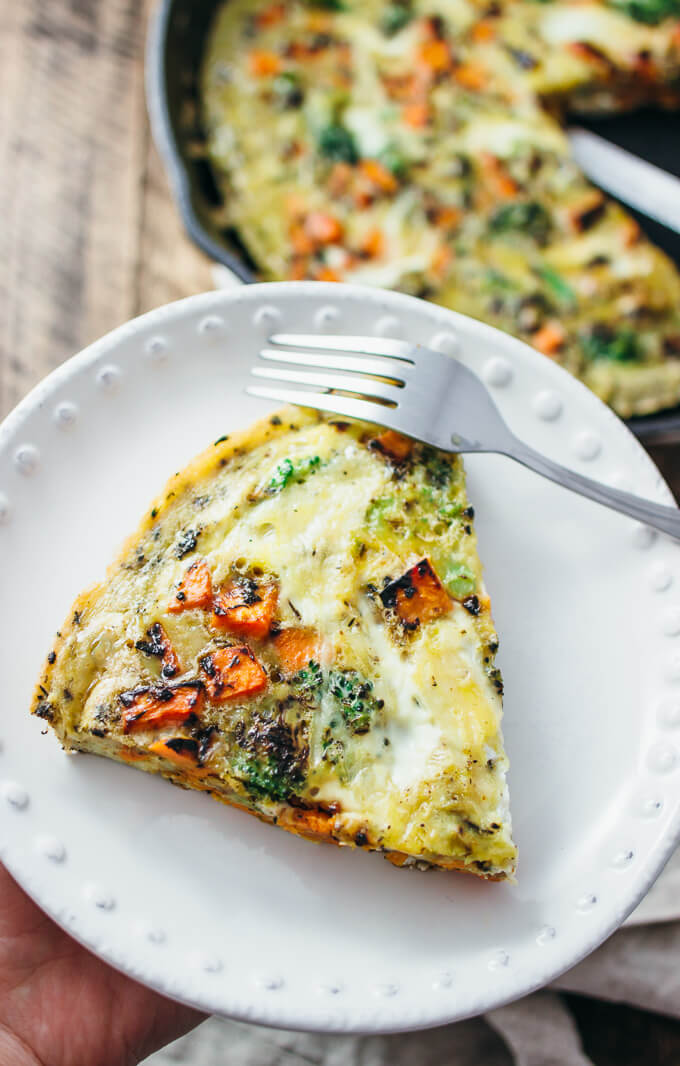 Perfect for breakfast and brunch
I made this meal for a weeknight dinner, because let's face it, Mr. Savory Tooth and I LOVE breakfast and brunch food and we'll eat breakfasty stuff any time of the day. But for most people, I would recommend this dish for Sunday brunch get-togethers, such as for Easter or Mother's Day. It makes for a really nice, filling breakfast.
Also, I want to make a note about the pan that you use. Make sure it has a lid and is broiler-safe! You'll need the lid while it's cooking on the stove on low heat and you'll need a pan that can withstand high broiler temperatures. So double-check that before you start cooking on a pan. As for the type of pan, I've made this recipe with both a non-stick pan as well as a cast-iron pan and they both work well.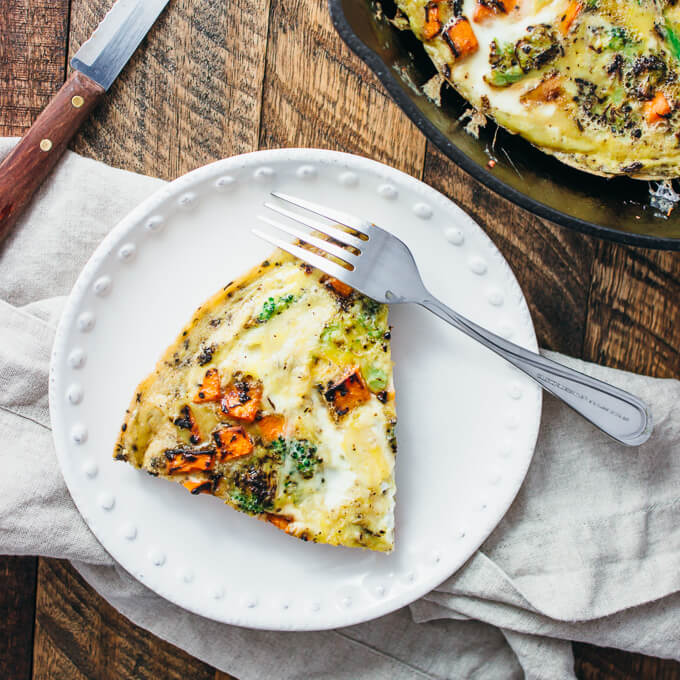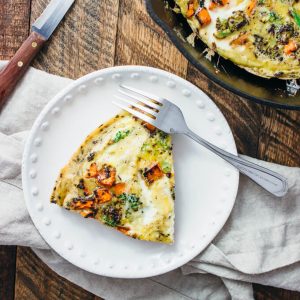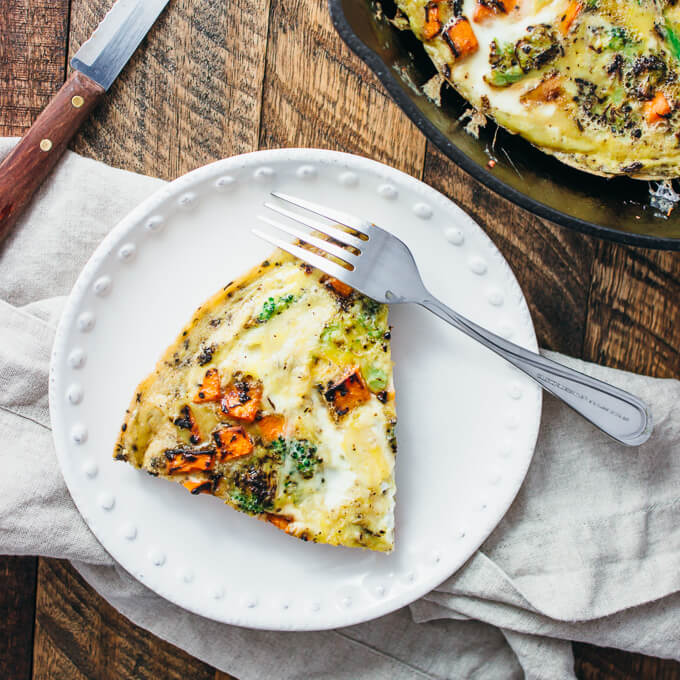 Broccoli and Sweet Potato Frittata with Thyme
DESCRIPTION
Healthy and easy vegetable frittata — it's a one-pan meal that starts on the stove and then finishes in the oven.
INGREDIENTS
2

cups

broccoli

cut into small florets

2

cups

sweet potatoes

about 1 large sweet potato or 2 small ones, peeled and chopped into 1/2-inch or smaller cubes

8

large eggs

3

garlic cloves

minced

1

teaspoon

dried thyme

1/2

teaspoon

salt

1/4

teaspoon

pepper

1/2

cup

shredded cheese

parmesan, mozzarella, jack, and cheddar all work well here

2

tablespoons

olive oil
INSTRUCTIONS
Using a 10-inch pan, heat 1 tablespoon of olive oil over medium heat. Add garlic and thyme, and stir until aromatic, about 1 minute. Then add sweet potatoes and broccoli. Cook until the sweet potatoes are soft and cooked through, about 20 minutes, stirring frequently. Turn off the heat.

Whisk eggs in a large mixing bowl. Stir in salt, pepper, cheese, and everything that was in the pan (broccoli, sweet potato, garlic, thyme).

Heat 1 tablespoon of olive oil on the same pan over medium heat. Pour in the egg mixture, distributing both eggs and filling evenly across the pan. As the bottom of the frittata cooks and becomes solid, lift up the frittata's edges with a spatula to let the liquid eggs run underneath. Then turn the heat to low and cover with a lid. Cook until the frittata is nearly set except for the top, about 15 minutes.

Start up the broiler. Remove the lid from the pan and place the pan under the broiler. Let it cook until golden and lightly browned on top, about 5 minutes. Watch carefully. With the broiler, vigilance is key. Let it cool for 5 minutes before removing the frittata from the pan.
NUTRITION
This recipe yields 13 g net carbs per serving.
Nutrition Facts Per Serving
| | |
| --- | --- |
| Calories 330 |   |
| Total Fat 22g | 33% |
|    Saturated Fat 7g | 33% |
|    Trans Fat 0g |   |
| Cholesterol 385mg | 128% |
| Sodium 570mg | 24% |
| Potassium 230mg | 6% |
| Total Carb 16g | 5% |
|    Dietary Fiber 3g | 12% |
|    Sugars 4g |   |
| Protein 18g |   |