Summary:
This is an easy recipe for unstuffed cabbage roll soup with beef, tomatoes, and other veggies, ideal for anyone craving cozy low carb soups.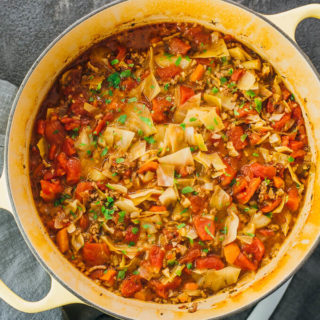 Unstuffed Cabbage Roll Soup (Low Carb)
INGREDIENTS
1

(28-ounce)

can diced tomatoes

1

pound

90% lean ground beef

1

pound

chopped green cabbage (about 5 cups)

5

cups

beef stock

1

cup

riced cauliflower

1/2

cup

diced onions

1/2

cup

diced carrots

1

tablespoon

olive oil

1 1/2

teaspoons

salt

1

teaspoon

dried oregano

1

teaspoon

dried thyme

2

tablespoons

fresh chopped parsley
INSTRUCTIONS
Heat a 6 quart pot or dutch oven over medium to medium-high heat. Add olive oil and ground beef, cooking for a few minutes until browned, breaking it apart as it cooks.

Add onions and carrots. Cook for a few minutes to soften, stirring frequently.

Add tomatoes (including the liquid in the can), cabbage, beef stock, cauliflower, oregano, thyme, and salt. Stir everything together.

Increase heat to bring to a simmer. Cover with a lid and decrease heat to maintain a simmer. Simmer for about 30 minutes or until cabbage is tender.

Uncover and stir. Top with parsley and serve while hot.
NUTRITION
Makes 8 Servings
Amount Per Serving:
| | |
| --- | --- |
| Calories 160 (43% from fat) | |
| Total Fat 7g | 11% |
| Saturated Fat 3g | 14% |
| Cholesterol 38mg | 13% |
| Sodium 1080mg | 45% |
| Net Carb 6g | |
| Total Carb 8g | 3% |
| Dietary Fiber 2g | 7% |
| Sugars 5g | |
| Protein 13g | |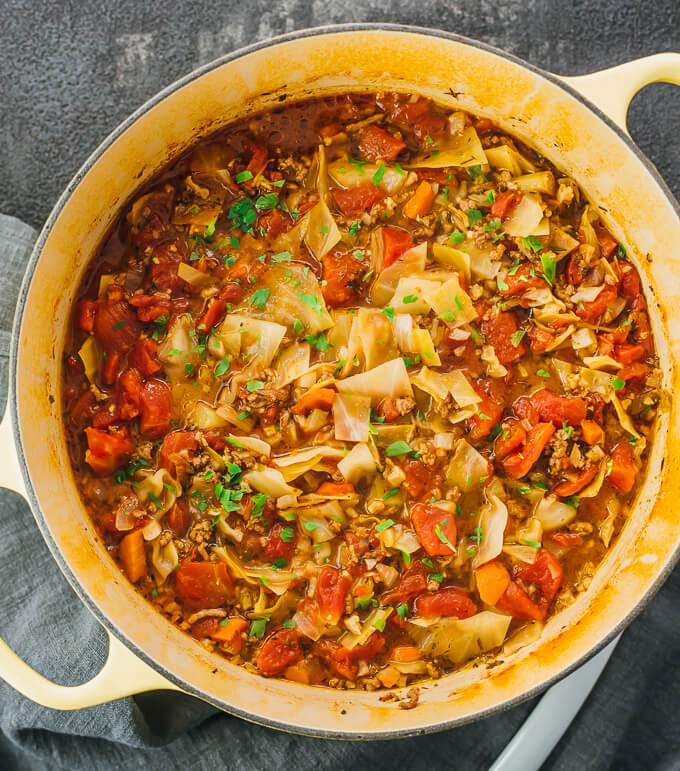 I love stuffed cabbage rolls, but let's admit it — they are a pain to make. It usually involves cooking cabbage leaves first, so you either need to boil a whole cabbage or cut individual leaves off and boil them individually. After that debacle is over, you need to stir together a beef-tomato mixture, stuff it into the cabbage leaves, and roll them up. And we're not done yet — the last step is to bake everything, which can take a whopping 2-3 hours until the cabbage is finally tender enough to eat.
That's where the unstuffed cabbage roll soup comes in. First of all, it's a one-pot deal. Second, it's super simple. Just a quick sauteing of beef and veggies, then everything gets dumped into the pot and simmered for about 30 minutes or until tender. Easy peasy.
I initially made this soup in the pressure cooker (see Instant Pot Cabbage Soup) and now I've converted it to a stovetop version so that everyone can enjoy this comfort food. I will admit though, I still prefer the Instant Pot version — just can't beat the pressure cooker when it comes to making everything super tender!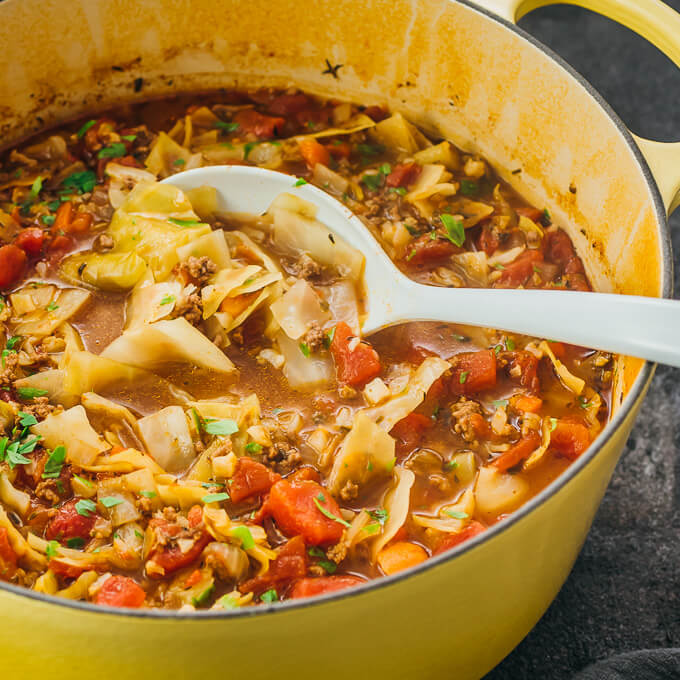 Is this a low carb cabbage soup?
Absolutely! You can easily enjoy this soup on a low carb or keto diet, as each serving is only 6g of net carbs.
The most carb-dense ingredients are the tomatoes, onions, and carrots, so I keep them to a minimum without sacrificing flavor. You can use fewer tomatoes or skip the onions entirely for an even lower carb meal.
I add low carb vegetables like riced cauliflower for texture and variety, and you can easily use something else or add veggies like diced celery.
For another low carb soup, check out this creamy broccoli cheddar soup.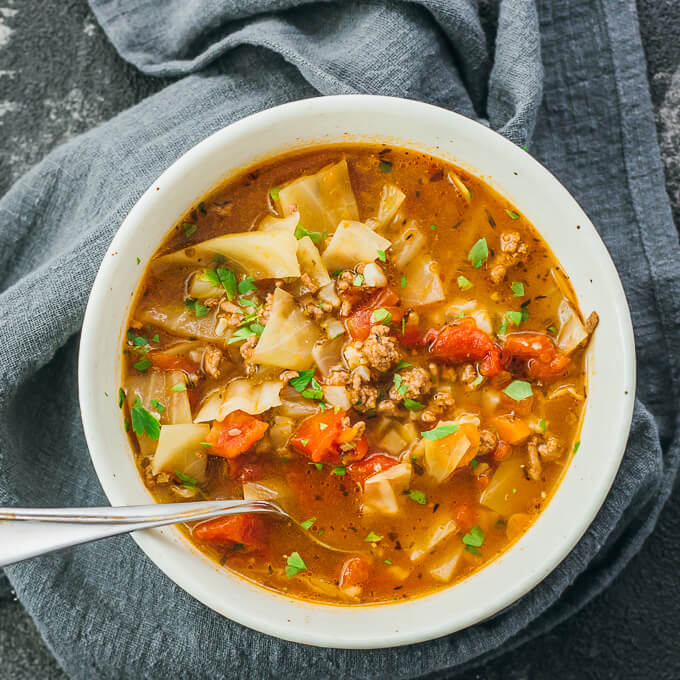 Two quick tips on adjusting this soup to your preferences:
Don't like ground beef? You can substitute it with ground turkey instead. It'll be delicious either way.
This soup comes out very thick and hearty with vegetables. If you prefer a less chunky or soupier consistency, add more beef broth or water after cooking, until it reaches your desired thickness.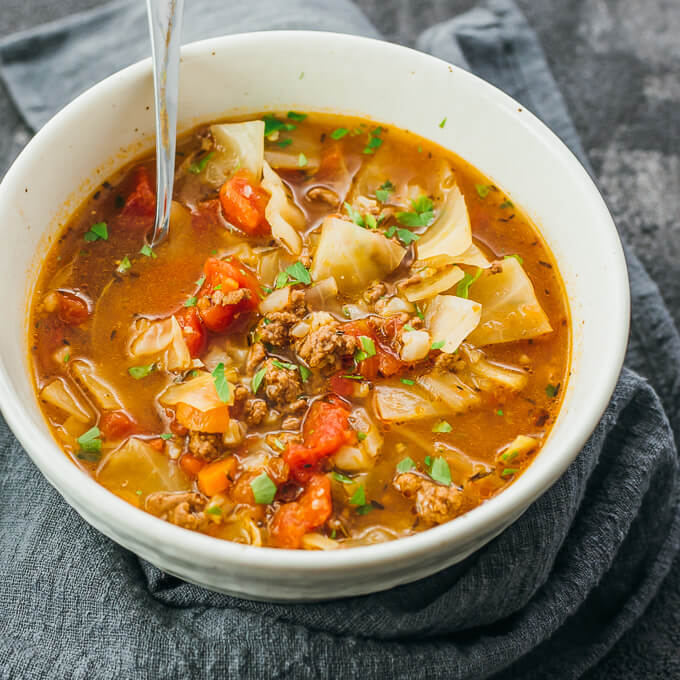 MORE COMFORTING MEALS: