Summary:
This vegetarian Indian curry combines oven-roasted cauliflower florets with a spiced tikka masala sauce.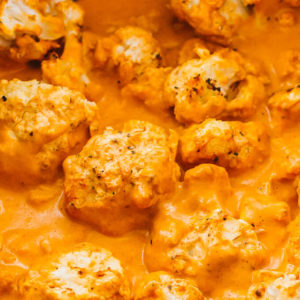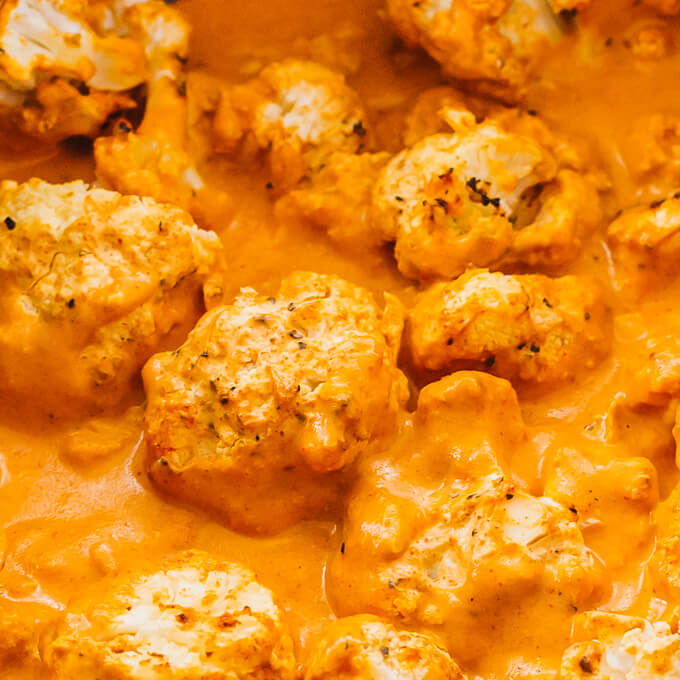 INGREDIENTS
Cauliflower Marinade:
1

pound

cauliflower florets

(about 1 head)

7-ounce container

plain greek yogurt (Note 1)

1

tablespoon

garam masala (Note 2)

1

tablespoon

lemon juice

1

teaspoon

ground black pepper

1/4

teaspoon

ground ginger
INSTRUCTIONS
Marinate Cauliflower: Stir together yogurt, garam masala, lemon juice, pepper, and ginger in large bowl until well-mixed. If any cauliflower florets are larger than 2 inches, cut into smaller florets. Toss florets in bowl with marinade until well-coated. Cover and refrigerate overnight (Note 6).

Roast Cauliflower: Preheat oven to 400 F. Spread out marinated cauliflower florets in single layer on baking sheet lined with foil or parchment paper. Reserve any leftover marinade in bowl. Bake until cauliflower is tender and marinade looks dry, about 20 minutes (Note 7). While waiting for cauliflower to bake, proceed to next step to prepare sauce.

Make Sauce: Stir together all sauce ingredients and any leftover marinade in large pot. Bring to simmer. Stirring frequently, simmer until sauce thickens and reduces by one-fourth, about 10 minutes. If cauliflower is still baking, keep sauce warm over low heat.

Serve: Add roasted cauliflower florets to sauce in pot, stirring for a minute until cauliflower is coated with sauce. Serve hot (Note 8).
NUTRITION
Makes 3 Servings
Amount Per Serving:
| | |
| --- | --- |
| Calories 400 (69% from fat) |   |
| Total Fat 31g | 47% |
|    Saturated Fat 19g | 96% |
| Cholesterol 96mg | 32% |
| Sodium 490mg | 20% |
| Net Carb 13.5g |   |
| Total Carb 21.5g | 7% |
|    Dietary Fiber 8g | 32% |
|    Sugars 10.5g |   |
| Protein 13g |   |
PHOTOS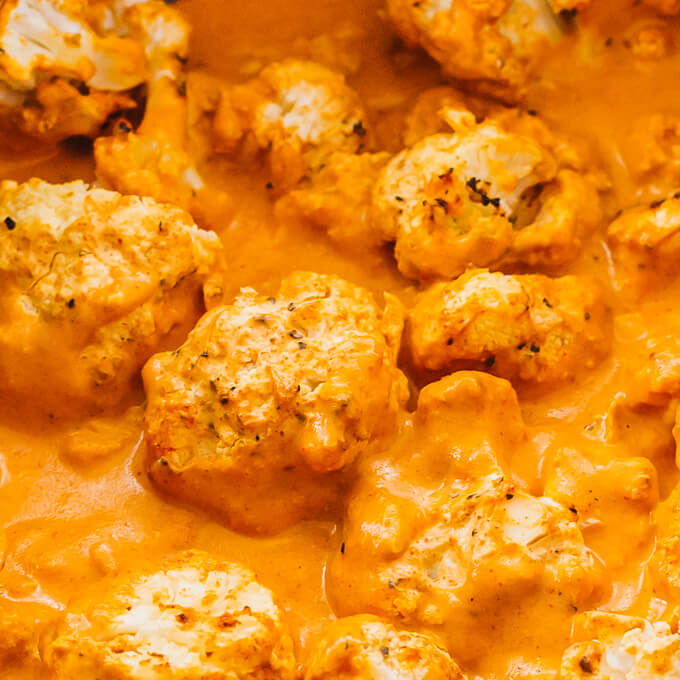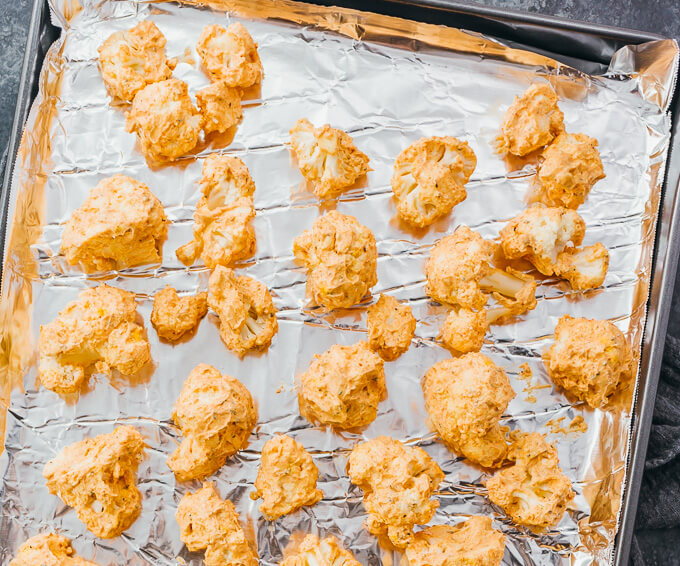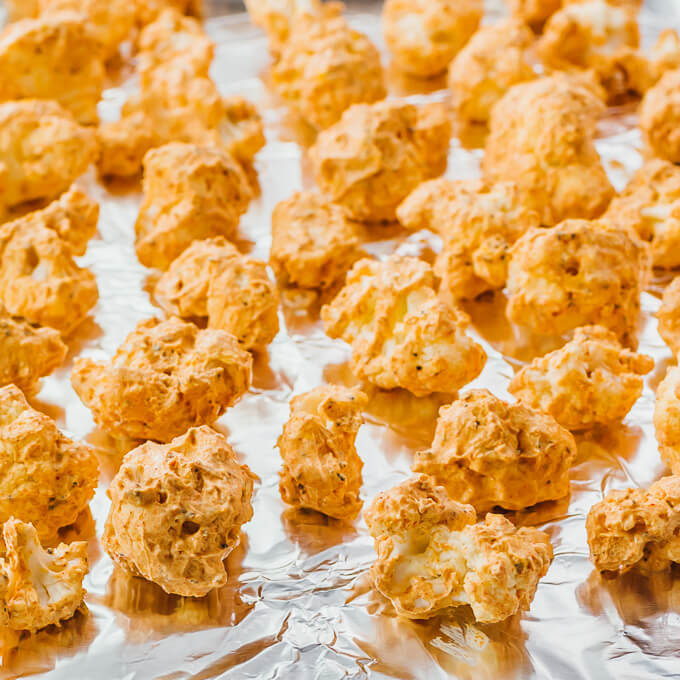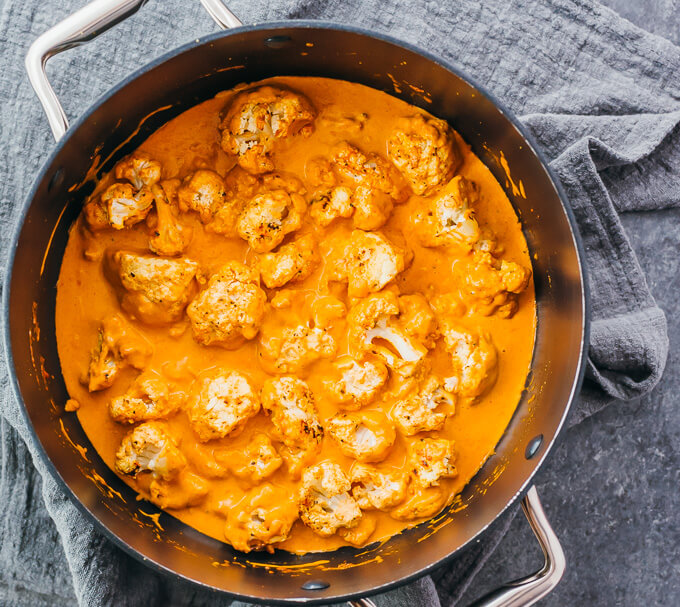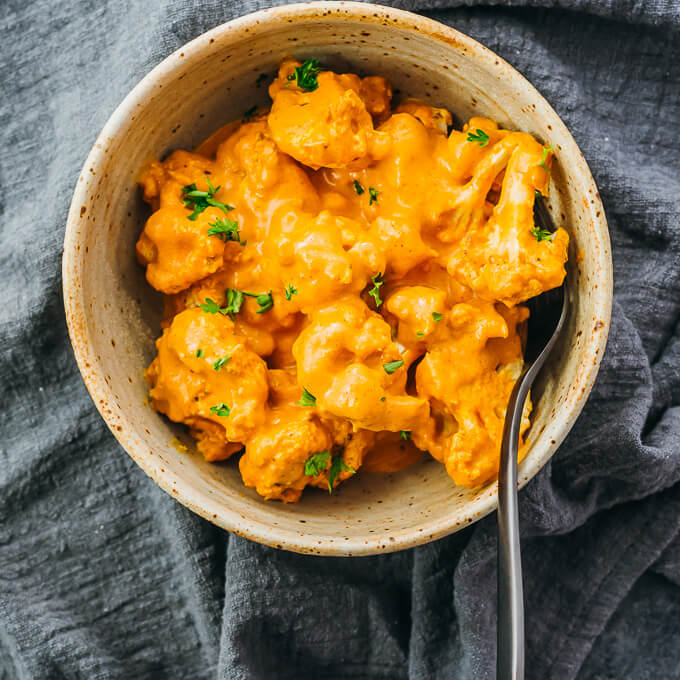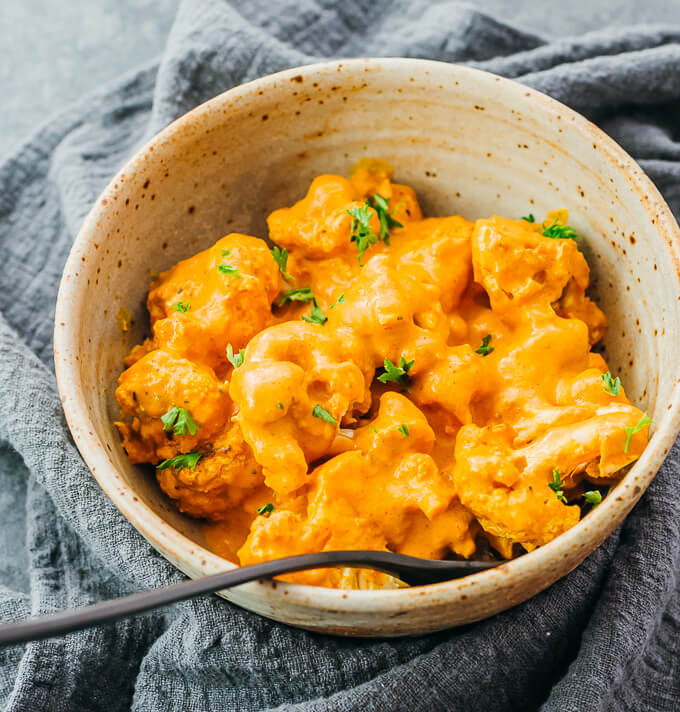 NOTES & TIPS
(1) Greek Yogurt. Greek yogurt is used because of its thick consistency; don't use American yogurts, which would result in a watery marinade. Select one with at least 2% fat, plain flavor, and unsweetened. I use the Fage brand. This can't be substituted with sour cream.
(2) Garam Masala. This is one of those spices that can't be easily substituted because it gives a characteristic taste to Indian dishes like chicken tikka masala. It's a blend of ground Indian spices including pepper, cloves, cinnamon, nutmeg, cardamom, and cumin. You can easily buy garam masala online, or you can find it at many U.S. supermarkets.
(3) Tomato Sauce. I use plain tomato sauce, sold in cans. Avoid flavored varieties with herbs and other additions. Don't substitute with pasta sauce.
(4) Heavy Whipping Cream. I haven't used anything other than dairy-based cream, but readers have told me that they have successfully substituted some or all of the cream with half and half or coconut milk. I think the taste of coconut milk would go wonderfully with the flavors in this dish, especially if you use full-fat coconut milk. For a thicker, luxurious sauce, a better substitution might be coconut cream.
(5) Cayenne. Also known as red pepper, ground cayenne is used to add a bit of heat to the dish. It's only mildly spicy, so the amount listed in the recipe should be suitable for most people. If you prefer your curries more or less spicy, adjust to taste.
(6) Marinating Time. I prefer to marinate overnight or for at least 8 hours. If you're short on time, you can reduce the marinating time without a substantial loss in flavor.
(7) Roasting Time. The roasting time for cauliflower florets will depend on your oven, size of cauliflower florets, and taste preferences. If you prefer your cauliflower to be extra tender, bake an additional 5 to 10 minutes, or until it reaches your desired tenderness.
(8) Serving. Garnish with chopped fresh cilantro or parsley. This curry is great alongside creamed spinach or mashed turnips, or wrapped in a low carb tortilla.
(9) Related Dishes. This roasted cauliflower curry is a vegetarian version of my chicken tikka masala recipe, which I have in three versions: stovetop, slow cooker, and pressure cooker. They share the same delicious sauce made with tomato, cream, and spices.