Summary:
Try my healthier, lightened-up version of chicken alfredo -- no cream needed.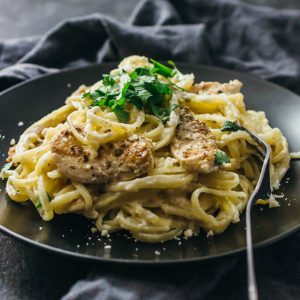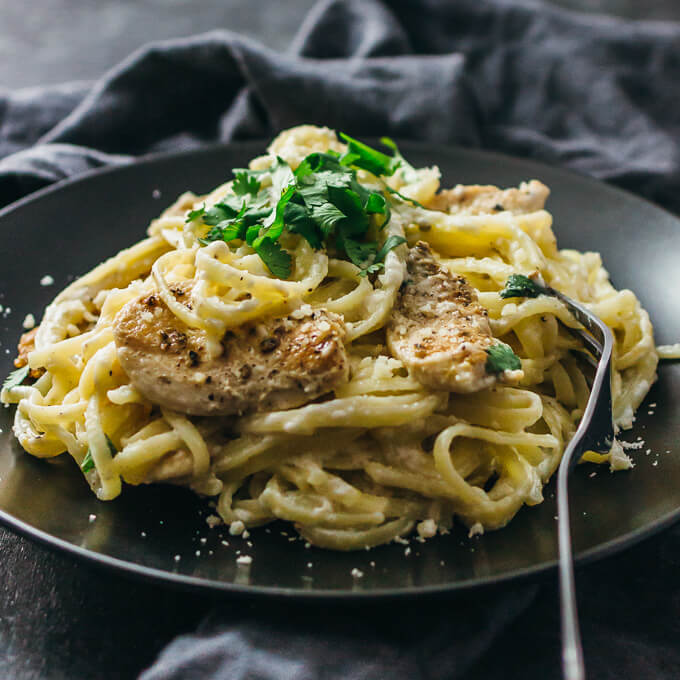 INGREDIENTS
8

ounces

linguine pasta

broken in half

1

boneless skinless chicken breast

about 6-8 ounces, sliced into 1/4 inch thick strips

2

cups

whole milk

1/4

cup

finely grated parmesan cheese

1

tablespoon

olive oil

1/4

teaspoon

salt

1/4

teaspoon

pepper

1/4

teaspoon

ground nutmeg
INSTRUCTIONS
Heat olive oil in a large pan over medium heat. Add chicken strips in a single layer and increase heat to medium-high. Evenly distribute salt and pepper over the chicken. Cook until the undersides are browned, then flip and cook until the chicken is cooked through, a few minutes per side. Turn off heat. Transfer to a plate and set aside.

Carefully add milk and linguine to the pan, pushing the linguine down to lay flat. Add water so that the linguine is submerged, about 1 cup. Bring to a boil over medium-high heat, and then decrease heat to a simmer until the pasta is cooked, about 10 minutes, stirring occasionally once the pasta has softened.

Stir in parmesan cheese and nutmeg over medium-low heat. Add chicken back to the pan, stirring it in, and add more salt to taste if necessary. Optionally, garnish with parsley and additional parmesan cheese. Serve immediately.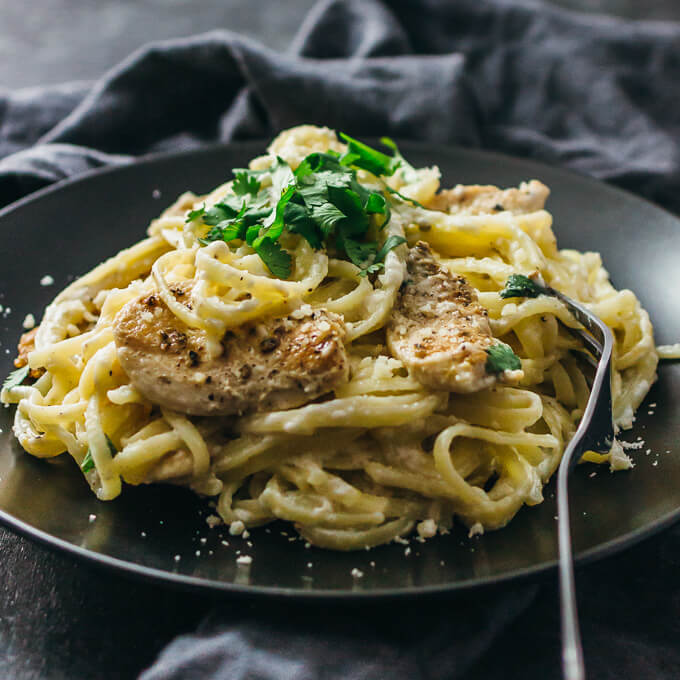 I've always liked reddish or orange pasta sauces more than white sauces. Think spicy red gnocchi arrabbiata or stuffed shells with balsamic tomato sauce. The white sauces have always seemed too creamy for my taste, hence today's recipe with a lightened-up version of the classic chicken alfredo dish. My recipe doesn't use any cream, with a white sauce based solely on milk, parmesan cheese, and a pinch of nutmeg. Without cream, the texture is not as silky, but it means fewer calories consumed and one less ingredient to buy.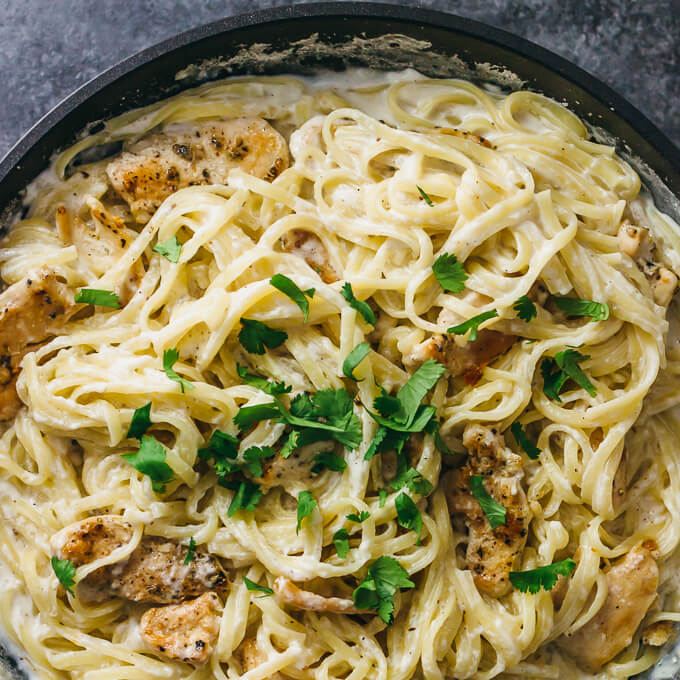 Chicken alfredo is an easy weeknight dinner that can be cooked in a single pan (no need to boil the pasta in a separate pot) in less than thirty minutes, with few ingredients. Almost any kind of pasta will work — spaghetti, linguine, fettuccine, penne, etc. You probably already have milk and some form of parmesan cheese in your refrigerator. After that, all that's left is procuring some chicken, and you can use either raw or already cooked chicken. For raw chicken, I slice it into thin pieces and pan-fry it until nicely browned crispy edges form.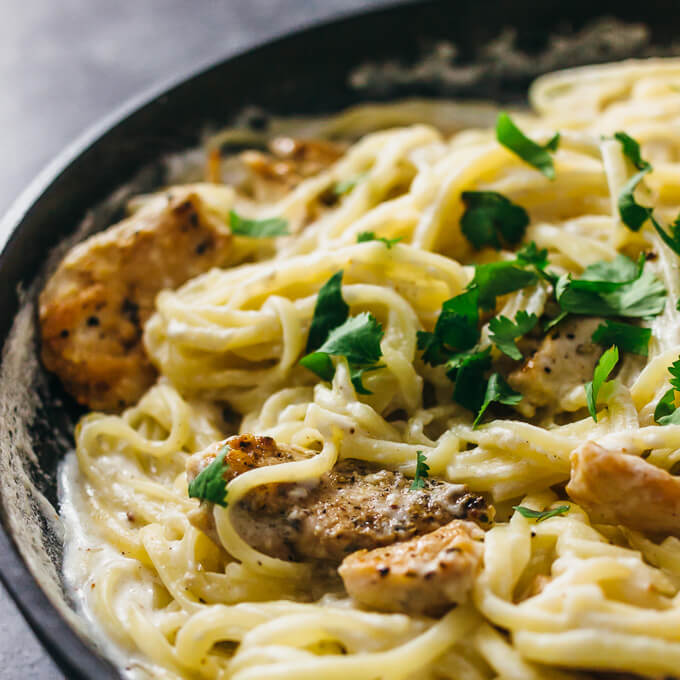 Your simmering times may vary, since it depends on how long it takes to cook your pasta, but it should be about 10 minutes or less for linguine. Don't worry if it looks like there's way too much liquid/sauce when your pasta has finished cooking — once the dish cools, much of the sauce will get soaked up by the noodles.