Summary:
One of my favorite Asian recipes, this Chicken Satay has incredibly tender morsels of chicken drizzled with a silky rich peanut sauce. Whether you serve this as a main dish for dinner or as a party appetizer, it's great for anyone on keto or similar low carb diets.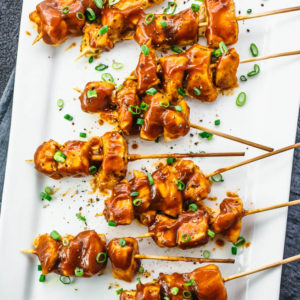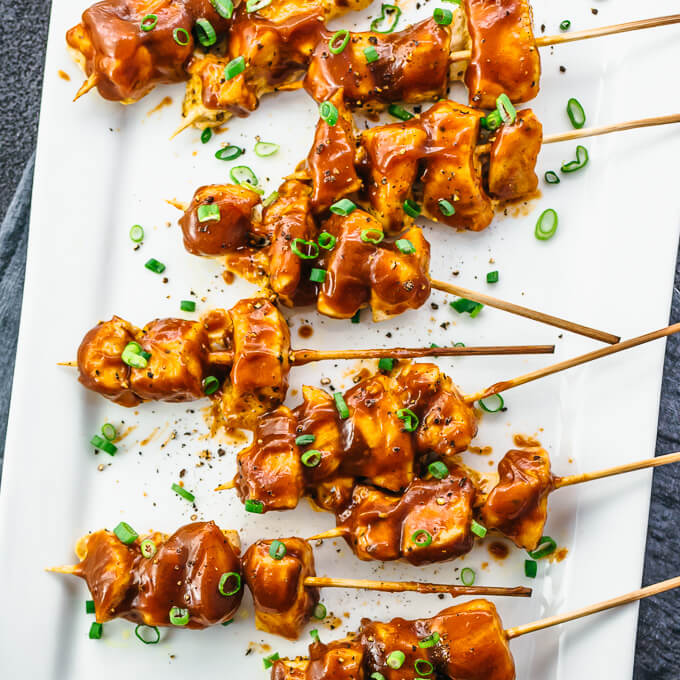 INGREDIENTS
Peanut Sauce:
1/4

cup

creamy peanut butter (Note 4)

3

cloves

garlic, minced

2

tablespoons

toasted sesame oil (Note 5)

1

tablespoon

olive oil

1

tablespoon

fresh lime juice
INSTRUCTIONS
Marinate Chicken: Stir all marinade ingredients in large bowl until well-mixed, turning light orange or tan. Cut chicken into 1-inch or smaller chunks, and stir them into marinade until well-coated. Cover and refrigerate for at least 6 hours and up to 24 hours.

Assemble Skewers: If using wooden skewers, soak them in water for at least 30 minutes. Preheat oven to 450 F, and prepare baking half sheet lined with parchment paper for easy cleanup. After soaking skewers, thread about 4 chicken chunks per skewer, leaving half of each skewer empty for handling. Place chicken skewers in single layer on lined baking sheet.

Cook Chicken: Bake at 450 F for 10 minutes, flip skewers, and bake for another 10 minutes or until chicken looks dry, browning in some spots, and its released liquid pooled on baking sheet has evaporated. Or, you can grill them.

Make Sauce: While waiting for chicken to cook, whisk together all peanut sauce ingredients in small saucepan over medium-low heat until very smooth, a few minutes. Reduce to low heat to keep warm, stirring occasionally.

Serve (Note 7): Transfer chicken skewers onto serving plate. Brush peanut sauce over chicken. Top with sliced scallions, and serve while warm.
NUTRITION
Makes 4 Servings
Amount Per Serving (2-3 chicken skewers):
| | |
| --- | --- |
| Calories 330 (54% from fat) |   |
| Total Fat 20g | 31% |
|    Saturated Fat 3g | 16% |
| Cholesterol 66mg | 22% |
| Sodium 500mg | 21% |
| Net Carb 3g |   |
| Total Carb 5g | 2% |
|    Dietary Fiber 2g | 7% |
|    Sugars 1.5g |   |
| Protein 30g |   |
PHOTOS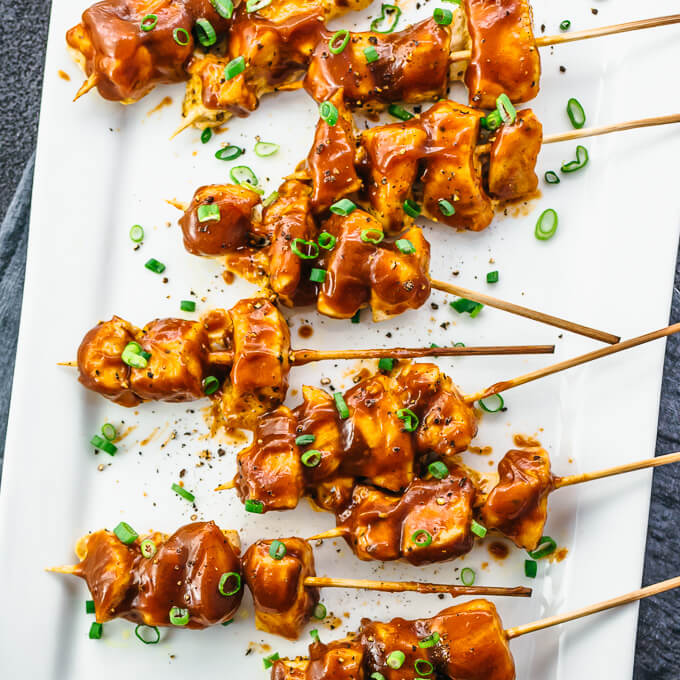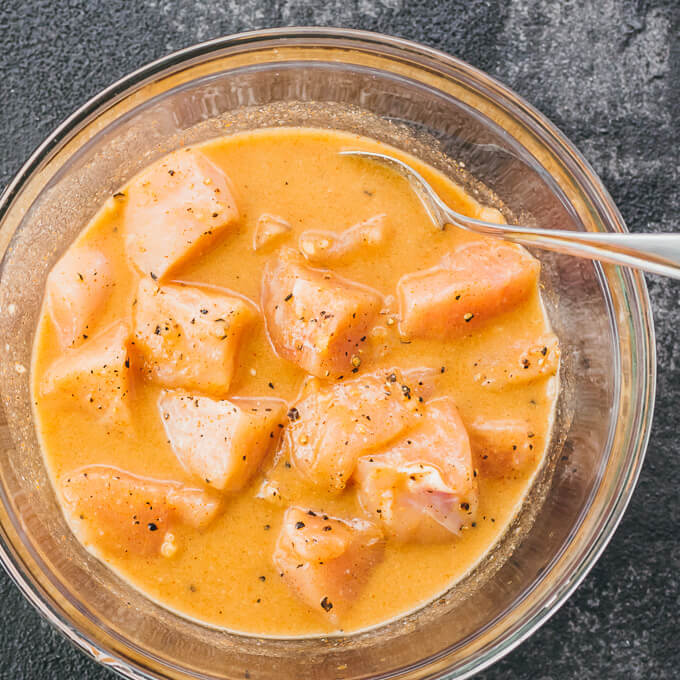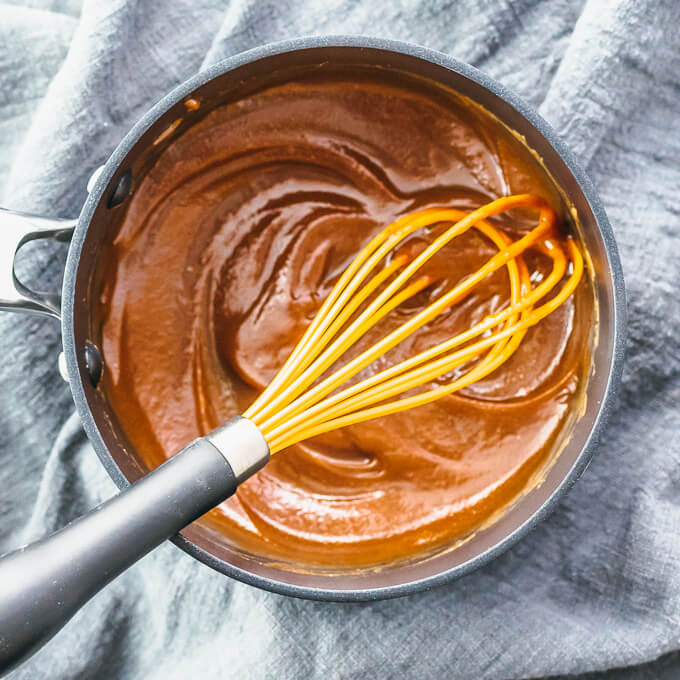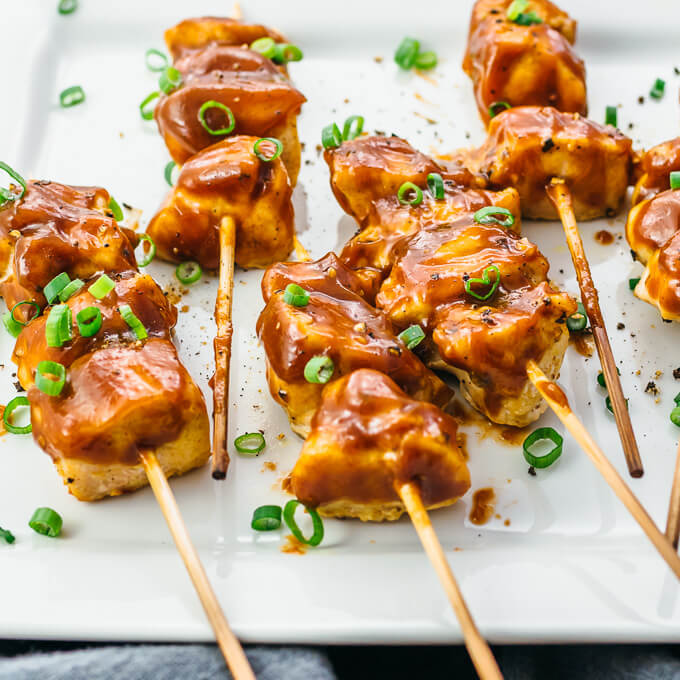 NOTES & TIPS
(1) Scallions. They're also known as green onions. I use both green and white parts.
(2) Skewers. Anywhere from 6 to 10 inches in length. I use wooden skewers, but you can also use metal skewers. The downside of using wooden ones is that you need to soak them in water for 30 minutes before cooking, so that they don't dry out and burn.
(3) Coconut Milk. Use an unsweetened full-fat version, not light or reduced fat. I've used Goya and Chaokoh brands. Before measuring out the amount to use, stir or shake well because there will be separation in the can. Properly stirred coconut milk should appear thick and creamy, not watery. Unused coconut milk can be covered and refrigerated, and I highly recommend using it to make Instant Pot Brazilian Fish Stew!
(4) Peanut Butter. I recommend creamy, not crunchy, so that the sauce spreads more easily over the chicken. Sauce made with crunchy peanut butter doesn't adhere as well to the chicken, but will still taste great. I use the "natural" kind that has only peanuts and salt in the ingredients, no added sugar. There is typically some separation, so stir up the jar of peanut butter before measuring out the amount to use.
(5) Sesame Oil. Make sure to use toasted! Toasted sesame oil is dark-colored and VERY flavorful and aromatic — you'll smell it as soon as you pour it out. Untoasted sesame oil is light-colored and tastes neutral.
(6) Soy Sauce. Both regular and low-sodium varieties work well; I use the brand Kikkoman.
(7) Serving. Serve with Thai chicken salad, Asian cucumber salad, or cauliflower rice. To make this ahead of time for a party, you can marinate the chicken and make the peanut sauce up to 24 hours in advance. About an hour before serving, soak the skewers, assemble, and bake. The peanut sauce should be warmed up on the stovetop.