Summary:
This chicken skillet is simmered in a spicy coconut milk curry along with baby spinach leaves and sun-dried tomatoes. It's a one-pan recipe for fast, moist, and flavorful chicken.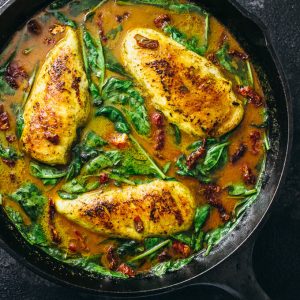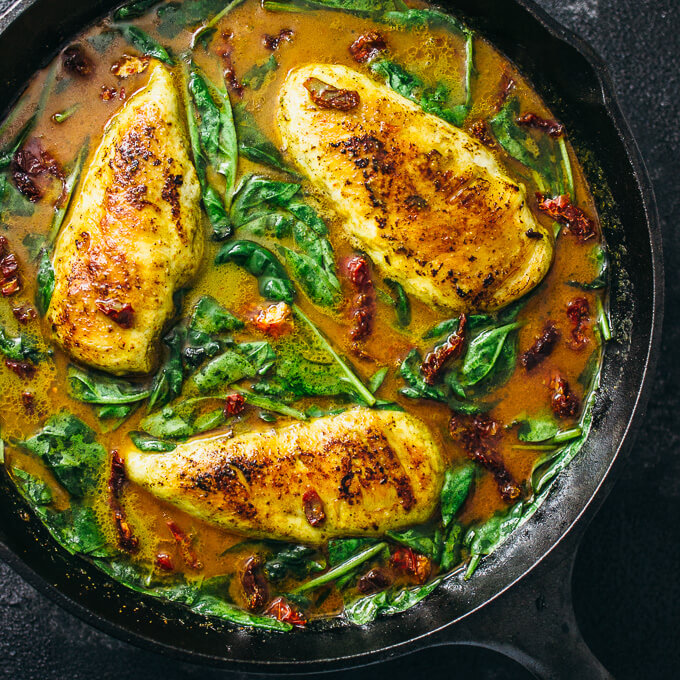 Chicken Skillet with Coconut Milk Curry
INGREDIENTS
For the coconut milk curry:
INSTRUCTIONS
Combine all of the coconut milk curry ingredients together in a bowl. Mix well and set aside.

Heat olive oil in a pan over medium-high heat. Add chicken breasts in a single layer to the pan. Cook until seared on both sides, about 1 minute per side.

Add the coconut milk curry to the pan, and mix it with the chicken. Cover the pan with a lid. Let the sauce simmer over medium-low heat until the chicken is cooked through, about 20 minutes.

Uncover the pan. Stir in spinach and sun-dried tomatoes. Serve with rice or noodles.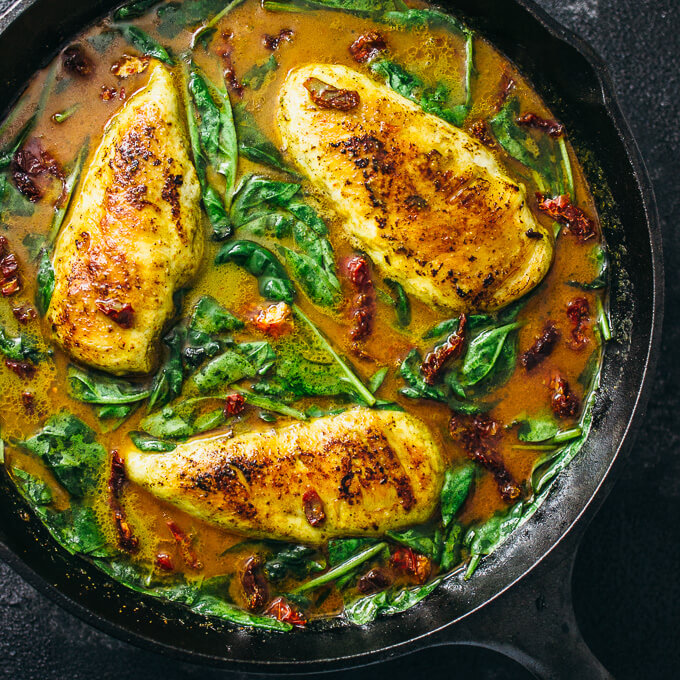 My favorite ways of cooking chicken are slow cooking and stovetop. I use the slow cooker when I want easily shreddable chicken and I don't mind the extra time that it takes, and I use the stovetop method when I want fast chicken. Today's recipe describes the latter; the chicken is given a quick sear on both sides before cooked on lower heat with the lid on. You don't need to transfer the chicken to the oven to finish it off.
This results in tender and moist chicken, and is easy enough for quick weeknight dinners. To make things more interesting, the chicken is simmered in a flavorful curry sauce with a coconut milk base, and everything cooks together in a single skillet on the stove.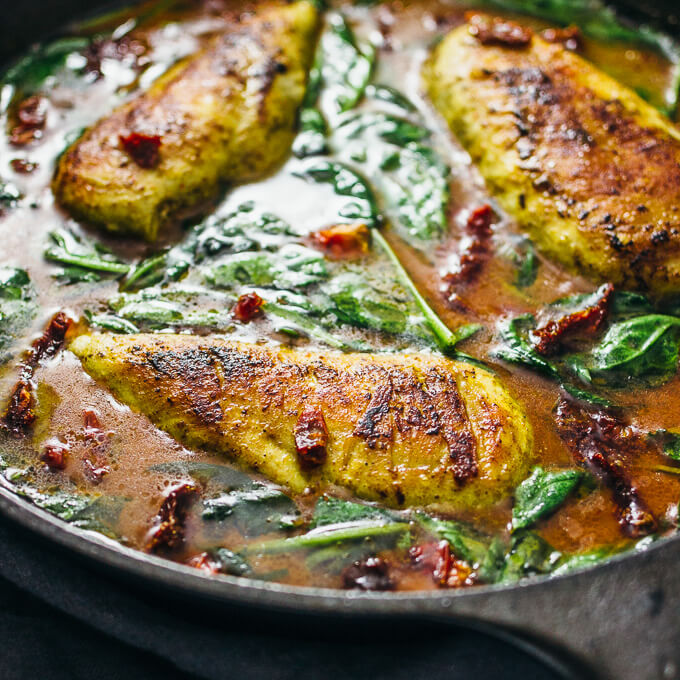 Let's talk about this Thai-inspired coconut milk curry sauce. It's a blend of coconut milk, lime juice, ground ginger, a few tablespoons of curry powder (any kind will work), and a bit of sriracha for extra heat. Throw all of that into the skillet to simmer with the chicken, and you end up with a very flavorful sauce that's great for sopping up with rice or noodles. The curry sauce is almost soup-like and not thick or heavy.
This recipe makes a generous amount of curry sauce, so I recommend pairing this dish with rice or noodles. I've even tried it with risotto-like rice, which ended up being a perfect vehicle for getting more of this spicy sauce into my system.