Summary:
This is an easy, no-bake recipe for chocolate walnut cream cheese fat bombs that taste like frozen cheesecake bites.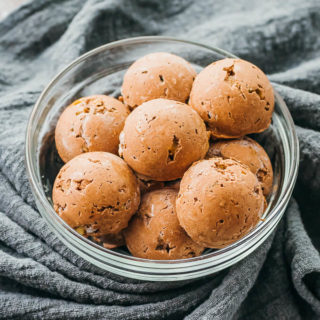 Chocolate Cream Cheese Fat Bombs (Keto, Low Carb)
INSTRUCTIONS
Let the cream cheese sit at room temperature until softened before continuing with the recipe.

Microwave the chopped chocolate in a heatproof bowl in 20-second bursts until melted, stirring between bursts.

Add sweetener and vanilla to the bowl with the melted chocolate, stirring until well-mixed. The mixture should be very thick and no longer liquid.

In a separate bowl, microwave the cream cheese for 10 seconds until very soft and pliable. This is an optional step, but it makes the cream cheese more easily combined with other ingredients.

Add cream cheese to the bowl with the chocolate mixture. Vigorously stir until very smooth. If too thick to stir, microwave the mixture for 5 to 10 seconds to soften.

Stir in the finely chopped walnuts until evenly distributed.

Divide the mixture into 15 round silicone molds, smoothing the surface with a spatula. Freeze until solid, about 2 hours, before serving. Store leftovers in the freezer.
NUTRITION
Makes 14 Servings
Amount Per Serving (1 fat bomb):
| | |
| --- | --- |
| Calories 90 (85% from fat) | |
| Total Fat 8g | 13% |
| Saturated Fat 4g | 18% |
| Cholesterol 13mg | 4% |
| Sodium 50mg | 2% |
| Net Carb 0.5g | |
| Total Carb 1.5g | 1% |
| Dietary Fiber 1g | 3% |
| Sugars 0g | |
| Protein 2g | |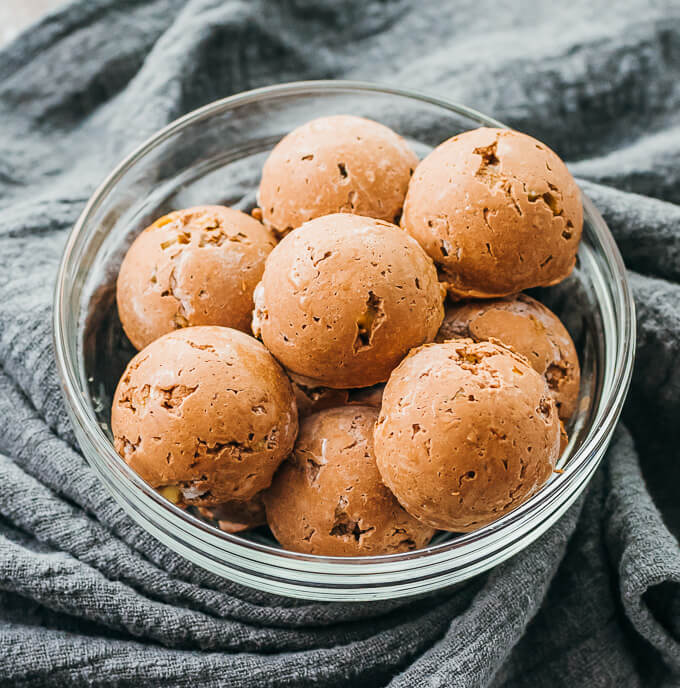 Recipe Overview
These chocolate fat bombs are healthy and portable snacks great for anyone on a keto diet; they're high in fat and low in carbs at just 0.5g net carbs apiece.
There's no baking or cooking involved. Just mix together all five ingredients to form the chocolate batter and scoop into individual molds. Freeze for a few hours or until solid, and enjoy!
They taste like chocolate ice cream and remind me of the Rocky Road variety, even though there are no marshmallows. They're not too sweet, and you'll love the crunch of the walnuts.
It's super convenient to have a bunch of these chocolate fat bombs in your freezer, ready anytime for a grab-n-go snack. Or you can make them for a special occasion like Valentine's Day.
Chocolate Tips
Most chocolate baking recipes use either cocoa powder or baking chocolate; this recipe uses the latter. I use unsweetened baking chocolate, and I recommend the Bakers brand.
To melt chocolate, I find it easiest to chop it into small pieces and then microwave in 20-second bursts, stirring in between, until melted. Compared to a double boiler, the microwave method is simpler and uses fewer dishes.
Sweetener Tips
I use swerve, a natural sweetener that measures the same as sugar. You can replace it with another type of dry sweetener as long as you do the proper conversion so that the fat bombs end up with the same level of sweetness. Dry sweeteners are ideal so that you maintain a similar ratio of wet to dry ingredients.
If you use pure erythritol, there are two things to look out for. One, erythritol is only 70% as sweet as sugar so you'll need to use more. Two, erythritol granules tend to be rather large, so I recommend powdering it first using a Nutribullet or similar blender.
Whichever sweetener you use, measure it out by weight and not by volume.
Flavor Mix-ins
I love adding walnuts to these fat bombs for that added crunch. You can use other types of nuts as well. Just make sure they're very finely chopped.
You can also dress up these chocolate fat bombs with other complementary flavors, such as sea salt, mint extract, coconut, or seasonal spices.
If you're looking for different flavors altogether, check out these fat bomb recipes like Lemon Fat Bombs and Peanut Butter Fat Bombs.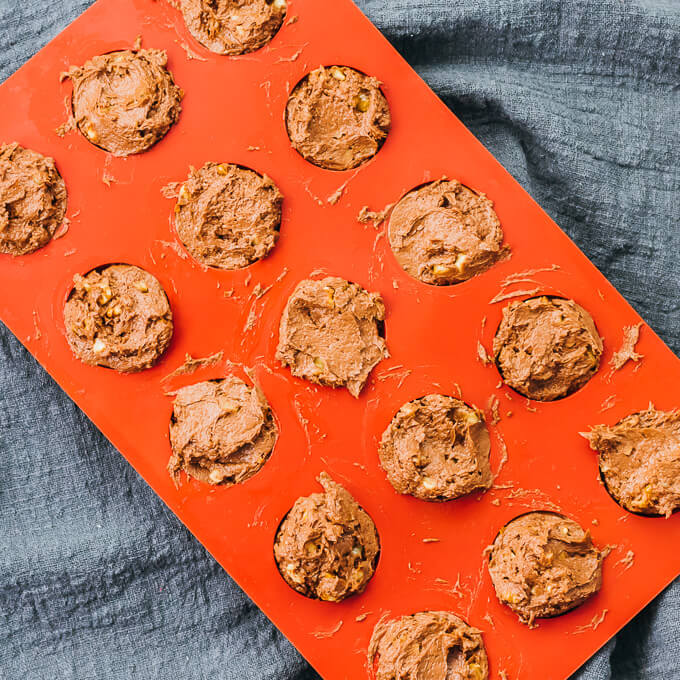 Silicone Molds
I use these round silicone molds pictured above. Any kind of freezer-safe mold will work. This recipe makes about 15 fat bombs, so you'll need that many compartments if you want similarly sized fat bombs.
If you have a different sized mold, that's fine as well. You'll just end up with smaller or larger fat bombs. If you don't have a mold, you can either buy one or use anything you have lying around your kitchen, even ice cube trays.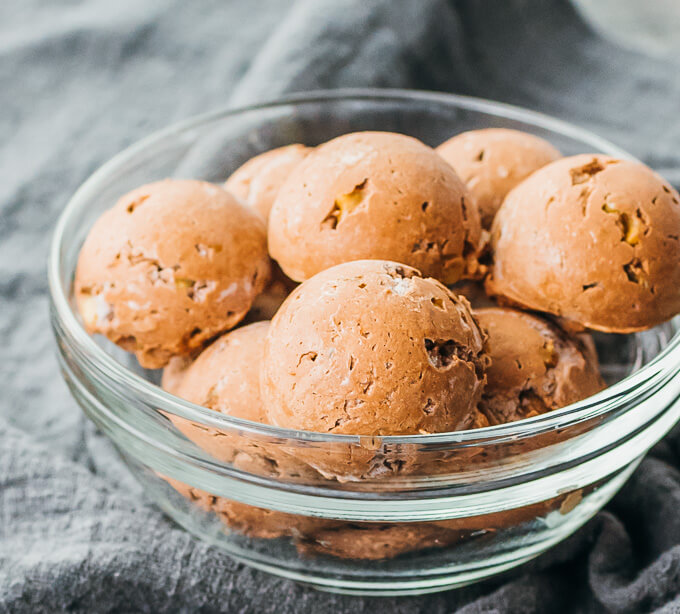 CHECK OUT THESE TASTY KETO DESSERTS: