Summary:
This warm and cozy breakfast bowl features toasted quinoa and cocoa powder, contributing a deliciously nutty chocolate taste, and it's topped with crunchy coconut chips and fresh blueberries. Plant-based and gluten-free.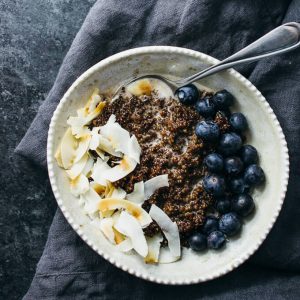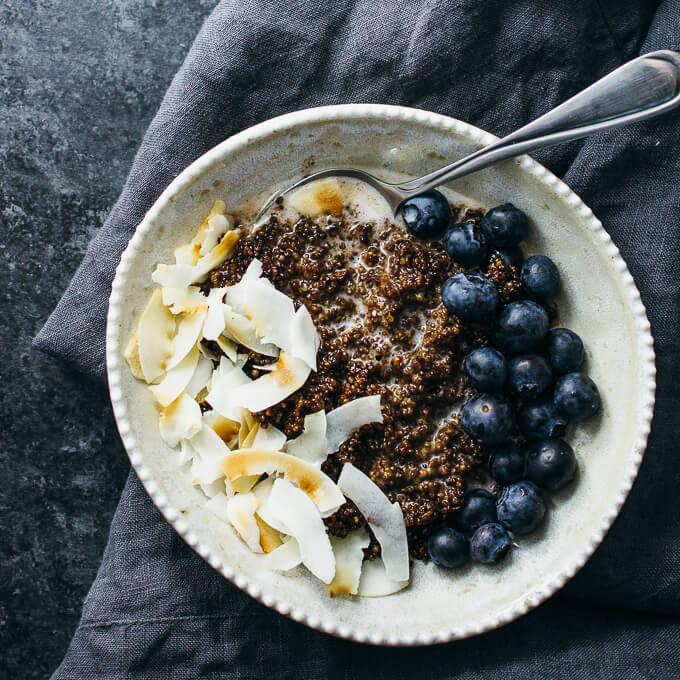 INSTRUCTIONS
Toast Quinoa: Add quinoa to small saucepan over medium heat. Stirring frequently, cook until toasted, 3-5 minutes. Adjust heat as needed.

Cook Quinoa: Stir in 1 cup of coconut milk to saucepan with quinoa. Bring to boil. Cover and simmer until liquid is absorbed, about 10 minutes, monitoring frequently to avoid boiling over.

Finish: Reduce heat to low. Uncover and stir in cocoa powder, brown sugar, and up to 1/2 cup of coconut milk for desired consistency. If making ahead of time, portion and refrigerate (Note 6).

Serve: Serve in two bowls, and top with blueberries and coconut chips.
NUTRITION
Makes 2 Servings
Amount Per Serving:
| | |
| --- | --- |
| Calories 400 (44% from fat) |   |
| Total Fat 20g | 30% |
|    Saturated Fat 15g | 75% |
| Cholesterol 0mg | 0% |
| Sodium 20mg | 1% |
| Net Carb 45g |   |
| Total Carb 54g | 18% |
|    Dietary Fiber 9g | 37% |
|    Sugars 20.5g |   |
| Protein 9g |   |
PHOTOS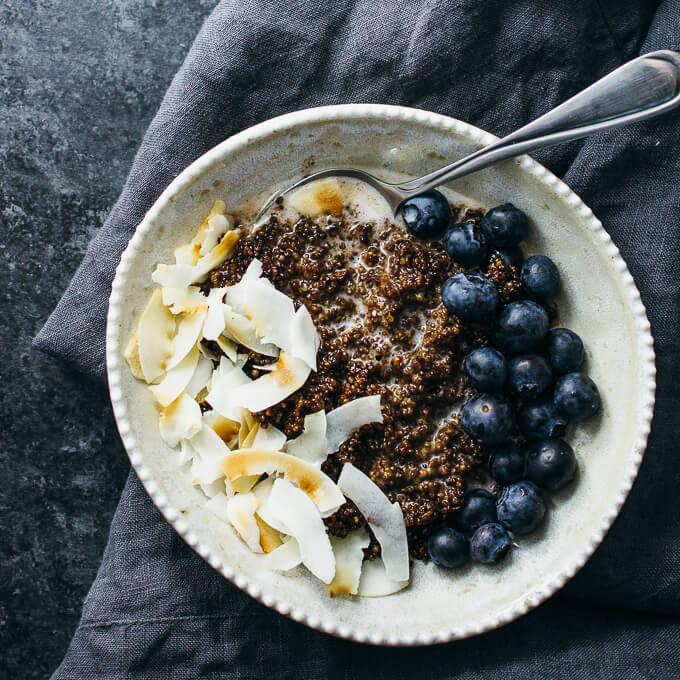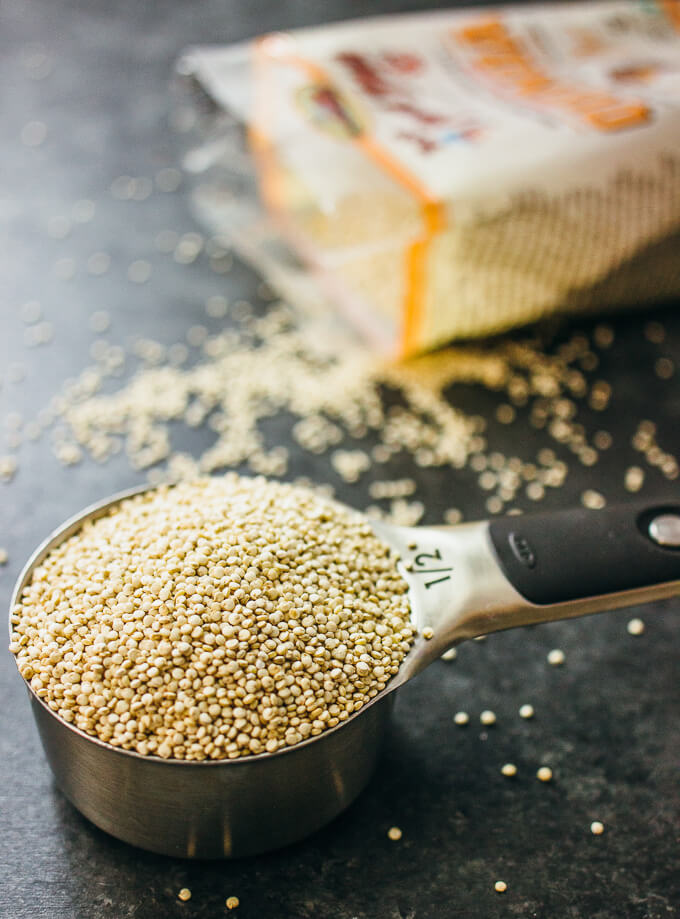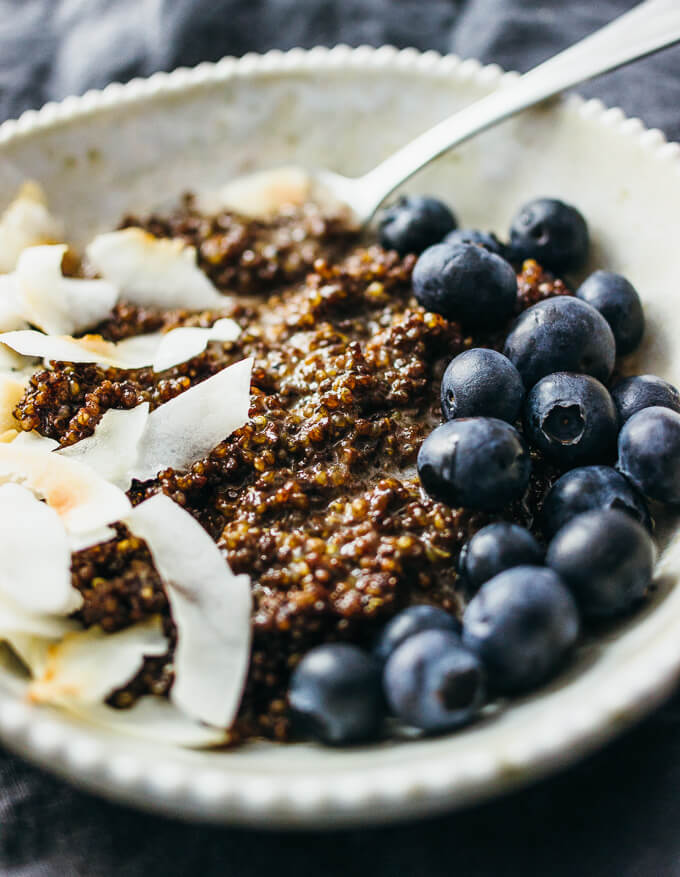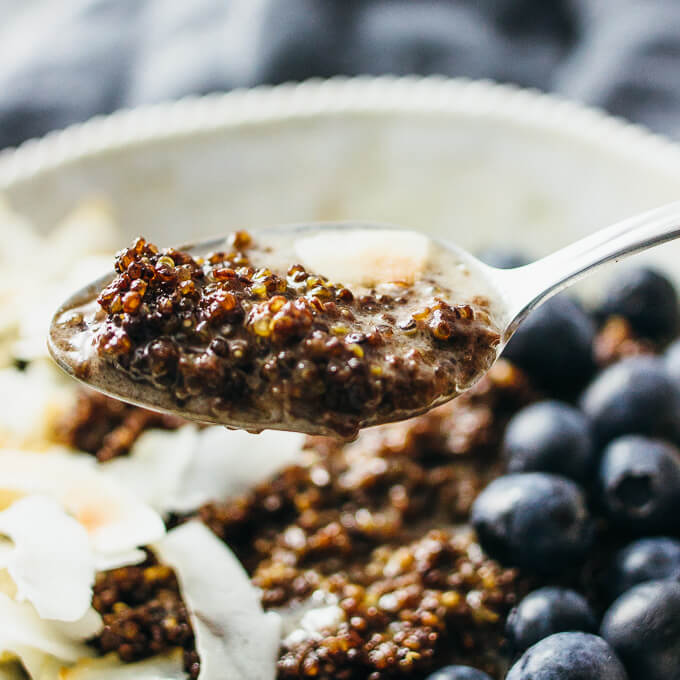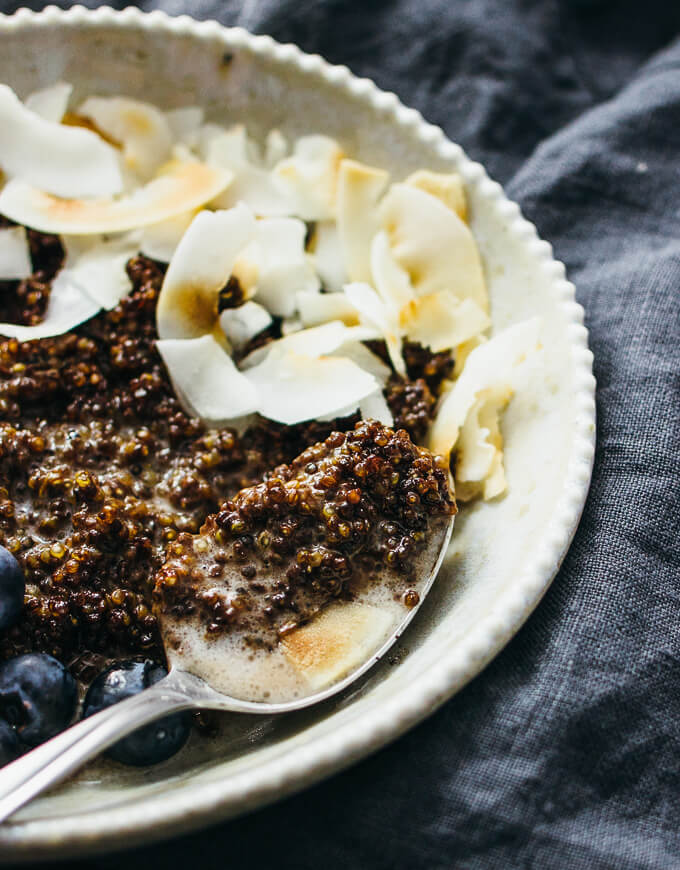 NOTES & TIPS
(1) Quinoa. I use Bob's Red Mill white quinoa, which is pre-washed and cooks in less than 15 minutes on the stovetop. Other brands of quinoa may take longer to cook, which means you may need to add in extra milk during cooking.
(2) Coconut Milk. Substitute with your favorite unsweetened plant-based milk, such as almond milk, cashew milk, or oat milk.
(3) Brown Sugar. Substitute with your favorite sweetener, such as no-calorie sugar substitutes. Liquid sweeteners should also work well, such as honey or maple syrup.
(4) Blueberries. Substitute with fresh fruit such as raspberries, strawberries, or sliced bananas.
(5) Coconut Chips. Substitute with toasted nuts like walnuts or pecans.
(6) Making Ahead / Leftovers. This recipe makes two servings, but you can make a large batch by doubling or tripling the ingredients. Individual portions can be stored in an airtight container in the refrigerator for up to 3 days (toppings should be stored separately), and reheated in the microwave. If the quinoa appears a bit dry, stir in extra coconut milk.