Summary:
This healthy pear cider recipe is made using real fruits and a handful of spices. It is the perfect holiday beverage, and can be enjoyed hot or cold.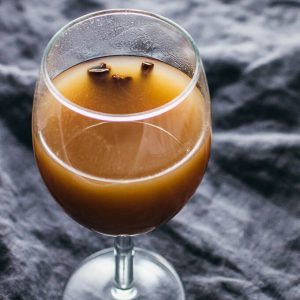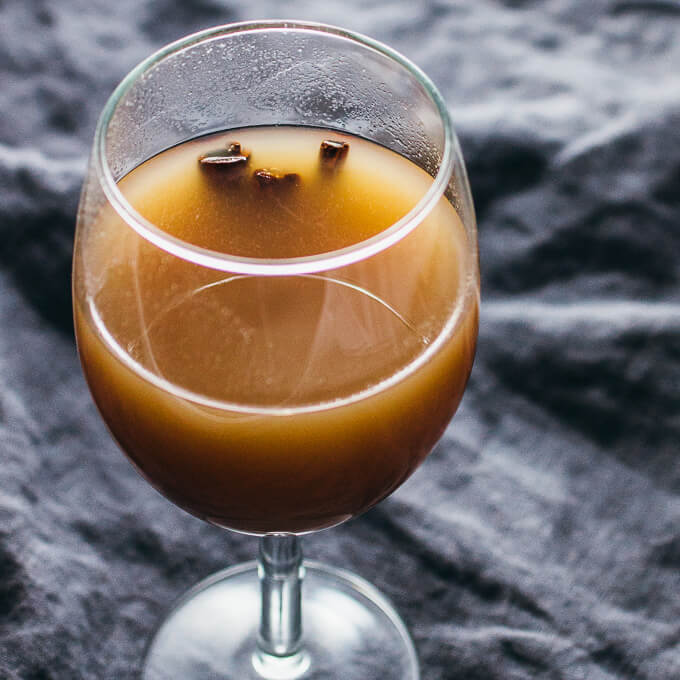 INGREDIENTS
4

Bartlett pears (1.5-2 pounds)

stem removed and sliced 1/4-inch thick

1

gala apple

stem removed and sliced 1/4-inch thick

1

navel orange

peeled and cut into wedges

1

tablespoon

ground cinnamon

1

tablespoon

whole cloves

1/2

teaspoon

ground nutmeg

6

cups

water
INSTRUCTIONS
Add all of the ingredients to a large pot or

dutch oven

. Stir and check that all ingredients are at least partially submerged. Bring to a simmer.

Cover with a lid and simmer over medium heat until the fruits are very soft, about 1 hour.

Remove from heat. Mash up the ingredients - I use a potato masher.

When cool enough to handle, strain out the liquid using a sieve,

cheese cloth

, or a

nut milk bag

. Discard the fruit solids.

Serve hot or cold. Garnish with cinnamon sticks.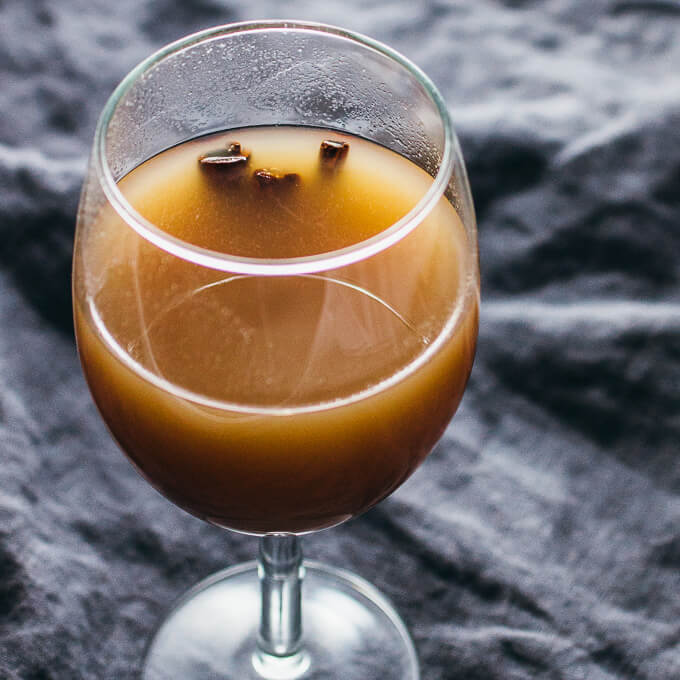 This slow cooker cranberry apple cider is one of the most popular drinks on my blog. and I decided to follow up with this post's cinnamon pear cider. Like the apple cider, this pear cider is also healthy, made with real fruits, vegan, and has no added sugar. Unlike the apple cider, you don't need a slow cooker to make this pear cider, as I chose to cook everything in a regular pot on the stove. The gist of the recipe is (1) throw-everything-together-in-a-large-pot, (2) cook-for-1-hour, (3) strain-out-the-solids, and you are done. You'll end up with very rich juice, with first and foremost a strong pear taste, followed by an unmistakeable cinnamon flavor and scent. I'll stop here because I'm starting to sound like a wine taster.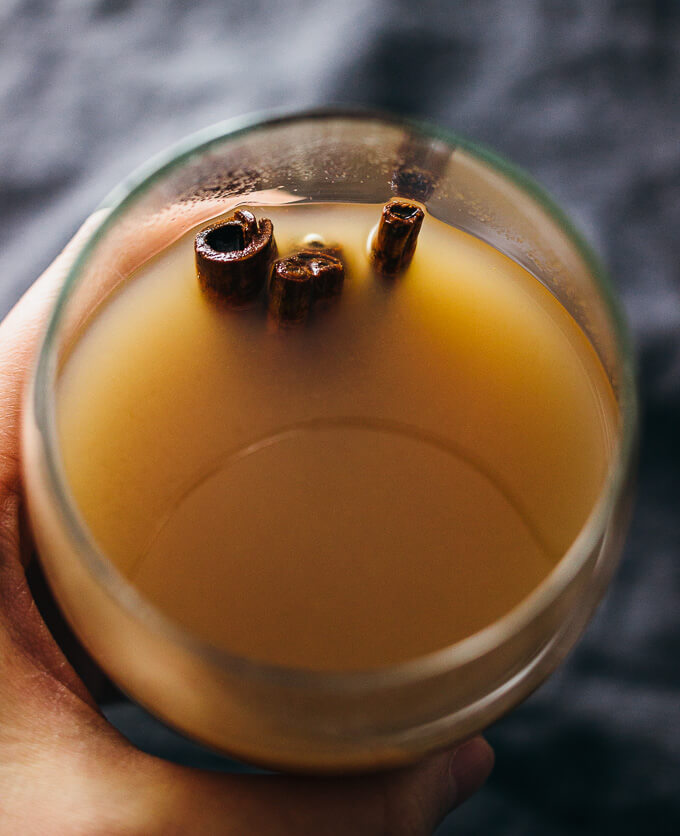 Speaking of wine, this recipe's photos all show the pear cider enjoyed in a wine glass. This is not a photography decision but a practical one; I actually do normally enjoy all of my cider drinks in wine glasses. Call it weird or bizarre, but I am getting good mileage out of my Ikea wine glass set.
This cinnamon pear cider and the aforementioned cranberry apple cider are my favorite holiday drinks. Starting around November, Mr. Savory Tooth starts drinking eggnog like a fish drinking water, and these cider drinks are my way to keep up since I don't like eggnog. He drinks his eggnog, and I drink my fruity ciders.