Summary:
With a thick and creamy consistency, this delicious potato soup is loaded with extra crispy bacon, shredded cheddar cheese, and sliced chives. It's an easy one-pot recipe that anyone can make.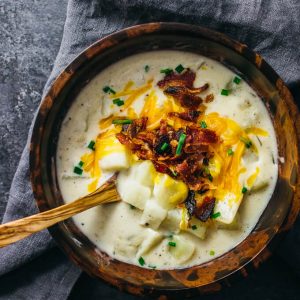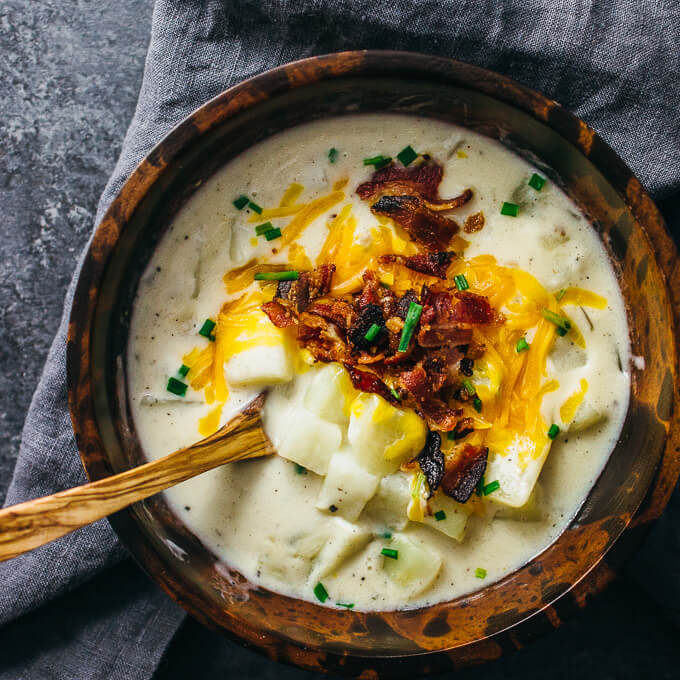 INGREDIENTS
2

pounds

russet potatoes (about 2 large), peeled and cut into 1/2-inch pieces

6

slices

bacon

1

onion, chopped

10

cloves

garlic, minced (Note 1)

2

cups

whole milk

2

cups

water

1

cup

shredded cheddar cheese (Note 2)

1/4

cup

all-purpose flour (Note 3)

1

tablespoon

chopped fresh chives

1

teaspoon

table salt

1/4

teaspoon

ground black pepper
INSTRUCTIONS
Cook Bacon: Heat large pot (Note 4) over medium heat. Add bacon to pot and cook until crispy, 10 to 15 minutes. Transfer bacon to paper towel to drain. When cool, crumble into small pieces.

Sauté: Add onions to pot with bacon grease and cook until they soften, about 5 minutes, stirring occasionally. Add potatoes, garlic, salt, and pepper to pot. Cook for a few minutes, stirring frequently. Add flour to pot, and stir until ingredients are well-mixed, a few minutes.

Simmer: Stir in water until well-mixed. Stir in milk. Bring to boil over high heat, then reduce heat and simmer on medium-low until potatoes are cooked, about 15 minutes, stirring occasionally to prevent potatoes from sticking to bottom of pot.

Serve: Serve soup into bowls, and top with crumbled bacon, shredded cheddar cheese, and chopped chives (Note 5).
NUTRITION
Makes 4 Servings
Amount Per Serving:
| | |
| --- | --- |
| Calories 470 (35% from fat) |   |
| Total Fat 18g | 28% |
|    Saturated Fat 9g | 46% |
| Cholesterol 52mg | 17% |
| Sodium 1040mg | 43% |
| Net Carb 53g |   |
| Total Carb 57g | 19% |
|    Dietary Fiber 4g | 16% |
|    Sugars 9.5g |   |
| Protein 20g |   |
PHOTOS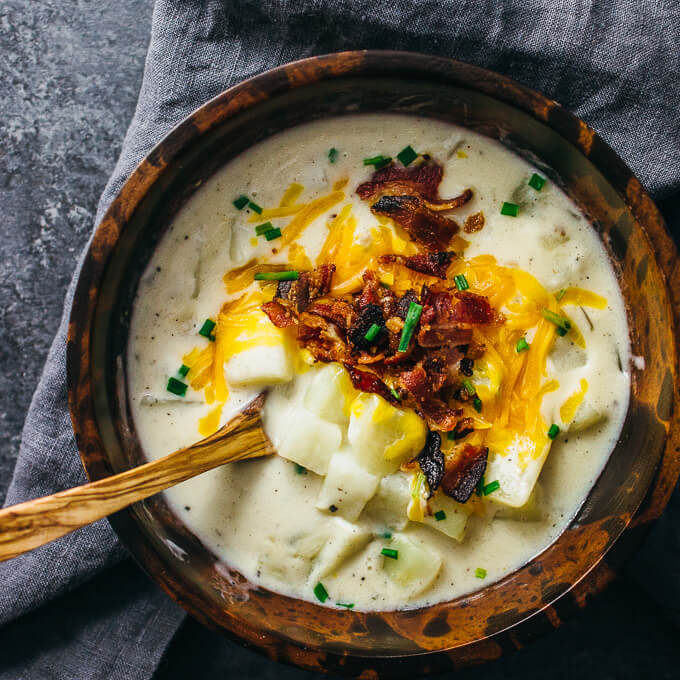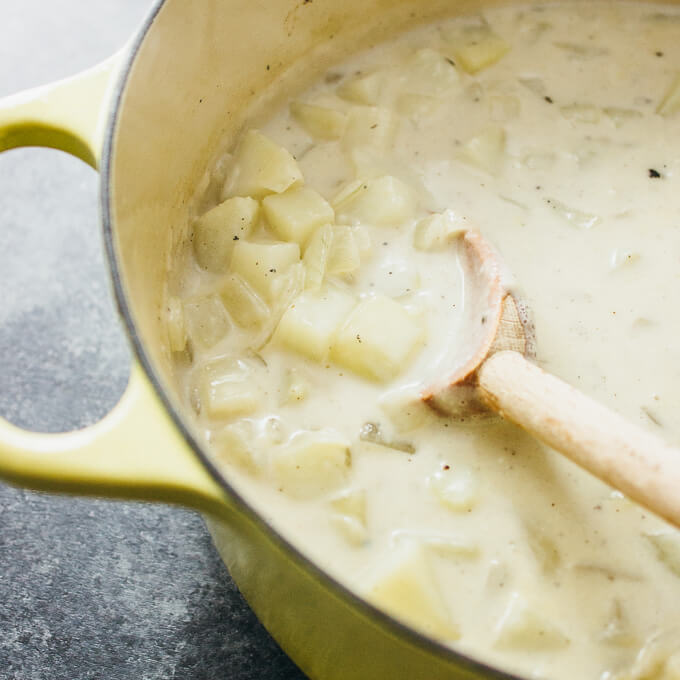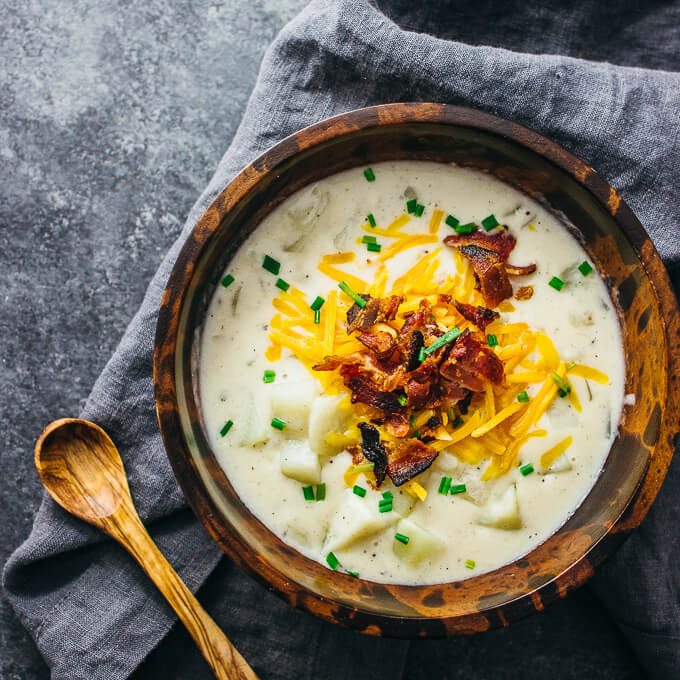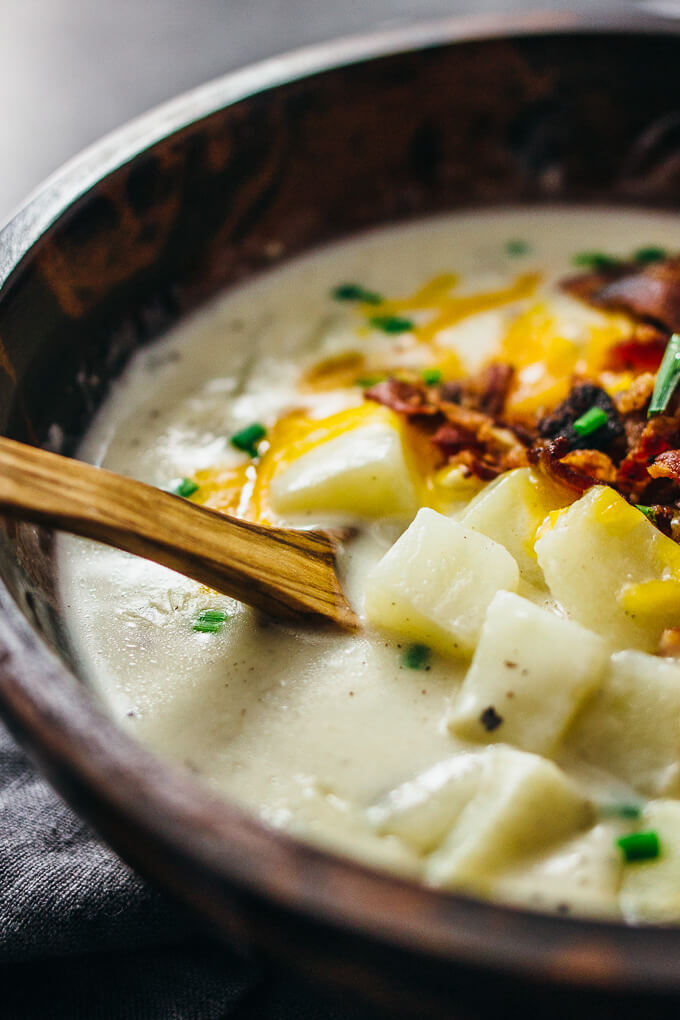 NOTES & TIPS
(1) Garlic. About 1 bulb of garlic. If this is too strong for you, use less garlic.
(2) Cheddar Cheese. This is used as a topping for the soup after it's made. Substitute with your favorite shredded cheese.
(3) Flour. This is used to thicken the soup, and can be substituted with your thickener of choice.
(4) Large Pot. I use a 6-quart dutch oven.
(5) Serving / Leftovers. Serve potato soup with saltines, garlic knots, cheese biscuits, and/or roasted mushrooms. Cover and store leftovers (soup separate from the toppings) in the refrigerator for up to 2 days, and reheat using the microwave.