Summary:
Similar in taste and texture to Quiche Lorraine, this savory crustless pie has broccoli, cheese, tomatoes, and bacon in a silky egg mixture. You won't miss the crust since all of the flavors are in the filling. Low carb and low calorie, this quiche can be enjoyed for breakfast or dinner.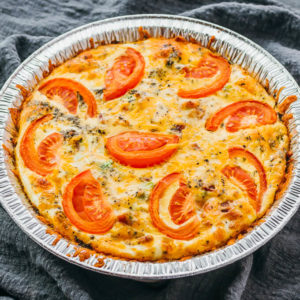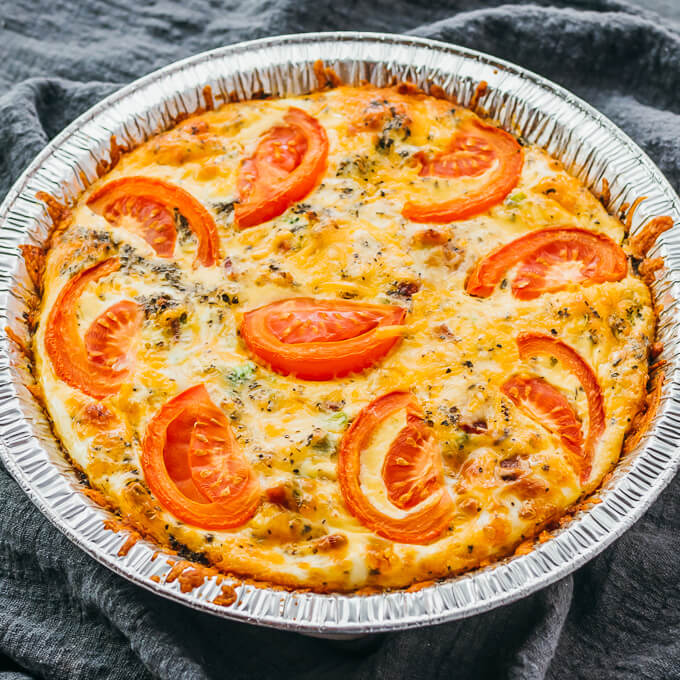 INGREDIENTS
INSTRUCTIONS
Prepare: Preheat oven to 350 F. Grease and set aside 9-inch pie dish (Note 5).

Pre-Cook Ingredients: Microwave broccoli until tender, a few minutes, and drain on paper towels. Microwave bacon strips according to package instructions until crispy, about 5 minutes, or pan fry them (Note 6). When cool, crumble bacon into small pieces.

Assemble Quiche: Evenly distribute ingredients over pie dish in this order: 1/3 of shredded cheese, broccoli, 1/3 of shredded cheese, bacon, scallions, then remaining 1/3 of shredded cheese. Beat together milk (or cream), eggs, basil, and black pepper in bowl until combined, then pour over ingredients in pie dish. Decorate top of quiche with sliced tomatoes.

Bake & Cool: Bake quiche at 350 F for 40 minutes. Cool for 15 minutes before cutting into 4 slices, then serve (Note 7).
NUTRITION
Makes 4 Servings
Amount Per Serving:
| | |
| --- | --- |
| Calories 350 (62% from fat) |   |
| Total Fat 25g | 38% |
|    Saturated Fat 14g | 69% |
| Cholesterol 206mg | 69% |
| Sodium 530mg | 22% |
| Net Carb 6g |   |
| Total Carb 7g | 2% |
|    Dietary Fiber 1g | 4% |
|    Sugars 5.5g |   |
| Protein 24g |   |
PHOTOS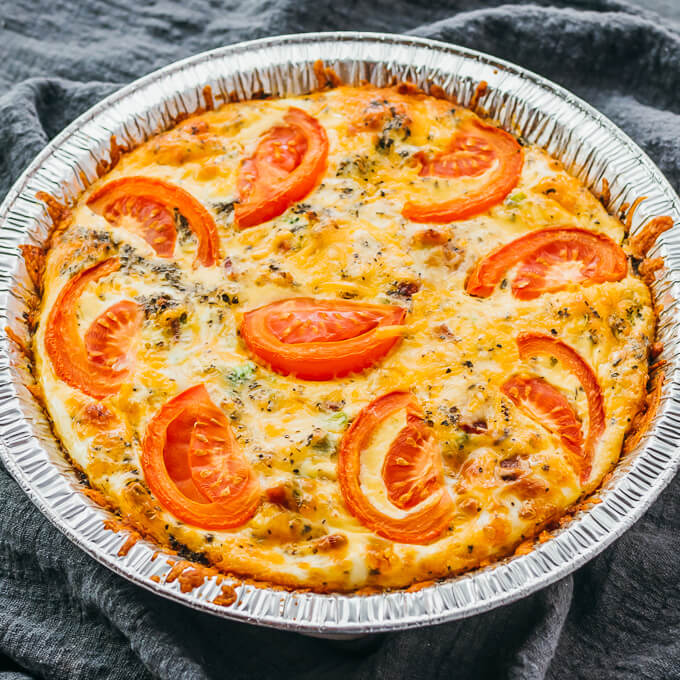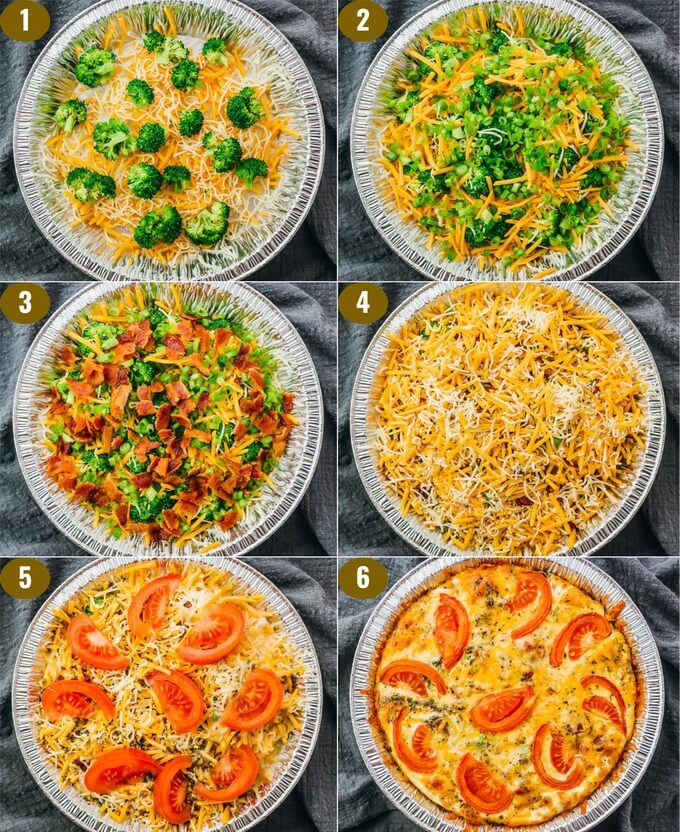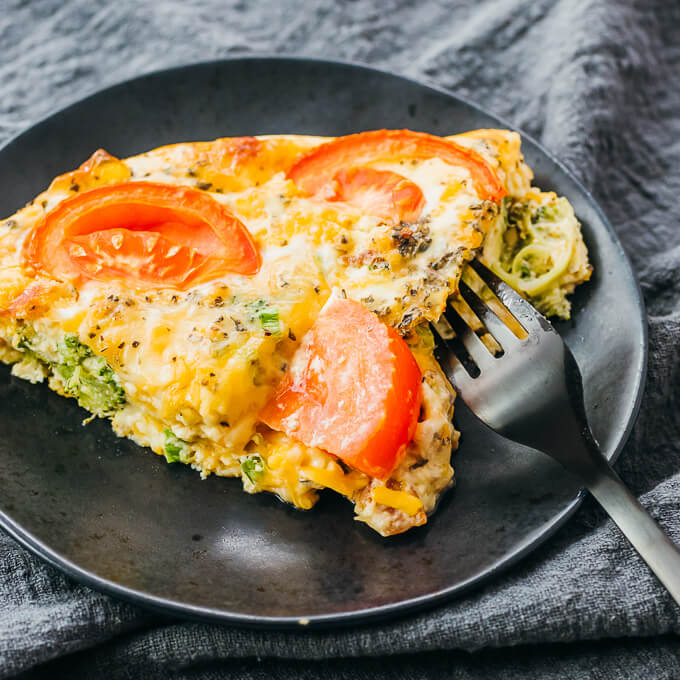 NOTES & TIPS
(1) Cheddar Cheese. About 8 ounces weight; I use a bag of pre-shredded cheese. This can be substituted with any kind of shredded soft cheese that melts easily, like pepper jack or mozzarella.
(2) Broccoli. About 3 ounces weight. You can cut florets from a head of broccoli, or you can buy a bag of pre-cut raw florets located in the refrigerated produce section of many U.S. grocery stores. I recommend cutting the florets into smaller pieces (no larger than 2 inches) so that they cook quickly and are more likely to be evenly distributed in the quiche. I use fresh florets, but frozen should be fine — you may need to cook them longer in the microwave and thoroughly drain to remove moisture. Broccoli can be substituted with other vegetables like zucchini, asparagus, bell peppers, or mushrooms. Just make sure they're chopped and pre-cooked, or else they will release too much liquid into the quiche during baking.
(3) Bacon. This can be substituted with chopped leftover ham or prosciutto.
(4) Basil. This can be substituted with other dried herbs like oregano, thyme, or rosemary.
(5) Pie Dish. Use a disposable foil pie dish to reduce cleanup. When greasing the dish, I prefer using a nonstick cooking spray for convenience.
(6) Cooking Bacon. You can cook bacon in the microwave, in the oven (see How To Bake Bacon), or on the stovetop by frying on a pan until crispy, turning occasionally. After cooking, transfer bacon to paper towels to absorb the grease. Once the bacon is cool, crumble it into small pieces.
(7) Serving / Leftovers. Each serving is one-quarter of the quiche. Serve with a lighter side dish, like tomato soup, fruit salad, or roasted vegetables. If you're serving quiche for brunch, pair with poppyseed scones and lemon iced tea. Leftovers can be stored in an airtight container in the refrigerator for up to 2 days, and reheated in the oven until warmed through.