Summary:
Need some new ideas for your morning omelette? Make this curried omelette with broccoli florets and chopped sun-dried tomatoes. By adding curry powder to your omelette, you get some added spiciness and flavor! Plus, it's way more interesting.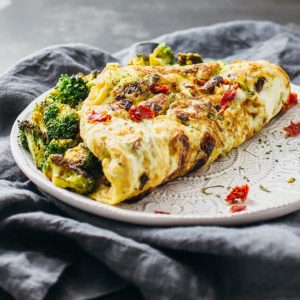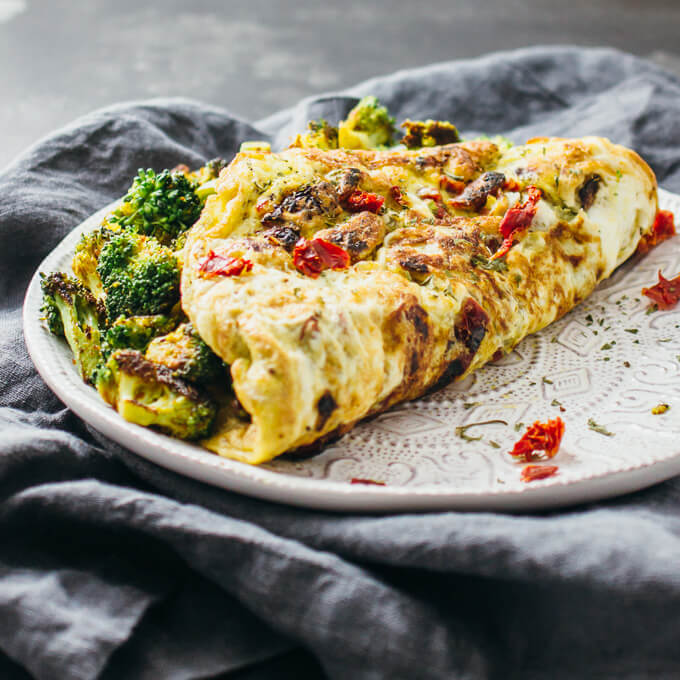 Curried omelette with broccoli and sun-dried tomatoes
INSTRUCTIONS
Heat olive oil on an 8-inch pan over medium heat. Add broccoli, curry powder, and water. Mix well. Cook until the broccoli is really tender, about 10 minutes, stirring frequently. Transfer broccoli to a plate.

Add more olive oil to the pan if it's dry. Combine beaten eggs with salt and pepper, and pour over the pan. Immediately add sun-dried tomatoes over the liquid eggs, evenly distributing them. Lift up the edges of the eggs to allow liquid eggs to run underneath. Cook until the bottom layer of eggs is solid, then flip the omelette.

Add broccoli back to the pan over the omelette. Fold the omelette over the broccoli. Optionally, you can add shredded cheese or garnish with parsley. Serve immediately.
NUTRITION
This recipe yields 16 g net carbs per serving.
Nutrition Facts Per Serving
| | |
| --- | --- |
| Calories 580 | |
| Total Fat 44g | 67% |
| Saturated Fat 9g | 43% |
| Trans Fat 0g | |
| Cholesterol 555mg | 185% |
| Sodium 870mg | 36% |
| Potassium 60mg | 2% |
| Total Carb 23.5g | 8% |
| Dietary Fiber 7.5g | 30% |
| Sugars 11.5g | |
| Protein 26g | |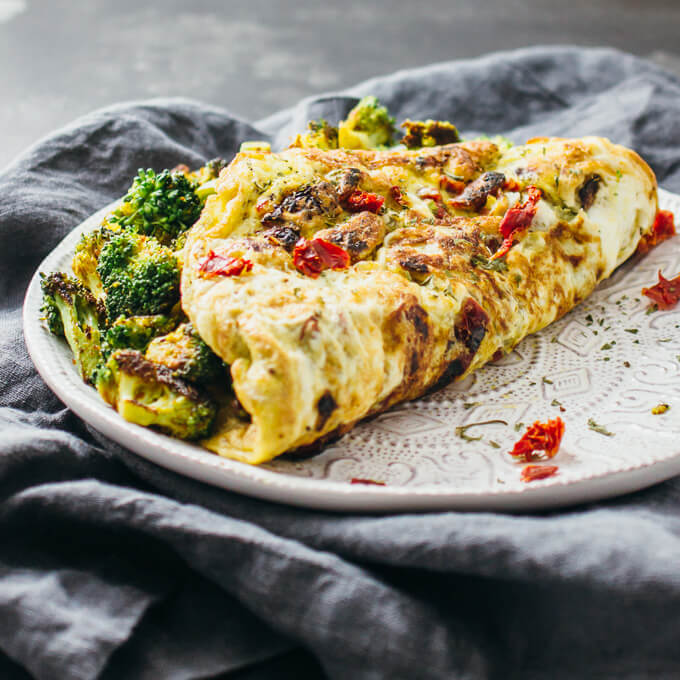 Omelettes are my go-to food when I'm looking to make something at home that's (1) fast and easy, and (2) uses up leftover raw ingredients in my refrigerator. Every few days, I make a healthy vegetarian omelette to purge my fridge of these leftover ingredients, which are typically things like a roma tomato, half a bell pepper, some cucumber slices, or a bunch of scallions.
For these omelettes, seasonings are where I go crazy. Think tons of garlic powder, lemon pepper, dried herbs, and so forth. My latest obsession is adding curry powder to my omelettes. To make a curried omelette, you can mix the curry powder with the veggies, or you can mix it directly with the beaten eggs. It's all good. I happen to love curry powder and I think it's just so versatile — one of my favorite dishes is a golden cauliflower curry with potatoes and peas.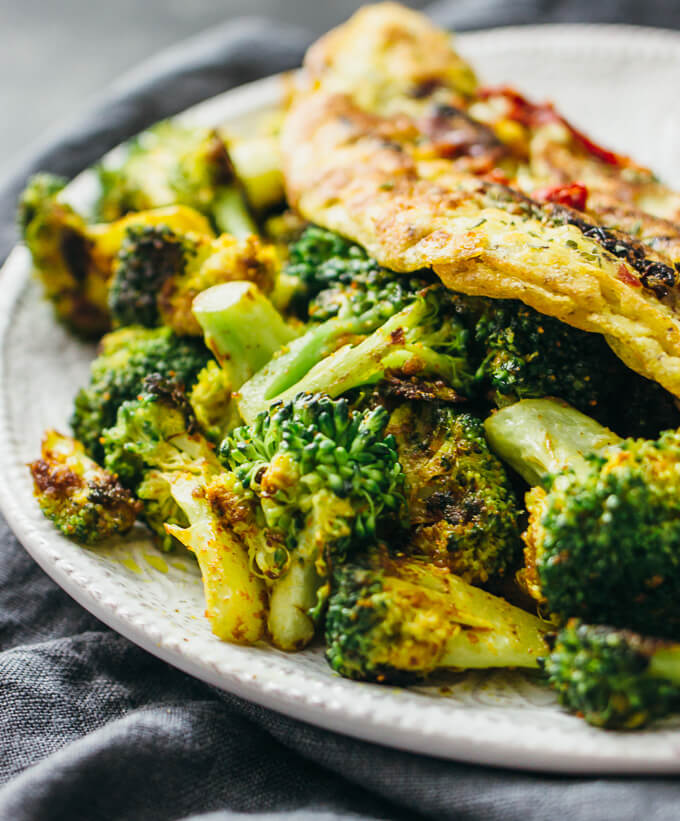 Broccoli, when cooked until very tender, makes for an excellent companion for eggs. My favorite omelettes all have broccoli in it. For this curried omelette recipe, I mix broccoli with curry powder and it adds a nice bit of heat to the back of your mouth. ? If you make omelettes all the time and you're looking to change it up, you should definitely try making this curried omelette recipe!
As for how to make an omelette, I typically have a glass prep bowl where I combine the eggs with any seasonings. I don't add seasonings directly to the pan, because the eggs cook quickly and it doesn't give me time to mix my seasonings with the eggs. So I'll do the mixing beforehand in a bowl while I beat the eggs. Before adding the eggs to the pan, I'll make sure that the pan is heated up with 1-2 tablespoons of olive oil over medium heat. I'll carefully pour the eggs with seasonings into the pan, and the eggs will immediately begin to solidify. Then I use a small spatula to lift up the cooked edges of the omelette to allow the liquid eggs to run underneath. Once the bottom side is cooked and browned to my liking, I'll flip the omelette to cook the other side. Then I'll fold in some cheese or fresh herbs and I'm done! These omelettes are ready to eat in minutes.