Note: This is one of my older recipes and is not low carb. Visit my Recipes page for low carb and keto recipes.
Make this super easy caprese pasta salad with cherry tomatoes, mozzarella balls, and fresh basil leaves.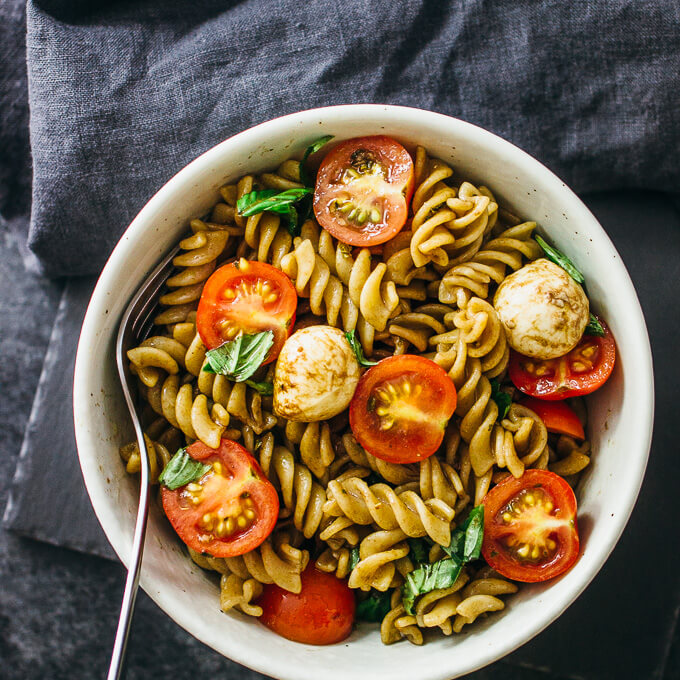 If you've had a caprese salad before, you'll know that they are simple Italian salads with tomatoes, sliced mozzarella cheese, basil leaves, and olive oil — often served as an appetizer dish. What's less commonly known is that their ingredients are designed to resemble the Italian flag's colors: green (basil), white (mozzarella), and red (tomatoes). These are also very striking colors and I love the vibrancy that these ingredients add to any dish. If you like caprese salads then you'll also like this caprese pasta salad: here I've kept the Italian flag's trio of ingredients and added some corkscrew pasta (rotini or fusilli work well).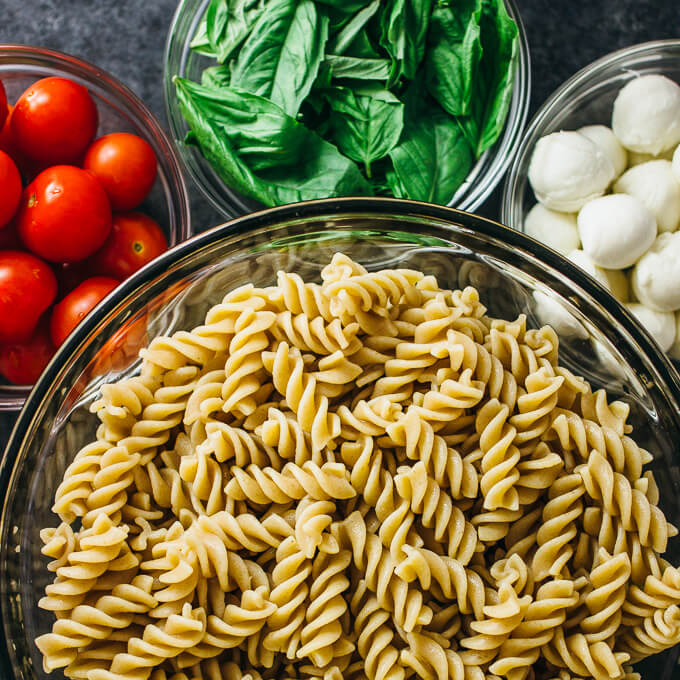 This caprese pasta salad smells and tastes very refreshing — look at all of those fresh ingredients: fresh cherry tomatoes, fresh basil, and fresh mozzarella — it will be a popular appetizer/side dish at any spring potluck or barbecue this year. You can make this ahead of time, soak with the dressing, and refrigerate until ready to serve. It might surprise you and even taste better the next day. Last summer when I made an insanely good pasta salad with salami and pepperoni, Mr. Savory Tooth claimed that pasta salads are always preferable after they've had some time to soak up all of the sauce. I beg to differ; the dressing is harder to taste after it's been soaked up by the pasta salad, so I prefer tossing this caprese pasta salad with the dressing just prior to serving.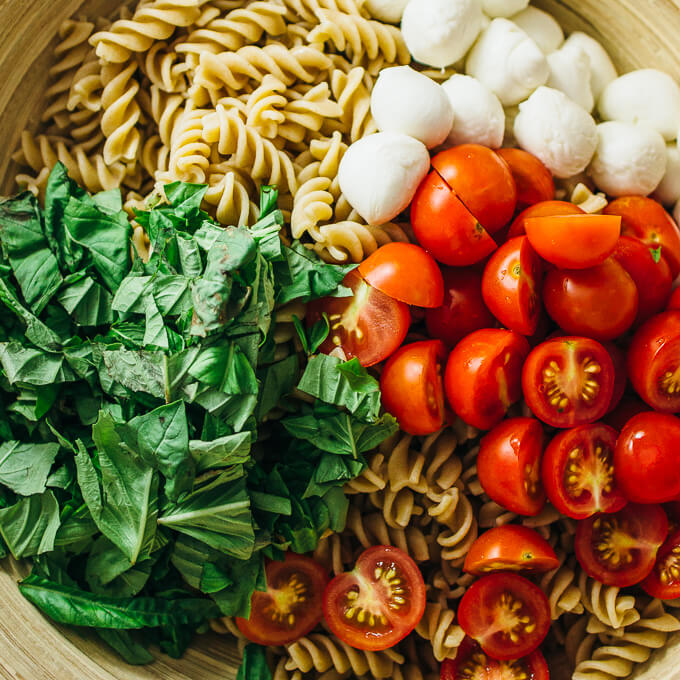 The dressing itself is made of balsamic vinegar, a drizzle of olive oil, freshly minced garlic, and some dried herbs such as oregano. It's a simple dressing for a simple pasta salad. I use some variant of this basic dressing in many of my salads such as my Mediterranean salad with orzo pasta.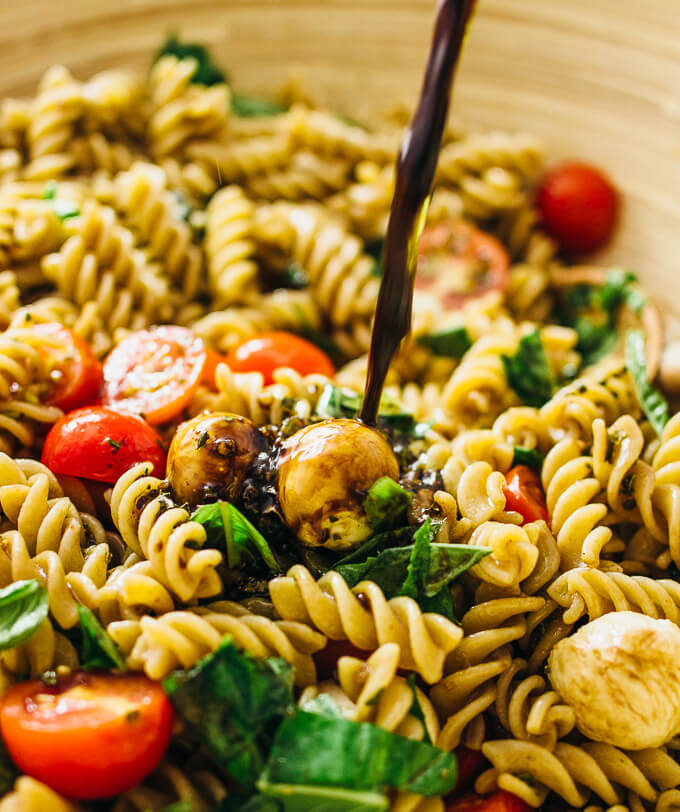 Watch the video below to learn how to make this caprese pasta salad: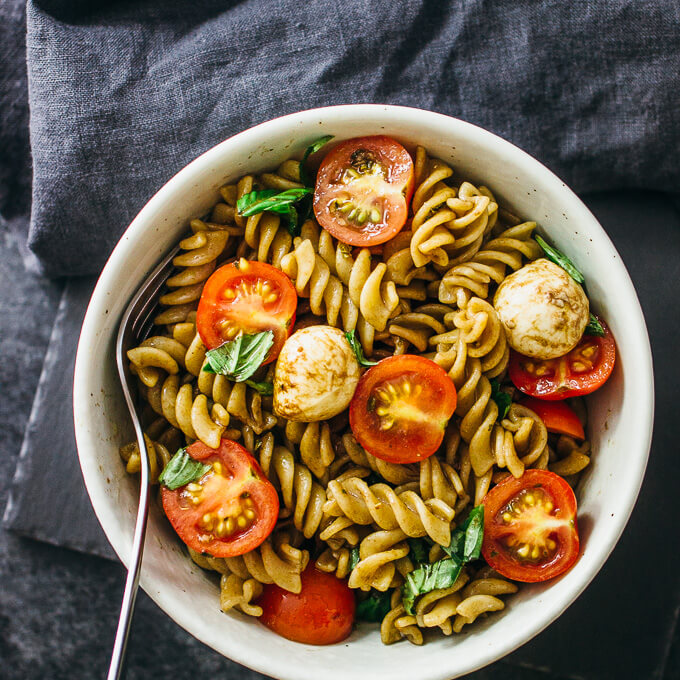 Easy caprese pasta salad with cherry tomatoes, mozzarella, and basil
DESCRIPTION
Make this super easy caprese pasta salad with cherry tomatoes, mozzarella balls, and fresh basil leaves.
INGREDIENTS
16

ounces

rotini pasta or whole wheat fusilli pasta

8

ounces

mozzarella balls

about 24

1

pint

about 10 ounces grape or cherry tomatoes, halved

3/4

cup

packed fresh basil leaves

roughly chopped
INSTRUCTIONS
Cook pasta according to package instructions. Drain and rinse with cold water to cool.

Combine and mix balsamic dressing ingredients in a bowl.

Add pasta, mozzarella, tomatoes, and basil to a large mixing bowl. Toss with balsamic dressing. Refrigerate until ready to serve.