Note: This is one of my older recipes and is not low carb. Visit my Recipes page for low carb and keto recipes.
Skip the Jiffy cornbread mixes and try this Southern-inspired cornbread skillet with scallions. It's an easy recipe for homemade cornbread that's healthy and not too sweet. No buttermilk needed.

When I think of cornbread, I pull up restaurant memories of eating it alongside dishes such as barbecue, chili, or pinto beans. There are so many great barbecue restaurants where I live, and while the meat they serve is delicious, what I usually remember later is the cornbread. How did it taste? What was the texture like? I love the unique texture and aroma of cornbread, and I often pair it with a slice of butter on top and some honey or maple syrup.

I was inspired by how Southerners traditionally make their cornbread: (1) skillet-baked, and (2) not too sweet. The Southern way of baking cornbread is heating oil in a cast iron skillet in the oven and then pouring the prepared batter directly into the hot skillet. This results in a nice crispy crust without any sticking-to-the-pan issues. Southern cornbread is also not very sweet, so it serves as a blank slate upon which to drizzle honey or syrup to taste.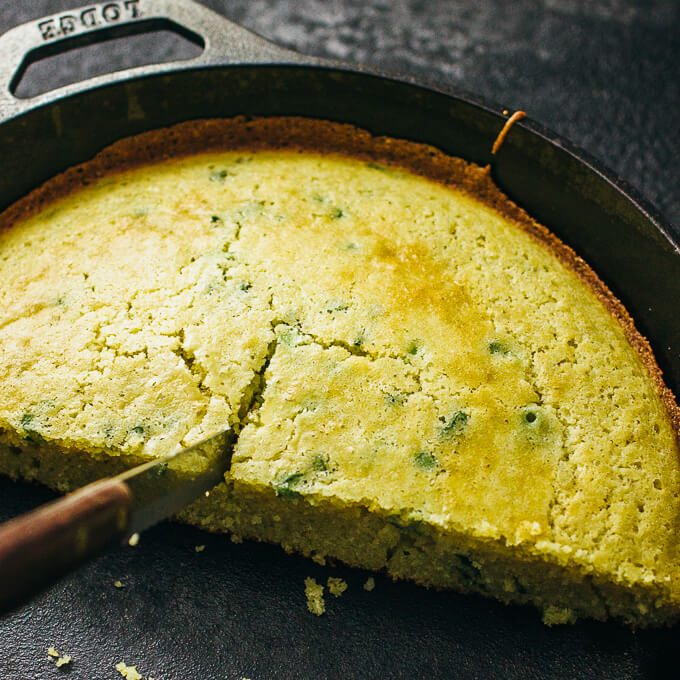 You won't find any buttermilk in this cornbread skillet recipe, even though cornbread is typically made with a cup of buttermilk. I'm not a fan of using ingredients that I have no use for in any other recipe. Instead, I use regular milk plus a tablespoon of white vinegar as a substitute.
I've also added a few personal touches, such as sliced scallions to add a splash of green and some vanilla extract.
Easy cornbread skillet with scallions
This is an easy recipe for homemade cornbread that's healthy and not too sweet. No buttermilk needed.
Instructions
Grease a 10-inch

cast iron skillet

with canola oil and place it in the oven. Preheat the oven to 375 F with the skillet inside, while you work on the next steps.

Combine and mix milk and vinegar in a bowl. Add baking soda and mix well. Set aside.

Combine and mix melted butter and sugar in a bowl. Add beaten eggs and vanilla extract, mixing well. Add the milk-vinegar-baking soda mixture to the bowl, and stir until everything is combined.

Add cornmeal, flour, and salt to the bowl. Whisk until smooth without lumps. Add sliced scallions and stir them into the mixture.

Take the preheated skillet out of the oven and pour the batter onto the hot skillet.

Return the skillet to the oven and bake at 375 F until a toothpick inserted in the center comes out clean, about 25 minutes.