Note: This is one of my older recipes and is not low carb. Visit my Recipes page for low carb and keto recipes.
Today I'm sharing a wonderful family recipe for cranberry sauce! This is a healthy cinnamon-rich cranberry sauce sweetened using medjool dates with no added sugar. It's very easy to make this at home (one-pot recipe done in 10 minutes) so you should add it to your Thanksgiving menu!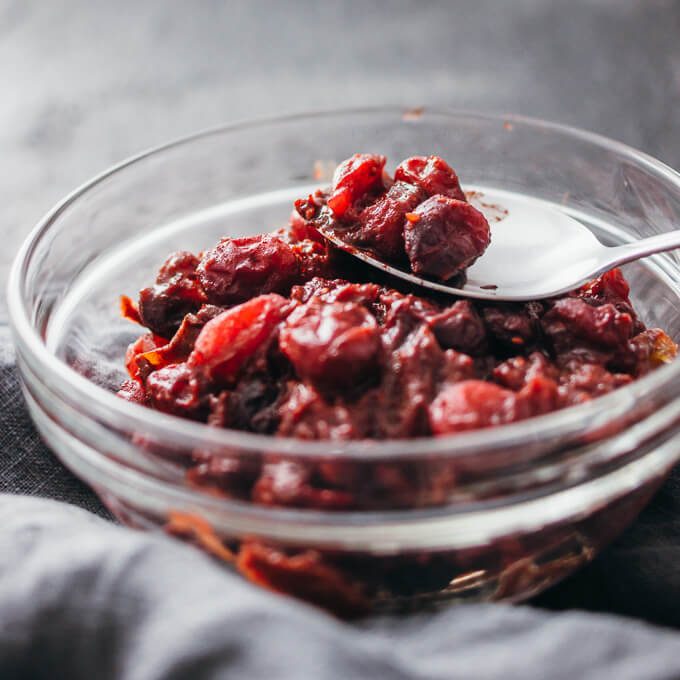 We've been getting cooler weather (finally!!) here in Boston, and it's been making me think about fall and holidays like Thanksgiving. Yesterday, I was brainstorming about what to make this Thanksgiving when an e-mail came in from my aunt (on Mr. Savory Tooth's side) sending me some family recipes for Thanksgiving! Her e-mail could not have come at a better time. She sent me this recipe for Grandma's cranberry sauce, which has become a tradition for her to make each year. I've made a few tweaks to the original recipe and it's so delicious and easy that I'll definitely be making it for Thanksgiving this year!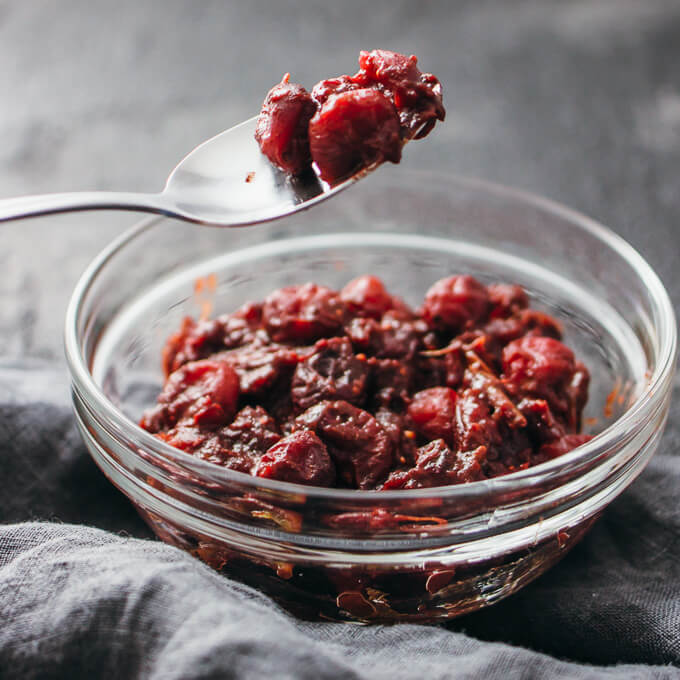 A few notes on this homemade cranberry sauce recipe:
I use whole cranberries for this recipe. You can use either fresh or frozen, both will work great! In general, cranberries freeze really well, so you can buy them while they're in season and freeze for future uses.
You can make this dish ahead of time and refrigerate (for up to 2 weeks) until ready to serve. That's another reason why it's great for Thanksgiving dinner — you can make it ahead of time and cut down on kitchen craziness on the day of Thanksgiving.
There's no added sugar. All of the sweetness comes from the addition of medjool dates so I did not add any sugar to this recipe. I found it to be plenty sweet as-is, but if you like it sweeter, feel free to add sugar to taste.

Confession: I used to HATE cranberry sauce. The first time I tried it was a store-bought cranberry sauce and I thought it was totally gross and cloyingly sweet. ? Since then I've had really great homemade cranberry sauce and that's the only kind that I'll eat now! Mr. Savory Tooth has also influenced me because he LOVES cranberry sauce with his Thanksgiving turkey and hates gravy. I used to be more of a gravy kind of person but I think I'm converting now, especially after tasting cranberry sauce from this wonderful recipe. ?
Check out my other Thanksgiving recipes to round out your turkey menu:
And if you end up making this cranberry sauce and have a bunch of leftovers, you should make these cranberry sauce oatmeal bars!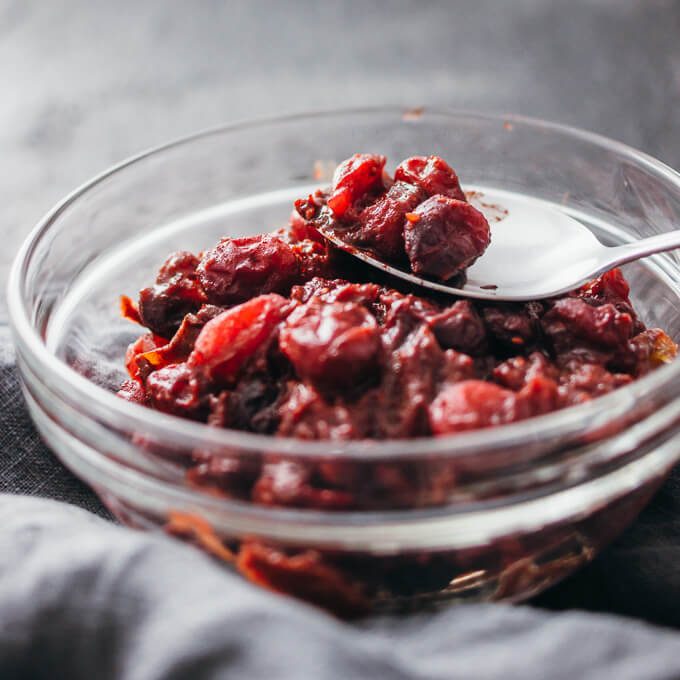 Easy homemade cranberry sauce
DESCRIPTION
This is a healthy cinnamon-rich cranberry sauce sweetened using medjool dates with no added sugar.
INSTRUCTIONS
Combine all ingredients in a pot and mix well. Bring to a boil. Let boil until cranberries are tender, about 10 minutes, stirring occasionally.

Refrigerate and serve chilled.
Liked this recipe?
Sign up for email updates!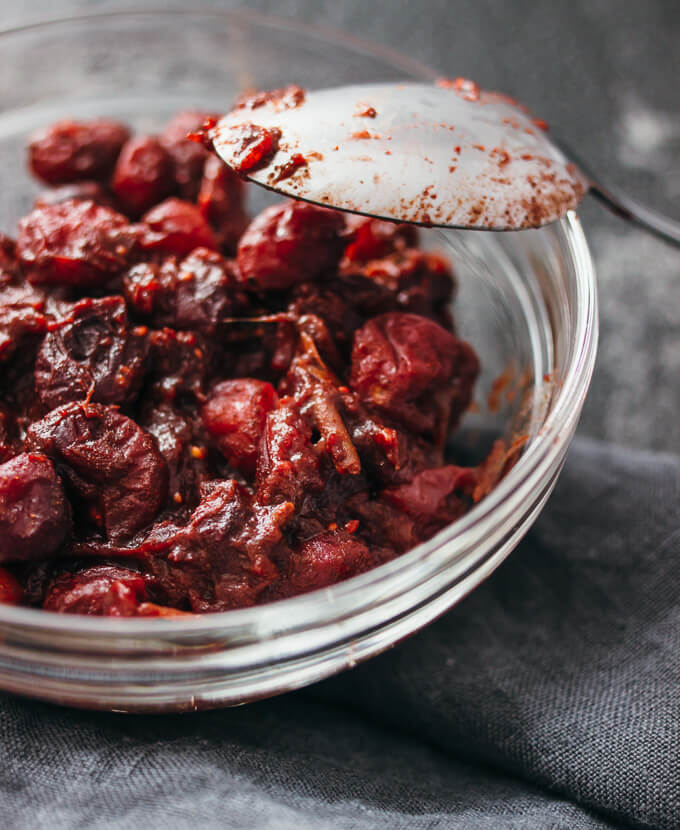 Cranberry Harvests: Did you know that Massachusetts is the second largest producer of cranberries in the U.S. (after Wisconsin)? I live in Massachusetts so last year I was lucky enough to go on a harvest viewing tour! It was a lot of fun and I learned a lot. Here's a photo I took of the floating cranberries as they were being collected:


Harvests are typically in October so you should check one out sometime! ?