Summary:
This is an easy recipe for stuffed peppers that are loaded with sweet Italian sausage and rice, and paired with a slightly spicy balsamic tomato sauce.
Looking for low carb recipes instead? Visit the Savory Tooth Homepage.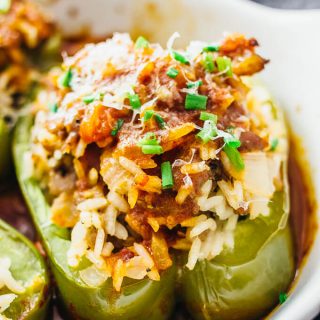 Easy italian stuffed peppers
INGREDIENTS
2

large green bell peppers

seeded and halved lengthwise

1

pound

sweet Italian sausage

casings removed

5

cloves

garlic

minced

1

teaspoon

salt

1/2

teaspoon

pepper

1/4

teaspoon

cayenne

fresh chopped chives

for garnish

finely grated asiago cheese

for garnish
INSTRUCTIONS
Cooking the rice: Combine rice and water in a small saucepot. Bring to a boil over high heat, then reduce to medium-low. Cover with a lid and simmer until the rice is cooked and the liquid is absorbed, about 15 minutes.

Making the sauce: Heat olive oil in a pot over medium heat. Add diced onions and cook until they soften, about 5 minutes, and transfer half of them to a bowl. Add in tomato sauce, balsamic vinegar, and cayenne to the pan. Stir until combined, about 1 minute. Pour the sauce into a baking dish.

Stuffing the peppers: In a large bowl, combine and mix sausage, garlic, salt, pepper, and cayenne. Stir in reserved onions and cooked rice. Generously stuff the 4 bell pepper halves with this mixture.

Baking: Place the bell pepper halves in the baking dish over the sauce. Cover the baking dish with foil. Bake at 375 F for 45 minutes. Remove the foil and continue baking until the meat and peppers are cooked, about 10 minutes. Garnish with chives and asiago cheese.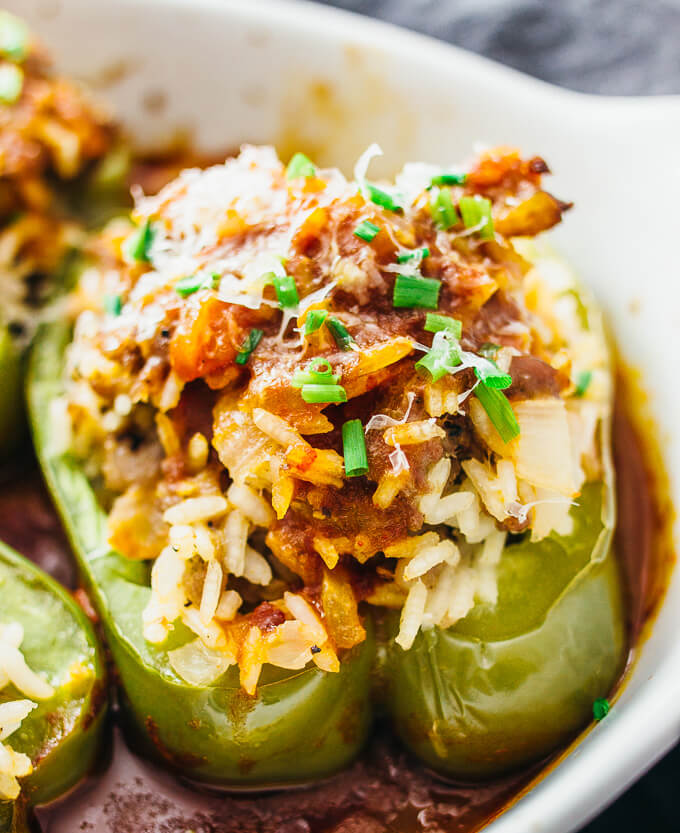 Recently I have been on a stuffing spree, and the latest victim to fall prey is the versatile bell pepper. Bell peppers are large and cavernous, perfect for stuffing, and they taste amazing when roasted. I love roasted jalapeños but can only have so many before I get a bad case of pepper mouth. Roasted bell peppers are like roasted jalapeños with all of their delicious flavor and texture but without the spiciness. My only issue with stuffed bell peppers is figuring out how to properly eat them. Do I use a fork and knife and slice everything up first? If you know how, please teach me.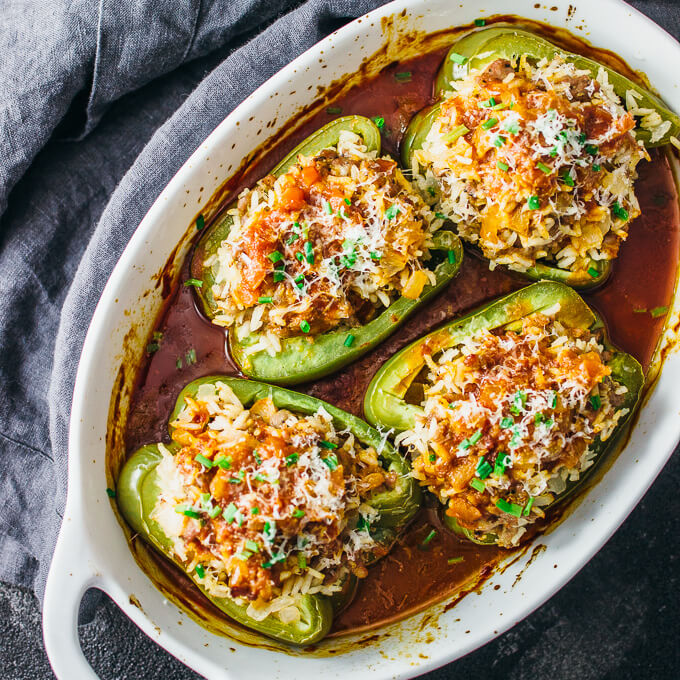 These bell peppers are very generously stuffed with sweet Italian sausage, rice, sautéed onions, a bit of cayenne, and topped with chives and finely grated asiago cheese. It's such a tasty combination, and the sauce takes it to a whole new level: a tomato-based sauce with onions, balsamic vinegar, and cayenne. I love scooping up this delicious sauce onto every bite of these peppers. Both the rice and sauce are cooked prior to stuffing, but the sausage is raw when stuffed and cooks in the oven along with the raw bell peppers.
This recipe can be easily doubled or tripled; all you need is a larger baking dish to accommodate all of the stuffed peppers. You can also prepare the sauce and stuffing ahead of time, and refrigerate until ready to bake. I can eat these stuffed peppers for lunch, dinner, and even as a snack.