Summary:
Bell peppers are generously stuffed with sweet Italian sausage, white rice, sautéed onions, and garlic. They're baked in the oven alongside a slightly spicy tomato sauce with balsamic vinegar.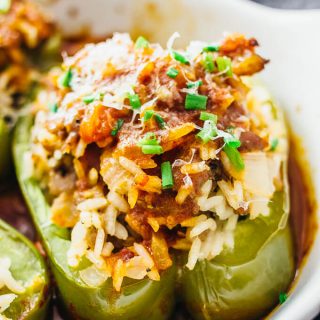 INGREDIENTS
Rice:
1/2

cup

uncooked white rice

1

cup

water
INSTRUCTIONS
Cook Rice: Combine rice and water in small saucepan. Bring to boil over high heat, then reduce to medium-low. Cover with lid and simmer until rice is cooked and liquid is absorbed, about 15 minutes. Set aside.

Make Sauce: Heat olive oil in pan over medium heat. Add diced onions and cook until softened, about 5 minutes. Transfer half of onions to small bowl; set aside. Add tomato sauce, balsamic vinegar, and cayenne to pan. Stir until combined, about 1 minute. Pour sauce into baking dish (Note 2).

Stuff Peppers: Mix raw sausage, garlic, salt, black pepper, and cayenne in large bowl until combined. Stir in reserved onions and cooked rice. Generously stuff four bell pepper halves with mixture.

Bake: Place stuffed pepper halves in baking dish over sauce. Cover baking dish with foil. Bake at 375 F for 45 minutes. Remove foil and continue baking until meat and peppers are cooked, about 10 minutes. Garnish with chives and asiago cheese, and serve (Note 3).
NUTRITION
Makes 4 Servings
Amount Per Serving (1 stuffed pepper half with sauce):
| | |
| --- | --- |
| Calories 460 (46% from fat) |   |
| Total Fat 24g | 37% |
|    Saturated Fat 8g | 40% |
| Cholesterol 70mg | 23% |
| Sodium 1750mg | 73% |
| Net Carb 39.5g |   |
| Total Carb 42g | 14% |
|    Dietary Fiber 2.5g | 10% |
|    Sugars 7g |   |
| Protein 20g |   |
PHOTOS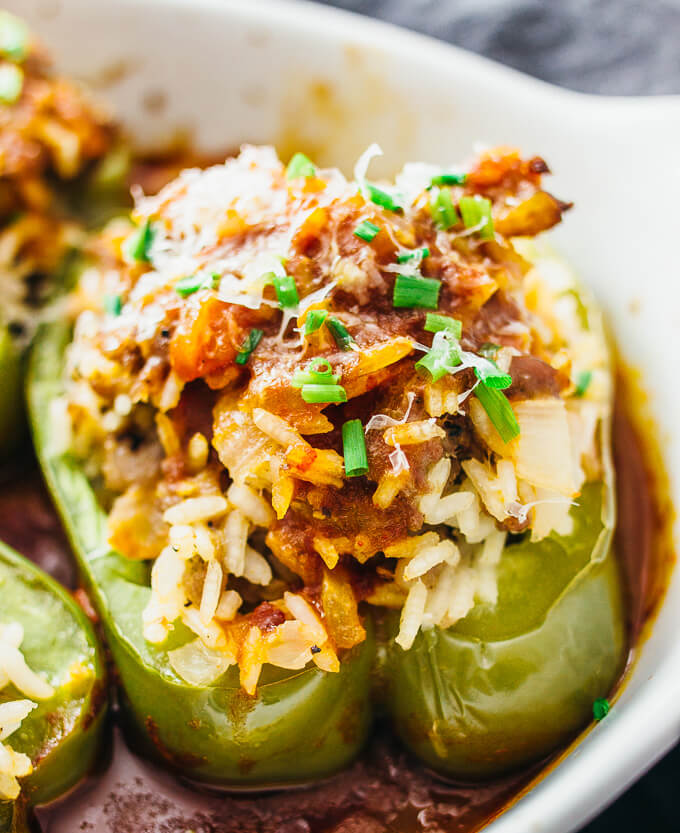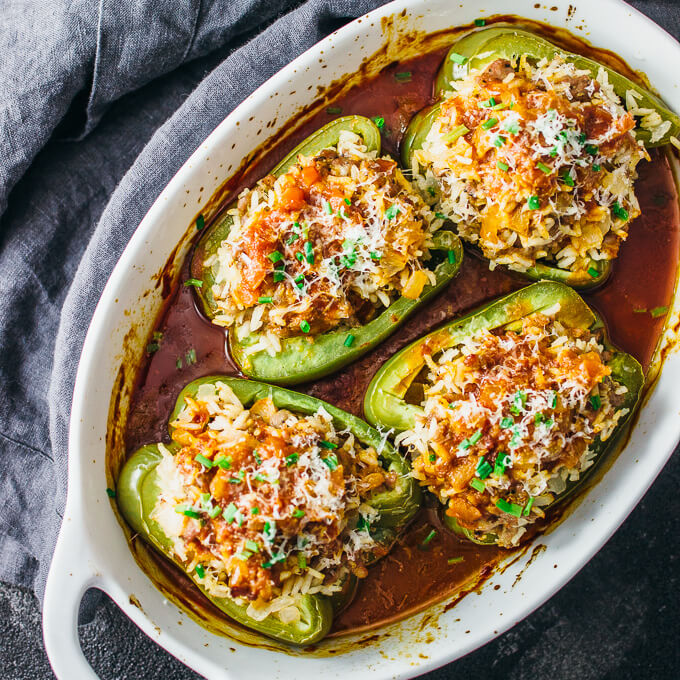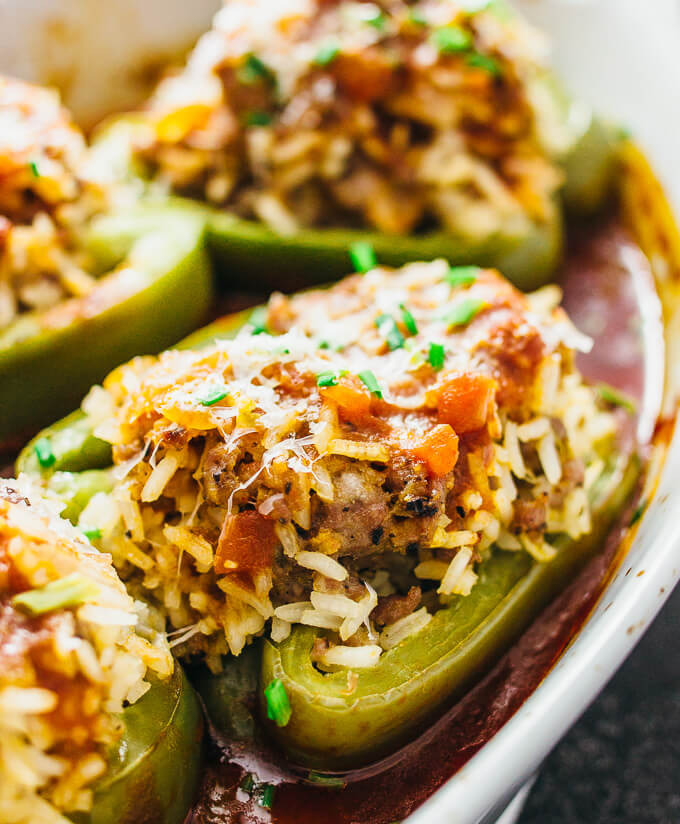 NOTES & TIPS
(1) Sausage. Use raw sausage, which is not browned prior to stuffing. The sausage cooks in the oven along with the raw bell peppers.
(2) Baking Dish. Select a high-sided baking dish that is large enough to hold all four bell pepper halves but not so large such that the pepper halves tip over. I use a 2-quart oval baking dish that snugly holds the stuffed peppers together.
(3) Serving / Make Ahead. Serve hot as a main dish, alongside artichokes, mashed cauliflower, or Greek salad. To make ahead, prepare the sauce and stuffed peppers (without baking), and refrigerate them separately. About an hour before serving, preheat the oven and follow the last instruction step for baking.
(4) Adjusting Yield. This recipe can be doubled or tripled; all you need is a larger baking dish to accommodate all of the stuffed peppers.