Note: This is one of my older recipes and is not low carb. Visit my Recipes page for low carb and keto recipes.
This is my favorite way of making bruschetta: hot buttery skillet-toasted baguette slices with cold tomatoes, basil, garlic, mozzarella cheese, and balsamic vinegar.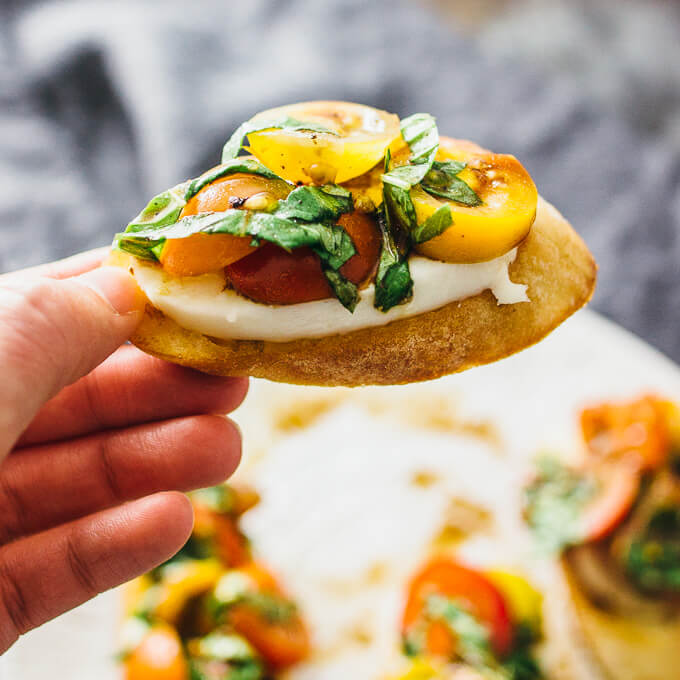 Bruschetta is such a delicious vegetarian treat, whether you're looking for a snack, an appetizer, a salad of sorts, or even a main dish. It's messy, for sure, with tomatoes conspiring against you as they occasionally fall off the sides of the baguette whenever you try to take a bite. But it's well worth it, and bruschetta can be so much better than whatever (restaurant?) version you've had before. You can cook or not cook bruschetta in different ways — hot or cold bread, and hot or cold toppings. My preference leans towards hot toasted bread with cool toppings, as I think that combo tastes the best. For ingredients, I love fresh thick slices of mozzarella cheese topped with cherry tomatoes, basil, lots of raw minced garlic, and a generous drizzle of balsamic vinegar.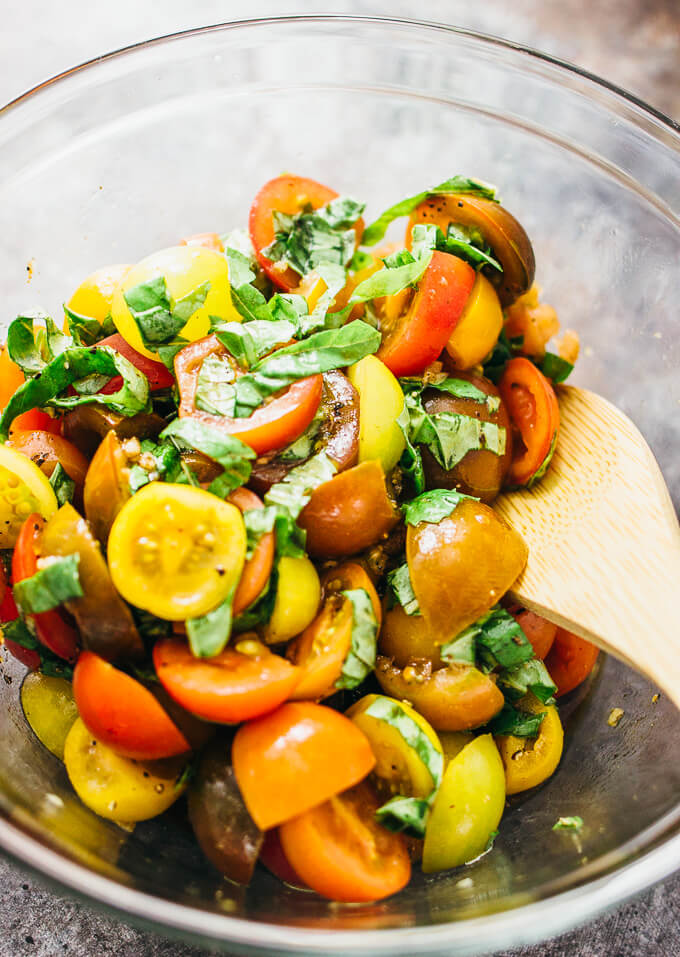 A typical bruschetta topping has diced regular tomatoes, but I actually prefer using cherry or grape tomatoes and giving them a quick slice or two. I also like "mini tomatoes," as they are sometimes labeled, which range from the size of a cherry tomato to twice that. I also always opt for a festive colorful assortment of tomatoes whenever possible — the ones pictured here include yellow, orange, red, green, and purple.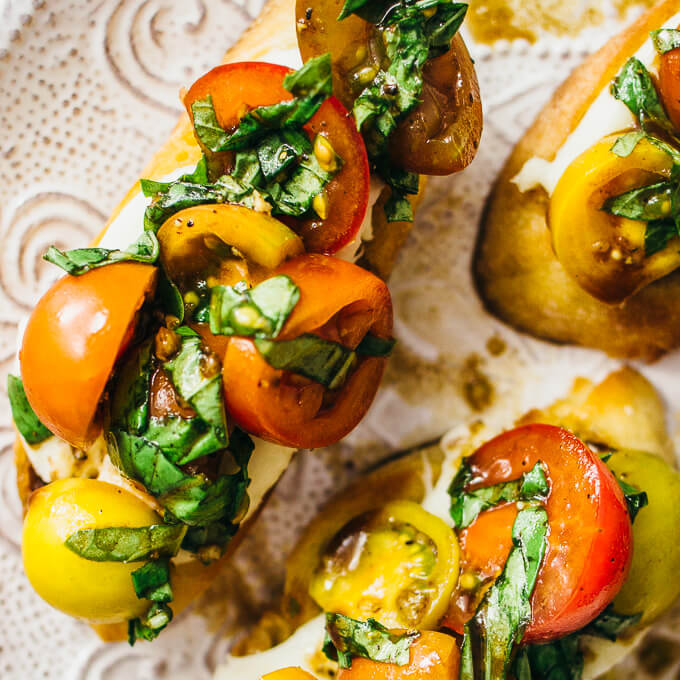 I want to go over a few tips on slicing, especially if you've not made bruschetta before. A typical baguette has a small perpendicular cross-section, which means fewer tomatoes get to come along for the ride. Instead of slicing perpendicularly to the baguette, you'll want to slice diagonally to get a larger cross-section and therefore more surface area for the bruschetta topping. Makes sense, right?
Now moving on to slicing basil leaves. For long thin strips of basil like photographed here, you'll want a stack of basil leaves piled on top of each other. Tightly roll them up together, and make many slices through the tight roll. Then when you unroll, you'll end up with many long basil strips. That's the easiest way to slice thin strips of basil.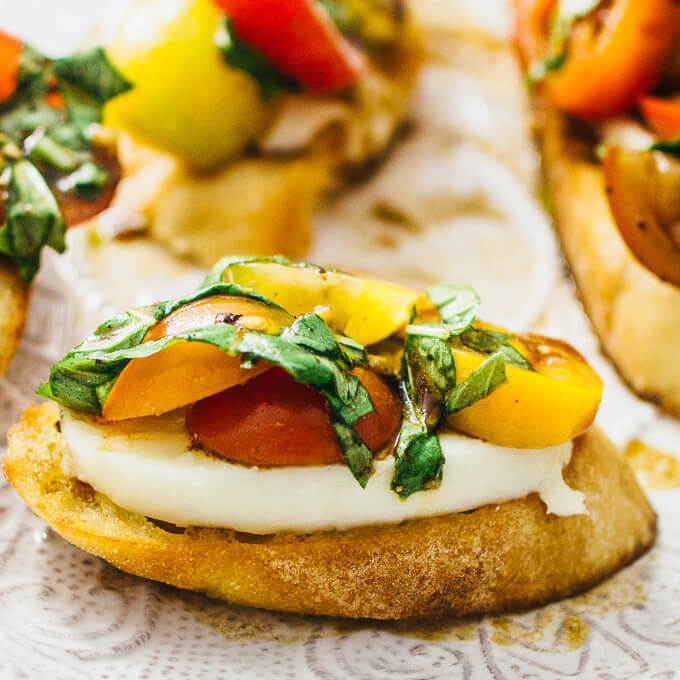 Bruschetta is a great appetizer to serve at parties because you can make it ahead of time, such as the day before the party. In fact, I might even argue that it tastes better when you make it ahead of time, because then the tomatoes have had time to marinate with the balsamic vinegar, garlic, and basil. On the day of the party, all you have to do is toast the bread and assemble with toppings just before serving. Another idea is to serve the toasted bread and toppings on separate plates, and you can ask guests to assemble their own bruschetta as they see fit.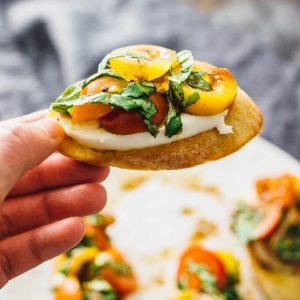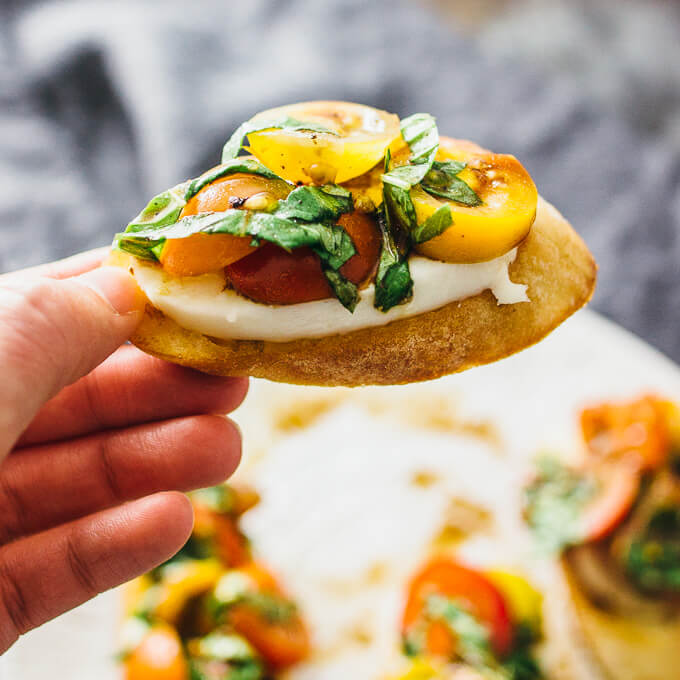 Favorite bruschetta with mozzarella
DESCRIPTION
This is my favorite way of making bruschetta: hot buttery skillet-toasted baguette slices with cold tomatoes, basil, garlic, mozzarella cheese, and balsamic vinegar.
INGREDIENTS
half French baguette

about 6 ounces

8

ounces

mozzarella cheese log

sliced 1/4 inch thick

3

tablespoons

butter
For bruschetta topping:
1

pound

grape, cherry, or mini tomatoes

any color, sliced

1/3

cup

fresh basil leaves

cut into strips

3

garlic cloves

minced

2

tablespoons

balsamic vinegar

1

tablespoon

olive oil

1/4

teaspoon

salt

1/4

teaspoon

pepper
INSTRUCTIONS
Combine all topping ingredients in a bowl. Toss to mix well. Set aside.

Diagonally slice (so each slice has larger surface area) the baguette into 1/2 inch thick slices. Set aside.

Working in batches, heat butter in a pan over medium heat, add sliced baguette, and cook both sides until golden brown, about 2 minutes per side.

Assemble the bruschetta by first distributing mozzarella slices and then the bruschetta topping amongst the toasted bread slices.

Serve on a large platter. Drizzle remaining balsamic liquid from the bowl over the top of the bruschetta.