Note: This is one of my older recipes and is not low carb. Visit my Recipes page for low carb and keto recipes.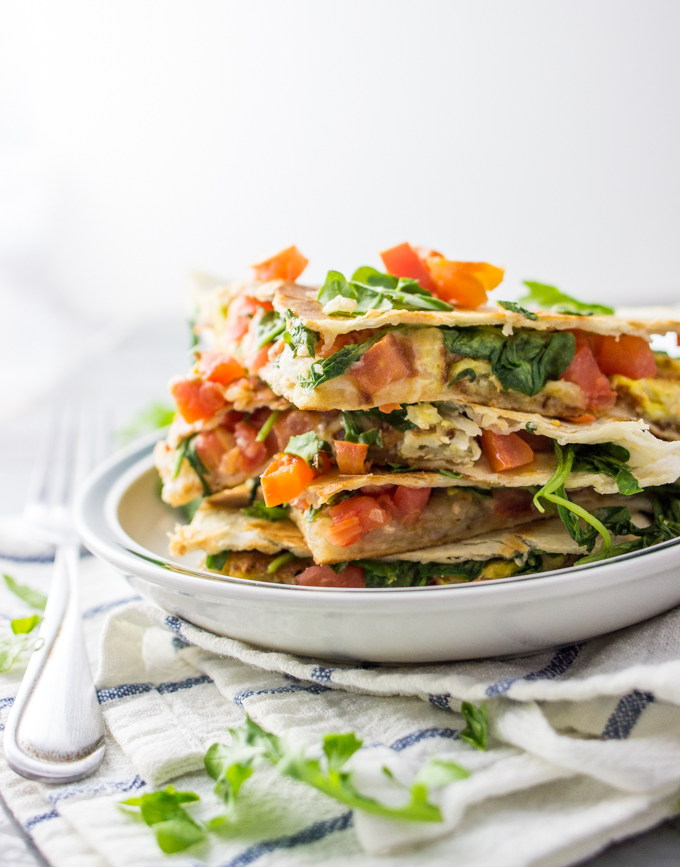 This is a super savory breakfast quesadilla with strong garlic flavors and pan-seared potato shreds. Yep, it's basically a hash brown quesadilla, plus some healthy egg protein and fresh vegetables like arugula and tomato. It is delicious, healthy, and filling at the same time. I had this after my weekly Sunday run, and I gobbled it down immediately. And wanted more.
This meal is also so quick and simple to make, as are most quesadillas.  You probably have all of the ingredients lying around your kitchen already. You pile various ingredients onto a tortilla in layers, and give a good stovetop sear to both sides, and you've got yourself a winning quesadilla. For this recipe, as an extra step, I shredded the potatoes and pan-seared it separately. Totally worth the charred potato taste. Yum.
Everything just looks so beautiful, colorful, and fresh.

This is a great dish to serve your family and friends for breakfast and brunch get-togethers. It's pretty versatile as it's meatless and not spicy, so it's likely to please everyone. You can also easily switch things around in this recipe, such as substituting other leafy greens for the arugula and removing the cheese to make it vegan. It's also a great idea to add any herbs that you might have from your garden, like fresh chopped rosemary and basil.
Also, if you like quesadillas a lot (I certainly do!), you should check out one of my favorite all-time dishes: smoked salmon quesadilla with jalapeños and sriracha aioli! It is amazing. You will love it.
Garlicky breakfast quesadilla with shredded potatoes and arugula
DESCRIPTION
This is a super savory breakfast quesadilla with strong garlic flavors and pan-seared potato shreds.
INGREDIENTS
2

ten-inch flour tortillas

1

Russet potato

1

egg

1

ounce

arugula leaves

1

roma tomato

chopped

5

garlic cloves

minced

1/4

teaspoon

salt

1/2

cup

shredded cheese

1

tablespoon

olive oil
INSTRUCTIONS
Prep the potato: Peel the potato and shred it using a food processor. Squeeze out the excess liquid using cheesecloth.

Cook the garlic, potato, egg: Heat olive oil in a large pan over medium heat. Add garlic and cook until it browns, about 1 minute. Add shredded potatoes and salt. Crack the egg over the pan and scramble it, mixing with the shredded potatoes. Flatten with a spatula and cook until the potatoes are browned, about a few minutes per side. Turn off the heat.

Assemble the quesadilla: Place a tortilla on a large pan over low heat. Add layers of arugula leaves, diced tomatoes, and then the potato-egg mixture. Sprinkle cheese. Place a tortilla on top. Turn the heat up to medium and press down with a spatula. Heat the bottom tortilla until it is crispy and brown. Flip the quesadilla and repeat for the other side. Cut into slices and serve immediately.
Liked this recipe?
Sign up for email updates!