Note: This is one of my older recipes and is not low carb. Visit my Recipes page for low carb and keto recipes.
German potato salad is served warm and not cold, and includes crispy bacon and vinegar. It's an easy and authentic recipe that originates from southern Germany.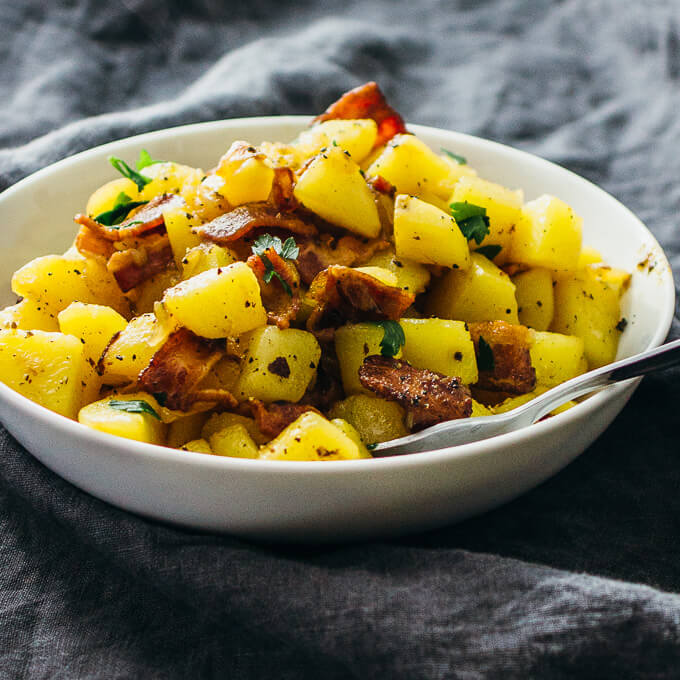 Last weekend I met with my book club group to discuss Visitation by Jenny Erpenbeck, whose main character is a house outside Berlin and the many inhabitants that occupy it over a hundred years. One of my friends (who grew up in Germany) hosted the book club and cooked a German-themed dinner. Our get-togethers are usually potluck-style, so I decided to make a German potato salad to bring to the event. There's two kinds — the northern German potato salad has mayo and is served cold (like the American potato salad) and the southern German version is served warm or hot and includes vinegar for a tangy taste. The one that I made is the traditional southern German variety, and it is so good and addictive that I can't wait to make it again.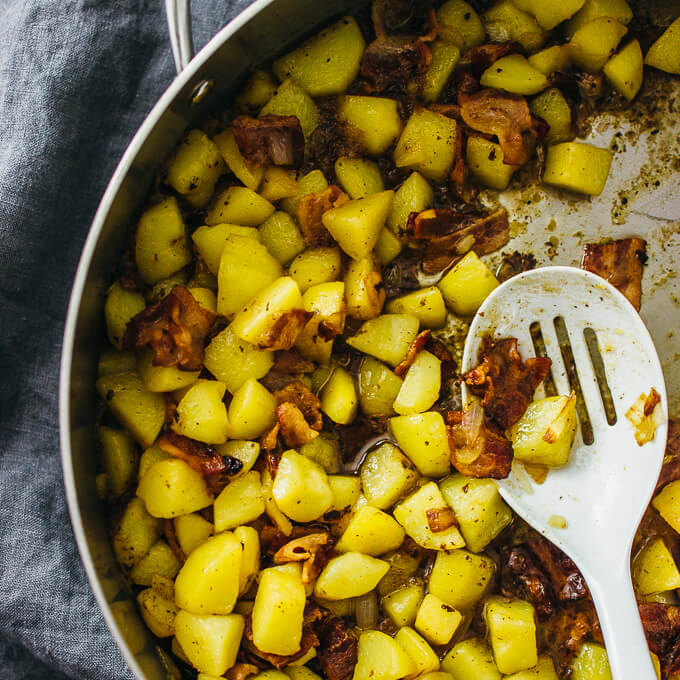 This German potato salad recipe has no egg or mayo — instead, it's all about potatoes, bacon, and onion getting acquainted with each other in bacon grease on a hot stovetop pan. The addition of vinegar, salt, pepper, and a tad bit of sugar completes the picture. Simple, easy to make, and absolutely delicious. This was one of those meals where I had Mr. Savory Tooth buzzing around me while I cooked and photographed the dish, as he tried to grab a forkful every now and then. He looked aghast when I told him it was for my book club.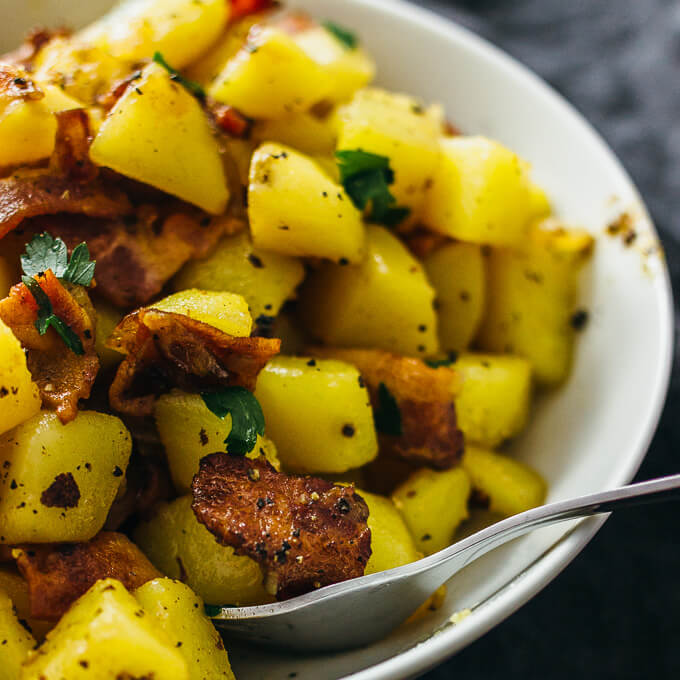 I recommend using waxy potatoes and not starchy potatoes so that the potato chunks keep their shape after cooking. Waxy potatoes are firmer and hold up better after cooking, and include varieties like Yukon Gold (used here) and red potatoes. Starchy potatoes are appropriately named and so have a lot of starch. This includes the familiar Russet and classic Idaho potatoes, which should be avoided here.
For another delicious potato recipe, check out my popular creamy potato soup with bacon.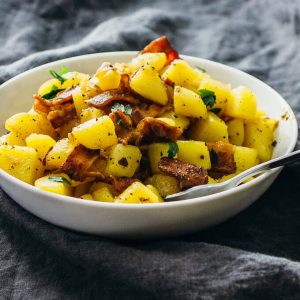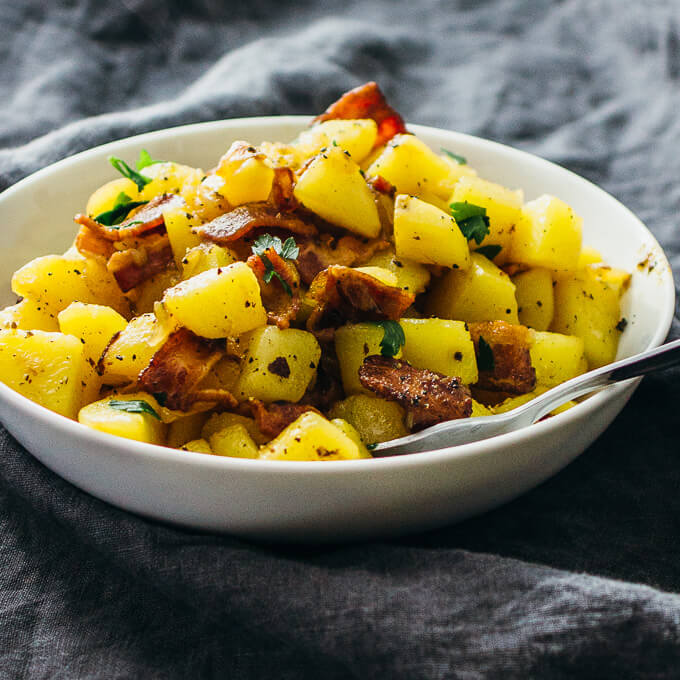 German potato salad with bacon
DESCRIPTION
German potato salad is served warm and not cold, and includes crispy bacon and vinegar. It's an easy and authentic recipe that originates from southern Germany.
INGREDIENTS
3

pounds

Yukon Gold potatoes

peeled and cut into 1/2 inch chunks (about 6 cups)

12

ounces

sliced bacon

14 slices, cut into 1/2-inch pieces

1

sweet onion

chopped

1/2

cup

white vinegar

1/4

cup

water

2

tablespoons

white sugar

2

teaspoons

salt

1/2

teaspoon

ground black pepper

fresh parsley or dill

for garnish
INSTRUCTIONS
Add the potato chunks to a pot, and fill it up with enough water to cover the potatoes. Bring to a boil and cook until the potatoes are fork-tender, about 10 minutes. Drain the potatoes into a colander, and rinse with cold water. Set aside.

Add bacon pieces to a 4-quart or larger pan (I used a

12-inch 5-quart pan

). Turn the heat to medium. Cook until most of the bacon pieces start to crisp, about 15 minutes, stirring occasionally.

Add chopped onions to the same pan with the bacon, stirring well. Cook over medium heat until the onions brown and the bacon is crispy to your liking, about 20 minutes, stirring occasionally.

While waiting for the onions and bacon to cook, prepare a small bowl and add vinegar, water, sugar, salt, and pepper. Mix the ingredients together. When the onions and bacon are done, pour the mixture into the pan. Stir and bring to a simmer.

Add potato chunks to the pan. Bring to a simmer and cook until everything is heated and mixed, about 5 minutes, frequently stirring so that the potatoes get coated with everything else.

Serve warm with parsley or dill sprinkled on top.