Summary:
This is a one-pot recipe for marinated and roasted chicken with zucchini, tomatoes, and onions. The marinade is re-purposed to form a flavorful sauce, drizzled over the tender chicken. It's a Mediterranean / Greek inspired dinner that's low carb and keto friendly.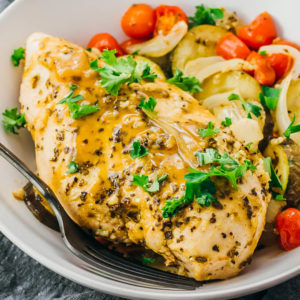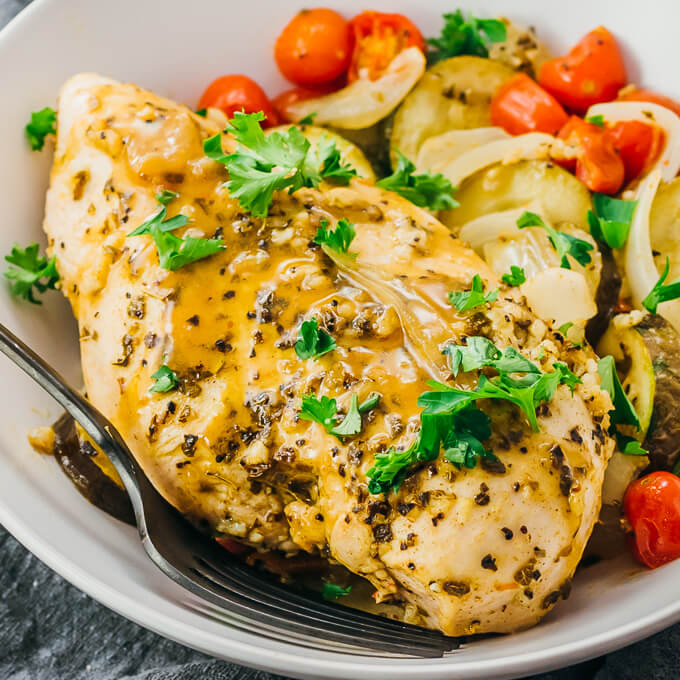 One-Pot Chicken & Vegetables
INGREDIENTS
Chicken Marinade:
1/4

cup

olive oil

1/4

cup

fresh lemon juice (Note 3)

5

cloves

garlic, minced

1

teaspoon

dried oregano

1

teaspoon

ground thyme

1/2

teaspoon

table salt

1/2

teaspoon

ground black pepper
NUTRITION
Makes 2 Servings
Amount Per Serving:
| | |
| --- | --- |
| Calories 540 (52% from fat) |   |
| Total Fat 31g | 48% |
|    Saturated Fat 5g | 23% |
| Cholesterol 132mg | 44% |
| Sodium 740mg | 31% |
| Net Carb 9g |   |
| Total Carb 11.5g | 4% |
|    Dietary Fiber 2.5g | 10% |
|    Sugars 5.5g |   |
| Protein 54g |   |
PHOTOS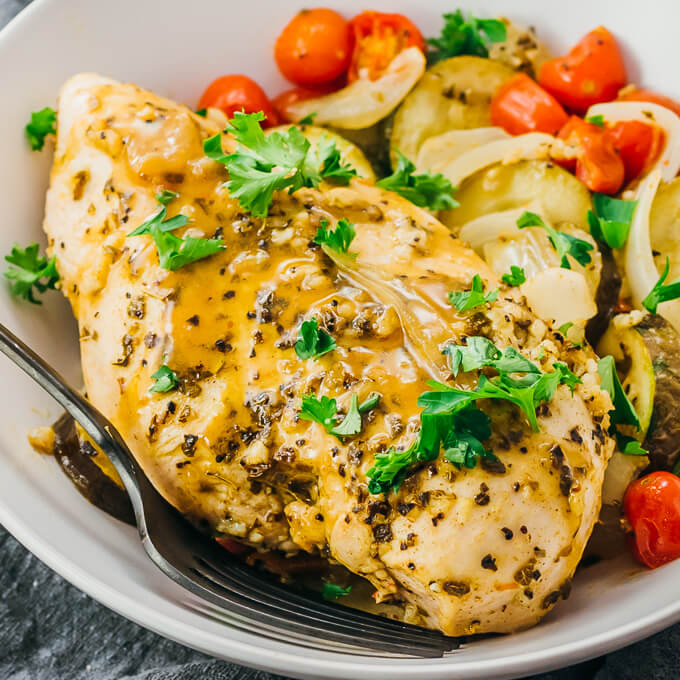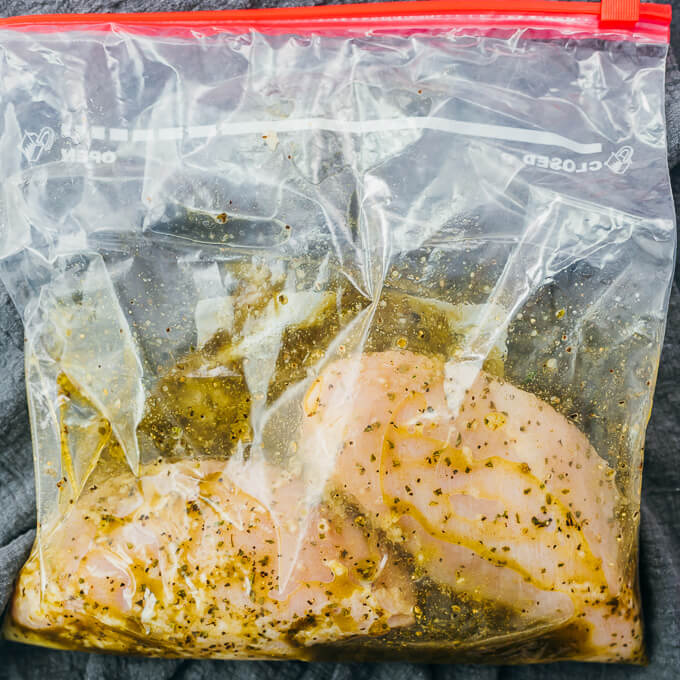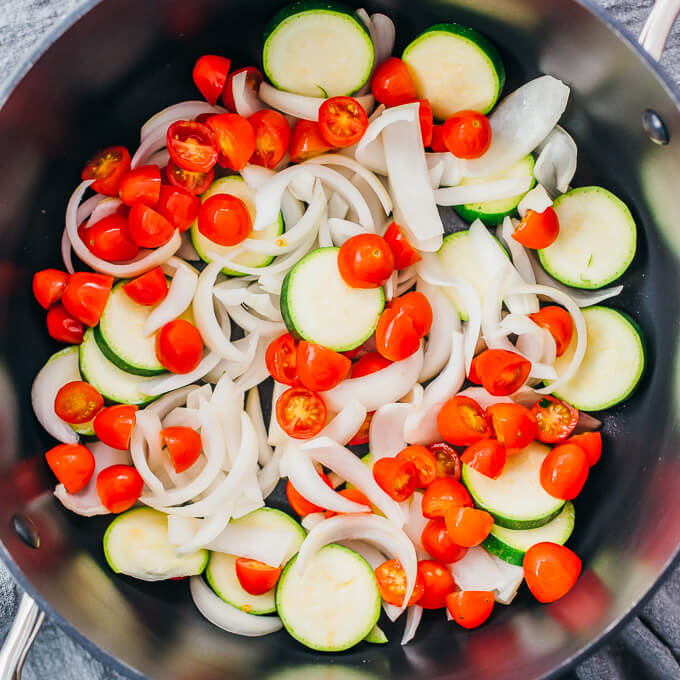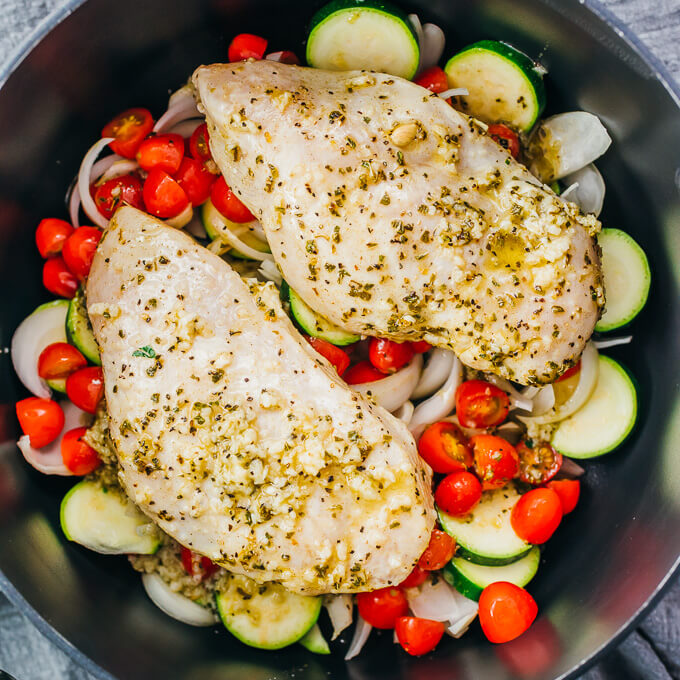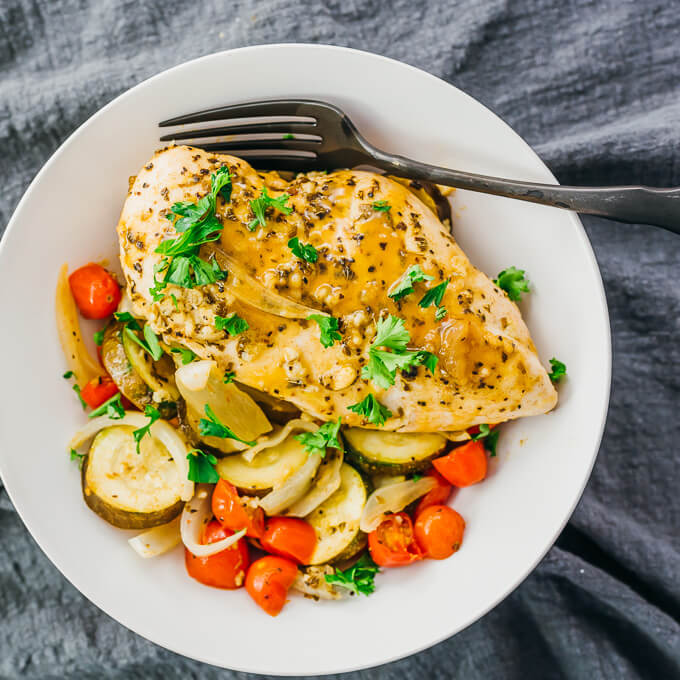 NOTES & TIPS
(1) Chicken. I use fresh whole chicken breasts that are boneless and skinless, but thighs or other chicken cuts will also work well. You can also use pre-cut chicken like chicken breast halves, chicken tenders, or chicken cutlets — with the added benefit that they will cook faster. Since chicken types differ in size and thickness, the cooking time varies substantially depending on the cut.
(2) Cherry/Grape Tomatoes. One cup is about 5 ounces weight; you can use single-color or multi-color varieties. They're typically found in the produce section of U.S. grocery stores, available in 5 or 10 ounce packages.
(3) Lemon Juice. This can be substituted with your favorite vinegar, such as balsamic vinegar or red wine vinegar.
(4) Resealable Bag vs. Dish. I prefer using a resealable bag instead of a dish for holding the chicken and marinade. A bag can easily mold to the shape of the chicken and provide better marinade coverage, whereas a dish often means that one side of the chicken isn't fully exposed to the marinade. A resealable bag also means less cleanup.
(5) Marinating Time. Avoid marinating longer than 24 hours. This marinade's acidic component (lemon juice) can break down the meat's muscle fibers such that the meat's texture becomes mushy.
(6) Pot. I use a nonstick pot safe for oven use, measuring 9.5 inches in diameter and 4 inches tall, so that I can conveniently use the pot for both baking and stovetop cooking. You can use a differently sized pot as long as it can comfortably hold all of the ingredients, with the chicken in a single layer. If you don't have an oven-safe pot, you can use a baking dish and transfer the leftover liquid to a saucepan when it's time to make the sauce.
(7) Baking Chicken. The baking time will vary depending on the thickness of your chicken and the cut. To shorten the baking time, you can cut your chicken into smaller pieces. To determine when the chicken is cooked through, I use a probe thermometer, which stays inside the chicken while it's baking in the oven, and I have its alarm set to 155 F. Once it beeps, I let the chicken bake for another minute before taking it out (pasteurization takes 1 minute at 155 F and is instantaneous at 165 F). If you don't have a probe thermometer, you can use an instant-read thermometer.
(8) Resting Chicken. It's important to let the chicken rest after baking, which means letting it sit at room temperature without cutting into it. If you slice into it right away, plenty of liquid will pool out. But if you let it rest for 5 to 10 minutes, the liquid will be re-absorbed and the chicken will be juicier and tender. While the chicken rests, you can prepare the sauce by reducing it on the stovetop. If you're worried about the chicken cooling too much during its rest, you can construct a foil tent around it.
(9) Serving. This baked chicken dish pairs well with a refreshing Mediterranean chopped salad, artichokes, or tomato basil soup.