Summary:
This Greek chicken dinner is an easy one-pot meal, resulting in tender, flavorful meat. Chicken breasts are coated with a Greek inspired marinade, and baked in the oven along with zucchini, tomatoes, and onions. Great for low carb and keto diets.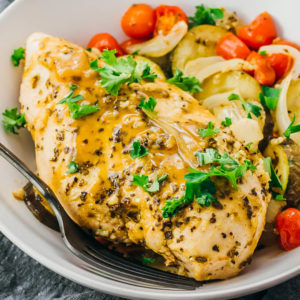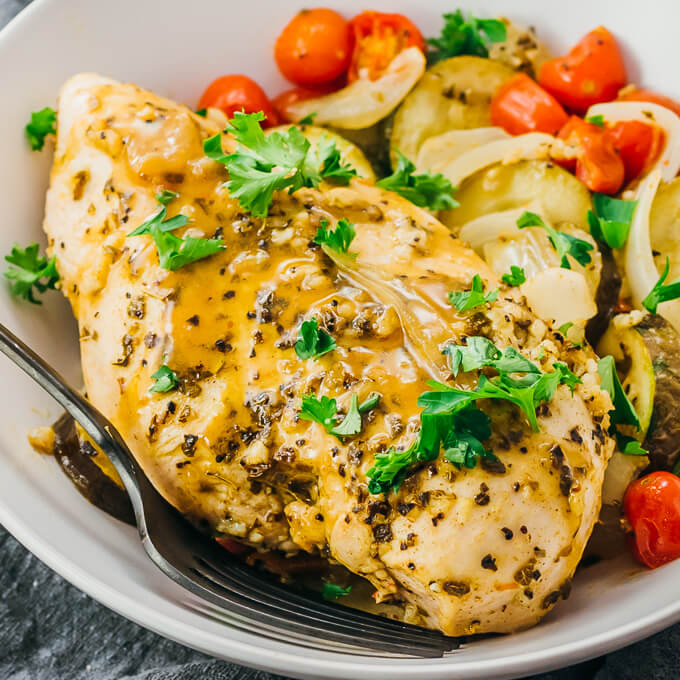 INGREDIENTS
2

boneless skinless chicken breasts (1 - 1 1/2 pounds total)

1

(5-ounce)

package cherry or grape tomatoes (1 cup)

halved

1

small zucchini

sliced into coins

1

small or 1/2 large onion

sliced

2

tablespoons

finely chopped fresh parsley
1/4

cup

olive oil

1/4

cup

fresh lemon juice

5

cloves

garlic

minced

1

teaspoon

dried oregano

1

teaspoon

ground thyme

1/2

teaspoon

salt

1/2

teaspoon

black pepper
INSTRUCTIONS
Use paper towels to pat the chicken breasts dry. In a bowl, add all marinade ingredients and stir until mixed.

In a resealable bag or shallow dish, add chicken and marinade. Arrange the chicken breasts so they're coated with the marinade on all sides.

Marinate in the refrigerator for at least 1 hour.

Preheat the oven to 400 F while you prep the remaining ingredients.

Add tomatoes, zucchini, and onions to an oven-safe pot, briefly stirring to mix the ingredients.

Add marinated chicken in a single layer on top of the vegetables. Pour remaining marinade over the chicken and vegetables.

Bake at 400 F until the chicken is cooked through, about 45 minutes, depending on how thick your chicken breasts are. See "Determining When Chicken Is Done" section below.

Use a slotted spoon to transfer the chicken and vegetables to serving plates, leaving as much of the liquid as possible in the pot. Let the chicken rest and don't slice.

Place the pot over medium heat. Simmer until the liquid reduces in volume by half, a few minutes, stirring frequently. It should have a sauce-like consistency. Turn off the heat.

Pour the reduced sauce over the chicken. Scatter chopped parsley on top, and serve while warm. Pairs well with a refreshing Mediterranean chopped salad.
NUTRITION
Makes 2 Servings
Amount Per Serving:
| | |
| --- | --- |
| Calories 540 (52% from fat) | |
| Total Fat 31g | 48% |
| Saturated Fat 5g | 23% |
| Cholesterol 132mg | 44% |
| Sodium 740mg | 31% |
| Net Carb 9g | |
| Total Carb 11.5g | 4% |
| Dietary Fiber 2.5g | 10% |
| Sugars 5.5g | |
| Protein 54g | |
The marinade is primarily composed of olive oil, lemon juice, garlic, and herbs. It's very easy to make, and suitable for various types of cooking, whether you're looking to bake or grill. You can read more about it here.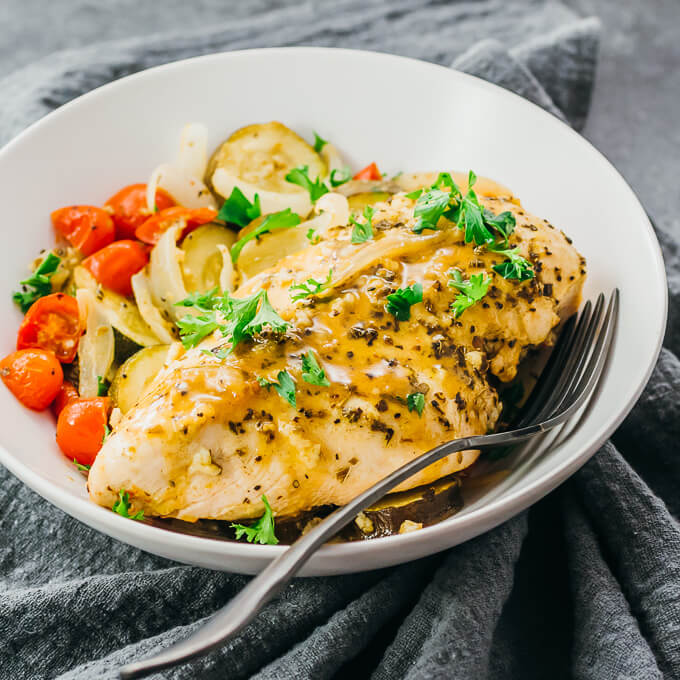 Determining When Chicken Is Done
Chicken is done when it's cooked through and pasteurized. This is a function of both temperature and time. For example, if the chicken's internal temperature is 165 F, then bacteria is instantly killed. At lower temperatures, it takes 1 minute at 155 F, 3 minutes at 150 F, and 10 minutes at 145 F.
In other words, you don't need to cook all the way to 165 F to pasteurize chicken, since food safety is a function of both temperature and time.
I use a probe thermometer, which stays inside the chicken while it's baking in the oven, and I have its alarm set to 155 F. Once it beeps, I let the chicken bake for another minute before taking it out. This takes approximately 45 minutes of baking time, but will vary depending on your oven and the size of your chicken breasts.
For more information, check out this plot for the pasteurization time for poultry, taken from Serious Eats' guide to sous vide chicken. The article goes in-depth about food safety and the effects of temperature on the juiciness and texture of chicken.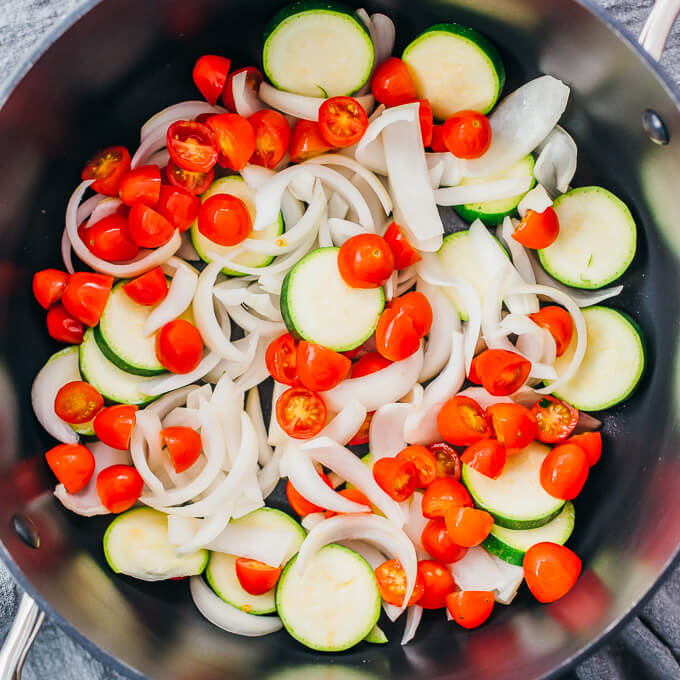 Resting The Chicken
It's important to let the chicken rest after baking, which means letting it sit at room temperature without cutting into it. If you follow my recipe, you'll see how it instructs you to make the sauce after taking the chicken out of the oven, to allow for resting time.
As the chicken rests, the meat will re-absorb its liquid. If you slice into it right away, plenty of liquid will pool out. But if you let it rest for 5 to 10 minutes, the liquid will be re-absorbed and the chicken will be juicier and tender.
If you're worried about the chicken cooling too much during its rest, you can construct a foil tent around it.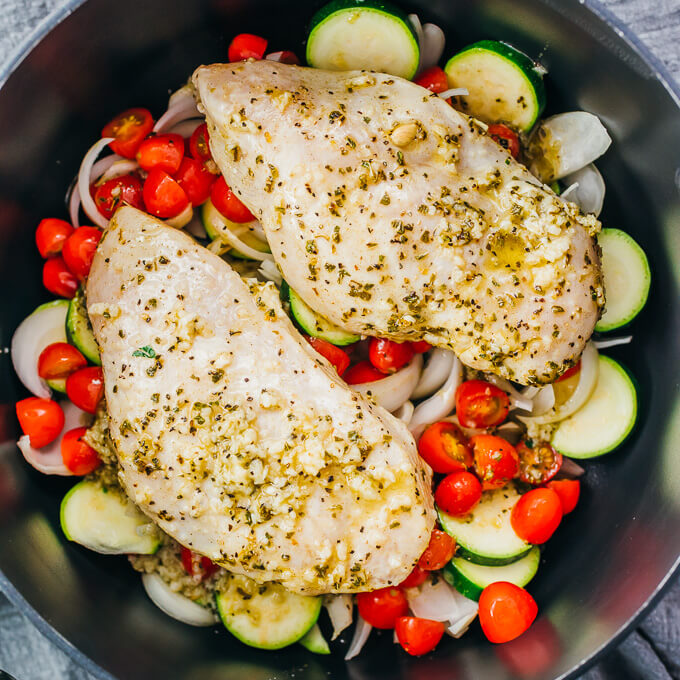 Making The Sauce
The sauce is one of my favorite parts of this meal. The leftover pot juices are simmered until it decreases in volume by about half, resulting in a thickened flavorful sauce.
Note that this is a small amount of sauce. You'll probably start with about 1/4 cup and end up with 2 tablespoons after reducing. It's just enough to drizzle over both chicken breasts.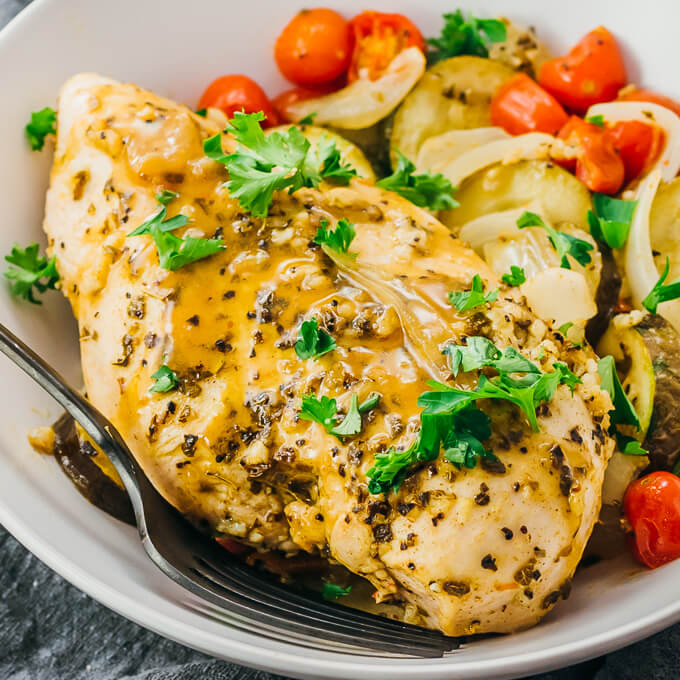 More Oven Baked Dinner Recipes