Summary:
This vegan recipe features a savory guacamole burrito loaded with balsamic roasted tomatoes, black beans, and garlic.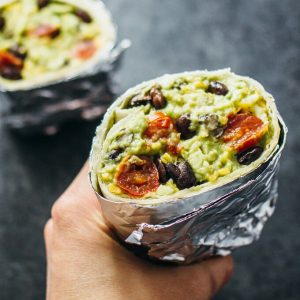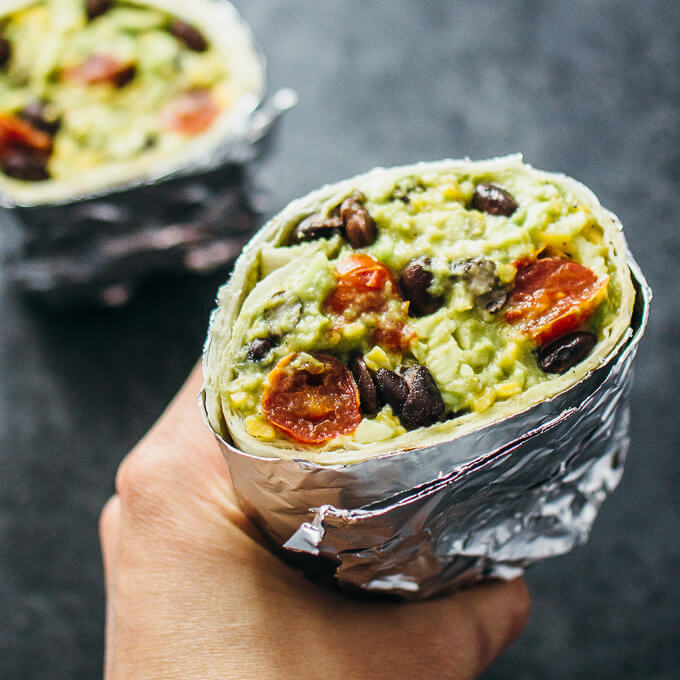 Guacamole burrito with balsamic roasted tomatoes and black beans
INGREDIENTS
2

ten-inch tortillas

3

avocados

1/2

cup

cooked black beans

20

grape tomatoes

halved (about 1 cup)

5

garlic cloves

sliced

1

tablespoon

balsamic vinegar

1

tablespoon

olive oil

3/4

teaspoon

salt

1/2

teaspoon

pepper
INSTRUCTIONS
Add grape tomatoes, sliced garlic, balsamic vinegar, and olive oil to a 20 ounce baking dish. Stir so that they are well-mixed. Cover with a lid or foil and bake at 400 F until the tomatoes have collapsed, 20 to 30 minutes. Remove from the oven and set aside while it cools.

Add avocados to a mixing bowl and coarsely mash them so that they have a chunky texture. Add black beans, salt, and pepper to the same bowl, mixing everything together. Lastly, add the roasted tomatoes and sliced garlic (without the remaining balsamic and olive oil liquid) to the same bowl and stir until everything is well mixed.

Prepare two square pieces of foil, about 1 foot on each side. Place one tortilla on each. Distribute the guacamole mixture evenly between the two tortillas. Wrap into burritos. Then wrap the foil around each burrito to secure it.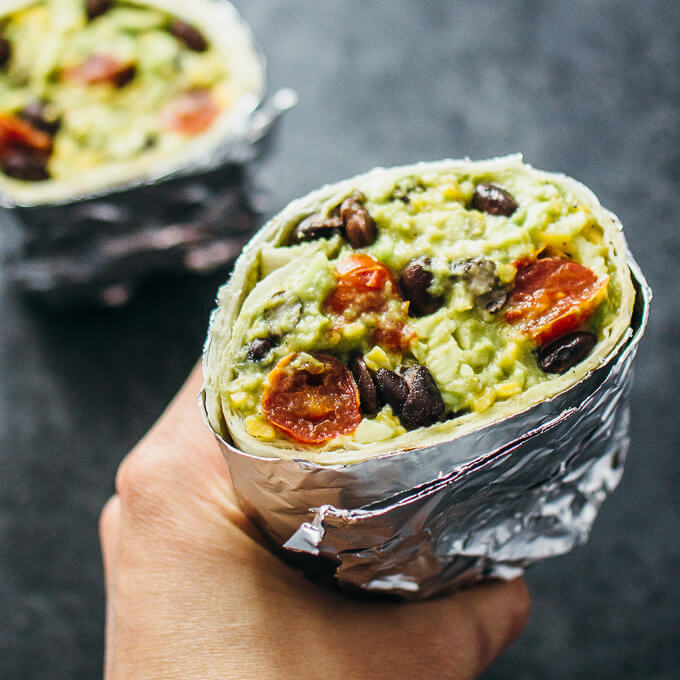 Growing up in southern California, avocados were everywhere, even falling off of trees in my neighbors' yards. Naturally, I was making guacamole all the time, and I would try to make guacamole in large enough quantities to pass as a proper dinner. For me, guacamole was no mere appetizer; it was the star of the show. I wouldn't even pair it with chips because I wanted to save space in my stomach for more avocado goodness. My preferred guacamole was what I called "cheesy guac," where I would mix chunky avocado with equal parts pepper jack cheese, and followed by lime juice, salt, and pepper to taste. Then I would mix it all up and devour immediately. And repeat again the next day.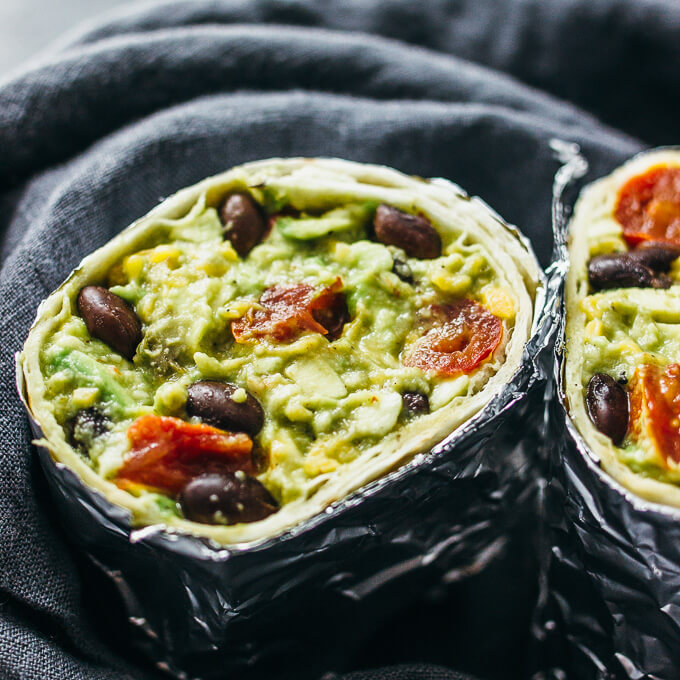 Today's guacamole burrito recipe is an upgrade to your typical guacamole. We have some delicious black beans along for the ride, as well as balsamic roasted grape tomatoes with garlic (amazing). And that's pretty much it. Let's not pretend that there's any real cooking going on here; just a quick roast of the tomatoes and garlic, and then the rest is countertop burrito assembly work. It's a fast recipe. All we have are a few simple ingredients, but lots of them, so these burritos are definitely loaded and quite filling. The resulting taste of all of this? A super savory and soft burrito that melts in your mouth.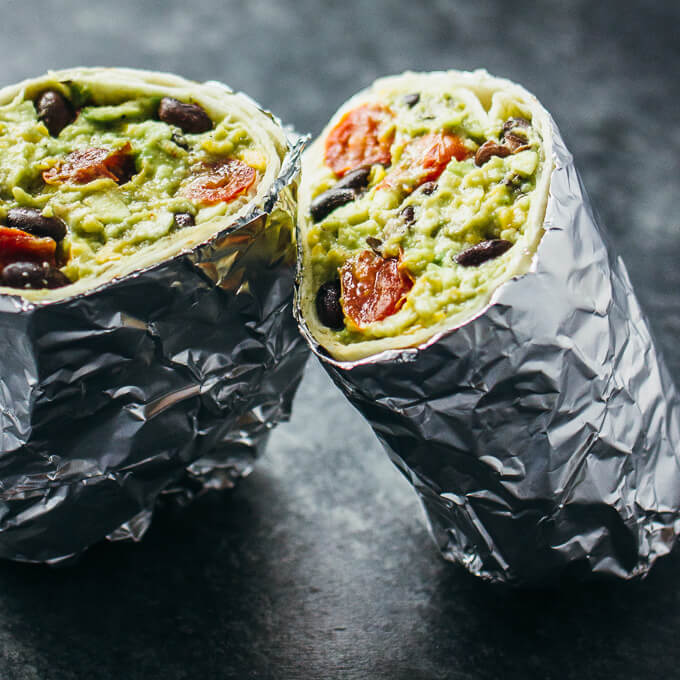 These guacamole burritos are vegan so you can make it for all of your vegan friends. But, if you want to un-veganize this recipe, I recommend borrowing a line from my "cheesy guac" days and adding 1 cup of shredded sharp cheddar cheese for extra flavor and pop of yellow. You won't regret it.