Summary:
These kabobs feature tender bites of steak, crisp and juicy onion and bell pepper, and sweet and smoky pineapple. These ingredients are soaked in a savory, sweet, and tangy marinade, then broiled in the oven or grilled.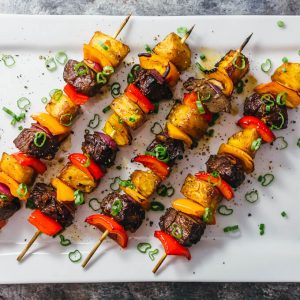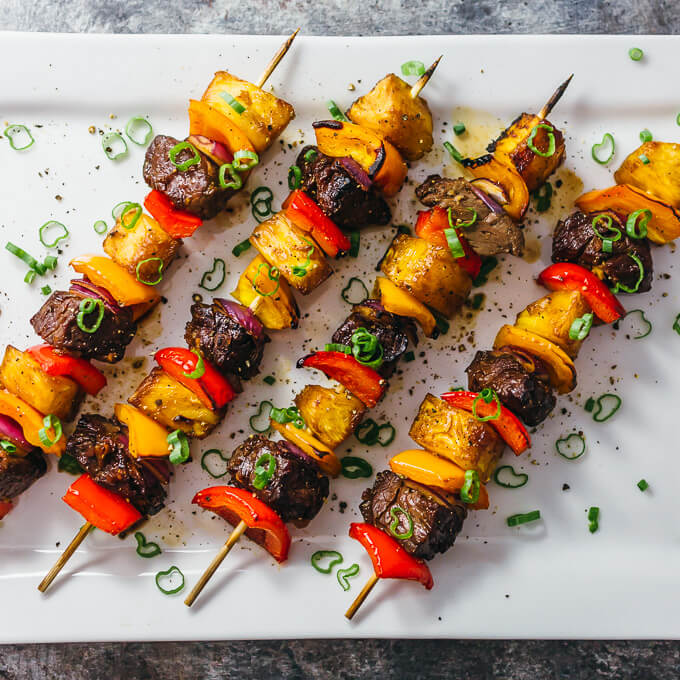 INGREDIENTS
8

ounces

top sirloin steak

8

ounces

fresh pineapple

1/4

red onion

1

small red bell pepper

1

small orange bell pepper

1

scallion, thinly sliced

1/8

teaspoon

ground black pepper
Hawaiian Steak Marinade:
1/4

cup

fresh orange juice

(about 1 navel orange)

1/4

cup

soy sauce

1/4

cup

brown sugar (Note 1)

5

cloves

garlic, minced

1

teaspoon

minced fresh ginger
INSTRUCTIONS
Make Marinade: Add all Hawaiian marinade ingredients to small saucepan. Stirring frequently, bring to simmer over medium heat. Once marinade starts to simmer, remove from heat and let stand until cooled.

Cut Ingredients: Slice steak and pineapple into 12 pieces each, about 1 inch cubes. Cut red and orange bell peppers and red onion into 1-inch squares.

Marinate: Add steak, pineapple, bell peppers, and red onion to gallon-sized resealable bag. Add marinade to bag and toss with ingredients. Marinate in refrigerator for at least 2 hours, flipping bag halfway.

Load Skewers: Prepare 4 skewers and load with alternating ingredients. Start with red bell pepper, then steak, red onion, orange bell pepper, and pineapple. Arrange loaded skewers on broiler-safe tray.

Broil or Grill: Set broiler on high, and position oven rack about 6 inches below flame. Transfer tray with kabobs to oven and broil for 5 minutes, then flip kabobs and broil for another 5 minutes until steak reaches an internal temperature of 145 F (for medium doneness) and vegetables are tender. Alternatively, use grill.

Serve: Transfer kabobs to serving platter. Sprinkle scallions and ground black pepper on top. Serve (Note 2).
NUTRITION
Makes 2 Servings
Amount Per Serving:
| | |
| --- | --- |
| Calories 410 (12% from fat) |   |
| Total Fat 6g | 9% |
|    Saturated Fat 2g | 10% |
| Cholesterol 87mg | 29% |
| Sodium 1840mg | 77% |
| Net Carb 52.5g |   |
| Total Carb 55.5g | 18% |
|    Dietary Fiber 3g | 13% |
|    Sugars 45g |   |
| Protein 39g |   |
PHOTOS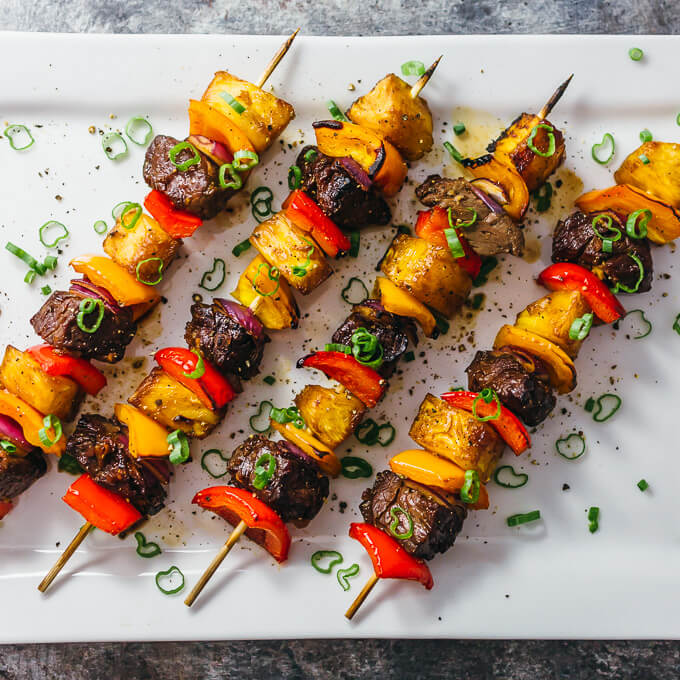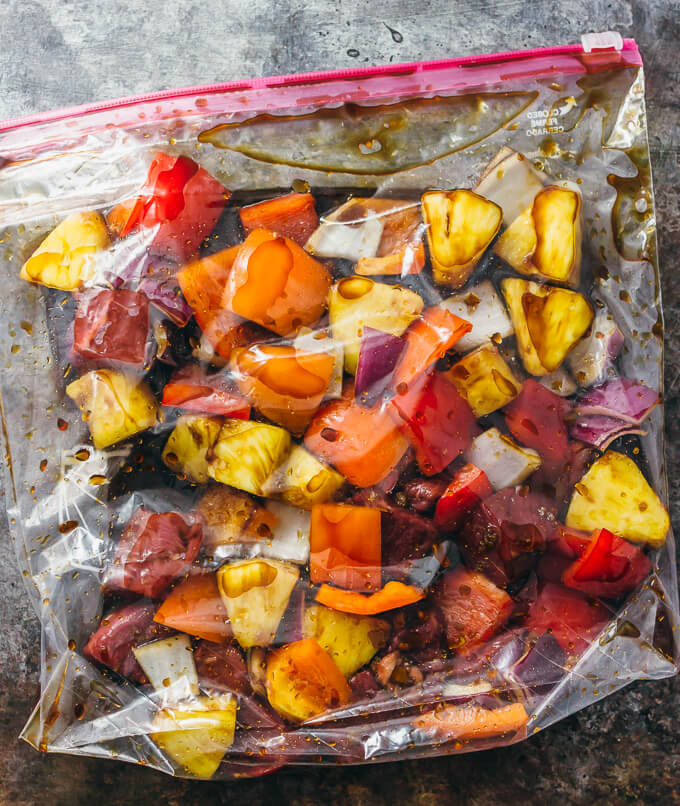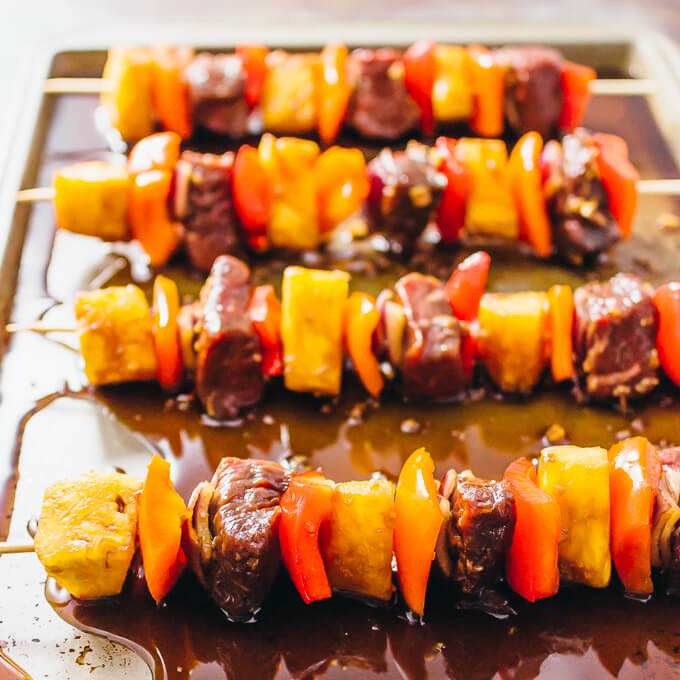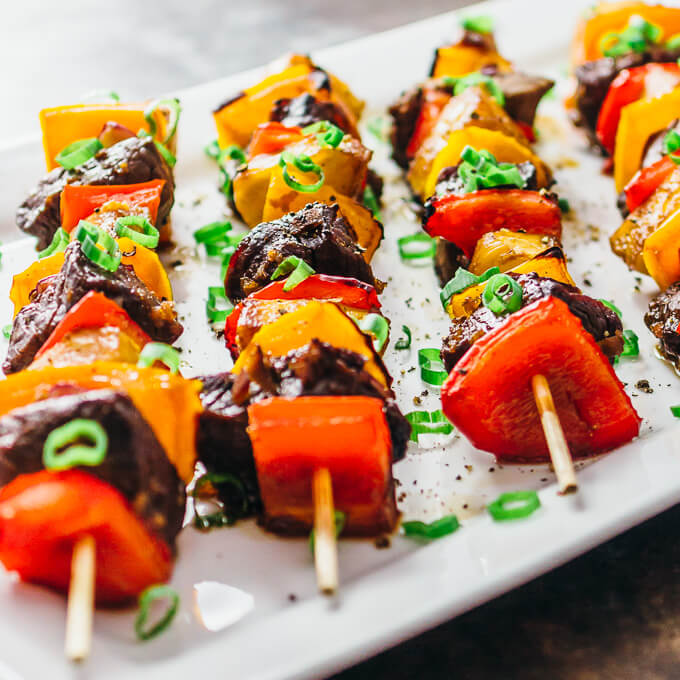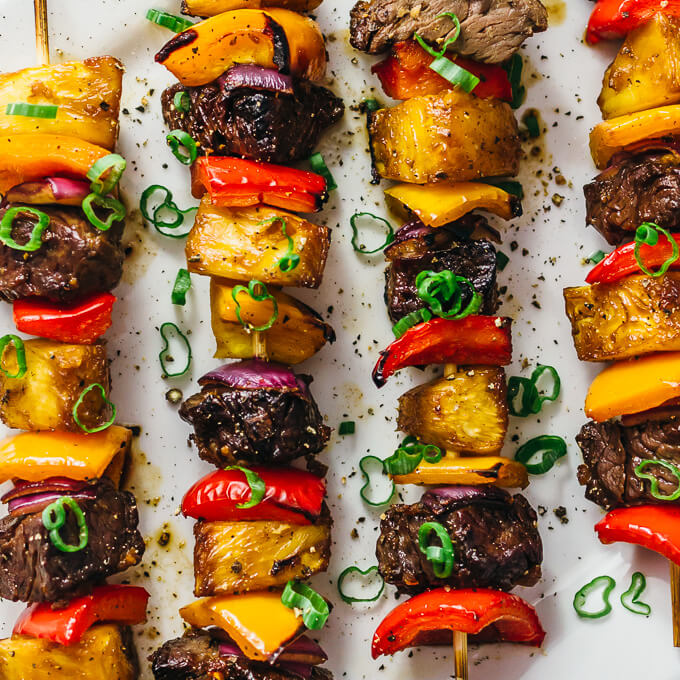 NOTES & TIPS
(1) Brown Sugar. This can be replaced by sugar substitutes like Swerve's "brown sugar," which has zero calories and zero carbs. Making this substitution would result in about 310 calories and 25 grams of net carbs per serving.
(2) Serving. Serve hot, alongside dishes like cold broccoli salad, pasta salad, or Asian cucumber salad.