Note: This is one of my older recipes and is not low carb. Visit my Recipes page for low carb and keto recipes.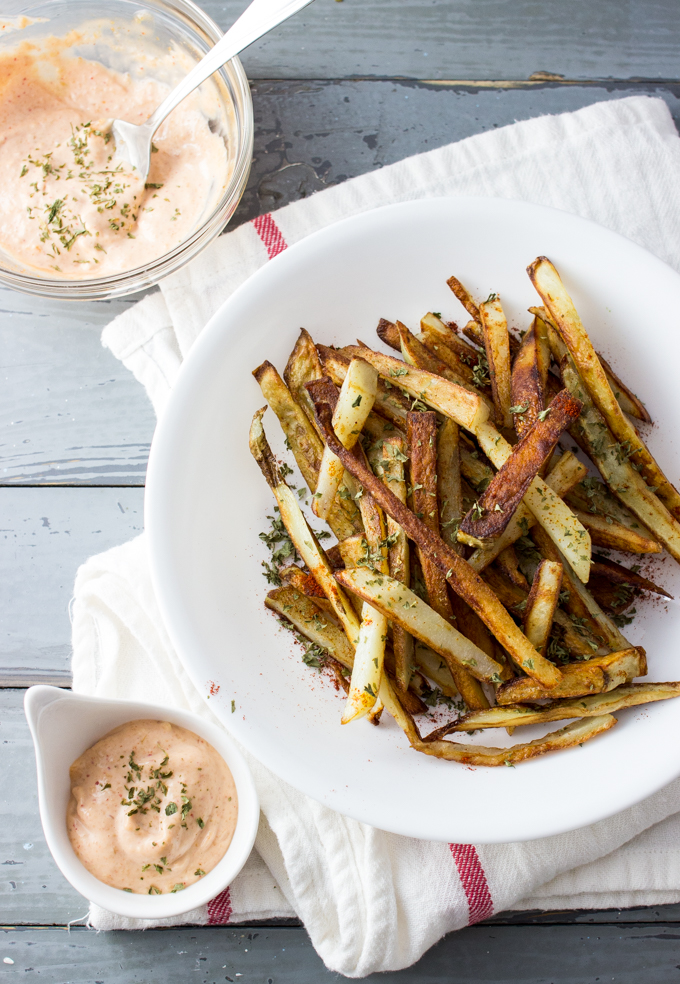 These are classic homemade french fries with a must-try dipping sauce. The recipe is very straightforward with just two steps and uses everyday, simple ingredients.
Homemade french fries are a must. What else are you supposed to do, when at 1 am, you suddenly get french fry cravings and all of your local eateries are closed? Therefore, it's an essential skill to know how to make french fries at home. I've tried both baking and pan-frying french fries, and I just don't like the baked ones. Just not the same. The results are more unpredictable. So I suggest you pan fry these and you'll never want to eat restaurant or frozen french fries again!
At a minimum, all you need are two humble Russet potatoes. They might be in your kitchen already.

But enough about the potatoes. The real winner here is the sauce. It's always about the sauce, right? The french fry, as delicious as it is, is only a mere vehicle in which to get more of this sriracha mayo sauce into my system. This sriracha mayo has a bit of heat, a mild sour note, and GARLIC. Yes. Also a tad bit of soy sauce for added savoriness. I like it best cold, so I make the sauce first and leave it in the fridge while I continue making a frying mess in the kitchen. Enjoy!
Homemade french fries with garlic sriracha mayo
These are classic homemade french fries with a must-try dipping sauce.
Ingredients
2

Russet potatoes

peeled and sliced into 1/4-inch matchsticks

2

tablespoons

olive oil
For the garlic sriracha mayo:
Instructions
Make the sauce: Mix all of the ingredients for the garlic sriracha mayo in a small mixing bowl until a light orange color appears. Set aside the bowl in the refrigerator while you

Cook the french fries: Heat olive oil in a large shallow pan over medium heat. Place the potato matchsticks in a single layer on the pan. Let them cook until they're golden brown, flipping them occasionally. Add more oil if the pan gets dry. Transfer to a paper towel to drain. Serve immediately. Nobody will be able to resist!