Summary:
Learn how to cook salmon in the oven perfectly every time using this easy foolproof recipe.
Looking for low carb recipes instead? Visit the Savory Tooth Homepage.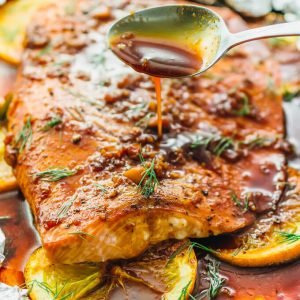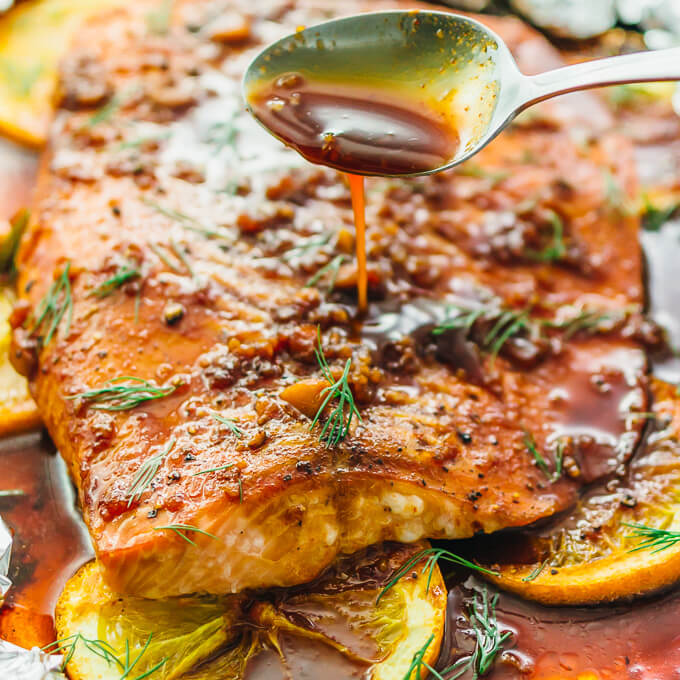 How to cook salmon in the oven perfectly each time
INGREDIENTS
1

pound

salmon

1/4

teaspoon

salt

1/8

teaspoon

freshly ground black pepper

1/2

navel orange

sliced

1

teaspoon

fresh dill
INSTRUCTIONS
Combine all sauce ingredients in a small saucepot, saving the other half of the navel orange for later. Stir as you bring to a simmer over medium heat. Simmer for a few minutes, reducing to medium-low to maintain simmer. Remove from heat and set aside.

Prepare a greased foil-lined baking sheet. Lay salmon on top of the foil. Sprinkle salt and pepper on top, spreading it evenly on top of the salmon. Slice the remaining half of the orange and tuck the slices under the sides of the salmon.

Folding up the sides of the foil, pour half of the sauce over the salmon. Use a spoon to fully coat the top of the salmon with the sauce.

Bake at 400 F until it is cooked through (internal temperature reaches 145 F), about 15 minutes. Top salmon with remaining sauce and garnish with fresh dill.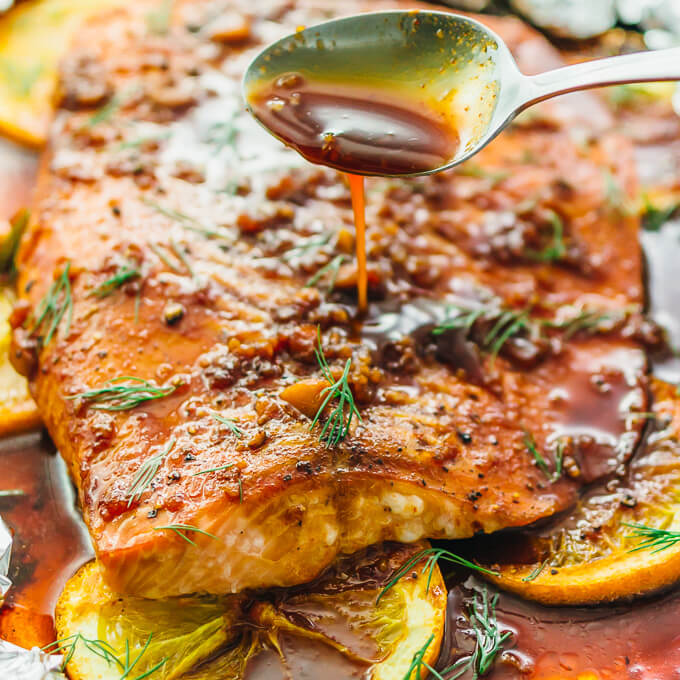 My dad is a huge seafood lover. Growing up on the West Coast, he was always picking up fresh seafood at the market such as lobsters, oysters, crabs, and all kinds of fish. Most of them were still alive and kicking by the time he brought them home, to my poorly disguised horror. He often cooked salmon dishes for dinner, and it wasn't until I moved to the East Coast that I learned how Pacific salmon is wild and Atlantic salmon is all farm raised. There is only one species of salmon in the Atlantic ocean and it is an endangered species, so fishing for it is illegal. Accordingly, any Atlantic salmon you find for sale at the market is farm raised. Pacific salmon is almost all wild, so I find myself often opting for seafood dishes whenever I'm visiting family on the West Coast.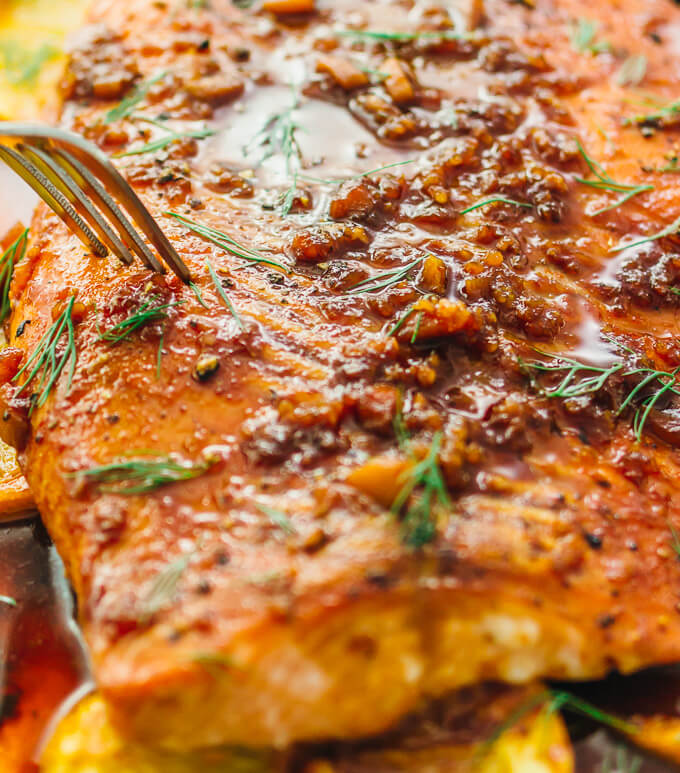 Both fresh and frozen salmon fillets will work well for this recipe. I prefer buying frozen salmon, as they're more readily available, less expensive, and are often frozen soon after being caught. Frozen fish are often frozen at sea or immediately upon landing at port, so their quality is just as high as fresh ones. When selecting frozen salmon, I always opt for "wild caught" salmon, preferably deskinned and deboned.
There are a number of ways to thaw frozen salmon, and here are my two favorite methods:
Remove the frozen salmon from its packaging and place it in the refrigerator the day before you plan to use it. It may take up to 24 hours to defrost a 1 pound salmon fillet.
Keep the salmon in its plastic packaging, or place it in a ziplock bag, and let it sit submerged in a large bowl filled with water. It may take 30 minutes or longer at room temperature to defrost a 1 pound salmon fillet, and you may need to change out the water if it gets too cold.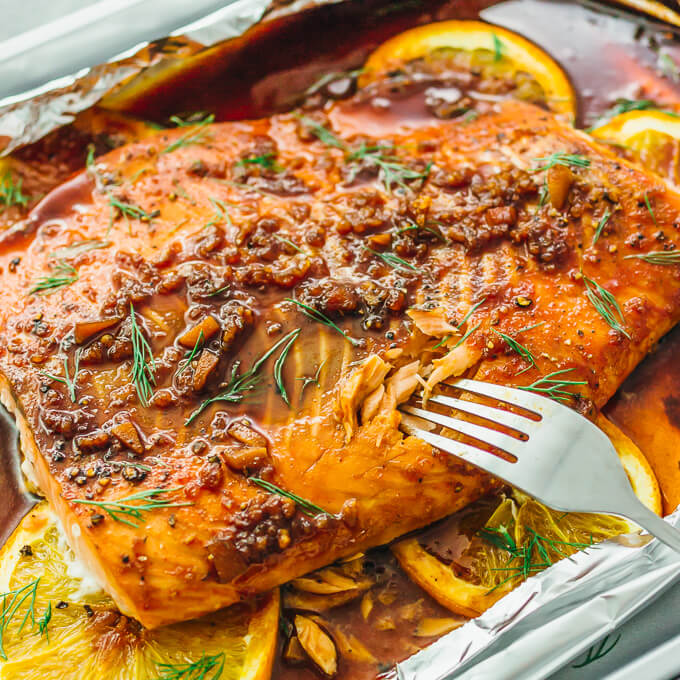 There are so many delicious ways to cook salmon — you can cook salmon in a pressure cooker, in the oven, in a pan, on a grill, with or without foil — and my recommended method for anyone who's inexperienced with cooking fish or who just needs an easy foolproof recipe is to bake the salmon with foil in the oven. It's a simple method and works every time, yielding flaky, juicy, and tender salmon fillets with minimal kitchen cleanup.
My recipe also includes a delicious salmon sauce that has a little of everything: tangy, spicy, sweet, and savory. It's a fantastic sauce inspired by a Hawaiian marinade that I originally made for my Hawaiian steak kabobs and have since used it for my easy beef with mushrooms and onions stir fry. It's a little spicy, but that's easy enough to adjust to taste.