Summary:
A simple dump-and-go Instant Pot recipe for beef ragu with shredded meat and a flavorful tomato sauce. Great for diets like low carb, keto, paleo, whole 30, and gluten free. Browse more Beef Dinner Recipes.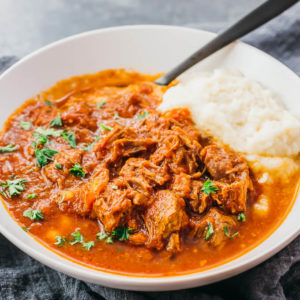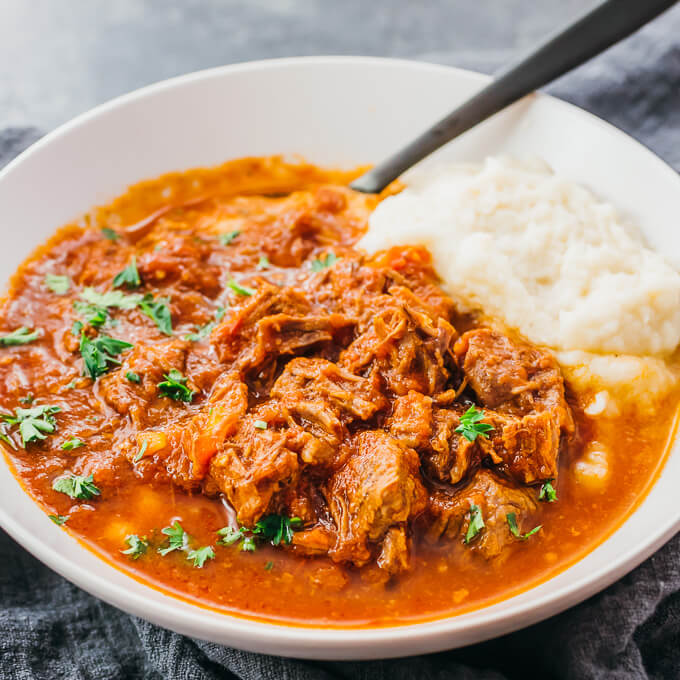 Super Easy Instant Pot Beef Ragu
INGREDIENTS
2

pounds

beef chuck

chopped into 1-2 inch chunks

1

(28-ounce)

can unsalted crushed tomatoes

1/2

cup

diced onions

1/2

cup

diced carrots

5

cloves

garlic

minced

1

tablespoon

balsamic vinegar

1 1/2

teaspoons

salt

1/2

teaspoon

ground thyme
For serving:
mashed cauliflower

chopped fresh parsley
INSTRUCTIONS
Secure and seal the lid. Cook at high pressure for 35 minutes. When finished, let it sit for 10 minutes to naturally release the pressure before using the steam release handle to vent remaining pressure.

Uncover. Transfer only the meat to a plate and finely shred using 2 forks. Return the shredded meat to the pot, stirring it in to soak up the sauce.

Serve while hot with your choice of side, such as mashed cauliflower, and optionally garnish with chopped parsley.
NUTRITION
Makes 5 Servings
Amount Per Serving (1.5 cups):
| | |
| --- | --- |
| Calories 300 (17% from fat) | |
| Total Fat 6g | 9% |
| Saturated Fat 2g | 10% |
| Cholesterol 120mg | 40% |
| Sodium 880mg | 37% |
| Net Carb 6.5g | |
| Total Carb 10g | 3% |
| Dietary Fiber 3.5g | 13% |
| Sugars 6g | |
| Protein 43g | |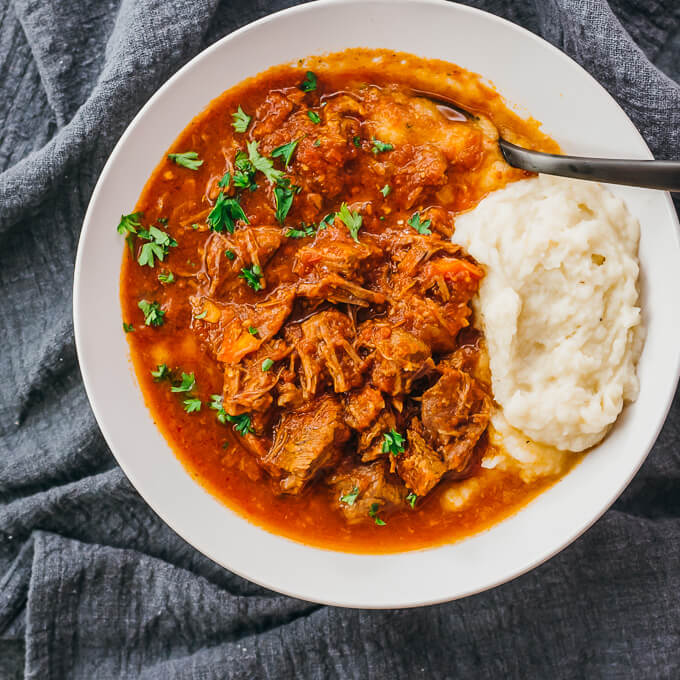 Recipe Overview
This is one of those low-effort recipes that doesn't require much active cooking on your part. Chop up the meat and veggies, throw everything in the pressure cooker, and wait for it to cook.
It takes about 15 minutes for my 6 quart Instant Pot to pressurize, followed by 35 minutes of cooking at high pressure, and ends with 10 minutes of natural pressure release. No saute mode is needed.
After releasing pressure, shred the meat and stir it into the sauce to soak up the flavors. The result is a flavorful stew filled with tender bites of meat. Very savory and comforting.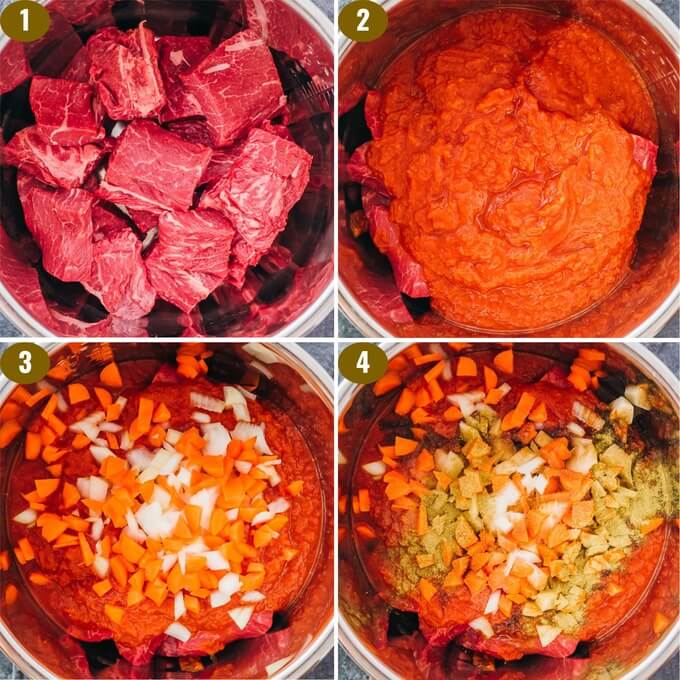 Recipe Development
As one of my favorite Italian dishes, I've been making beef ragu with pasta long before I started following a low carb diet or owned an Instant Pot. Sometimes I would add bacon or swap beef for pork, or try different veggies or herbs. I would usually serve it with pappardelle.
When developing this recipe, I experimented with various proportions of ingredients to minimize the number of carbs without sacrificing on flavor. I also adapted it for the pressure cooker and designed the recipe to be as fuss-free as possible.
The various amounts of ingredients yield what I consider to be ideal thickness for beef ragu. If you want a saucier dish, add more crushed tomatoes. Or for a thicker sauce, turn on the saute setting on your pressure cooker to boil off some liquid.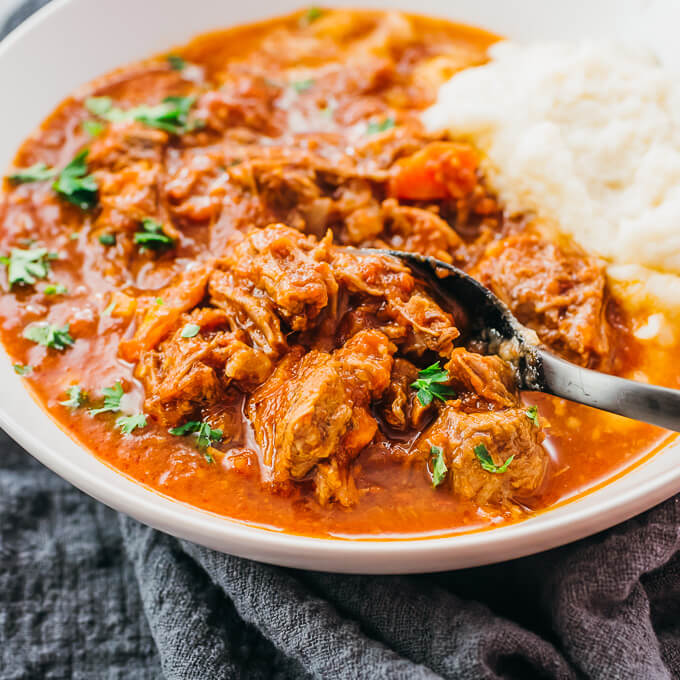 Serving Ideas
I serve beef ragu with mashed cauliflower, as photographed here, and it tastes and looks just like mashed potatoes. You can prepare homemade cauliflower mash, or opt for store-bought versions to save time. Check your supermarket's frozen vegetables section — I've used the brand Bird's Eye, which has 3g net carbs per 1/2 cup serving.
Other ideas for low carb side dishes include spiralized zucchini, cauliflower rice, or radish noodles, which are often available in the refrigerated produce sections at grocery stores. You can also add toppings like shaved parmesan cheese and chopped parsley.
More Instant Pot Beef Recipes